The Fell Pony Society
Archived News
Important notices are generally posted for a short while on the front page.
We include information from other U.K. societies where it is of interest to Fell pony owners.
Breed Show Sponsorship – 6th August 2017
Is anyone interested in sponsoring a class or championship at the Fell Pony Society breed show in August? Here is a list of package prices. Please do not feel you have to take a 'package', as all sponsorship in any form is greatly appreciated. For more info, please email Katherine on secretary@fellponysociety.org.uk or Rachael on fpsshowsecretary@hotmail.com Thank you to those who have already sponsored.
29 June 2017
Conservation Grazing Opportunity
The Fell Pony Society has been given the opportunity to provide ponies to graze a site at RSPB Geltsdale, near Brampton in Cumbria beginning May 2017. This is initially a three year project that may be extended if successful.
The site is suitable for 1yr & 2yr old colts and 2yr & 3yr old geldings. Ponies must remain on this extensive site all year round without any supplementary feed.
Ponies must be handled and used to being led because the access is over a ford and across a field which is unsuitable for motor vehicles. There are no public rights of way across this site although it is described as open access.
Please contact the FPS Office (secretary@fellponysociety.org.uk) to express your interest and obtain a map and application form. FPS Chairman Eileen Walker (07990521205), and FPS Council Member Barry Mallinson (07393506100) have visited the site and are available to discuss any queries you may have.
Eileen A Walker 20 April 2017
Horse Transport Survey
Nottingham Trent University (NTU), the British Animal Rescue and Trauma Care Association (BARTA), The British Horse Society (BHS) and The Horse Trust are working together to identify ways in which horse transport can be made safer in the UK. They are seeking information via a survey (details on the link):
https://ntusurvey.onlinesurveys.ac.uk/equine-transport-survey-individuals
17 May 2017
THE FELL PONY SOCIETY CELEBRATES £2500 GIFT FROM THE PATRON'S FUND
The Fell Pony Society is celebrating after receiving a £2500 gift from The Patron's Fund, the charitable fund set up to acknowledge the work of the charitable organisations for which Her Majesty The Queen acts as a Patron, on the occasion of her 90th birthday.
Around £750,000 has been distributed between nearly 300 charities and other organisations in the UK and the Commonwealth. The Fund received generous donations from a range of supporters; including individual donors, businesses, schools, community groups and the proceeds from The Patron's Lunch, the event on the Mall in June 2016.
We are honoured and delighted to have Her Majesty The Queen as our Patron and the FPS Council are arranging that this funding is used to purchase a heavy duty marquee and special display materials that can be used at equine events throughout the country to help raise awareness of the Fell pony breed.
Sir Stuart Etherington, Chair of the Board of Trustees for The Patron's Fund said: 'The Patron's Fund is very pleased to be able to support the Fell Pony Society with its valuable work. The Society is among hundreds of organisations for which The Queen acts as Patron which, between them, make a difference to causes and communities in the UK and throughout the Commonwealth.'
Eileen A Walker 11 March 2017
Reminder to Breeders re old printed forms
Old print forms cannot be accepted, so please do not submit forms issued prior to 1 January 2016.
Stallion service books should have been returned to the FPS Office, or coverings submitted online, by 31 December.
Service Books / notifications of coverings online that are received late, will require the foal to be DNA typed to confirm the sire.
January 2017
SEBA Awards 2016
If you are interested in being considered for the SEBA (Scottish Equine Breeders Award) 2016, please apply to the FPS for an application form by 10 January 2017.
30 Nov 2016
FPS Promotions Team Nominated for Countryside Alliance Award
The FPS Promotions Team has been nominated for a Countryside Alliance Award in the Tourism category. Please add your nomination if you can. http://www.countrysideallianceawards.org.uk/caa/
Nominate them as "The FPS Promotions Team" and use the contact details of the Society office, Bank House, Boroughgate, Appleby,
Cumbria CA16 6XF, Tel/Fax: 0 17683 53100.
Nominations close on 11th November so don't delay!
7 Nov 2016
The FPS 200 Club
Council have decided that the 200 club will cease at the end of October 2016, as it has been running with many less than 200 members for some time. The last draw for September and October will take place at the 'Promise Auction and Supper' on Sat 15th October. We would like to thank everyone who has given their support over the years.
It may be that you have paid for draws beyond October 2016 - if you would like a refund, please either apply to Tracey Mallinson email tracykirkby@btinternet.com or the FPS office email secretary@fellponysociety.org.uk. Alternatively the outstanding money will be treated as a donation.
Thanks again for your support.
Tracey
200 club promoter
15th October 2016 (Saturday) 7pm—Supper followed by Auction of Gifts and Promises, Stoneybeck Inn, Nr Penrith, CA11 8RP
Offers of gifts and promises - please contact The FPS office, tel: 017683 53100, email secretary@fellponysociety.org.uk
TICKETS are £12.50 each from the FPS office - still a few left.
Ticket purchases, Promises, Gifts and BIDS can be made any time up to the night of the auction on Saturday 15th.
29 Sept 2016
Early call for photographs for the 2018 Fell Pony Society Calendar
This is an early call for photos for the 2018 Fell Pony Society calendar since I know that there must be some excellent photos already out there. We have had good weather for both the Stallion and Breed Shows and also for other events such as the Fell Pony parade at Windsor and Fell Pony camps. The deadline for submissions remains Monday October 17th 2016. The rules are the same as before with landscape images preferred over portrait images though we are happy to accept a limited number of good portrait images.

Either digital or hard copy photographic prints can be submitted remembering that digital images have to scale up to the calendar format at 11" x 7" and so have to be of high resolution (300dpi minimum).
Professionally taken photographs are eligible providing the photographer is prepared to waive copyright for their inclusion in the calendar. Remember that only two professional photographs can be selected by the judges and that such images cannot be included in the calendar competition. If you do submit a professionally taken photograph please make sure that you identify which photograph it is, together with a waiver statement from the photographer, when you send the image in.
If hard copy prints are submitted they should be accompanied by a SAE if you would like them to be returned. Single digital images can be sent to the following e-mail: ProfBarbaraBrown@aol.com or alternatively CDs and photographic prints can be mailed to Barbara Dunne, West Briscoe, Baldersdale, Barnard Castle, Co. Durham DL12 9UP, U.K. Tel 01833 650059 Can I ask that you do not send more than three images per person and that if you are sending them via e-mail that you either send each image attached to a single e-mail i.e. three photos, three e-mails or alternatively send the images via a Drop Box facility as our internet speed is not that good in the North Pennines. Please name your digital files with the name of the pony rather than the long digit file number recorded on your camera as this makes recording and filing of your entry so much easier for me and for our Secretary.
Looking forward to a bumper year for entries as so many excellent images have been posted on social media this year.
Barbara Dunne 17 August 2016
DVD of Windsor 'Guard of Honour'
The DVD of our Fell Ponies' wonderful day out, as 'Guard of Honour' to Her Majesty, is available from the Society office and will also be for sale at the FPS Southern Show, the autumn Social, and the FPS Sale. £15 plus £1.50 P&P (within UK postal system; for overseas postage rates, please enquire).
8 August 2016
'Guard of Honour' at Windsor Castle, July 2016 - Update
The Fell Pony Society is delighted to have been invited to celebrate the 90th birthday of Her Majesty The Queen. At a private event, devised and organised by FPS President Mary Longsdon MBE, a Guard of Honour of 90 Fell ponies and riders will escort Her Majesty The Queen and Prince Philip as they drive through the private grounds of Windsor Castle in July 2016. The Guard of Honour ride will be followed by a barbecue hosted by the governor of Windsor Castle.

Miss Longsdon is at pains to point out that the invitation to attend was made to the Fell Pony Society, of which HM The Queen is Patron; invitations were not made to individuals. Members of the Society were then asked to apply to join the Guard of Honour via the Society Office.
All applicants to take part in the Guard of Honour are currently being background-checked for this private event and security will be high. Applications have very much exceeded the 90 required so it is probable that not all who applied will be able to attend the barbecue. No spectators will be allowed into the event, but permission has been obtained for the Guard of Honour to be filmed and a DVD will be available from the Society later in the year.
Windsor Castle have requested NO PUBLICITY until after the event.
8 June 2016
'Guard of Honour' at Windsor Castle, July 2016
We are delighted to announce that H M The Queen would like to see all the Fell ponies who have applied to take part in the 'Guard of Honour' in July. If your cheque has been cashed, you are on the list, which has been sent to Windsor Castle to be security checked.
All ponies will be presented to H M The Queen after the 'Guard of Honour'. H M The Queen and her pony Carltonlima Emma will be presented with the Lownthwaite Rob Trophy while all the ponies, riders and guests are present.
Unfortunately BBQ tickets have been limited so these will be allocated on a first come basis once you have clearance from Windsor Castle. We have been informed that clearance may take up to six weeks so the allocation will not take place until mid June.
Exciting times are ahead so please organise your transport and accommodation if needed. We will need vehicle registration numbers to authorise gate passes.
Eileen A Walker (FPS Chairman)
6 May 2016

RBST Breed Status
The Society has received written confirmation from the Rare Breeds Survival Trust that the Fell pony has moved to Vulnerable (Category 3) for 2016.
The RBST currently uses data from 2 years prior to the Watchlist publication year, so 2016's status reflects 2014's number of filly foal registrations.
May 2016
Model Supports the FPS
Breyer, the USA company that produces horse models, has introduced a new one of a Fell pony named "Carltonlima Emma" after the pony that HM The Queen rides. Breyer are kindly donating a proportion of their sales to the Society. https://www.breyerhorses.com/carltonlima-emma
April 2016
Reminder: Foal registration forms
and stallion service books
Foal registration forms should be submitted to the office by 30 November, to avoid double fees in December.
NOTE! Do not use the current registration form if it will arrive in the office after 31 December '15, before checking with the office.
Stallion service books should be returned to the FPS Office, or coverings submitted online, by 31 December.
Service Books / notifications of coverings online that are received late, will require the foal to be DNA typed to confirm the sire.
12 November 2015
MERCHANDISE
See our Merchandise page for Fell pony themed goods.
12 May 2016
Breed Show 2016 - change of day
The FPS Breed Show will be on SUNDAY 7th August 2016 at Dalemain, Penrith, Cumbria.
18 November 2015
'The Fell Pony Society Breeders Award - Drybarrows Trophy'
All In Hand exhibits at the FPS Stallion & Colt Show, the FPS Breed Show and FPS Southern Show, will automatically be entered for the above award, presented annually in memory of Chris Thompson and donated by the Thompson family.
The award will be calculated on a points basis and presented at the AGM. If you do not wish to be included in the award then please advise the FPS office by 30 September.
16 September 2015
Fell Pony Promotions
I'm looking to obtain good quality photos that can be used for Fell pony promotion in 2016. I would love to get a wide range of recent pictures showing that Fells are versatile in any discipline! If they were taken by professionals I would also require any permission necessary to use them. Very 'old' photos that you may have would also be brilliant. Please send them to fpsshowsecretary@hotmail.com or I will be at the Sale to collect any. I would prefer good quality copies but if you can only provide originals I will of course give these back to you after copies are taken. Thanks in anticipation. Rachael Brunskill xx
12 October 2015
Parelli Natural Horsemanship Interactive Area at HOYS
Grandstand Media have invited the Society to take part in the Parelli Natural Horsemanship Interactive Area at HOYS 7th to 11th October. The Quick family have kindly agreed to take part and set up and man an information stand for the Society. This includes a Fell Pony taking part in the Parelli demonstrations, and a promotional area for the Society, where posters etc can be displayed along with leaflets but no merchandise can be sold. If you're visiting HOYS this year please go along and support the Society.
16 September 2015
Fell pony Champions
Penny Randall's Townend Skylark was Supreme Champion Horse at Skelton Show on 4th July and Phillipa Coates' Littletree Bessie Bell was Reserve Supreme Champion Horse at Penrith Show on 25th July. This is over all breeds, large and small!
More Supreme Champions will be listed in the Autumn 2015 Magazine - let's stop being bashful about these wonderful ponies!
31 July 2015
Holiday Accommodation after Floods!
One of our members has kindly offered her holiday cottage to someone who would benefit from getting away from a mess following the floods, in March or early April. It's located in the Somerset/Dorset border and would only require a contribution towards the electric. The cottage sleeps 5, is in rural countryside and on high ground!
If anyone is interested in taking up this kind and generous offer then please contact the Society office, by email secretary@fellponysociety.org.uk, to put you in touch with the owner.
27 January 2016
Social Media Policy 2016
The Society has put a policy in place about the use of Social Media with reference to Fell Ponies. It is also linked from the Regulations Page.
11 January 2016
FELL PONY EVENTS 1995 – 1997 DVD
Jo Exley has kindly put together Fell Pony events from 1995-1997 on a DVD. (It is of footage with no audio.)
It's available from the FPS office - £5 plus £1.50 p&p. All profits to the Fell Pony Society.
11 June 2015
Show Sponsorship Packages
We are looking for potential sponsors for both the breed show & stallion Show. Details of the packages in this document. Please get in touch with Rachael Brunskill, fpsshowsecretary@hotmail.com, tel: 07990 606 362.
14 April 2015
Statement by the Fell Pony Society Council
Council confirm that action taken by the Society's Secretary in relation to informing the Competent Authority, Trading Standard Office, is the correct procedure to follow when there has been a breach of the Regulations, particularly in relation of the failure of a new owner to update owner details within 30 days, as per the Minimum Operating Standards published by Defra, that came into effect from 1 February 2014.
17 March 2015
New Promotional Leaflet
We have taken delivery of 2,500 new leaflets promoting the Fell Pony and its uses. We applied for a Community Grant from ScotMid Co-op (Lakes and Dales, based in Penrith) and we are delighted that they have funded the printing in full.
If you know of a tourist or equine outlet that would display these leaflets (remind them that the FPS is a charity!) please get in touch with the office and come to collect some.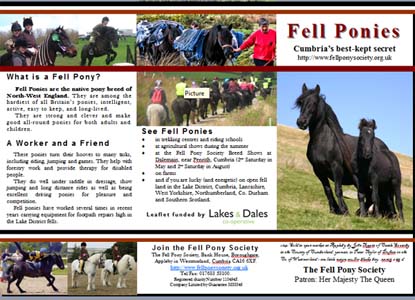 You can preview the full leaflet here.
29 September 2014
Sign up to be notified when new items are added to this page of The Fell Pony Society's web site.