Menu This site does not store any personal or financial data
The Fell Pony Society
News
Important notices are generally headlined for a short time on the front page. We include information from other U.K. societies here when it is of interest to Fell pony owners.
The Queen Elizabeth II Memorial Challenge 2023
The Challenge begins on 21st April. It will celebrate the life of our late Queen and run from her birthday, 21st April, to 31st October 2023. It is open to all UK and international FPS members. Entrants are invited to complete 96 miles, one for every year of the late Queen's life, with their Fell ponies and Fell pony friends. More >>> 16 April 2023
Stallion & Colt Show - Road closure warning at EAMONT BRIDGE on A6.
If you are coming north on the A6 the road closure will require you to divert along B5320. ACCESS TO DALEMAIN AS NORMAL OFF M6 Junction 40 and from the north.
⛔️🚧A6 Eamont Bridge - Full weekend closures 🚧⛔️
A section of the #A6 at #Eamont Bridge (from the A66 Kemplay Bank Roundabout to B5320 Pooley Bridge turn off) will be closed whilst resurfacing and drainage works are carried out, which is anticipated to take 3 weekends to complete.
The closure will be in place over the following weekends:
13th & 14th May (STALLION SHOW 13TH MAY)
20th & 21st May
3rd & 4th June
The road will be closed from 6am on the Saturday and reopened at 10pm on the Sunday of each weekend.
Alternative Route: A suitable alternative route for motorway traffic will be signed and available via the B5320 Pooley Bridge, A592 Rheged roundabout, M6 Junction 40 and A66, ie, ACCESS TO DALEMAIN AS NORMAL OFF M6.
For non-motorway traffic divert off A6 via the B5320 (Pooley Bridge/Waterfoot) A592, Rheged roundabout and A66.
A way for pedestrians and dismounted cyclists will be maintained at all times.
Information: https://one.network/?tm=133709804
PLEASE NOTE: THE TIMES OF OPERATION SPECIFIED ABOVE ARE ANTICIPATED TIMES - HIGHWAYS WILL ENDEAVOUR TO WORK TO THESE TIMES BUT THERE IS POTENTIAL FOR THE WORKS TO OVER RUN. 8 May 2023
27 May -- 18 June - 'Our Common Heritage Exhibition'
Friends of the Lake District have been collating all the interviews for the Our Common Heritage project which includes some of the Fell pony interviews which they held last year during the Fell Pony Exhibition. More >>>
Lizzie Finlayson-Briant receives Honour
Lizzie Finlayson-Briant has been recognised in the Queen's Demise Honours List as a Member of the Royal Victorian Order.
Lizzie was named as a recipient of the honour under the Royal Victorian Order (RVO) in recognition of her service to the Queen, as part of the special set of Demise awards. Lizzie served the late monarch for over 20 years, producing her Highland and Fell ponies. The first Fell pony she produced was Lownthwaite Skylark II and they took part in the Golden Jubilee Pageant in 2002. After this she produced Carltonlima Emma who later became Her Majesty's favourite.
The honours are typically given to members of staff who work closely with the deceased. Whilst other honours are often created by the government, appointees to the Royal Victorian Order are entirely in the gift of the monarch and are made independently from the government.
Lizzie has been a member of the FPS for 35 years. 25 March 2023
Job Vacancy
Contribute to our Native breed: The Fell Pony
We are looking for a brilliant admin assistant who enjoys working in a small team and in an office that can be busy where we are regularly working to tight deadlines. For example providing the administration/preparation for our annual and prestigious stallion and breed show, processing memberships and updating equine passports.
You will support everything to do with our Charity, which in turn helps promote and protect our rare Breed The Fell Pony.
The location is at our office in Appleby. The role is a minimum of 6 hours guaranteed each week with days to suit both parties (the office is shut Fridays). We work as a small team, and with notice extra hours are available to manage at busy times and to cover holidays. Your salary is £10.64 per hour.
If you have brilliant admin and IT skills, enjoy working in a small team environment, we would love to hear from you.
Equine knowledge preferred but please don't let this put you off applying.
Please send an email and your CV to Jane Rawden, a member of our Council.
In your email please provide a short summary of:-
- Why you want to join the team
- Your strengths and experience
- The days would you like to work
Jane's email is:-
Janerawden@inspiration-teal.com 5 February 2023
Veterinary Chiropractic College
The McTimoney College of Chiropractic has recently announced a new 4-year programme in Veterinary Chiropractic available to undergraduates. The course begins in September 2023. An introduction can be seen here or on the College web site, https://www.mctimoney-college.ac.uk/ 18 March 2023
Mail delays, February 2023
Following on from the post regarding a cyber incident at Royal Mail.
Our international mail will be dispatched as normal from today, 21 February.
This also means that the FPS magazine will be posted as normal to our overseas members. 21 February 2023
FPS Calendar
The 2023 FPS Calendar is for sale now from the Office, £6.00 + £2.00 P&P.
Thank you to all who have entered the 2024 Calendar Competition - the closing date for that was Monday 18th October 2022. The results and call for entries for the next Calendar will be in the Spring Magazine. One small change to the rules for the next competition - can I ask that you do not send more than two images per family.
Looking forward to receiving them. Thank you
Michael Goddard, michael.goddard2014 @yahoo.com
13 October 2022
Requests to donate to the Society in memory of Her Late Majesty Queen Elizabeth II
The Secretary is now being asked by members if the Society will be accepting donations in memory of our late Patron.
Following today's Council meeting we are adding this link to the Society's bank details for donations. Please, when you donate, identify the transaction (eg, "donation QE2") and also email the secretary with that information - that enables her to identify your donation for accounting purposes and she will be able to thank you in due course. 13 Sept 2022
HER MAJESTY QUEEN ELIZABETH II
It is with deepest sorrow that the Fell Pony Society marks the death of our Sovereign and Patron, Her Majesty Queen Elizabeth II. The Queen has served as Patron of the Fell Pony Society since 1982. Her love of horses and ponies will be greatly missed. We join the wider equestrian community in mourning her loss and we are grateful for her generosity to us during the 40 years of her patronage. We send our sincere condolences to the Royal Family. 9 September 2022
The Fell Pony Society Southern Show 2022
It is with profound sadness that the FPS Southern Show pays tribute to HM Queen Elizabeth II who reigned selflessly for over 70 years.
It has been decided that the FPS Southern Show will go ahead on Sunday 11th September. We will commemorate the life of Queen Elizabeth II when we will call upon everyone to observe a one minute silence at 1pm.
Our deepest condolences to King Charles III and the Royal Family at this very sad time. 8 Sept 2022
Centenary Merchandise for 2022
A few of the FPS Centenary goodies are still available. Details on the Merchandise page. Items can be ordered or reserved by emailing secretaryfellponysociety@gmail.com 2 July 2022
Limited Edition Silk Head Scarf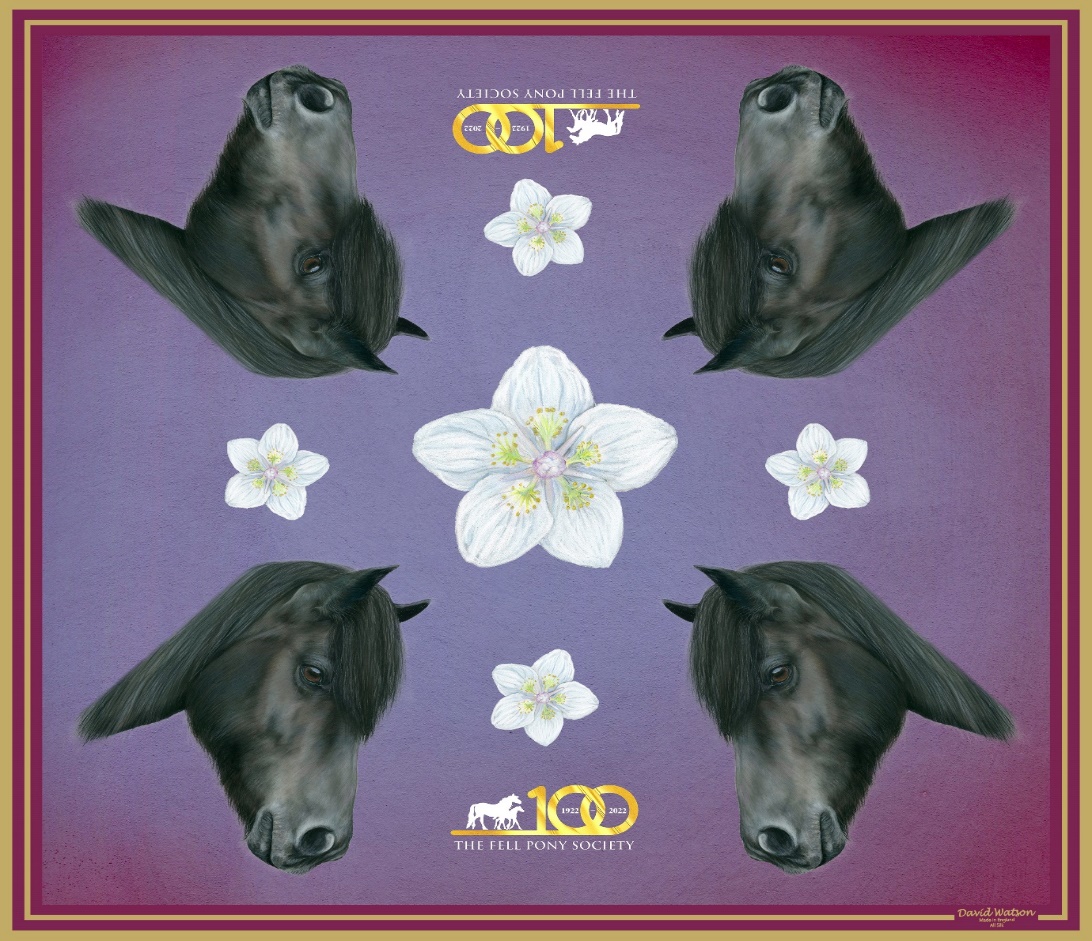 Available now to order direct from The Fell Pony Society office at a special price of £100 plus £10 P & P for special delivery. Payment is to be made up front to The Fell Pony Society. Available via mail order only. E-mail: secretaryfellponysociety@gmail.com or secretary@fellponysociety.org.uk
Read More >>> about the story of the scarf. 22 May 2022
Two Surveys
1 - The Society's Conservation and Grazing Sub-Committee is still accepting breeders' observations and experience re the grazing where you run your ponies. We are asking all breeders to complete the survey - whether on the hill, on allotment / fell ground / intake, or on lowland grazing. More details on the Conservation page. >>> We would like to hear more about management practices from ANYONE who breeds Fells. https://forms.gle/PdhemV5MfEE1ktcZ6

2 - Sophie Warbrick, a Masters degree student in Global Wildlife Health and Conservation at the University of Bristol, has set up a short, 10-15 minute online survey which invites anyone over 18 years old who owns/ loans a horse/ pony in the UK/ ROI to participate.
https://svs.onlinesurveys.ac.uk/equine-health-and-pasture-survey If you have questions about it please contact Sophie at ri21085@bristol.ac.uk or her supervisors (Dr Sarah Lambton: sarah.lambton@bristol.ac.uk or Dr Emma Mellor emma.mellor@bristol.ac.uk). 29 June 2022
Caution: Phishing emails, 2022
We have been notified of a spate of fake emails pretending to be from the Society Office. Typically they look like the image here. Notice that the Reply-To: is "Pony Society The Fell" going to an email not associated with the Society; also the bad grammar and lack of punctuation, followed by the copied and pasted text from our Membership page.
If you receive an email that you didn't expect, with this kind of message, it's most important NOT to click on any links in it.
In the UK, forward the email to report@phishing.gov.uk. The National Cyber Security Centre (NCSC) will investigate it.

If you receive a similar text message, forward it to 7726 - it's free.

Delete such emails or texts without responding to anything in them.
6 June 2022
New Collectible "Fell Pony" donates £1 per Sale to FPS
The new Grasmere Gingerbread® Fell Pony, hand-stitched from a wool felt blend, is "a shaggy-maned delight with a slightly unkempt 'just got up in the morning' appearance" and each sale includes a £1 donation to the FPS. See more at the Grasmere Gingerbread web site 1 June 2022
Centenary Educational Video: The Fell Pony - Type and Conformation
Tom LLoyd's new DVD was launched today at the Stallion & Colt Show. This is part of the Society's educational activities as a charity, in celebration of our 100th year. It is available to purchase from the Society, £15 & P&P. You can also watch it online on Tom's Vimeo accountor his Facebook page .
14 May 2022
Seeking promotional photographs and Stud / Business information
The FPS Display Team are asking for good quality photos of ponies, and information and updates from Studs and Fell Pony related businesses (text to fit on one A4 sheet), so we can refresh our Information folder and photo posters on the Display Team's breed promotion stand. Please contact Christine Robinson, christine@kerbeck-fell-ponies.co.uk29 April 2022
Donations from the AGM to the Red Cross Ukraine Appeal

At the FPS 2022 AGM it was agreed to donate the takings from the raffle and donations for the tea, to the "Red Cross Ukraine Appeal". The amount raised was £193.30.
It has been sent to the Red Cross today.
Many thanks. 6 April 2022
Fell Ponies - Article in Country Life
The March issue of Country Life magazine (www.countrylife.co.uk 23 March 2022) has a four-page spread by Julie Harding on Fell ponies, the Centenary, our patron HM The Queen and several other Fell pony owners. We have Country Life's permission to share the PDF here: More >>> 26 March 2022
Updated Animal Health Regulation (AHR) Frequently Asked Questions
DEFRA have updated the Animal Health Regulation (AHR) frequently asked questions which are now available on the trader showcase site.
As a reminder the new AHR Export Health Certificates (EHCs) will need to be used from 15 January 2022 for goods moved to Northern Ireland or exported to the EU from GB. This includes EHCs for all products of animal origin, live animals, germinal products and composite products.
All existing and most of the new AHR EHCs are available and traders can decide which ones they wish to use until 15 January. A small number of new EHCs have been removed from EHC Online for now. This is because the EU will be amending some EHCs, and some are subject to ongoing discussions with the EU regarding GB's disease freedom status.
The EU have recently published a new EHC for the re-export of certain EU origin POAO to the EU. We are working to provide guidance on this certificate and make it available for use by GB exporters.
There is further information and guidance available from Defra's web site or by emailing traders@defra.gov.uk
(Trader Readiness Team, GB-EU Exports Delivery & GB-NI Directorate, Biosecurity, Borders and Trade Programme; Department for Environment, Food & Rural Affairs) 28 Sept 2021
The Centenary 2022 - Launch
We announce the launch of our centenary plans More>>>
New Grassroots Online Registry
The new look Grassroots Online Registry replaces the old Pedeweb. The registry can be accessed from our website (links at the foot of the Home page) or direct at www.grassroots.co.uk/fell.html using your normal Breed Society Member No and password. It gives access to the whole Society database and allows you to 'Manage Your Animal Records'. >>> Full details 14 October 2021
Changes to Animal Health Certificates for Export (2021)
The EU is making changes to its laws through the EU Animal Health Regulations (AHR). The AHR mean that the Export Health Certificates (EHCs) used to export equines to the EU, and move them to Northern Ireland, will be changing from 21st August 2021. Among the changes previously communicated, these new certificates require the premises/establishment from which an equine is exported from to have a registration number issued by the Competent Authority.
To meet this requirement, equine establishments in England and Scotland are now able to seek a County Parish Holding (CPH) number from APHA by completing an application form and sending it to Equine.Registration@apha.gov.uk. Please include the date of first export from your premises following 21 August, in the subject line of your email. The form will be available on Gov.UK in the very near future.
Equine keepers in Wales should register for a CPH through Manage My CPH on RPW Online (www.gov.wales/rural-payments-wales-rpw-online).
If a premises/establishment is already registered, and you know the CPH number, there is no need to reregister.
We encourage those exporting soon after 21st August to obtain a CPH number as soon as possible. If you are not exporting equines from your premises until later in the year, please consider delaying your application until one month before exportation to allow current resources to be used on generating CPH numbers for those who need them immediately.
Registration is voluntary, but unless the establishment has a registered CPH with APHA, or RPW for Welsh keepers, it will not be possible for an Official Veterinarian (OV) to certify a horse or other equine for export from GB to the EU or NI.
A copy of the Government document outlining the registration of premises is available here. You can contact EquineExportsCarlisle@apha.gov.uk if you have any additional questions on exporting requirements.6 August 2021
Important information for all who export live animals to the EU.
Animal Health Regulations (2021) See particularly pages 7 and 12.
Enquiries from EU owners and breeders
Please contact the FPS office by email, if you have any queries regarding the issue and updating of passports for Fell Ponies in the EU.

The FPS can continue to issue Stallion Licences for Fell Ponies in the EU
We can:
- accept FPS membership applications - for new EU members and renewals
- issue stallion service books and accept service details online for EU ponies who have already been issued with a FPS Stallion License
- issue FIS test kits to EU members
- issue DNA test kits to EU members
- issue prefix applications for EU members to register a prefix with the Central Prefix Register
Please be assured that we are still working very hard to support members and ponies within the EU.
Thanks
Katherine 14 Sept 2021
FPS has no connection with FPHT
In response to a number of enquiries we would like to state that the Fell Pony Society has no connection with the Fell Pony Heritage Trust other than the founder is a member of the Society. Although the FPS agrees with some of their objectives (which are identical to those of the FPS) the Society has no other connections. Hopefully this will clear up some of the confusion. 22 April 2021
Deadlines for Breeders
· The current Equine Identification regulations require the applications for foal passports to arrive with the Society within 6 months of birth or 30 November whichever is the later. However in addition to the above, FPS regulations require applications to be received by no later than 31 December (irrespective of age) or the application will be treated as late and will require late registration fees and confirmation of the sire and dam by DNA. Double fees may also apply if applications are received during December.
· Service Books / notifications of coverings online must be notified by 31 December in the year of covering; if not, any resulting foal will have to be DNA typed to confirm the sire prior to registration.
When completing stallion service certificates please complete all the details fully, including full name and registration number of stallion and mare and full dates of covering to include at least month and year. Month on its own with no year is unacceptable. 20 November 2019
MENU