Fell Pony Society
Spring 2000 Newsletter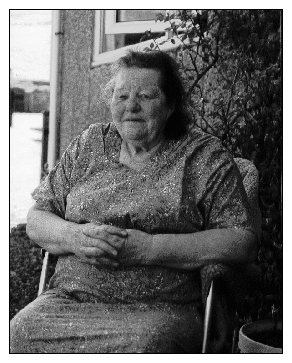 Molly Laing 1922 - 1999
Fell Pony Society President 1993 - 1999
---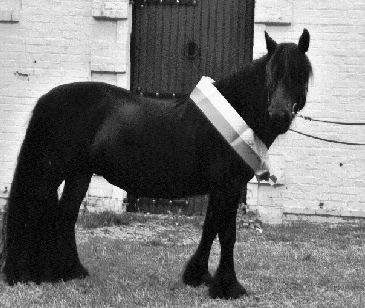 Heltondale Ruby II FP1829
winning the Fell Pony mare class at the Pony Festival of Rhineland in Aachen September 1999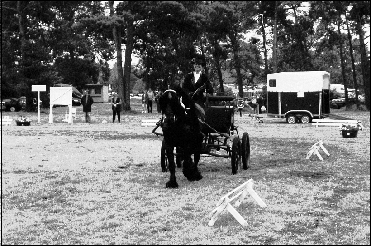 Heltondale Bracken V
Huettenbusch winning the dressage August 1999
---
THE FELL PONY SOCIETY
Patron: Her Majesty The Queen

President: To be Appointed
Chairman: Mr. R B Charlton
Vice-Chairman: Mr. B M Allen


Society Office
Federation House
Gilwilly Industrial Estate
Penrith
Cumbria
CA11 9BL
Telephone & Fax: 01768 891001
e-mail: fpsoc@aol.com

Sales/Exhibition Officers
To be Appointed

Fell Pony Sales List
Miss. M. G. Longsdon Tel: 01629640709

Trainee Judge Chairman & Show Affiliation Secretary
Mrs. A A D Newall
Todridge, Great Whittington, Northumberland NE19 2HP

Trainee Judge Secretary: Mrs. C Allen

Representative to the NPS: Miss M G Longsdon
Representative to the BHS: Mr R B Sutcliffe
Editor FPS Newsletter: Mrs. B F Slater


Council

To retire 2000: Mr. B M Allen, Mr. R B Charlton, Mrs. A A D Newall
To retire 2001: Mr. E M Wilson, Mrs. C H Robinson, Mr. P Forsman, Mr. P Boustead
To retire 2002: Mrs. E A Ball, Miss M G Longsdon, Mr. J Bell, Mr. R B Sutcliffe
To retire 2003: Mrs. M C Murray, Miss B W Walker, Mrs. S C Morton
To retire 2004: Mr. A W Morland, Mr. W S Potter, Mrs. M Raines, Mr. D Wilkinson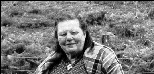 The Fell Pony Society recently lost one of its longest serving officers with the death of Molly Laing. As Sales Officer for the Society, an honorary position she held for many years, Molly was responsible for maintaining the list of ponies for sale and wanted. In addition she took a leading role in breed promotion by manning the sales stands and organising photographic displays at many shows and events. In between these activities she found time to serve as a council member, was one time assistant secretary, and was president of the Society at the time of her death.
Born at Calderhall, Cumbria, she moved as a young girl to Harrogate where her parents, Tom and Mairi Paisley, had a riding school and hunting yard. Her mother was an accomplished horsewoman, and would think nothing of driving four-in-hand. They were a keen hunting family, and hunting became a major part of her and her younger brother Joe's lives. Molly could recall from an early age much of the country between Cumbria and North Yorkshire, because she had ridden over so much of it. Her father became master of the York and Ainsty and then the Bramham Moor, and her brother whipped in for him and later became master of the Airedale Beagles. Molly followed hounds from an early age. She had a mischievous streak, and once popped a toffee into the secretary's bag instead of her cap. At the start of the war 50 of the 60 horses in her father's yard were taken for remounts and sent to Palestine; she often used to talk of how she tied histories to their headcollars as they left.
During the war her family moved to the Borders, and took over the Horse & Hound Hotel at Bonchester Bridge. Having a great love of children, Molly worked at Wolflee, which was then a war-time school and home for the very young. She met and married George Laing in 1946 and they took on Twislehope, an isolated hill farm. Her husband became joint master of the Liddesdale in 1964, and remains so to this day. The hounds are kennelled on the farm. Their son Norman is master and hunts the hounds with the help of children Angus and Lindsay.
As warm as she was stoic, Molly educated all her eight children at home using a correspondence course but also drawing on her own love of art, culture, religion and life in the hills. With her children sharing their mother's love of hunting and riding, a small herd of Exmoor ponies were brought in. Later, with her son Norman, she started breeding Fell Ponies. The children broke them in themselves, and rode them to hounds as well as being regulars at the Eskdale branch of the Pony Club. Twislehope bred as well as other Fell Ponies were taken by her children to a very high level, both in Riding Club and Pony Club events. Molly's involvement with the Pony Club started in 1929 when she attended one of the first ever rally's; 50 years later she helped at the Pony Club's Golden Jubilee celebrations at Wembley.
Molly's interest in Fell Ponies started over 40 year's ago; one of her many special memories was going with many friends and two of her daughters to Wembley for the Royal International Native Ponies Exhibition in 1969. She created a wonderful stand with trees, foxgloves and ferns and Lake Windermere as a backdrop, and the Fell Ponies took the silver medal home. She was back in London in 1978 at the Native Pony Musical Ride with Twislehope Rex ridden by her daughter Mairi, where she looked after and fed all 16 riders. Mairi and Rex also took part in the NPS display at The Royal Show at Stoneleigh, which was another of her favourite events; she made the trip many times. She was always accompanied to shows and events by young people and children, be they family or otherwise; she had a wonderful ability to involve, encourage and give confidence to them.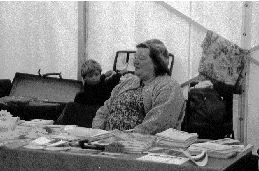 Two of Molly's very special dates in the Fell Pony calendar were the Breed Show and the Lowther Driving Trials. In 1970 she helped start the breed show at Dalemain, then it moved to Brougham where she ran it for the rest of her life. She had one of the first stands at Lowther, which was a date she never missed for over 25 years except, sadly, last year when her illness prevented her from attending. In the early days the Fell Ponies put on a display at Lowther, which was such fun that many of her children and friends took part in it. A committed ambassador, many will recall her sitting at her stand with her dog at her feet able to answer any question on the breed, and welcoming new and old members onto the stand.
Molly's contribution to the Fell Pony Society, and to the breed itself, has been immeasurable. Like her contemporary, Peggy Crossland, she was working to promote and market the Fell Pony long before it was fashionable, and the widespread popularity the breed now enjoys today is in no small way attributable to Molly's enthusiasm and interest.
Molly never let the remoteness of her home get in the way of her travelling. She covered many miles every year, attending shows and events, and visiting her many friends, her children and her twenty one grandchildren. She was a well-known and much-loved figure from the North of Scotland to the southernmost parts of England; indeed, it was the places she went and people she met that meant so much to her, as did her involvement with the societies she supported. She had a lifelong interest in goats, and as well as the Fell Pony Society she was president of the British Goat Society and secretary of the Northern Goat Club.
She is remembered for her forthrightness, her care and concern for others and, above all, her boundless energy and zest for life. She had a natural interest in people, and an amazing memory for detail which made those who knew her feel special.
From: Molly's children and former FPS secretaries Mr. Clive Richardson and Mrs Rachael Chapman (Bell).
I have been a Council member for five years and their Chairman for two. My history and credentials are known to you all, as I have written in other F.P.S. publications.
Your Society is going through a period of great change and consequent stress and dilemma. Hence, the important subject for my report is the management structure and administration of Society affairs. You, the members; elect your Council of twenty members as our Articles of Association demand. We meet six times per year, plus occasional special meetings and we are considering a small executive committee for more immediate decisions.
The present Council consists of a mixture of knowledgeable pony breeding experts and other pony fanatics who have management and administrative ability; both of these skills are very necessary. The administration of the Society covers at least 25 different specific subjects. Do you appreciate that fact?
We have had a load of problems to resolve, but I only wish to harp on them if they can be of benefit for the future. Many have been highlighted by our recent secretaries. Sally Guiry (Wood) forewarned us. Judith Slattery, who did her utmost to cope, brought the position to a head. The task is more than one lone secretary can manage. The hours they worked were 50% more than normally expected.
We have now gone through the recruitment procedure for a Secretary twice in four months. The candidates were admirable - the task is daunting but four months without a Secretary has been stressful but informative. Limited funds at our disposal make it impossible to employ more staff, therefore we are instituting other ways to supply the needs of members and other institutional bodies who demand an efficient service.
In the absence of a Treasurer I shall report about our finances at the AGM. However, we need much more income; to cover office/administrative costs, and to subsidise costs necessitated by our regulations on ponies that show no financial return. Fund raising events will be welcomed as one source. Another, which I put to Council, is the increase of membership subscription to £20, the second lowest of the Native Breeds: This was rejected; there is a balance of reasons in favour and against.
The Law, the MAFF and the European Community requirements increase regularly and need detailed and knowledgeable accurate commitment and much of this is concerned with Equine Identity. A new Secretary cannot know all the answers - let alone an experienced one! Therefore, various Council members and other volunteers are being educated in the specialist activities involved with the more important subjects of administration. They will then continue to assist the Secretary in their particular role and in times of work over-load will actually participate in or be responsible for completion of the necessary task. The seven newly formed Area Support groups may well participate in this.
I have collated innumerable views over that and previous periods. I form my own opinion and give it to Council. They then make their decisions. I only have a casting vote in the event of equality.
We will review our Rules and Regulations as soon as some of our decisions are clear cut and without question. In the meantime any changes will be as advised in Newsletters or other circulars, which costs £220 plus printing charges each time we circularise members.
I sincerely hope the lessons learnt lead us to a better future. Your continued support and understanding is so important and we are doing our utmost to achieve your needs and desires.
I particularly wish to thank Barry Allen, your Vice Chairman, for his great support to me and you. We each spend two if not three days per week working in the interests of Fell Ponies. Thank you also to the Council and volunteers who have contributed in many and various ways to Society business. We need you and are most grateful.
Bob Charlton
I am pleased to tell you that we have a new secretary - Caroline Singer. She starts work with us on 10 April 2000 but you wilt be able to meet her on 1st April at the Annual General Meeting. She has no objection to my telling you that she is 22 years of age, lives in Carlisle and has a long association with Connemara ponies. We wish her well in what is, without doubt, a very challenging position. We must all be patient and helpful as she learns the detail of Society business.
It is no secret that the single recurring reason behind the loss of our last four secretaries has been the heavy workload. We must learn from this and do what we can to lighten the load. Many members help the Society in different ways - often without fuss and probably without much recognition. In the absence of a secretary, many people have worked tirelessly to "keep the ship afloat". Some tasks which could be removed from the office have already been picked up by members. Most of the work, however, is office based due to computerisation. If anyone with an aptitude for office work could assist on an occasional basis, working with the Secretary, this would be an enormous help. We are looking for people with a little time available who are prepared to turn their hand to anything. I would be very pleased to hear from you.
Your Council has also taken the view that Council members should be given responsibility for various aspects of the Secretary's work. This will provide the whole Council with current knowledge of the office situation and members of the Society will have an additional contact point if they cannot reach the Secretary. These responsibilities will be published in the next Newsletter. In view of the anticipated changes in personnel on the Council at this year's AGM, it was decided not to publish information at this stage. Your Council has invited Mrs. Beth Slater to be the Fell Pony Society Treasurer and are pleased to inform you that she has accepted.
Bob Charlton
Your Council made some important decisions at the last meeting on 7th March and breeders in particular should take note as they affect this year's breeding season
Microchipping
All foals born from this year onwards must be microchipped before registration and weaning using chips which can be obtained from the Society. Chips can be implanted by your own vet but we are training people who will do this for an all inclusive cost of around £12 per chip. Details will be available through the office in due course. I do not propose to list all the benefits of reliable identification. With (mainly) solid coloured ponies we do have problems and microchipping appears to be the only method which has widespread support. Certainly we are finding whorls a most unsatisfactory method of identification.
DNA Testing
The regulation by which all filly foals will have to be DNA tested from this year onwards was re-examined but confirmed. For this year breeders will pay for only the first 3 fillies. I am very aware of the strength of feeling on this issue within the Society, particularly in relation to costs. It may be - and I can put it no stronger - that ways of further subsidising these costs could be looked at in future.
Many questions have been asked about DNA and I have sought the opinions of the Animal Health Trust and the BHS legal department in an attempt to provide answers.
Questions and Answers
Q. What is the date beyond which blood samples cannot be converted to DNA?
A. We have stored samples for DNA from January 1996.

Q. What is the cost to the FPS of converting all blood samples held by the Animal Health Trust to DNA?
A. A DNA test on a stored sample is the same cost as on a new sample - £29.00.

Q. In the case of blood which is too old for conversion to DNA, what can be proved about parentage from a blood sample from the offspring?
A. In all cases tests can only prove Non-Parentage. It is not possible to prove parentage.

Q. Is there a time limit on such a check?
A. No.

Q. Is there a cost to the FPS?
A. No.

Q. If blood typing of parents has been carried out, does the blood have to be converted to DNA to prove parentage of a DNA tested foal?
A. Yes. We can only test DNA V DNA. So, if a foal has been DNA typed and the parents blood typed then the parents must be DNA typed.

Q. If DNA can be taken from only one parent; can DNA from the foal prove that this single parent is correct?
A. No. We can only prove non-paternity or non-maternity.

Q. When DNA is taken from a foal, and assuming we have DNA from both sire and dam, is there an automatic parentage test or must this be requested?
A. No parentage analysis is carried out unless the F.P.S. requests it. This could be by a standing request, e.g. all foals to be parentage tested, or by individual cases.

Q. Is there a charge for parentage test?
A. No

Q. If DNA is taken from a parent after it is taken from a foal, is there a charge for a parentage test?
A. No.

Q. If the FPS requested an automatic parentage test whenever this was possible, would there be a charge for this service?
A. No.

Q. Do you recognise a hair sample collected by the owner of a pony, i.e. not by a vet? The Animal Health Trust are not concerned with who collects the sample and believe it is for the FPS to decide how they verify information on registration documents (passports).
A. We will accept any samples (assuming they are appropriately labelled) that the FPS submits, i.e. it is the Society decision re the owner or a Vet.
Subscription rates are as follows:
| | |
| --- | --- |
| Full Member | £15.00 |
| Junior Member (Under age 18) | £ 7.50 |
| Family Member | £ 7.50 |
Subscriptions are renewable annually on 1st January. There is a period of grace of 3 months, until 1st April, at which time membership is deemed to have lapsed. A reminder letter will be issued in due course, after which no further mailings will be sent and privileges of membership of the Society are withdrawn.
PLEASE NOTE: You must have paid your 2000 Subscription, received and signed your membership card BEFORE the AGM to be eligible to vote (Full and Honorary Members only). Please have your membership card ready to show on arrival at the meeting on 1st April whereupon you will be given a voting card and papers. This procedure will save time at the meeting. Please return your voting card at the end of the meeting.
The Secretary & Treasurer,
Federation House, Gilwilly Industrial Estate,
Penrith,
Cumbria, CAI 1 9BL.
E - mail: fpsoc@aol.com, ( FPSoc@bhs-inter.net )
Telephone/ Fax: 01768 891001
A Company Limited by Guarantee. Company Number 3233346
I expect that by now all you Endurance enthusiasts are tentatively looking forward and planning rides for the season .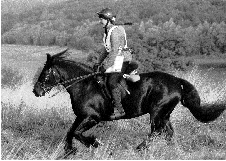 Sue Wardle on Guards Joseph
It's been encouraging to see Mandy de Belin /Nicholas Tweedie-Smith and Gamsworth William competing at 40 and 50 mile rides with some of them being race rides. Sue Wardle and Guards Joseph have been doing an impressive 24 rides last season including 30 and 40 mile rides showing that Fell ponies can do the distance! However, the pleasure riders have also been doing well with Joan Hopkinson and Hesket Raffles and Mrs Hockenhill with Sleddale Dainty having done rides numbering in the 20's, although at shorter distances. They all require a good standard of fitness with the former two requiring more speed.
The beauty of endurance is that if you go along steadily building up the fitness ( as long as you can control the fatness) you will find that your pony will suddenly blossom after about 3 years, come really fit and return to fitness much quicker after the winter.
I know that it depends on peoples commitments and funds but it would be nice to see a few more people giving Mandy and Sue a run for their money, especially as Alison Knight has sadly had to retire her very successful Lownthwaite Romany due to an injury. She is still doing pleasure rides as I don't think Lady has any intention of retiring.
The Hillhead Minstrel Trophy Pleasure Rider- (donated by Lloyd and Pauline Webster).
Highest mileage
| | | |
| --- | --- | --- |
| 1st | Joan Hopkinson and Hesket Raffles | 384 miles |
| 2nd | E Hockenhill and Sleddale Dainty | 315 miles |
| 3rd | Fiona Carradus and Uldale Raven Black | 259 miles |
Low Green Topsy Trophy donated by Steve and Wendy Cresswell for the highest competitive points
| | | |
| --- | --- | --- |
| 1st | Sue Wardle with Guards Joseph | 1113 points |
| 2nd | Mandy de Belin with Gamsworth William | 1060 points |
Fell Pony Society Medallion for the highest competitive mileage
| | | |
| --- | --- | --- |
| 1st | Sue Wardle with Guards Joseph | 472 miles |
| 2nd | Mandy de Belin with Gamsworth William | 380 miles |
Accumulative Mileage Rosettes
100
E Campbell with Drybarrows Fanta
(156)
200
Julie Sellors with Browedge Tommy
(285)
400
Rachel Woodruff with Heltondale Emma
(417)
700
Mrs. E. Hockenhill with Sleddale Dainty
(774.3)
Pat Dodds with Hillhead Minstrel
(754.5)
Mrs. P. Finch with Waverhead Rose
(710.5)
800
Alison Knight with Lownthwaite Romany
(811)
1000
Fiona Carradus with Uldale Raven Black
(1065)
Joan Hopkinson with Hesket Raffles
(1084)
1250
Mandy de Belin with Gamsworth William
(1134)
1500
Sue Wardle with Guards Joseph
(1769)
However, I don't want to put off those riders and ponies who prefer to enjoy few rides a season, you are just as important and it's amazing how the miles accumulate over the years to show what your pony has achieved.
As there seems to be quite a few Christmas rides on these days, I think it would be easier to run the season from January to December. Could you therefore send your cards and an A5 S.A.E. by the end of December (or sooner) and I will return them along with the new mileage card early in January.
My Fell Bramble (Low Green Topsy) is unfortunately having problems with her breathing again but she competed with COPD very successfully. I am looking into rubber flooring to contain the dust even more. My youngest son, Mike, is still learning to ride on her so she is doing a bit of work but still puffing too much to do anything strenuous.
I hope you all have a successful and enjoyable season and I look forward to seeing you around. If anyone is interested in the Scheme please send an SAE A 5 envelope for details to Wendy Cresswell, Court Barn, Lingen, Bucknell, Shropshire SY7 ODY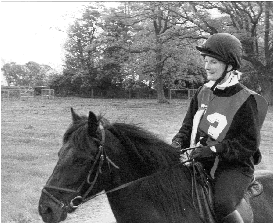 Joan Hopkinson and Heskett Raffles
(or how to conquer a little dragon with a 13.2 hh Fell pony )
Gamsworth William FP261G
Sire Peepings Black Magic Dam Greenfield Princess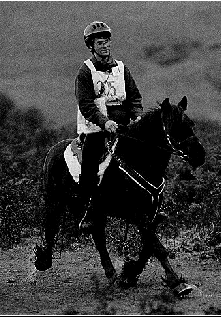 Gamsworth William FP261G
'Three, two, one – you may leave.' It's 8 am, Saturday morning and the start of the Little Dragon, a 52 mile endurance ride across the Welsh hills. There are 28 starters. The field is led out along the roads from the Welsh Showground by a pace car. I slip Wills into the pack about two thirds of the way down, behind an Arab stallion, Czarus.
Wills wants to overtake as we trot along the roads, but I'm unsure how Czarus will react, so hold a safe distance behind until we reach "that hill" which was tougher than I had expected, steep, long and rocky. Wills was breathing hard and my first thoughts were that we had overdone it, then it dawned on me – he was admiring the view.
There was good riding, with stupendous views and quite a mixture of going which could be slippy, muddy, rutted, rocky or perfect or a mixture of the lot. Wills was enjoying himself, jumping the flood water, bickering with me over the best going, the best speed and sometimes ordering me to get off and walk.
At the first few crew points Wills' owner Mandy de Belin met us with drinks and water to cool Wills down, Wills refused the watery sugar beet he was offered so as not to lose the horses we were with. This was a bit worrying but here was a pony on a mission.
We teamed up for a while with a Welsh Cob, who would go ahead on the faster going and then fall behind as the going turned bad. Eventually we lost the Welsh cob when he refused to cross a stream, and as I had been holding Wills back downhill and finding a short steep stretch without rocks I let him go, curious as to what he's been telling me he can do. The result brings a smile to my face as he sits back on his hocks and canters cowboy style down in short controlled hops.
Two hours forty-five minutes after starting we trotted along the road and entered the first vet gate, the first 25 miles completed. Here Wills becomes Mandy's responsibility. The clock doesn't stop until we present to the vets with a pulse 64 bpm or below, leave it longer than 30 minutes and we are eliminated. Just over 5 minutes after coming in and the vet's taking Wills pulse – 56 bpm, OK so far. Mandy trots him up, he's sound. The vet checks his back, mouth, legs and dehydration level – all fine. Exactly one minute after the start of the trot up his pulse is taken again. Again this must be 64 bpm or below to avoid elimination, but ideally should be the same or lower than the first reading to show he's recovering well. It's 58 bpm, he's fine, but we take the 2 beat rise as a warning. Now it's time to rest and Wills and I take the opportunity to eat during the compulsory 20 minutes hold before we can restart.
Now on the climb up the stick several faster horses pass us on the better going leaving us alone on the open hill without another soul in sight. When the track narrowed and started to twist, Will's competitive spirit was back and he was all for barging through. He flies down the hill back to the vet gate as fast as the going will allow. Mandy crews us and for a while we are cantering level with her in the car. She later told me that his ears were pricked and he wore a great big pony grin. Another competitor's crew shout out their admiration for his extended trot.
Into the vet gate and it's time to cool Will's off, and we are safely through on 60 bpm and 60 bpm after the trot up. Fifteen minutes glorious rest. Only 10 miles or so to go and two horses are waiting to go as we present to the timer. Their rider's faces fall as the timer tells them that the Fell pony has a 12 second head start on them!
On the last long climb Wills is tiring, we find a water trough for him to drink from as the others go ahead and I get off and lead him to the top. On the descent Wills swings round at the end of his lead as 3 trail bikers pass us close to the edge. It frightened me, so I hate to think what they thought. At the bottom I catch up with one of the 100 milers and we trot back to the venue and cross the finish together. Only one more hurdle to go – the final vetting.
We have up to 30 minutes to take Wills to the vet, again his heart rate must be 64 or below and he must be sound. Picking out his hooves reveals a slightly twisted rear shoe. Will it make him lame? Is there time to have it replaced? We decide to risk it as it is and take him to be vetted after about fifteen minutes. First heart rate 58 bpm, Mandy trots him up, second heart rate 60 bpm. 'He's fine' says the vet, 'but he is a wee bit tired, so I ask, 'Will he be OK to do another 25 miles tomorrow?' 'Oh yes' says the vet and proceeds to give us advice on how to ensure he rests well that night.
We have done fifty-two miles in 6 hours 22 minutes + 35 minutes of compulsory rests. There were 28 starters in the class, 21 made the distance and passed all the vet checks and we came 16th. We also picked up the rosette for the top registered native on the Saturday and best of all the Gunner Trophy (along with a box full of prizes) for the fittest pony under 14hh over the weekend. As well as being the fittest pony, he is probably also the happiest one!
Nickolas Tweedie Smith
Congratulations to all the area leaders who have been very successful in gaining enthusiastic support from their members. The response to the introductory surveys sent out has been tremendous and a varied programme of activities has been arranged up and down the country. So do contact your Area leader and make sure you do not miss out. I am sure you will also be very welcome at events outside your own Group so the following Telephone numbers may be useful.
Scotland
Judy Fairburn
or Heidi Sands
Tel/Fax 01343 890472
Tel: 01340 871770
Email; sambo@sandsi.freeserve.co.uk
North West England
Beverley Hodgson
Tel: 01524 241428
North East England
Margaret Raines
Tel: 01748 824547
Mid West England
Mary Longsdon
Tel: 01629 640709
Mid East England
Judy Hill
Tel: 01455 552534
South West England
Michael Goddard
Tel: 01258 817161
South East England
C. Ross-Thompson
Tel: 01580 819229
Scotland
"A Fell Pony Society Support Group Scotland is currently being set up. We plan to hold several informal meetings a year with the emphasis being on fun for all. At the moment we are sending out "feelers" to gauge the amount of interest "out there". If you live in Scotland, have not already been contacted and would like to be know more please contact either as above.
North West England
I am pleased to report that there has been an excellent response from members, and many thanks to all of you who will be holding events this year, the group will not succeed without your generosity. If there are any stud owners willing to host group visits, or members with any skill that they are prepared to share with us, please let me know.
If you intend to take part in any event please contact the host whose name appears in this newsletter and It is up to YOU the members to ensure that you are in the right place at the right time. To avoid any disappointment please check the day before that it has not been necessary to cancel the ride. You will need to provide your own refreshments
The cost of each pleasure ride will be £3.00 (in order to boost funds) collected on the day and by the time you receive this newsletter you will have received your SAE for more information. I hope to have a list of further events at the Spring Meeting. See you there.
15. April 2000 Christine Robinson. North Fell Dyke, Lamplugh, Cumbria. Saturday pleasure ride 10.30 am start approx 5 hour ride. Tel: 01946 862439.
14. May 2000 Beth Slater. The third Fell Pony 2000, fundraising ride, Kirkby Lonsdale, Cumbria. (Beth would like to see more Fells take part this year). Tel: 01729 860378 for entry forms.
3rd. June 2000 Rachel Woodruff. Tockholes, Darwen, Lancs. Saturday pleasure ride, 11 am start approx. 3 hour ride. Tel: 01254 830900
18th .June 2000 Alison O'Neill. Howgill Fells, Sedbergh, Cumbria. Sunday pleasure ride, 10.30 am start, challenging 5 hour ride, Tel: 015396 20134
September 2000 Rachel Crayston. Egremont, Cumbria. Saturday pleasure ride, 1l am start approx 4 hour ride, ponies available, Tel: 01946 823259
December 2000 Coach trip M & M finals, Olympia, London.
Beverley A Hodgson Area Co-ordinator. Tel: 015242 41428
North East
Many thanks to all you who responded to the letter re the formation of a Supporters Group. I have had lots of suggestions and some offers of help. The idea would be to have some function in each area of our large region but that depends on venues and help. To start us off — we have a Pleasure Ride from The Linnels, Hexham on Sunday April 16th. 10 a.m Light refreshments available but please bring packed lunch if required. Please come along with or without ponies so we can get to know everybody.
Future plans include a visit to a Cumbrian Stud, a horseback Treasure Hunt and a Demonstration/Talk. Also top of the list was a meeting to explain/discuss Fell Pony Society issues (including identification and form filling)
Please ring me with your suggestions for events and/or venues and offers of help. Margaret Raines Tel: 01748 824547
Midlands West
25 June 2000 Pleasure Ride Cleehill, Shropshire
8 October 2000 Pleasure Ride Water House, Stoke-on-Trent
19 November 2000 Lunch with speaker, Sudbury, Derbyshire.
Mid East
Several area lunches have taken place and the full programme will be available at the A.G.M.
South East
26th March Lunch at Street, Sussex
30th April W.H.P. Jumping & Dressage near Ardingley.
Please Telephone your Area Representative for further information.
Editor's Notes: Very grateful thanks to Mrs. Edith Stockdale, Jane Glass and friends for their help with packing and posting the Newsletter, Accounts and Agenda.
Deadline for Autumn Newsletter 1st September 2000.
(Or the British Butterfly Annual Homing Race with Fell Ponies)
One Saturday in late September 1999, a small group of intrepid riders met in a lay-by not far from Ravenstonedale. The weather was ideal, fine, fairly clear and mild enough for the riders without being too warm for the ponies. Our host and guide was Thomas Capstick.
We left the lay-by, crossed the road and followed a well defined track out onto the Fell. We had only gone a fairly short distance when Thomas called to Georgina to turn off the track to the left. We gathered together in a hollow near some sink holes wondering where we were going next, there being no apparent track, then Thomas explained that this was the location of the "Wolf Caves" which had been featured in an episode of BBC2's "Meeting 'the Ancestors". The cave entrance had been filled up again after the programme had been made and all the finds recorded. The caves had been inhabited by prehistoric man, as well, as wolves and over the passage of time the entrances had filled in, but it was still possible to see the imprints of bare feet left by the pre-historic people. These caves have been discovered by some pot-holers.
We then re-joined the main track and continued across the fell and after a while the track took us to a narrow wooden bridge over a fairly deep gill, complete with rushing beck. Everyone filed across after Thomas who had dismounted to open the gate on the far side. Georgina wished she had got off when the gate proved awkward to open and she and David were left stuck in the middle. As I share Georgina's "love" of heights I chickened out and led Quest across, decided that just being that few feet lower would feel better
After the bridge we followed a farm track past some lovely old buildings before taking once again to the open fell as our objective was the top of "Wild Boar Fell", but to get there we had to traverse a rather large bog with no obvious track. This proved to be interesting, and although we were careful one or two of our company displayed riding skills not often seen outside the Circus, trying to stay on their ponies, while they nimbly (and not so nimbly!) picked their way through. The only person who didn't seem to have any problem was Becky on Mystery, neither of whom had ever been "off-roading" before, however; we put that down to Mystery's' big feet and Becky's' small size.
Once clear of the bog we had a steep but incident free climb to the top and the view was amazing, across to the Heltondale Fells, Blencathra and the Caldbeck Fells, and closer to Appleby and Dufton, definitely worth the climb. It was at this point that Alison and Boxer left, Alison deciding that her eight week old daughter may be ready for lunch! We all felt hungry too so we made our way across the relatively flat top of the fell to a very useful fence to which we tethered the ponies where it was time for another history lesson. Thomas explained to us that the area had been quarried at one time for millstones, and it was still possible to see some that had been left behind, presumably broken or flawed in some way; in fact it was on the edge of one such quarry that we sat to have lunch and I'm not sure exactly how high
we were but the cars on the valley road below were definitely Dinky Toy .size. Strangely, I don't mind natural heights, its bridges and high buildings I don't trust. It was while we were eating that we noticed a Butterfly go past, then another, and another, or was it the same one flying in circles? No, definitely more than one, they started to go past in twos and threes, various theories were put forward as to where they were going, each one more ridiculous than the last until Georgina, Glenis and I decided it was the British Butterfly Racing Associations Annual Homing Butterfly Race, at which point Thomas decided that we were all out on licence from a very secure, highwalled establishment, either that, or we had more than orange ,juice in our drinks holders!
Ponies rested and us fed we set off again along a narrow track on the edge of the fell. As we went along we met a group of walkers ,just setting out from their lunch break, maybe they had released the butterflies ? -Suddenly, after a small rise the track went down, very steeply, with a drop on one side and a bigger drop on-the other. Georgina led the way as I turned to give advice to the inexperienced Becky "keep your shoulders back, weight in the saddle and look forward", then as I turned back to Georgina "close your eyes, put your hands together and pray". Georgina thought I was joking. When we reached the bottom we stopped to let the others catch up, and they'd all got off.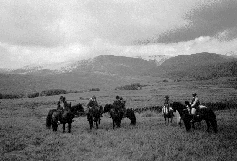 Things got easier as we followed a recently re-instated track off the fell and down to the road where we crossed and followed some lovely lanes until we reached Ravenstonedale village which is very pretty and was well worth riding through and it was much easier to see the houses at a slow pace. Once out of the village it was along a single track road and soon back onto the fell, skirting close to Adamthwaite, and coming down through Thomas' land, looking back we could see some of his ponies high on the fell. The track led on through some fields and a wood and finally back to the road, near where we had left the vehicles. It was then time to see to the ponies and two Terriers who thought they'd been abandoned, before sharing same goodies that Glenis had brought along. Then it was time for home. After around six hours riding we were all pretty tired, but no one regretted going on such a nice ride - not even the day after, surprisingly enough.
A very big THANK YOU to Thomas from us all.
Christine Robinson
Ponies taking part on ride: Murthwaite Brown Betty (Thomas Capstick) Firequest of Kerbeck (Christine Robinson) Kerbeck Night Mystery (Rebecca Sim) Sleddale David (G. Callister), Tebay Vespa (Alison O'Neill) Threapland Thomas (Rachel Crayston), Carrock Polyanna (Glenis Cockbain) Greenholme Charlie (John Thwaite)
Coloured cob with Lorna Whitehead and also an Arab.
Miss Bonnick writes: We are a group who has an abiding interest and understanding of horses. We will help you plan exciting days out exploring open fells, forest trails, bridleways and quiet country lanes.
Bring your own horses or hire from one of the establishments who offer this facilility. Areas covered through a lot of Cumbria and into the Scottish Borders.
For further details contact :Mrs. Linda Stenhouse, Borders Honey Farm, Newcastleton, Roxburghshire TD9 OSG Tel/Fax 013873 76737
E Mail: Linda.Stenhouse@virgin.net
URL: www.Cumbria.com/horsehols
Or Pamela Bonnick (FPS Member), Scalehouse Farm, Scalehouses, Nr. Renwick, Penrith, Cumbria CA10 1JY Tel No: 01768 896493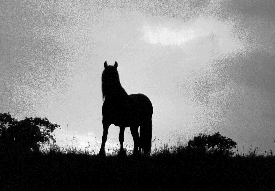 A lady on The Isle of Man had set her heart on owning a Fell Pony to drive. Her husband and daughter decided to surprise her for Christmas, so during the summer they looked via adverts and FPS sales list and located a filly in Leicestershire that sounded 'just the ticket' from photograph and paperwork. They paid a deposit and then arranged a ferry trip but the carrier won't carry livestock when the sea is three knots or more. The filly and a ram went off together, arriving safely in Douglas.
Another panic as Husband was at work and had to make excuses to collect the pony and hide it under cover, with a friend till Christmas morning. Things went smoothly till 'Mother' realised the family were showing great interest in the fell breed in magazines etc and thought time was right to look for a pony for herself! It was feared the household would expand by two ponies so 'Christmas Present Ella' came out of hiding in late October and was an immediate success! Not many Fells on the island so she competed in and won many mixed classes.
In 1999 she started to ride and now ready for the new Millennium, everyone is moving back to the mainland and buying Ella's in foal dam. The future looks rosy, more showing, a new foal and Ella will soon learn to drive. A Christmas present that has started a new interest and way of life!
Mrs. Jan O'Brian
Stallion Show
The Show used to be held earlier in May but it is difficult to produce the young colts in show condition at an early date. Many of these ponies being truly native, have come straight off the fells where they have had to "rough" it in the winter. Some of the yearlings will have only been haltered a few times.
Breeders are paying more attention to producing real "pony" heads with small prick ears and large prominent eyes, while retaining the depth, action and freedom of movement so beloved by Fell pony men. It is a fine sight to watch a well-trained stallion trot in hand with its owner.
It may be of interest to strangers to the breed to hear of two unusual coloured pony families. The first is Mountain Flash, a blue roan yearling shown in 1967. This pony's grand-dam, Mountain Gipsy, is a red roan, fully pedigree mare by the famous stallion Mountain Jester. Each of Gipsy's foals, usually sired by a black stallion are roans, frequently blue roans and sometimes red roans, as also are the following generation. This dominant colour still persists through this family, which is owned by one of our veteran breeders, William Winder of Caldbeck and his son John.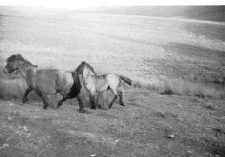 Wharton Bloom (11933) f. 1955 (Red Roan)
by Mountain Pride (3262) Roan)
The true grey colour is nowadays seldom seen, but there is a family lately owned by Mrs. Edmondson at Frizington, and a Grey stallion of this breed, "White Heather", was shown in 1956 by Mr. Peel of Cleator. This pony's grand-dam, Frizington Lady Grey, came to the first enclosure we ran at Berrier in 1946; she was a lovely pony and a real grey. It is a pity we cannot breed a few more. Grey is a useful colour when trying to locate a herd on a dark hillside.
The class for ridden stallions was held in 1968 for the first time. The whole class went well and quietly, and Mr. Manning rode each pony, which was quite a feat, but I believe he rides straight across country with the Dumfriesshire Foxhounds! Tremendous enthusiasm and praise followed from the onlookers, for what we hope will be an annual event.
The Late Mrs. S McCosh
Please Note: The roan colouring is now extinct in the Fell Pony breed
Early this summer, half a dozen members thought we would like to have a social, including our ponies, to meet new owners and let them know there were others "out there" with Fell ponies, so the "Heart of England Fell Pony Meet" was arranged.
With only memory and guess work ' we invited all Fell owner/members we knew within travelling distance, to join us at the home of the Shepparton Ponies. (Apologies to those we missed out!). We asked for £5 per family/pony to help with the tea kitty and for a commemorative rosette kindly made by Lynn Peel. A ridden route was planned and lead by Jo Ball. The day was very hot, and I gather they had a long resting and drinking stop at a local pub, getting back to base after the drive had returned!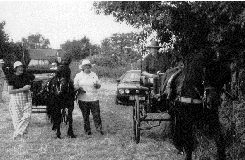 Margaret Enser and Mary Longsdon with
"Hades Hill Fay", and Christine Errington
with "Waverhead William"
I arranged the drive route, and disgraced everyone by driving a 26 year old 12.2hh dun "Heinz" pony. I had run out of driving Fells and as Shandy has lived with them for 19 years, she thinks she is black and one of them! Our various ponies included Lyn Chamberlain's 4 year old stallion, Alfie, on his first rally, he behaved very well but his little legs got tired towards the end of the 131/2- miles! Margaret Enser introduced Fay to 'fancy driving' and a two wheeled vehicle, having taken delivery of her only two weeks before. Fay had previously really worked with Tom Lloyd, in the woods timber snigging, going to Devon for a holiday on the hoof and driving to Appleby this year. She is a delight and fitted in well.
Once the two groups had returned and seen to the ponies, we had a picnic tea and good gossip - indoors as it was so hot outside! Everyone decided a good time was had and it should be repeated in some form. Maybe a Winter do, talk, meal or outing with our ponies, and a pony get together one or two days in Spring and Autumn.
Further to the Autumn newsletter announcement by Mary; do watch out for an invitation to a social activity in your area in 2000, or better still offer to arrange one, Mary is waiting
Judy A Hill
The horse was one of the main methods of moving timber until recently as the late 1960's and since then the pendulum has swung and partially returned. Horses gave way to tractors which had the potential for higher output and reduced costs. The horse continued to be used on steep broken ground until the advent of the cable crane which banished their use to a few private estates who valued estate traditions and recognised the benefits of horse extraction over machinery, these being minimal ground disturbance, soil compaction and low environmental damage the horse/.pony causes in comparison to wheeled or tracked vehicles.
The early 1990's saw a revival of interest in horse logging in the U.K. using a variety of gear to extract timber which has come about through various initiatives from the Forestry Commission (Forestry Enterprise) on Native Woodland, European 5 b Funding and an increased awareness to the needs of the environment. This renewal of interest is sadly being hampered by the downturn in the fortunes of the forestry industry although there are still some 60 or more horse loggers involved with the British Horse Loggers.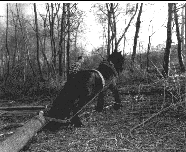 Dales pony working in Forestry
I can hear you muse about what this article is to do with Fell Ponies – The Fell pony together with the slightly larger Dales and their crosses are the ideal size of animal for first and second thinnings of woodland together with the intelligence of the native breed, surefootedness, and low maintenance requirements add up to a cost effective timber extraction in the right circumstances. Small areas of high conservation and/or amenity value are best extracted by horse with steep rocky sites where timber extracted up to 4 cu m can easily be worked by our native ponies with a minimum outlay on equipment e.g. Collar, back band, trace chains and swingletree.
On sites of special scientific interest or sites where public access is intense the acceptability of horse logging over machinery may attract a premium on the rate of pay.
However, before you all go rushing off to buy gear to become horse loggers with your Fell ponies be warned that work is not plentiful and a knowledge of forestry operations is a pre-requisite to being successful as well as the ability to be flexible enough to take on a variety of jobs. For those of you who have access to woodland and a use for firewood then your Fell pony may be the ideal method of extracting firewood to roadside ready for transportation home. You may be surprised how quickly the average pony broken to harness picks up the job and you may also find that working with your pony makes a pleasant interlude to doing the show circuit.
Author unknown

During the last year the research has been motoring along and has been making excellent progress against the programme, supported, as always, by co-operation from pony breeders up and down the country.
The post-foaling survey sent out early this year has seen an excellent response, every bit as good as last year, but for those of you who have not completed your forms, we know it can be a bind, but the information contained on these forms really is of crucial importance to the efforts of the research teams. Please take the time out and fill them in and return to Liverpool. (Not FP2000!).
Last year we in the Society have allowed our eye to leave the fundraising ball and money has not been accumulating in the reserves. However, we must all make an extra effort as we enter our year three, which could potentially see the final stages of the development of the awaited "Carrier" test. (And this still has to be paid for). We can also foresee that its initial application is going to have to be subsidised, so better to raise moneys now than pay the whole cost later.
For ourselves, we are planning to run a major raffle. We shall be writing to all of you with details in a few weeks time, but please support this effort and sell as many tickets as you can, to maximise what we can do. What we really need is as good a fundraising effort in this current year as we had in out first year!
To a whole number of people, we want to say again a big thank you. A thank you for your practical and moral support. To all those breeders who have gone to the effort of blood sampling again, to all those members who have filled in the post-foaling survey again and to all those who have raised moneys on our behalf. A huge thank you. You know, at this stage in a process such as the Syndrome Research, it is difficult to keep showing major tangible developments that you can hang your hats on. We know and we keep trying to tell you all, that progress is steady and positive and a result will be forthcoming. That result can only be possible with your continued contributions and as much as it might seem that a lot is taken for granted – it isn't.
To the many who bravely volunteered to allow bone marrow sampling of their newborn foals and have heard no more, the reason was that the research team was unable to find a suitably qualified Vet. in time for the foaling season. However, later last year, Gareth Thomas joined the research team working directly with Dr. Stuart Carter and some of you will remember him being introduced to us at the Autumn meeting. So if bone marrow sampling is required this year, the requisite skills are now in place.
As each year goes by, the blood sampling and other requirements from the scientists become more refined. When our Society sees itself with a new secretary, perhaps the scientists will be able to obtain that data that they usually have forwarded to them before now, in order that they can plan their sampling etc., in our final year. We only hope that the delay in the availability of this information does not seriously impact their particularly crucial year 2000 programme.
The blood sampling requirements are slightly different this year from previous years and will include the associated testing of newborn foals, their mothers and their grandmothers. As can be imagined, this scientific requirement will need an extra degree of co-ordination.
For our part, we are continuing to work towards that solution that we are all wanting. As the likelihood of this grows ever nearer, we must all work more closely together in preparation for that time, for we cannot let the Fell Pony down! - Can we?

Angela Johnson (Chairman)
Dennis Brunt (Secretary)
Dineen Brunt (Treasurer)
Stannally Farm, Stoneyroyd Lane, Todmorden, Lancashire. OL14 8EP
Figurine: C. R. Oglanby, Eire. Glasses: C. Walker. Camera: B. Burgh. Whisky: AR Ferguson. Peppermill: Mrs. Annette Coulson. Chocolates: Horse Rug: McNamara. Wine: J. Lippiat. Christmas Cake: Eddie McDonoy. Beer: K. Wkye. Socks: J. Thompson. Talc/Yardley: O'Brien. IOM Holiday: Sheena Lawson Bottle Port: Laura Hughes, Oldham.
As a result of the Raffle the Council agreed to send £1,200. 00 to FP 2000
Colts
£5.00
Fillies
£12.00
Stallion Licence
£50.00
Transfer of Ownership
£10.00
Transfer to Gelding
£10.00

(Non - members pay double the above fees).

Duplicate Certificate (when approved)
£30.00
Late Registrations
£50.00
Prefix: UK rate
£40.00
Prefix: Overseas rate
£60.00
Passports for ponies born BEFORE 1st January 1998
(replacement for Registration Certificate - send with request)
£25.00
I became the ½ owner of a small black gelding in December 1998.I was told he was a registered Fell, but on his delivery there were no papers!. A familiar story perhaps. but at the time I didn't care, he was a compromise horse, a native pony that could do every thing. My children could ride him and he was suitable for his other half owner who had only been riding for around 6 months, whereas the 16.2 dapple-grey part TB mare I really wanted wasn't.
The black gelding's stable name was Smartie and his apparent Registered name was Stennerskeugh Joe, but it didn't matter. Smartie went well in spite of the other ½ owner running off with the milkman. I took him on a couple of pleasure rides, which he really enjoyed, and he also taught me that losing my temper and swearing in public does not make him go into the trailer any faster. All you have to do is let him go in on his in on his own terms i.e. first, a typical native!
A local gymkhana was advertised and my fellow liveries convinced me that I should go along. I hadn't competed since about 1981 but I attended in borrowed jacket, and boots. We went in several classes and did quite well. The highlight was fifth in the M&M out of well over 20 beating some real M&Ms. My head began to turn. I remembered all the shows from the dim and distant past and my competitive nature reasserted itself. A couple of other Fell pony owners came to talk to me and the question of papers arose. at which point my head began to turn further and wanting to know more about Fells I joined the Fell Pony Society and watched the show at Windermere which I found very amusing. It reminded me of the numerous sheep shows I'd been dragged around but the trouble was that I now wanted to compete properly, and to do that, I needed Registration Papers
I phoned the Fell Pony Society and learned that if I couldn't find the original papers I had to DNA test my pony, his Dam and his Sire and it would cost about a million pounds. So I thought I would try and track down his previous owners and see if they knew anything. His previous owner was no help she thought she had the papers but what did they look like? And her husband had just died so I didn't want to pester too much.
I was then informed that Smartie had a full brother who had been successfully shown. Well that was it, I now knew I had to spend that million pounds on DNA testing
The next problem was locating the Dam and Sire (at least they were still alive!) I got the information from the Society secretary and contacted the owners who lived miles away but. luckily the owners were prepared to allow me to take samples of hair. Smartie's Dam was 16, completely wild and had not had a human hand on her for 6 years. Oh good! I thought, so I rounded up three helpers and set of for the hills of Lancashire. We met the Dams owner and followed him up a vertical track to find the wild pony. 'They are in that pasture over there' he said. I looked across and saw at least 30 assorted horses roaming about, several of which were Fells. Stennerskeugh Mandy is usually the last to come in, we were told Well, she would be, wouldn't she!.
I have to say that the owners were brilliant as we spent over two hours rounding up the pony with foal at foot two of my helpers had never seen any thing like this, as their horses were stabled and lived on smart livery yards.
We finally got the mare penned up and removed a sample of hair. This mare was very pretty and not at all like my gelding- he must take after his father then?
Dealing with the Sire was much easier even though he was some distance away; at least he had been handled. His owner Mrs Earnshaw was extremely kind and fed me fantastic home baking and showed me her other ponies. Why was my mother not like that?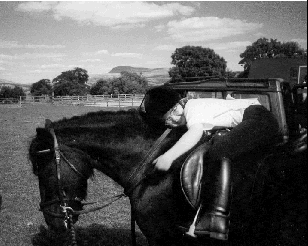 Stennerskeugh Joe FP 692G and friend.
So the DNA samples were duly despatched. However Smartie seemed to be twice the size of his Sire and not nearly as pretty. I now became convinced that he was not what he was supposed to be.
The DNA test became well known in my village and my work colleagues thought I was deranged, but I'd had become far too interested in Fell ponies and had crossed the sanity barrier.
A couple of weeks later I received a phone call to say that the DNA results had been received and Stennerskeugh Joe was in deed Stennerskeugh Joe!!!!!! And could I pay the million pound fees please. So now I am the owner of a fully papered Fell pony who has excelled at lead rein ,egg and spoon, and jumping. I've even hunted on him and was thought to be Fifteen! so what price is a million pounds for eternal youth?
But what for my sanity, well just to show how sad I've become I now have a full set of stud books and a second Fell pony but that's an even sadder story.
But what I will say is LOOK AFTER YOUR PAPERS AND BUYER BEWARE!
Juliet Coats
I am delighted to report that we so far have 160 member. l know we set out with a hope that it would be a "400 Club" but this is nevertheless a splendid effort and I thank you all. Due to the timing of the Certificate of Registration with Eden District Council it seemed sensible to run the draw from January to December - I hope nobody objects. The following are the winners from the first two months.
January
1st
(£25)
A Downing
2nd
(£15)
G A West
3rd
(£10)
J E Greener
4th
(£5)
P Kell
February
1st
(£25)
L Wright
2nd
(£15)
B Dunne
3rd
(£10)
A Robbins
4th
(£5)
F Dillon
The December (Xmas) draw will have prizes of £250, £125, £50 and £25. The Society will profit to the tune of around £800 this year with the present numbers. There is still time to join if you forgot first time around, just send a cheque for £12, payable to "The Fell Pony Society", to the Office and quote "200 Club". With the costs of running the Society always on the increase we will become even more dependent on fundraising activities like this.
Barry Allen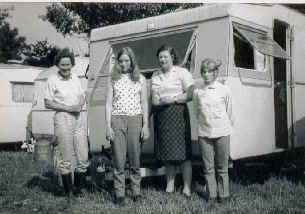 Peggy Crossland, Isobel Laing, Molly Laing and Barbara Bell.
This year has seen a welcome rise in the number of Junior Members taking part in the Junior Points Scheme. It was especially good that some of those taking part were new members this year. Unfortunately, we seem to have suffered a drop in the Senior Section of this Scheme, so come on all you Seniors get your forms and try to get your name in lights this year!
I was equally happy to see a rise in the number of people taking part in the Youngstock and Pony Performance Premiums this year, although more entries would be very welcome in this Scheme too. Remember that first prize in each of the sections in this scheme wins your pony and its parents a cash award.
Points forms for any of the above Schemes stating which scheme you wish to apply for can be obtained by sending an SAE to Christine Robinson 6 Crossgates, Lamplugh, Workington, Cumbria CA 14 4 TU Tel. No. 01946 862439
Fell Pony Society Junior Points Scheme 1999.
| | | | | |
| --- | --- | --- | --- | --- |
| 1st | Alex Habin | Age 14 | Uldale Black Ranger III | 1220 points |
| 2nd | Jennifer McDaid. | Age 13 | Cornriggs Kelly | 1130 points |
| 3rd | Rachael Brunskill | Age 15 | Peepings Nutcracker | 785 points |
| 4th | Claire Powell | Age 14 | Rosemere Heidi | 430 points |
| 5th | Jo Smith | Age 15 | Brackenbank Blackthorn | 425 points |
| 6th | Rebecca Sim | Age 12 | Kerbeck Night Mystery | 255 points |
Fell Pony Society Senior Points Scheme 1999.
| | | | |
| --- | --- | --- | --- |
| 1st | Jane Brindley | Eden View Moonstroller | 2080 points |
| 2nd | Katy Girdler | Lownthwaite Star Boy | 1810 points |
| 3rd | Sue Wardle | Guards Joseph | 840 points |
| 4th | Anne Yemm | Admergill Alexander | 550 points |
| 5th | Diana McGrail | Heltondale Lady VIII | 330 points |
Fell Pony Society Youngstock and Pony Performance Premium Award Scheme.
Foals (4 entries)
1st
D & G Williamson
Tarnbeck Shade
430 points
Sire: Townend Samuel. Dam Tarnbeck Sheba
2nd
J Bell
Waverhead Lucky II
255 points
Sire: Linnel Rapier II. Dam: Waver head Magic III
3rd
Mr. & Mrs. D Wilkinson
Brackenbank Poppy
95 points
Sire: Rackwood Prince. Dam: Lownthwaite Lapis
4th
Mr. & Mrs. D Wilkinson
Brackenbank Sefton
85 points
Sire: Rackwood Prince. Dam: Brackenbank Mayblossom
Yearlings. (4 entries).

1st
J Bell
Waverhead Glencora FP3194
335 points.
Sire: Waverhead Prince II. Dam: Waver head Magic III
2nd
Miss C Simpson
Farleton Forrest. FP50852c
305 points
Sire: Townend Midnight. Dam: Greenholme Marie
3rd
D & G Williamson
Tarnbeck Shannon
250 points
Sire: Heltondale Bellman V. Dam: Tarnbeck Shadow
4th
Mr. & Mrs. D Wilkinson
Brackenbank Nancy. FP3163
50 points
Sire: Waver head Prince II Dam: Brackenbank Mayblossom
Two year. Olds. (2 entries)
1st
J Bell
Border Duchess. FP3107
300 points
Sire: Lownthwaite Gary. Dam: Border Black Empress.
2nd
Mr. & Mrs. D Wilkinson
Brackenbank Romany. FP3006.
290 points
Sire: Waver head Prince II. Dam: Brackenbank Mayblossom.
Three year. Olds. (4 entries)
1st
J Bell.
Waver head Pearl II. FP 2898.
375 points
Sire: Lownthwaite Gary. Dam: Waverhead Pearl.
2nd
M C & C J Faulkner
Marlindyke Mo-Cridh. FP2861.
275 points
Sire: Drybarrows Jeff. Dam: Barncrosh Molly.
3rd
Miss M D Ford.
Hollfrey Heather. FP 2842.
135 points
Sire: Heltondale Rocket II. Dam: Sleddale Holly II.
4tj
Mr. W E Ford.
Hollfrey Sparkling Lady. FP 2843.
25 points.
Sire: Heltondale Rocket II. Dam: Sprintghyll Freya
Performance Pony - Four Year Old and Over - Ridden. (5 entries)

1st
Katy Girdler
Lownthwaite Star Boy. FP 9796.
1500 points.
Sire: Heltondale Duke. Dam: Lownthwaite Starbye.
2nd
Miss J Williamson
Townend Septimus. FP 723G.
590 points.
Sire: Heltondale Duke Dam: Lunesdale Sandra
3rd
D & G Williamson & H Watkinson
Greenholme Kitty. FP 2251.
460 points
Sire: Heltondale Black Prince Ш. Dam: Greenholme Jewel.
4th
K P Porter
Rackwood Charles. FP 6186.
475 points
Sire: Townend Henry. Dam: Rackwood Dewdrop.
5th
D & G Williamson
Townend Lucy IV. 18081.
450 points
Sire: Townend Flash II Dam: Birkett Bank Polly II
Lownthwaite Star Boy
(Heltondale Duke IV x Lownthwaite Starbye)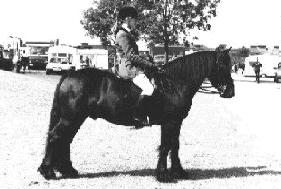 Lownthwaite Star Boy (Katy Girdler)
Owned and ridden by Katy Girdler of Ffrethi Stud, Carmarthen in Wales. Bought as an unbroken 3 year old from Penrith Sales, Yeti (to his friends) amassed many of his points at the unlikely discipline of dressage; winning his way against big horses bred for the job, to both the Summer and Winter U.K. Riders Dressage Finals, where he won a class. His highly successful show season included wins at the Royal Welsh, Ponies U.K. Summer Championships, Ponies U.K. Masters and the South West Pony of the Year Show. He held qualifications for the Glyn Greenwood in-hand Championship, The Kingsford, Heritage and Llanarth Ridden Championships and Ponies U.K. Masters Style & Appearance and Equitation Championships.
A great character, totally genuine, who always tries his heart out, Yeti is very versatile, and although a long way from Cumbria and surrounded by Cobs, he is quite at home as his stable mates include the novice stallion Townend Midnight and the yearling Linnel Piper, both of whom will be shown lightly this season.
Rare Breeds Survival Trust has written to the Fell Pony Society regarding the fate of small and medium sized abattoirs who are suffering from the payment system for the Meat Hygiene Service not being changed from the current hourly rate to one based on a headage payment making the cost of slaughtering much higher for smaller slaughterhouses. There is a great threat that we will lose these small abattoirs and that the long distance transport to the larger alternative slaughterhouses will have very real welfare implications. The RBST urges all Society members to write to their local MP c/o The House of Commons, London SW1A OAA (individual letters are more effective). More information RBST, National.
There are no very great changes to this year's schedule, but do read it carefully as the Rules and Regulations seem to grow and vary each year, unfortunately.
Ponies (U.K.) W.H.P. Qualifier Please note that there are now two qualifiers available for the Open W.H.P. class. Ponies (U.K.) now categorise the Shearwater M&M qualifier by height rather than by breed. So, when entering Class 25, please could you state whether your pony is 13.2 h.h. or less or over 13.2 h.h.
Super Veterans
To mark the Millennium Year we plan to hold a PARADE OF SUPER VETERANS at the Show, celebrating the hardiness and longevity of our ponies! We hope that all you owners of ponies aged 25 years and upwards will bring them along. The parade will take place at lunchtime in the main ring and hopefully each owner will provide a short history of their pony to be read out over the P.A.
Sponsors
If anyone would care to sponsor a class again this year it would be very much appreciated. Last year we had many kind people generously supporting classes and it really helped make the Show financially self supporting instead of running at a loss to the Society as it has been doing in past years.
As usual, schedules will be available at the Spring A.G.M. and the Stallion Show or by S.A.E. from the Show Secretary, Margaret Murray, Park House Farm, Baldersdale, Barnard Castle, Co. Durham DL129UT Tel: 01833 650474 or the Entries Secretary Dawn Ford, Heather Croft, Staintondale Road, Ravenscar, Scarborough North Yorkshire YO13OER.
Council Members Contact Numbers
| | | | |
| --- | --- | --- | --- |
| Mr. B M Allen | 01229 774528 | Mrs. M C Murray | 01833 650474 |
| Mrs. E A Ball | 01556 680442 | Mrs. A A D Newall | 01434 672218 |
| Mr. J Bell | 016974 78644 | Mr. W S Potter | 01931 716267 |
| Mr. P Boustead | 01524 383665 | Mrs. M Raines | 01748 824547 |
| Mr. R B Charlton | 01434 673262 | Mrs. C H Robinson | 01946 862439 |
| Mr. P Forsman | 01768 890372 | Mr. R B Sutcliffe | 01254 776389 |
| Miss M G Longsdon | 01629 640709 | Miss B W Walker | 01768 777202 |
| Mr. A W Morland | 015396 24615 | Mr. D Wilkinson | 01768 352861 |
| Mrs. S C Morton | 01768 881216 | Mr. E M Wilson | 016974 78638 |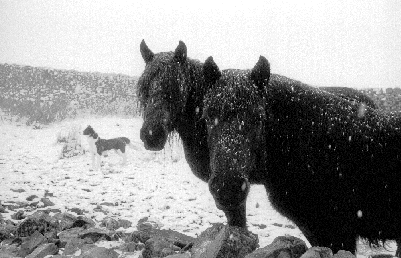 Heltondale Ruby III FP2157 and Heltondale Polly Perkins VIII FP 1826
in the snow at Stainforth North Yorkshire December 1999.
Both these ponies are used for shepherding and rounding up cattle
Opportunity to purchase tickets in advance to the Royal Show with a saving of up to 25% Please contact :
Elaine Moore Marketing Executive: Royal Agricultural Society of England, National Agricultural Centre, Stoneleigh Park, Warwickshire CV8 2LZ Tel 02476 696969 Ext 277
Performance Day Sunday 10th September 2000 at Streethill Farm, Lowesby, Leics. Classes for ODE, Dressage, SJ and Cross Country open to registered Mountain and Moorlands and part breds. Contact Sue Pritchard Springfield, Bicester Road, Enstone Oxfordshire OX7 4NH
Tel No: 01608 677369
Salisbury Monty FP50240G April 24 1994 - February 1 2000
(Sire Tebay Campbellton Victor Dam :Salisbury Olga)
Monty will be very sadly missed as he was very special and had so much character and always tried so hard to please. We took part in a twenty mile ride over the Newmarket downs to raise money for the McMillan Cancer Research which we both thoroughly enjoyed. He was an exceptional riding pony as well as just hacking out for pleasure riding for miles where we live on the Sandringham Estate in Norfolk. He was very popular, always making an impression on anyone who came into contact with us. We feel privileged to have had the pleasure of owning a wonderful pony, if only for a short time. He will never be forgotten.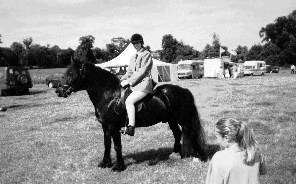 Mrs. Lisa Dunger on Salisbury Monty at the Wayland Agricultural show
in Norfolk August 1998, fourth, in the ridden Mountain and Moorland class
having behaved himself impeccably!
Mrs. Lisa Dunger
Dalemain Honeysuckle 17510 1977 – 2000
Sire :Dalemain Nettle (4862) Dam Low House Heather (12335)
Bred by the late Mrs. S. McCosh Huntfield Biggar, Lanarkshire.
Mrs. Elizabeth Pryor who owned her from 1980 writes the following:
In the first two years she was shown in hand and two of her proudest moments were coming 3rd in the very first Northern Counties Pony Show at Harrogate in 1981 and reserve champion at Sutton &Huby. After that we just enjoyed hacking out and driving, Honey being my second Fell Pony as in 1954 I had Dalemain Mimulus bred by the late Mrs. S .McCosh who was a lovely lady and worked so hard for the Fell pony and the Society – another sad loss.
Mrs. Elizabeth Pryor
1st April Annual General Meeting, Lowther Parish Hall, Hackthorpe, Penrith, starting at 1.00 PM.
30th April Tollbar Show, New Hutton, nr. Kendal, Cumbria. Tel: 01539 721686 (eves. only) for show secretary. ( To include a driving class and marathon).
20th May Stallion & Colt Show, Dalemain, Ullswater at 11.30 am. Schedules: SAE to Barry Allen, Tam Bank, Arnaby, The Green, Millom, Cumbria, CA18 5HZ.
28th May FPS Performance Trial, Linnel Wood, Hexham, Northumberland. Entries: SAE to Barry Allen as above.
11th June Working Hunter Pony Show at Barnend, Sockbridge Penrith.
N.P.S. Qualifier for Breed - Novice & Open. Tel : 01768 890372
2nd July Windermere Fell Pony Show, Brockhole, Windermere. Schedules: SAE to Barry Allen as above.
3rd – 6th July Royal Show ' National Agricultural Centre, Stoneleigh.
23rd July Hexham Native Horse and Pony Show. (Linnel Wood) .N.P.S.

Qualifier Fell Breed "New this year" Veteran, Novice, Junior Contact : Mrs S A Charlton Linnel Wood Hexham N'Land NE46 1UB

4th – 6th August Lowther HDT & Country Fair. Fell classes on Saturday 5th August. Schedules: SAE to the Secretary.

12th August 30th Annual Breed Show, Brougham Hall Farm, Penrith. Schedules: SAE to Mrs M Murray, Park House Farm, Baldersdale, Barnard Castle, Co. Durham, DL12 9UT.

27th August* Lune Valley Country Fair, Rigmaden, Kirkby Lonsdale Classes for Fell ponies Contact Ted Potter Tel 015396 24473

10th September* Twelfth Southern Breed Show, Shotover, Wheatley, Oxford. Contact: Mrs E Whitley, Criftin Mill Cottage, Oxton Rd., Epperstone, Nottinghamshire, NG14 6AT.

17th September FPS Autumn Performance Trials, Blawith. Mrs Baxter Tel: 01229 885255 for details Helpers required. SAE to Barry Allen as above for an entry form.
17th September Toll Bar Show Kendal As above. Tel: 01539 721686.
24th September FPS Pleasure Ride. Contact Mrs G Cockbain Tel: 017687 72133
27th October Annual Auction Sale of Registered Fell Ponies, at Penrith Auction Mart. Penrith Farmers' & Kidd's: Tel: 01768 82323.
28th October* Autumn General Meeting, Lowther Parish Hall, Hackthorpe

starting at 1.00 pm.

*provisional dates

Please send all Show and Event Results to Sally Rowe, Wasphill, Bleadney, Wells

Somerset BA5 1PH Tel/Fax 01749 672697 E-mail Rowe@Bleadney.freeserve.co.UK. Sally will then be able to collate the results for the Autumn Newsletter.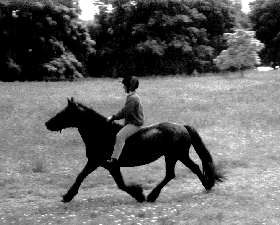 Esther Maree of Inglegarth (FP 1787)
Sire Townend Flash 11, Dam Sleddale Rosette X1
Owner BA Hodgson
Stepping out to win the bare back trotting race at Windermere Fell Pony Show 1999.
A race she has now won four times.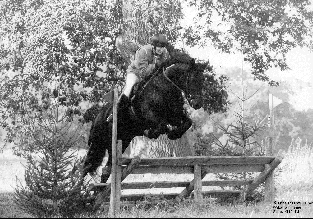 Bolton Abbey Black Bess (FP1669)
Sire: Twislehope Rupert Dam :Sleddale Dainty XVI
Owner J. Matlock
A true all rounder competing in a One Day Event
---
This page last updated: 22 January 2008
© 2000-2001 by The Fell Pony Society and Naked Essence Web Designs