Fell Pony Society
Spring 1999 Newsletter
---
---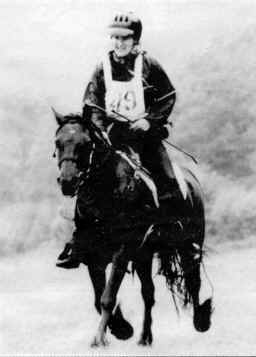 GAMSWORTH WILLIAM FP261G (Peepings Black Magic/Greenfield Princess) and Mandy de Belin competing in the Riding Clubs Endurance
Championships 1998 near Wincanton - in the rain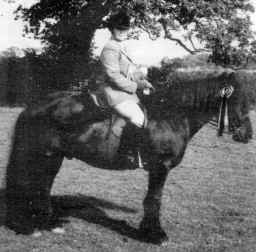 HELTONDALE ROBIN FP50034G
sire: Heltondale Rover IV FP480C*, dam: Midtown Ruth FP1270
Winner of the Ridden Fell Class
Westmorland County Show, September 1998
Owned by Mr Jeff Bell and ridden by Pam Graham, Heltondale Robin is pictured here with the Tarnbeck Maydew Memorial Perpetual Challenge Trophy donated by the Williamson family.
Robin, a 6 y.o. gelding, was bred by the late Mr Sarge Noble. The pony, having only limited experience in the showring prior to this season, is showing good potential and he is looking forward to continued success in 1999.
| | |
| --- | --- |
| 27 March | Annual General Meeting, Lowther Parish Hall, Hackthorpe, Penrith, starting at 1.00 pm. |
| 2 May | Tollbar Show, New Hutton, nr. Kendal, Cumbria. Tel: 01539 721686 (eves. only) for show secretary. |
| 15 May | Stallion & Colt Show, Dalemain, Ullswater at 11.30 am. Schedules: sae to Barry Allen, Tarn Bank, Arnaby, The Green, Millom, Cumbria, CA18 5HZ. |
| 30 or 31 May* | FPS Spring Performance Trials, Linnel Wood, Hexham,Northumberland. Entries: sae to Barry Allen as above. |
| 18 May | FPS Council meeting. |
| 20 June | FPS WHP Show & Training Day, Sockbridge, nr Penrith |
| 4 July | Windermere Fell Pony Show, Brockhole, Windermere.Schedules: sae to Barry Allen as above. |
| 5-8 July | Royal Show, National Agricultural Centre, Stoneleigh. |
| 6-8 August | Lowther HDT & Country Fair. Fell classes on Saturday 7August. Schedules: sae to the Secretary. |
| 14 August | 29th Annual Breed Show, Brougham Hall Farm, Penrith. Schedules: SAE to Mrs M Murray, Park House Farm, Baldersdale, Barnard Castle, Co. Durham, DL12 9UT. |
| 12 September | Eleventh Southern Show, Shotover, Wheatley, Oxford. Contact: Mrs E Whitley, Criftin Mill Cottage, Oxton Rd., Epperstone, Nottinghamshire, NG14 6AT. |
| 12 September | FPS Autumn Performance Trials, Blawith. Mrs Baxter on 01229 885255 for details. SAE to Barry Allen as above for entry forms. |
| 19 September | Tollbar Show. As above. Tel: 01539 721686. T.B.A. FPS Pleasure Ride. |
| 2 October | Teach-In Demo (Ridden) at Greenlands Equestrian Centre Wreay, nr Carlisle. 10 am - 3 pm. Tickets - see inside. |
| 3 October | Assessment Day at Town End, for trainee judges. |
| 22 October* | Annual Auction Sale of Registered Fell Ponies, at Penrith Auction Mart. Penrith Farmers' & Kidd's: 01768 862323. |
| 23 October* | Autumn General Meeting, Lowther Parish Hall, Hackthorpe starting at 1.00 pm. |
* provisional dates

There is no charge for advertising in this section although donations are welcome.

RIDING HOLIDAYS on the bridleways of the Howgills & surrounding fells. Stabling & grazing for your horse or pony. En-suite B&B, good local pubs for evening meals. Packed lunches available. Location: 3 miles from M6 junction 38. For enquiries telephone: Diana Slack, Orton, Cumbria on 015396 24667.

LOWTHWAITE KESTREL FP50082G (s: Heltondale Duke IV, d: Lown- thwaite Current). Black 6 year old quality gelding with a big personality. Exc. WHP prospect as he has a tremendous big jump. Nervous in heavy traffic. Further information from Mrs J Charnley on 01772 863130 (Blackpool).

CASTLERIGG CRACKER FP376G (s: Lunesdale Jerry, d: Castlerigg Daisy III). 12 y.o. black gelding 13.2/13.3 hh. Traditional type of Fell. Experienced & successful at WHP and unaffiliated showjumping. Loves to be worked. Lives out. For sale to good home where he will continue the work he enjoys best. £1,300. Further details: Mr Wells on 01228 546259 (Carlisle).

LINNEL RAFFLES (s: Linnel Romany Boy; d: Sleddale Ruth). F. 1992, 13.2 hh gelding. Has been Linnels "fun" pony for the last few years. Placed County level & 2nd Novice Performance Trials as 4 y.o. Hunted, LDR, etc. Loves to jump and please. LINNEL ROBIN (s: Linnel Romany Boy; d: Sleddale Ruth). F 1993, 13.2 hh gelding. Shown lightly last year. Excellent show prospect. Good bone, feather & action. Needs experienced rider. ALSO 2 yearlings, bay colt (s: Linnel Reynard; d: Sleddale Rosemary) f. 30.5.98 and black filly (s: Linnel Reyard d: Linnel Connie) f. 11.8.98. Tel: Bob & Sarah Charlton on 0143467

WOLDS SWALLOW FP2170 (s: Ralfland Victor, d: Drybarrows Queen Bee) f. 1992 Black mare 13 hh. Very pretty, sweet nature, quiet and easy in every way. Shown successfully from a foal. More details: Karen Jarrams on 01162 712750 (Leics) or mobile 0797 7335049.

GOOD-LOOKING black registered mare. Homebred by Heltondale Victor, 7 y.o. 14.2 hh. Would make excellent family pony or possibly ride/drive. Green and done little due to owner's accident. Easy to catch, shoe, box etc. \1,650. Tel: 01884 855452 (Tiverton, Devon).

Dapple Grey Gelding LUDWORTH ADAM FP50260G f. 1994 13.3 hh. Heltondale bloodlines. Good conformation. Rides out alone. Has completed 6 day trek/camp, carrying rider & equipment. Works well on lunge. Has had introduction to jumping. \1,050. Tel: 0191 3848272 (Co. Durham).

President: Mrs M C M Laing
Chairman: Mr R B Charlton
Vice-Chairman: Mr B M Allen

Secretary & Treasurer:
Miss Sally M Wood, Keeper's Cottage, Guyzance,
Acklington, Northumberland, NE65 9AA.
Tel & Fax: 01670 761117 E-mail: fpsoc@aol.com

Sales Officer:
Mrs M C M Laing, Twislehope, Hermitage, Hawick,
Roxburghshire, TD9 0LS, Scotland

Publicity & Exhibition Officers:
Mrs M Laing, Mrs P Forsman, Miss B W Walker, Mr S Adams

Trainee Judge Chairman & Show Affiliation:
Mrs A A D Newall, Todridge, Great Whittington,
Northumberland, NE19 2HP

Trainee Judge Secretary: Mrs C Allen
Representative to the NPS: Miss M G Longsdon

Representative to the BHS: Mr R B Sutcliffe

Editor Fell Pony Newsletter: Miss S M Wood

To retire 1999: Mr H F Wales, Mr A W Morland, Mr W S Potter, Mrs M Raines
To retire 2000: Mr B M Allen, Mr R B Charlton, Mrs M Laing, Mrs A A D Newall
To retire 2001: Mr E M Wilson, Mrs C Robinson, Mr P Forsman, Mr P Boustead
To retire 2002: Mrs E A Ball, Miss M G Longsdon, Mr J Bell, Mr R B Sutcliffe
To retire 2003: Mrs M C Murray, Miss B W Walker, Mrs S C Morton, Mr M Allen

Life is very busy but rewarding as President and Sales Officer. So many of our new members have had Fell ponies before and are very interested in the breed. Very many thanks to all the people who helped to sell tickets for the big raffle last year. It was a huge task but well worthwhile as so much money was raised for Fell Pony 2000. We had 25 prizes to give away at the Autumn General Meeting and all the winners, who were spread far and wide, were delighted. I look forward to the coming year and wish all members all the best for 1999.

Molly Laing

Following requests from members for more information about its business, the Council has responded positively and will endeavour to be as open as it can. The Council meets quarterly, often for 5 hours at a time. All Council Members' telephone numbers are listed in the Newsletters so if you can't find what you want to know, contact one of us. To give some idea of topics which have been discussed over the last year, here are a few: accounts, fund-raising, regulations revision, daughter societies, stallion grading, performance awards, display stands, sales, archives, photography, passports, Fell foal disease, newsletters, shows and competitions, pony identification - and so on! You will find from the Accounts booklet that we intend members to be more aware of the "credentials" of election candidates, in direct response to members' wishes.

Following the successful joint meeting with representatives of 7 research or veterinary centres of national repute at the Penrith VI Centre last October, a joint grant application for funding was submitted in early January. Although I attended, the meeting was scientifically way above my head but the optimism and determination to reach a diagnosis was most encouraging. Fell Pony 2000 must be paid tribute for all the hard, largely unseen, work the team puts in. We look forward to achieving more progress over the coming year.

Thanks are due to Liz Ball for special support, Barry & Cath Allen for untiring hard work and Mary Longsdon, who steps down as Chairman of the Southern Show this year. She is also a vital link with our Southern members. Thanks also to Molly Laing for slaving behind the scenes and to the other Council members for all they do.

Finally I am happy to report Sally Wood, our Secretary, is to be married to John Guiry, a farmer from North Northumberland, in May. She will therefore be leaving. She has succeeded in doing her job with skill & efficiency, frequently working long hours beyond the call of duty. From us all, sincere thanks and very best wishes for your future happiness together.

Bob Charlton

This edition has had to be assembled in double-quick time, with a great deal of burning of midnight (and early morning) oil to meet the deadline. Bad weather postponed the January Council meeting at which much needed to be agreed for inclusion on these

pages and in the mailing. The re-scheduled meeting left 3 days to get whole job done and as I write, half that time is up, and contributions are still awaited from several writers. If the resulting effort is slightly below par, you know why! Accounts and election information is enclosed for Full and Honorary Members, revised Regulations and raffle tickets are enclosed for all.

Before I forget, would past winners of trophies presented at the AGM please make arrangements to return them in time for this year's meeting. Members attending on the day - please allow extra time for checking of valid membership cards on the door. It's a slow but essential process. Having your signed 1999 card ready to present on arrival will do much to speed things up. If you haven't paid yet, please let me have your payment soon. Each year someone complains they haven't had a renewal form. Reminders are contained in your newsletters. A cheque or P.O. with your name and address is all that is required. Sending extra correspondence just ends up costing everyone more.

If anyone is harbouring a loan copy of the Fell Pony 2000 video will they please dig it out and pass it on because there are still many people waiting to see the Dr Knottenbelt presentation.

As many of you will already know, I am leaving after the AGM because I shall be getting married in May and taking on helping to run my fiance's family farm, a few miles away. In fact, I'm on the lambing rota on 1st April! Joke? They said this job was a vocation when I was interviewed for it, and I undertook to rise to the challenge. It would be fair to say it is a job unlike any other. The Society's success, demonstrated again in excellent accounts for the past year, reflects only part of the story; the business a breed society today is so far removed from what it historically was. Legislation is a major cause, advances in technology and raised expectations from the people the Society serves are some others. It is an all encompassing task which requires total commitment if it is to be done well. 12 hour working days, frequent travelling and weekend working are for the unattached or insomniacs - and are not a good recipe for starting married life! This is one of the reasons the new Secretary will be based in the Penrith area, to be central to the Society's main area of activity.

With an underworked 7 year old gelding and a 3 year old unbroken filly, I shall especially look forward to reducing their rest and relaxation time over the coming months! I shall certainly keep promoting the Fell wherever I am, and will continue to support the Society as a member, which is how I came to be here in the first place.

I shall see many of you at the AGM when I hope to be able to introduce my successor. If I don't see you then, I shall hopefully see you at the shows.

With best wishes,
Sally Wood

Subscription rates as follows:

Full Member £15.00
Junior Member (under age 18) £ 7.50
Family Member £ 7.50

Subscriptions are renewable annually on 1 January. There is a period of grace of 3 months, until 1 April, at which time membership is deemed to have lapsed. A reminder letter will be issued in due course, after which no further mailings will be sent and privileges of membership of the Society are withdrawn.

PLEASE NOTE: You must have paid your 1999 subscription, received and signed your membership card before the AGM to be eligible to vote (Full and Honorary Members only). Please have your membership card ready to show on arrival at the meeting on 27th March, whereupon you will be given a voting card and papers. This procedure will save time at the meeting. Please return your voting card to Mrs Laing at the end of the meeting.

Stallion Licensing: Colts are eligible from 2 years old, after 1 January of their second year. Owners must supply the Secretary with the contact details of a veterinary surgeon from a practice other than their usual one. An examination & report form is sent together with a letter which is copied to the colt's owner, who also receives the blood-typing kit for the vet's use. The owner makes arrangements with the vet for the inspection, after which, if the colt has passed the blood is taken. The cost of the vet's inspection is borne by the colt's owner. The appointment should be at the beginning of the week to allow the sample to arrive at the Animal Health Trust in Newmarket for testing prior to the weekend. The vet returns the examination and report forms to the Secretary. The licence is issued when the blood typing confirmation is received, records up-dated and a stallion service book is issued in the spring. A COLT WHICH PASSES THE EXAMINATION MAY NOT BE USED FOR STUD PURPOSES UNTIL THE LICENCE IS ISSUED. It is important to register transfers of ownership of stallions so the service book is sent to the correct owner, avoiding delays.

The cost of a stallion licence, which includes a subsidised blood-kit, is £50 (non-members double fee). Stallion service books must be returned by 1 September annually.
Colts
£5.00
Fillies
£12.00
Stallion Licence
£50.00
Transfer of Ownership
£10.00
Transfer to Gelding
£10.00

Non-members pay double the above fees)

Duplicate Certificate (when approved)
£30.00
Prefix: Until 31 March 1999:
UK rate
£25.00
Overseas rate
£45.00
Prefix: From 1 April 1999:
UK rate
£40.00
Overseas rate
£60.00
Passports for ponies born BEFORE 1.1.1998
(replacement for Registration Certificate -
send with request)
£25.00
In response to members' requests for more detailed information to be given about the business discussed in Council, it was agreed at the last meeting on 19 January that future Newsletters will aim to do include more wherever possible. The short time between this decision being made and the print deadline for this edition presents a small logistical problem of time and space, but members are assured they will be kept as fully informed as possible in the future.
BHS representative Russell Sutcliffe reported to the January Council meeting that the BHS is seeking the support of all recognised horse and pony breed societies in lobbying for the requirement for ALL equidae in Europe to be required to have an identification document, known as passport, in which veterinary treatment requiring drug administration would be recorded. The concern over dangerous drugs entering the human food chain via horses slaughtered for European markets concerns all horses and ponies, although currently only registered horses and ponies have been legislated for. The withdrawal of important, proven drugs such as "Bute" is a welfare issue of large proportion; those drugs which are not extensively tested to establish MRLs will cease to be available as attempts by government are made to protect the human food chain from contamination. If all equidae had a medical history contained in a passport, slaughterhouses would only be able to take in those which were clear of dangerous drugs, therefore protecting the consumer.
A proposal to support the campaign was passed 16-2 in favour.
With effect from 1 April 1999 the following will apply:
Prefix

UK rate £40

Overseas rate: £60

Passport* £25
* In replacement of existing Registration Certificate for ponies born BEFORE 1 January 1998. Please send original Registration Certificate with fee when applying. This is an optional service - there is no legal obligation for ponies born before 1998 to have a passport.
Horserace Betting Levy Board (HBLB) Grant 1998/99
(re-distributed by The National Pony Society)
The continued support of the HBLB was gratefully received with a further year's funding of £3,220. Funds were applied to the usual activities such as premiums, blood typing, trainee judges expenses and stud book production. However, money earmarked to aid the introduction of a proposed stallion grading scheme were left unused when the proposal was turned down in Council. The cancelled Breed Show left some unavoidable expenses which had to be met and would have come entirely from donated entry fees. Fortunately the HBLB kindly agreed to let the remaining balance of the grant go towards Fell Pony 2000's funds, rather than carry it forward into the next financial year.
The Society is pleased to be able to say that the grant level anticipated for 1999/2000 remains at £3,220.
Many of you already know the RBST is in the midst of a major £1m appeal, whose Patron is HRH The Princess Royal, to raise money in support of threatened native horse and pony breeds currently recognised as Rare Breeds. The appeal has so far taken many forms, including a Banquet at The Saddlers' Hall in London in January in the presence of Princess Anne, at which the Society was represented by its Chairman.
Recently the Society received a cheque for £500 from the RBST, from the distribution of early funds collected by the appeal. The donation was a great surprise and is much appreciated.
The Trust's Executive Director, Mr Lawrence Alderson, has first hand experience of hill farming and keeping rare breeds. He knows the problems only too well. An invitation to speak at a future Council meeting is in the pipeline.
Many, many thanks to everyone who bought and sold tickets, and who donated prizes for this raffle. A net sum of £4,482.14 has been donated to Fell Pony 2000's appeal to fund laboratory work into the foal disease.
The list of prize-winners drawn at the Autumn General Meeting on 24 October is as follows:
Stallion figurine - J E Morris, Harrogate; Horse rug - S Edwards, Bridgnorth; £50 Portrait voucher - R W Shore, Stokesley; Leather headcollar - G Guy, Gloucester; Weekend break - P Whitworth, Kendal; Bathset & wine - Mrs Higgins, Rossendale;FPS picnic sets - Mrs Blackman, Dover and Scott Holliday, Workington; Box of biscuits - Boorman, Stoke Poges; Bottle wine - D Slack, Orton; Pair Candlesticks - H Rake, St Austell; Box chocolates - J J Bowe, Carlisle; Bottle sherry - R Jordine, Wigton; Ham - Mrs Poulson, Windermere; Book - A Blair, Iver, Bucks; T-Shirt - B Moon, Portsmouth; Christmas Candle set - V Gudrundson, Perth; Saddle soap & sponge - E Teague, Bewdley, Worcs; Book - D C Hockey, Coleford; Complete sets of stud books - Mrs Davies, Badminton & Miss Carslaw, Templecombe; Stud book 1898/1980 - M Cornthwaite, Keswick; Set 6 tumblers - J Coburn, Bristol; Bottle champagne - M Longsdon, Bakewell. Labrador dog figurine: could the lady who chose this let Molly Laing know her name as it wasn't recorded. Thanks.
From this year the NPS M&M WHP Championship is being offered directly from The Horse of the Year Show and, as a result, less shows are holding qualifying rounds. Late last year the NPS announced they were considering introducing a new competition for the breed societies to allocate qualifying rounds before the Final at the Malvern Summer Championships on 3/4 August.
In August, when the Society was invited by the NPS to allocate qualifying rounds, the Open WHP qualifier, which takes place at Windermere Show, was not available and as a result affiliation to the Novice WHP was taken up. When the second invitation arrived later, there was a problem
because the Open WHP had to be accommodated but Windermere, being small, couldn't take both. An alternative had to be found, difficult though it was, because the Finals take place at the NPS Summer Championship Show at Malvern on 3/4 August, before the date of the Breed Show.
A kind offer by Mr Peter Forsman came forward to host the two qualifying rounds at Barn End, Sockbridge, near Penrith whilst on the same day, offering training to riders wishing to prepare for or improve on their skills for WHP. It is hoped that this will encourage more people to attend in an informal atmosphere away from the bustle of a show. It also provides an extra Fell Pony day for the calendar and the date for your diary this year is 19/20 June. Mr John Gibson has kindly agreed to judge the competition.
Entry forms and rules will be available at the AGM or by post from the Secretary.
In a change of policy, the Council has decided to withdraw the offer of free blood typing kits for senior licensed stallions and senior broodmares.
From this year, senior stallions which were licensed prior to the introduction of compulsory blood typing, and have not since been blood typed, will be identified for voluntary blood typing or DNA testing, the full cost of which will be borne by the Society using HBLB grant money. The owners of these stallions will in due course receive an explanatory letter and asking for permission to test. The owner needs only to make the stallion available to a veterinary surgeon who will visit by appointment.
There are several reasons for introducing this scheme, one being that each year the Society receives requests from owners of unregistered ponies which are seeking late registration. The cost of blood typing the pony in question and its sire and dam is a great expense for many people, particularly when the ponies are owned by three separate people, involving three different vets being called required to test the ponies and produce an ID. The stud book loses ponies in such cases, which can be avoided if all the licensed stallions have been tested, and prevents owners from being able to register progeny and enter breed classes.
Following a suggestion made at the last Autumn General Meeting, Council has agreed to introduce a senior stallion class at the 1999 show. Two classes will be offered, being age 5 to 11 years, and age 11 years and over. Entry is open to licensed stallions whether or not they have been blood typed, as are all the classes with the only exception of the "At Home" premium class.
You may be a bit confused about whether this year's show will be the 30th (Autumn '98 News) or the 29th (Spring '99 News)! As last year's show did not take place, this year's will be the 29th again. This means that in the Millenium year, the Society will be having a double celebration as it will be holding its 30th Breed Show.
Liz Whitley
The eleventh annual Southern Show will be held on 12th September 1999 at Shotover Park, Oxford by kind permission of Lt Col Sir John Miller. The Chair of the show committee has passed from Mary Longsdon's capable hands to mine and I only hope that I can keep up the good work. Certainly the show has gone from strength to strength over its exitence but of course this puts additional pressure on the organising committee. Any member living in the Oxford area, with or without show ponies, is asked to volunteer to help us before or on the day of the show. The help needed can be as simple or as difficult as you like, from stuffing envelopes to stewarding.
If anybody would like to help, please contact me on 0115 965 3584.
We are always pleased to see members exhibiting or just spectating at the show and are particularly pleased to see our regular visitors from Cumbria who make such a long trip to the South Midlands. Any new exhibitors can obtain schedules from me by sending a s.a.e. to:
Mrs E Whitley,
Criftin Mill Cottage, Oxton Road, Epperstone, Notts. NG14 6AT.
Judges for 1999 are: Mrs F Awde, Mrs C Morton, Mr R Sutcliffe (subject to confirmation), Mrs S Helps (Driving) and Mrs Townson (subject to confirmation). Hope to see you there!
Sadly, Mrs Margaret Raines announced recently that it has been impossible to organise a show for 1999. She blamed a variety of factors, including non-availability of the venue, a change in farming practice on the estate where it has previously been held, and loss of sponsorship. Although there will not be a show this year, the possibility of resurrecting it another year at an alternative venue has not been ruled out if sufficient support, physical and financial, can be provided to re-launch it.
The long-awaited demonstration is booked for Saturday, 2nd October at the Greenlands Equestrian Centre, Wreay, Carlisle. Mrs Margaret Murray and Mr Russell Sutcliffe will be offering training tips and advice, Mrs Murray concentrating on how to help you get the best ridden performance out of your pony, and Mr Sutcliffe will be taking the jumping session.
The event begins at 10.00 am and will end around 3.00 pm. Everyone is welcome - so bring a friend or two. Tickets cost £5 for adults (age 18 and over), children (5 - 17 years) £2.50 and under 5's are free. The equestrian centre is well appointed with cafeteria, bar, seating for 150 people and plenty of free parking.
BUT it won't be much of a day without some "guinea pig" ponies and riders... If you are available and willing to be considered, please let the Secretary know. It would be helpful if you could send your name, pony's registered name, age and ability. Thank you.
The BHS is offering a memento of the conclusion of the Native Breeds Pony Pilgrimage in the form of a well-produced video. It mainly features footage from the Royal Show where all the breeds took part in a pageant involving traditional uses for the ponies, up to modern day. It is accompanied by a full commentary and includes some film of ponies travelling en route.
Copies are available at £9.99 including P&P (inland) from Mrs Sheila Hardy, Access & Rights of Way, BHS, Stoneleigh Deer Park, Kenilworth, Warwickshire, CV8 2XZ. Make cheques/PO payable to the BHS.
Unit, University of Liverpool
Dr S C Bell, Dr C Savidge and Dr S D Carter
These studies in 1998 were very productive in terms of research output. We have studied 78 healthy Fell pony foals and 9 sick foals during 1998. We have developed a range of tests to assess and compare the ability of the foals to respond to infection challenge under laboratory conditions. We have used 4 specific antibodies to monitor their blood white cells (the cells responsible for effective immunity). Some interesting findings have emerged from these initial studies which have allowed us to frame a grant, submitted on 8th January to the Home of Rest for Horses. If successful, this would fund work and a dedicated scientist for the next 3 years to study Fell Pony Syndrome in greater depth, especially at the gene level, and to monitor the development of bone marrow, which we feel is the major source of the problem in the sick foals.
We would like to add our grateful thanks to the Fell Pony Society and to Fell Pony 2000 for their continued interest and valuable logistical and financial support in our work. We are in the process of writing up this work for publication in a scientific journal.
Thank you to everyone who has supported FP2000 making the charity the astonishing success it has been during its first year. Your support in organising, attending & contributing to fund raising has raised an incredible sum in excess of £27,000, one of the major contributions coming from the generous donation of the proceeds of the 1998 FPS annual raffle.
It is our policy to acknowledge all donations to our charity but we must apologise to those who have not yet received a letter of thanks for your support. Our action group is only four in number and as you can imagine, we are seeing our workload grow continuously. In order to spread that workload we are looking for a Fund Raising Co-ordinator, a Sales Manager and a Show Stand Co-ordinator. These could be individuals or groups of people who like working together. If you can help, please refer to our advert.
Where are we with the Research?
During the last quarter of 1998 the research team centred on the University of Liverpool was enlarged by the inclusion of the Cambridge University Veterinary School who have been working with the teams at Penrith & Edinburgh V.I. Centres. As you will have read above, they are narrowing their field of study to examine bone marrow in the coming year.
By now, all those breeders who submitted a service slip at the end of 1997 will have received a survey questionnaire asking for information about the outcome of that service. The responses to this survery are very important for several reasons, not least of which will be the first authoritative assessment of the extent of the Fell Foal Syndrome. ALL the responses are being sent directly to Liverpool Research Centre and will only be seen by Dr Carter and his immediate team. The confidentiality of the survey results will be maintained by assigning reference numbers to the information to protect the breeders involved.
You will recall we videotaped Dr Knottenbelt's presentation during our breeder's meetings last spring. We have made 100 copies of this video and intend to give every member an opportunity to view it. Most of those who have viewed it have been very complimentary about its valuable information content and the method of communication. The video has enabled members who live a great distance from Cumbria to be updated. However, some members are not passing on the video quickly, as requested, and are depriving other members of this opportunity. As soon as you receive your copy, please view it and pass it on immediately. Thank you.
Note: Edited transcripts of the presentation are available (£3.00 inc. p&p) from Fell Pony 2000, as are copies of our detailed Annual Report 1998. A donation toward funds plus 50p p&p would be appreciated.
What is our current focus? It is becoming evermore apparent in discussions with the Research Teams that if we are to eradicate the Syndrome from our breed we have to produce accurate and credible breeding records quickly. We recognise that there are numerous problems in being able to achieve this. What FP2000 will try to do in 1999 is bring together all the relevant parties in association with the FPS who together can make a valued contribution to achieving this objective.
Angela Johnson (Chairman), Dennis Brunt (Sec.), Dineen Brunt (Treasurer), FP 2000, Stannally Farm, Stoney Royd Lane, Todmorden, Lancs OL14 8EP.
Wanted, volunteers to act as:-
Fund Raising Co-ordinator. To be a contact for fundraisers, to support these same people with posters, rosettes etc and to collate ideas for fund raising.

Sales Manager. We are now selling a number of products to raise money for the research effort. We intend to produce a catalogue of articles for sale. This job is to manage the selling activity.

Show Stand Co-ordinator. We hope to have a stand in the Rare Breeds Survival Trust marquee at various shows this summer. We need someone to organise and co-ordinate those who volunteer to man this stand.
Note: All of the positions will be fully supported by the FP 2000 Action Group.
If you are interested and would like to know more, please contact us on:-
Tel: 01422 842420 OR 01706 813998.
It's never to early to begin... After the sell-out success of the last card featuring Lownthwaite mares being hayed on the fell, we need to appeal to members once again for another equally popular photo for next year, if possible. It's unlikely that Mr Frank Wales, who was featured on the 1998 design, has ever been found in so many homes over one Christmas!
You can enter as many times as you like - it's a free competition - all we ask is that the photo is in colour. A warning, though. Please DO NOT write directly on the reverse of photos because all too often the ink isn't properly absorbed into photographic paper, smearing or rubbing off on other photos, spoiling them. Either stick a post-it note on the reverse, or a paper label, both of which will identify the sender & subject without damaging the photo image. The winner will receive 5 free packs of cards to send to all their family and friends!
Closing date: 7th May 1999. The judge's decision is final. All entries received by the Secretary will be returned in due course.
On 6th June at the Yorkshire Showground, young farmers aged 16 - 21 years will be put through their paces judging a wide variety of stock. This year, they have decided to have each of the native pony breeds represented. They are inviting an FPS Panel Judge to assess the young farmers' evaluation of the Fell pony class. They need 4 ponies on the day - to be shown in hand. They have asked the Society to appeal for volunteer ponies (age 4 or over) to be brought to the show.
If you live in the area and would like to be involved, can you please write to the organiser, Miss Alona Green at Ivy Cottage, Upper Helmsley, York, YO4 1JY and offer your help. The stock judging concludes by 1.30 pm so you would need to be there for the morning although there will be plenty of activities going on all day. It promises to be a fun day.
An update by Barry Allen
I wrote in the last newsletter about problems we were experiencing over the transfer of registered ponies to Holland. Some members will have had personal knowledge of these but in view of recent developments it is perhaps best not to dwell on the details. Suffice to say, many of the difficulties arose from misunderstandings based in the language difference. Some appreciation of this was gained at an impromptu meeting between Bob Charlton, Sally Wood, myself and three Dutch visitors at the Annual Sale last October. Perhaps more importantly this meeting confirmed that our first daughter society had internal problems which needed to be resolved.
It is not easy to get things right when setting up a new organisation. It is fair that we now allow the Dutch FPS time to reflect on their first 3 years and to reorganise.
For our part we have itemised the issues where we believe contact with the mother society must be regularised. This information was sent to Holland in translated form to avoid misinterpretation. The NFPS held an emergency General Members' Meeting on 11th December to discuss their crisis. As a result they have placed the affairs of their society in the hands of a "commission" of three members, to work with 4 of the original 5 council members. They will be looking at the structure and responsibilities of their council in addition to the specific points to which we have drawn attention. There is no doubt that this is an uncomfortable time for our daughter society and as I have already indicated it is now necessary to be patient. Their commission hopes to report to their membership at a general meeting in March.
We will of course do all we can to help once their management structure is in place. In the meantime, I can only repeat that anyone considering the transfer of a pony to Holland should speak to our secretary for guidance before taking any action.
We are pleased to be able to let you know that the limited edition mare and foal figurine, which complements the stallion sculpture previously offered through the Society, is now ready. Demand is high - so high that the makers have been unable to hang onto one long enough to take a photo. The foal is lying at the mare's feet - that's as much as can be reported at this stage!
For a limited time you may have the matching number to your stallion's limited edition number. The current price is £140 plus insured postage and packing at cost. Paint to order service from photographs attracts 15% extra expense. J Anne Butler would appreciate if clients where appropriate could confirm existing orders and delivery arrangements. Orders will be processed strictly in rotation. Orders can be taken but Anne is unavailable to paint between 1st February and mid-March.
The J Anne Butler stand will be at the Stallion Show on 15th May and at the Breed Show on 14th August. Please enquire or order direct from:
J Anne Butler, Catlands Farms, Mealsgate, Cumbria, CA5 1DF. Tel/fax: (+44) (0) 16973 71347. Email: anne@annebutler.demon.co.uk. Web page: http://jannebutler.demon.co.uk (out of date?)
One figurine has been donated to the Society for fundraising, for which we are very grateful. It could be yours for the price of a raffle ticket!
Sunday 27th September 1998
Polly Aldridge
This year's pleasure ride was organised by Rachel Brunskill and her parents. We met at Waygill Hill, Talkin and were immediately treated to unsurpassed hospitality. Like all good Fell pony events, tea and coffee flowed profusely and the atmosphere was cheery despite the grey day. A very small boy on a very large Fell pony was enjoying a ride round the farm but was not to be joining us. This was five year old Sam Sykes being looked after by the aged family pony Gus.
Once again Glenis Cockbain had agreed to lend me the tireless Amanda and all I had to do was get myself to the farm from Crieff, Perthshire, an easy drive with few lorries on thr road early on a Sunday morning.
Other than an exciting fly past when someone attempted to put rustly saddlebags on an unaccustomed youngster, which lead to a spectacular bucking display, a fall on the wet but soft field and a frantic gallop with a saddle under the belly, all started well. The escapee was soon caught and Monty Roberts would have been proud of the way the steaming beast was soothed.
This year's ride was much faster than last year's and we had some fantastic long, swift trots with the ponies once again showing how only a Fell can travel. The day was fair despite being grey and other than lots of mud flying up off the galloping hooves in front, no-one needed a raincoat all day.
Rachel led the way for most of the ride on Tim (Peepings Nutcracker) and took us from Talkin to Hynam and then to Geltsdale. We flew along lanes lined with blackberries which there was barely time to pick and crossed several moors tawny with autumn colour. Our lunch stop was Tindale Tarn and sweating ponies were able to have an apple or two, and half an hour's grazing. Rachel amused me by bringing a mobile phone from her saddlebags to check her father had unlocked one of the gates. An all-day ride in the 90's is incomplete without some technology.
We crossed the fell from Tindale to Howgill where we had some wonderful tussocky gallops, mud flying, manes and tails streaming and lots of cowboy whoops and shrieks from several jockeys (myself included). Two donkeys were very surprised to see the mainly black cavalcade steaming through their field and our ponies were even more surprised when they heard the hee-hawing of the donkeys and sped up a gear to get away from them quicker. The wonderfully game little Sleddale David liked to be at the front and kept the pace fast at all times. The addition of four Western riders from Derbyshire, Rocky Howard and her family, certainly brought a completely different flavour to the day. Kitted out in full Western regalia on fit ponies with iron hard muscle, they covered the ground effortlessly.
Bobby McCaw from Langholm was the only male member of the party this year, but held his own admirably and seemed none the worse for his day surrounded by women. His pronouncements on the benefit of gingerbread ensured later back at the farm that we all ate some extra slices.
From Howgill we went on up to Gairs and the descent back to Talkin was exciting as we flew down the track at canter. A started ewe spooked Amanda who then slipped on a cobble area and Ithought we had lost it. However she cleverly saved us and on we sped.
Back at Waygill Hill, the ponies were untacked and given well-earned drinks, rugged up and put in their trailers to munch hay. Rachel's helpful younger brother Laurie had tea brewing while Sue and Ian Brunskill provided us with another massive feed. I ate four pieces of her succulent gingerbread and we all agreed it was quite the best we'd tasted. It was a fabulous day, great to be with such gorgeous ponies and friendly people.
Participants were Rachel Brunkill on Peepings Nutcracker, Glenis Cockbain on High House Tilly, Christine Robinson on Kerbeck Night Serenade, Georgina Callister on Sleddale David, Jennifer McDaid on Cornriggs Kelly, Penny Randall on Townend Betony, Rocky Howard on Pikenaze Black Grouse, Lesley Hirst on Pikenaze Black Raven, Heidi Hirst on Highland Black Bess, Dianne Hirst on Brandy, Celia Taylor on Heltondale Dickon, Cathy Forester on Blakewell Robert, Bobby McCaw on Burnhead Border Reiver, Helen Watson on Greenholme Debra, Katie Wigan on Hefalump (Cleveland Bay), Joanne Mowbray on Spirit (Welsh), Angela McDaid on Lwy (Welsh), Cathleen Whitfield on Katie (Highland) and Polly Aldridge on Carrock Amanda.
ENDURANCE
by Nick Tweedie-Smith
Back in the spring Mandy and I were asked if we would join the Aspley Guise Riding Club endurance team for the riding club championship at Alfred's Tower, near Wincanton. Somewhat surprised and flattered that a riding club that specialises in dressage and jumping should ask for a couple of Fell ponies to represent them, we said yes. Phone calls nearer the time revealed one of the other riders had broken her foot and the other's horse had been kicked in the field. A chance remark brought forward a new rider, who was bringing her very experienced endurance horse back into work, and our third Fell made up the equine numbers.
So on the day our team consisted of three Fell ponies, Gamsworth William, Dalemain Wake-Robin, Heathcliff (unregistered) and the horse, Hy, for whom only weeks before the vet had been expecting to advise retirement. With only one team member below 16 years we reckoned we had enough equine experience to do well. A rumour of a team of racehorses, complete with racing tack, gave us more confidence. Twenty miles in a racing saddle - give me a Fell pony any day.
All passed the pre-ride vet inspection and once we had found him in the mist, the farrier's check. Near the start a competitor's horse was playing up, staying clear of her, we presented to the starter. A riderless thoroughbred cantered past us back over the start line and into the lorry park. The rest of his team followed trying to catch him. Our turn to start and we were off. Heathcliff led the way at a strong trot, keen to break into canter. Holding him back down the first hill, he was not happy to wait for a car on the road at the bottom.
A couple of miles in and we let a rival team past so that we could ride at our pace. Slowed by hills, roadwork and deep mud this pace proved too slow, when a quarter of the way round we were only averaging 6.5 mph. We needed to complete on exactly 7 mph. A change of running order and we put Hy in front to give us a tail to follow, William our keenest Fell to lead the chase and we moved Heathcliff, who had been leading, to the back to be towed along. At Alfred's Tower itself, close to half way (10 miles) we were nearly back to 7 mph despite the long, winding climb through the woods to the top of the hill. The car park here was packed full of crews for the teams and pleasure riders following us. Finding our crew we gave the ponies the chance to drink and half heartedly pours water over their necks. Whether this does any good in the rain I do not know.
The descent from Alfred's Tower was through woodland, then across a disused airfield and another climb to White Sheet Hill. Along here we were riding with and passing several other riders. The checkpoint stewards must have had a nightmare trying to get all the numbers as large groups of horses descended on them. The route from here proved excellent going, mainly grassland and no more long, steep hills until the end. We picked up speed alternating trot and canter, enjoying ourselves in the rain. Going down a steeper hillock, Heathcliff's hooves slipped and with his legs well under him it felt like we were skiing. Less fun was when he slipped again trotting across a hill and I fully expected him to fall on his side. Somehow he managed to get a leg under him and recover, but it took longer for my heart to stop thumping.
A check of our watches found that we all had different times. Not good when you have to finish within a minute of 7 mph, 20.8 miles in 2 hours 58 minutes. We agreed that we had time to walk up the climb to the venue and then took a guess as to whose watch to use. At the top of the hill we were still well up on time and hid round the corner from the venue, getting off to let the ponies graze. Impatience saw us remounting too early and we ended up practicing serpentines in a slow walk as we counted down the last minutes to catch the optimum time.
So how did we do? Well, of the 19 teams taking part, only 13 teams got at least 2 of their allowed horses around the course and to pass the post ride vet inspection. Seven teams gained maximum points for finishing with 3 horses on exactly 7 mph, so places were decided on the heart rates of each team's best horses at the final vetting. This is not a Fell pony's strongest point, but with the whole team successfully completing we were able to discard one. So we ended up in 5th place, only 10 heart beats (or 3-4 beats per pony) off 2nd place.
Wendy Cresswell writes:
Yet another season is about to start. It seems to begin earlier and earlier each year with some people talking of training rides in early February. I am hoping to do some rides this season. With all the moving upheavals it seems like forever since I did any endurance. We have now moved into the barn we were converting. We are very pleased with the result - it does have a bit more room than the caravan! Sharing it with 3 boys, 2 dogs, a Jack Russell pup and a kitten was a bit claustrophobic! But we now have the horse building to construct, walls to build, fields to reseed and a garden to plant up. I think it will be a busy summer.
Mike my youngest boy is very keen to learn to ride on Bramble. He's only 8 and adores her. Perhaps with a building I will be able to keep her slim this summer. Last summer we were deciding which roll of fat to sit the saddle on! As the Solstice is in Ludlow, I do hope to be there.
Thank you for your letters when submitting your mileage forms. It makes the scheme very personal which is lovely. Some of you are increasing your yearly mileage which shows that the Fell pony can cope with any work you throw at it as long as the increase is gradual. It doesn't matter whether you do a lot of mileage or just a few rides, as long as you and your pony are enjoying yourselves. One thing is for sure: the Fell pony is always noticed at rides. Newcomers to the scheme - don't feel that because you've only done a few miles it's not worth sending it in. It is, because I keep a record of any miles you do towards your accumulative mileage rosettes. If unsure, do contact me.
Talking of awards, it was pointed out to the Council that all other FPS trophies are strict about observing the 14 hh height limit and felt this should also apply to the endurance trophies. I agree with this, but as a compromise to those who may have overheight registered ponies, you can still submit mileage forms for accumulative mileage rosettes which are a record of your pony's endurance achievement over a lifetime. You will see that the new mileage sheet for 1999 includes a height section to be filled in.
Lastly I do apologise for sending your forms back so late, due to the final stages of house building taking up so much time. This year I promise to get them back before Christmas.
---
To take part in the endurance scheme, send a large s.a.e. to Mrs W Cresswell, Court Barn, Lingen, Bucknell, Shropshire SY7 0DY. Tel: 01544 260540.
HIGH POINT COMPETITIVE AWARD and the Low Green Topsy Trophy
| | | |
| --- | --- | --- |
| 1st | Lownthwaite Romany, owner Alison Knight | 629 points |
| 2nd | Gamsworth William, owner Mandy de Belin | 620 points |
| 3rd | Guards Joseph, owner Sue Wardle | 520 points |
HIGHEST MILEAGE COMPETITIVE AWARD & the FPS Trophy
| | | |
| --- | --- | --- |
| 1st | Gamsworth William, owner Mandy de Belin | 270 miles |
| 2nd | Lownthwaite Romany, owner Alison Knight | 269 miles |
| 3rd | Guards Joseph, owner Sue Wardle | 247 miles |
HIGHEST MILEAGE PLEASURE AWARD & Hillhead Minstrel II Trophy
| | | |
| --- | --- | --- |
| 1st | Hesket Raffles, owner J A Hopkinson | 346 miles |
| 2nd | Guards Joseph, owner Sue Wardle | 290 miles |
| 3rd | Waverhead Rose, owner Pauline Finch | 271 miles |
MILEAGE AWARDS (accumulative pleasure & competitive ride mileage)
| | | |
| --- | --- | --- |
| 100 Miles | Drybarrows Fanta, rider E Campbell | (102 miles) |
| 200 Miles | Heltondale Emma, rider Rachel Woodruff | (246 miles) |
| | Browedge Tommy, rider Julie Sellors | (273 miles) |
| 400 Miles | Waverhead Rose, rider Pauline Finch | (497 miles) |
| | Sleddale Dainty, rider Edith Hockenhull | (459 miles) |
| 500 Miles | Hillhead Minstrel, rider Patricia Dodd | (549 miles) |
| 700 Miles | Hesket Raffles, rider J A Hopkinson | (700 miles) |
| | Gamsworth William, rider Mandy de Belin | (754 miles) |
| | Lownthwaite Romany, rider Alison Knight | (707 miles) |
| 800 Miles | Uldale Raven Black, rider Fiona Carradus | (806 miles) |
| 1000 Miles | Guards Joseph, rider Sue Wardle | (1171 miles) |
Josephine Baxter
On Sunday 13 September we held the fifteenth Autumn Performance Trials at Blawith. I remember helping at the Autumn Trials held by Peggy Crossland behind her house at Bowness. The combination of the enchanting landscape, the ingenious course and the friendly atmosphere made it a unique event. It also filled a gap in competitive schedules because it appealed particularly to people who did not "show" and, dare I say it, to older riders. It also had a serious purpose in that it was designed to show off all the things Fell ponies do best, negotiating the problems and obstacles which might be encountered on the fells, using their nimbleness and intelligence.
When Miss Crossland died and a venue was sought where the Autumn Trials could continue, we offered our services at our small farm and have done our best to continue in the original spirit of the event. We owe a tremendous debt to everyone who has helped us over the years; Clive Richardson and Stephen Adams who used to help with the course in the early days; Barry and Cath Allen who take the entries, organise the awards and are always there with help and support; all those, you know who you are, who are ready to help with stewarding, judging, cake-baking and pony-holding. We could have the best competitors in the world but there would be no event without this unsung army of helpers. This year I realised more than ever the important role my husband Ross has played over the years. As we trudged around the course for the umpteenth time, lugging flags, notices, hammers and posts, the rain pouring down the back of our necks and our boots sinking in the mud, it was Ross who kept me going and was optimistic about the Trials the following day. He is not a rider but he has been the unseen lynchpin of the event.
I am happy to say that his optimism was rewarded and we had a glorious sunny day, happy riders and ponies and a short but scenic pleasure ride following the competition. We hope there will always be a place for the Autumn Trials in the Fell pony calendar and we look forward to meeting old friends and new competitors alike in years to come.
Results:
| | |
| --- | --- |
| 1st | ABBEY TULIP - Rosemary Bradburn |
| 2nd | GREENFIELD TOPPER - Mrs Beth Slater |
| 3rd | HADRIAN - Hilary Fell |
| 4th | TOWNEND HOLLY VI - Mrs Jenny Wickens |
| 5th | GIBSIDE GYPSY - Julia Forsman |
| 6th | ESTHER MAREE OF INGLEGARTH - Mrs Beverley Hodgson |
Best Junior rider: Rosemary Bradburn
Best Senior rider: Mrs Jenny Wickens
Best Senior pony: Greenfield Topper (aged 21)
Special for most "paintable" pony, Swindale Stroller (owned and ridden by Mrs Janet Storey, judged by Mrs Jennifer Buxton).
16 ponies competed.
NPS / Baileys Horse Feeds M&M (Ridden) Championship
A full report has this year been written by Mrs Sarah Charlton. There were four qualifiers: Waverhead Black Magic, owned by Mrs Sheila Hardy, ridden by Miss Alison Hardy, Darrenvale Jason, owned by Mr & Mrs Russell Sutcliffe, ridden by Mrs Pam Sutcliffe, Sunnybrowe Jack, owned and ridden by Mrs Sarah Prior and Lownthwaite Hot Shot, owned and ridden by Miss Debbie Boylan.
There are 32 qualifying ponies forward on 21st December The overall championship went to the Welsh Section B, Harwel Wizard, but following an impeccable display, and only 1 point behind the winner, Darrenvale Jason was awarded Reserve Championship for his second year running, as well as retaining the owner/breeder trophy. Waverhead Black Magic and Lownthwaite Hot Shot were equal 7th place, just out of the ribbons, which they shared with two other ponies. Congratulations to the Sutcliffe family and indeed to all the finalists who worked so hard keeping their ponies right for the big day. It's a long season that ends just before Christmas.
Premiums of £25 each are offered to the four youngstock age groups. The sire and dam of each winning pony also receive £25 premium each. The winning performance pony, aged 4 years and over, receives £50, as do its sire and dam, if alive.
Foal
1st
BRACKENBANK NANCY FP3163 Owners Mr & Mrs D Wilkinson.
S: Waverhead Prince II (J Bell); D: Brackenbank Mayblossom (D Wilkinson)
2nd

INGLEGARTH REVELLER FP50780C Owner Mrs B A Hodgson
S: Heltondale Lucky Lad II (H Sands); D: Inglegarth Revelation (B Hodgson)
Yearling
1st

BRACKENBANK ROMANY FP3006 Owners Mr & Mrs D Wilkinson
S: Waverhead Prince II (J Bell); D: Brackenbank Mayblossom (D Wilkinson)
3 Y.O.

1st

INGLEGARTH APOLLO FP50467C Owner Mrs B A Hodgson
S: Lownthwaite Gary (the late N Lightfoot); D: Waverhead Rose (P Finch)
Performance Section

1st

TOWNEND LUCY IV 18081 Age 18 years
Owners D & G Williamson (s: Townend Flash III, d: Birkett Bank Polly)

2nd

TOWNEND SEPTIMUS FP723C Age 8 years
Owner Miss J Williamson (s: Heltondale Duke IV, d: Lunesdale Sandra)

3rd

SLEDDALE DAVID FP351G Age 13 years
Owner Miss G M Callister (s: Lunesdale Lucky Jim, d: Sleddale Rose XI)

4th

TARNBECK SAVANNA FP1851 Age 9 years
Owner: Mrs E Metcalfe (s: Waverhead Prince II; d: Townend Lucy IV)
£50 premium each is awarded to the following stallions which paraded in the At Home Premium Class at the Stallion & Colt Show in 1997 and which recorded the highest number of registered progeny by 31 December. All stallions are blood typed as a condition of entry.
* denotes blood typed. ** denotes stallion & its sire and dam are all blood typed.
| | |
| --- | --- |
| Stallion | Owner |
The top scoring 4 stallions will receive a full premium each, the remaining eligible stallions achieving the next lowest score will share a proportion of the remaining two premiums.
Senior Points
Score
1st
Diana McGrail - Heltondale Lady VIII FP1402
2065
2nd

Jane Brindley - Eden View Moonstroller G993

1370
3rd

Sue Wardle - Guards Joseph FP533G

855
4th

Molly Tupper - Underwoods Dawn FP2432

590
5th
Georgina Callister - Sleddale David FP351G
545
6th

Anne Yemm - Admergill Alexander FP352G

495
Junior Points

Score
1st

Rosemary Bradburn (age 14) - Abbey Tulip FP1919

1190
2nd

Rachael Brunskill (age 14) - Peepings Nutcracker FP889G

765
3rd

Jenny Charlton (age 11) - Waverhead Petal FP1997

380
There were only 11 senior entries and 3 junior entries. This is a free to enter competition and the rules for 1999, for a trial period of one year, have been altered so please note: eligible shows are now ANY show where either a breed class or mixed M&M class is offered. Previously all FPS shows, NPS affiliated shows and Barningham qualified for points. This alteration opens the field wide and should particularly give encouragement to people in parts of the country where previously there were too few eligible shows available to try.
Anyone wanting a points sheet for the coming year, please send an sae to Mrs C Robinson, 4 Crossgates, Lamplugh, Workington, Cumbria, CA14 4TU.
Sarah Charlton
Who on earth wants to go to London the weekend before Christmas? All those crowds shopping, traffic, fumes and people! Yuk! But we did! The girls had never even been on a train, never mind to London, so that was an excitement in itself, plus staying with their big brother and his wife (yes, another Mr & Mrs R B Charlton!). Out to see Dr Dolittle, sightseeing - Buckingham Palace, Horse Guards... an open topped bus all round London, and more! The Tower, Crown Jewels... and we lost Bob. Locked up? No, enjoying talking to a Beefeater! Next day, Science Museum and an excellent dinner.
Well, you would think that enough excitement for one weekend but there was one more thing to go - OLYMPIA - the icing on the cake. The Christmas Show is one big family jamboree with something for everyone and well worth a visit even if you're not equestrian minded. We were there mainly to see and support the Fells in the NPS M&M Ridden Championship Final. This is the Showing World of Ridden Native ponies, - Everest, The Derby, World Cup or whatever you call the equivalent accolade. So much planning, thought, preparation, sheer hard work and grind, and quite a measure of luck, go into this amazing shop window for natives every year. With some 600 ponies applying for record cards, and qualifying classes with over 100 entries fighting for one ticket, it is a hard fought battle before you even get there. There are only 32 places on offer, one for each native breed and the rest from mixed M&M classes. The Fell representatives were Lownthwaite Hot Shot, a seasoned campaigner, Darrenvale Jason, last year's Reserve Champion, Waverhead Black Magic, a sparkling winner all over this year, and the youngster Sunnybrowe Jack. They and their teams did you all credit. They shone with their flowing manes and tails, feather and unclipped coats (unlike other breeds who take the short cut and clip their ponies out!). They were produced to perfection and their performance near perfect although the occasion finally got to Sunnybrowe Jack, but he will be back to perform another day, having gained so much from this experience. The buzz from around our seats was that we were hot favourites for top place.
But for now we had to play the waiting game with everyone else and await the judges' decision that afternoon. The girls by this time were all ready for next year - they were going to be there! Well, why not, they had beaten one of the best Dartmoors there several times and some of the jockeys were younger than they were; but I think we might wait a few years for that. I wouldn't mind a little go myself before I hang up my boots and concentrate on 'crewing' for them! If you have the right pony you are half way there. 50% of the marks is for conformation and correct breed type (hoping the judges know what that is!). The other 50% is on presentation and performance, which is up to you and your pony's temperament.
The choice whilst we waited was nearly too much. Dog Agility, Top Class Showjumping, Cossacks, Shetland pony Grand National and the French Cavalry! Failing that, a myriad of stalls to satisfy your Christmas shopping needs and as a special treat, a good gallop on the Winergy mechanical Horse! Having filched Russell's 'behind the scenes' pass, Bob donned his chairman's hat and went to wish all our Fells good luck. All were in excellent spirits if not extremely nervous, not surprisingly, even with the added worry that one jockey's small boy had gone missing in the large crowds, just when you do not want any extra worries! (Found later safe and sound...).
The atmosphere was such that if you struck a match we would all have gone bang! In they came, all on their toes, paraded round and lined up by breed to await the final commentary and announcement. In my opinion I think the commentator got it all wrong when he announced the Champion first, catching us all out! We expected him to go up the scale from 6th to 1st. After that it seemed to go flat. But who won? The Welsh Section B, Harwel Wizard, took the Championship beating Darrenvale Jason by one tiny little point! Just pipped at the post, but what a wonderful achievement for the Sutcliffe family and their team, and to make up for that one point, they also retained the owner/breeder trophy for another year. Well done! and to all the others for their tremendous effort.
An outing to see the Natives at Olympia is quite possible for anyone in England and Wales to do in a day. It's well worth the effort and not as expensive as you might think. See you next year!
In retrospect I wish we had done the same for the Horse of the Year Show at Wembley in September and been there to cheer on Bewcastle Boy Blue, the only Fell ever to have qualified for The Templeton in hand final. Over 1000 ponies and horses of every breed except the heavies try to qualify for only 20 places in the final! Divided between 14.2 and under, and 14.2 and over, Blue was 4th in his class, and highest placed M&M pony. Well done Mary and Michael. What next Michael the Marathon?!
---
This page last updated: 22 January 2008
© 1999, 2000 by The Fell Pony Society and Naked Essence Web Designs