Fell Pony Society
Spring 1992 Newsletter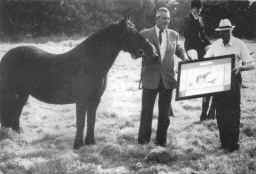 Lt. Col. SIR JOHN MILLER presenting the Supreme Championship to SLEDDALE BEAUTY XXVII, owned by Mr & Mrs Norton of Kent, bred by Mr T. H. Harrison, Shap, at the 1991 Fell Pony Society Southern Show, Horspath, nr. Oxford.
---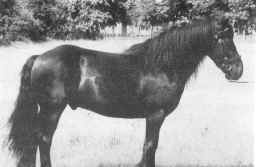 DUKEDOM FP264G, a black gelding foaled in 1984.
Sire: Townend Flash II 5278, Dam: Guards Jenny FP1280.
'Duke' is owned by Mrs. Anne Higgins of Manchester, who recently wrote to me saying: "Duke is now preparing to start his second season of showing at local level. We are amazed to find that at the end of his first season, the pony that people dismissed as 'fat' and 'roaring' has won 114 rosettes, including 31 firsts and 4 championships. We also managed to win 12 points trophies at our local shows. He has made many friends at local shows and we hope that we, in our own small way, helped to promote the Fell in an area where all black hairy ponies are deemed to be Welsh. We are now members of a local driving club and have competed in Ride/Drive, finishing 4th. Duke is also enjoying jumping and what he lacks in experience, he makes up for in enthusiasm. We are very proud of him. We know he'll never be a Famous Fell but he's the horse I've waited for all my life and he's very special to me. We have thoroughly enjoyed our first full year as Fell owners and hope we have many more to come."
Many of you may wish to learn that Duke's sire Townend Flash II, a notable sire and prize winner, owned by Mr. E M Wilson, has, sadly, been put to sleep at the age of 23 years.
The Fell Pony Society
Patron - H. M. The Queen
President: Mr J Bell
Chairman: Mr J S Dargue
Vice-Chairman: Mrs E Ball
Hon. Secretary and Treasurer:
Mrs R H P Bell, Greylads Cottage, Larriston Farm,
Newcastleton, Roxburghshire, TD9 OSL.
Telephone: 03873 76251
Assistant to Secretary and Sales Officer:
Mrs M Laing, Twislehope, Hermitage, Hawick, Roxburghshire.
Telephone: 03873 76272..
Publicity & Exhibition Officers:
Mrs M Laing, Mrs P Forsman, Miss B W Walker, Miss V Laing, Mrs Robinson
Trainee Judge Chairman & Show Affiliation Secretary: Mrs A A D Newall.
Trainee Judge Secretary & Press Officer: Mrs P Robson
Representative to the N.P.S.: Miss M G Longsdon
Representative to the B.H.S.: Miss B W Walker
Hon. Editor Fell Pony Newsletter: Mrs R H P Bell
---
Council
To Retire 1992: Mrs E Ball, Miss M G Longsdon,Mr J S Dargue, Mr G E Wood.
To Retire 1993: The Late Mrs S McCosh, Mr J Bell, Mr T H Harrison, Mrs M Murray. To Retire 1994: Mr F Wales, Mr P Boustead, Mr R Rayson, Mr J P Gibson.
To Retire 1995: Mrs M Laing, Mr J Wykes, Mr T B Capstick, Mrs A A D Newall.
To Retire 1996: Mr R Bellas, Miss C H Dodd, Mr E M Wilson, Mrs G Williamson.
I do not think I could go far wrong if I quote from one of my predecessor's Notes, when Miss Peggy Crossland wrote, "I KNOW YOU WILL NOT READ THIS, probably because you expect Secretary's notes to be dull; the reason why I know, is because in my last notes I gave a few hints to help both you and I". I know I am also guilty of having given suggestions in my last notes and in cases where the resulting affect is negligible, my thoughts are with Miss Crossland, as she continued to write, "My thanks to those of you who fill up the forms correctly and send the correct money. I am the opposite of the shepherd in the parable, for if I have an hour to spend on registrations, I attend to the ninety and nine which need no correction, and tell the other one to "get lost!".
Undeterred however, I shall endeavour to put forward reasonable suggestions for the smooth running and added efficiency of the Society's administration.
At this point, I think it only fair to add that the Society, thankfully, has continued to expand and with it the inevitable increase in correspondence. This has created a knock-on effect resulting in a delay in the return of registrations and transfers. However, this may be averted somewhat if registrations were submitted earlier in the spring and summer and not sent in Nov/Dec., in a last minute attempt to beat the fee increases in January. I would prefer by far, to be able to return registrations as soon as possible but unfortunately, it is a case of there being many other areas of the Society's work, which demand my attention. However, with perseverance, I shall get there! Thank you to those who have been so patient.
With the increase of correspondence and administration now worthy of consideration for future efficiency, the Council has approved the purchase and implementation of the Society's own computer system. This will help to streamline and in effect speed up the administrative and Stud Book system. Once set-up and running it will benefit, for example, those registering ponies by producing certificates much more quickly, as well as the Stud Book. The membership list, subscriptions, newsletter, etc., would be produced in a much more efficient manner. In short this is being done for the benefit of the members and to help me with the task of an expanding Society. There are two small snags. The first being that it will take time to put all the necessary information on to the computer memory and secondly, the funding of this project. Regarding the latter, whilst the Society's affluence has been on the increase, we cannot ignore the general recession, which has already shown itself in the likely 20% reduction from our Racehorse Betting Levy Board Grant; which is an annual grant, of which we have been not only very grateful in the past but have heavily relied upon for our survival. However, we have progressed from this heavy reliance and feel it is. within the Society's interest as a whole, that this project is undertaken. Therefore, as subscription rates have remained very low for many years and members have not been heavily penalised in this area, the Council suggest that any of the members who wish to do so, may contribute to our 'computer fund'. Details of this are to be found at the end of my notes.
With regard to telephone calls, I endeavour to be available to answer calls between the hours of 8pm and 9pm. This may not be as strict to rule during the light summer evenings. However, the answering machine is usually in operation to take messages. It would be greatly appreciated if calls could be made before 9pm, especially in April/May, which is lambing time.
REGISTRATION FEES have increased and were implemented with effect from the 1st January 1992. The new fees are again noted at the end of my notes.
TRANSFER FORMS are now required when a pony is sold and these are available from me. The forms are also posted out when a pony is registered, so that they are readily available as and when required.
MEMBERSHIP FEES for 1992 have again remained at the subscription rates of £5 for a Full member, £3 for a Junior and £3 for a Family member. Subscriptions are due on the 1st JANUARY annually. A number of 1991 subs are still due and it would be appreciated if these could be paid as soon as possible, as it takes me many hours sorting through these and sending reminders. I believe the subscription rate 50 years ago was £1.00 and therefore to have since increased to E5.00 does not seem to be exorbitant. Therefore, your continued support and prompt payment is very much appreciated.
I should like to say thank you to those of you who send a stamped addressed envelope, or stamps, when writing for information, as it really does help. Also, for the letters and photographs sent with your subs., etc. It is nice to hear your varied, chatty news, from your part of the world and it is good to hear that despite the general recession felt by many, that such a thing as a Fell Pony can give so much pleasure. It is a privilege we should not ignore. How lucky we are to be able to go into the countryside for a ride or drive and forget everything else!
I wish you all a happy and enjoyable year.


It is estimated that a suitable computer system may cost in the region of £5000. As this is a considerable commitment for the Society, those members who feel they wish to make a donation to this fund, however small, nay do so by sending their donation to the Secretary, made payable to The Fell Pony Society.

Any donations will be gratefully received and members of the Society will be kept informed of the progress.
With effect from 1st January 1992

It has been several years since fees were last increased and with the rising costs of printing, materials and postage, it was felt necessary.
Many of you, who have paid your 1992 subscriptions, will find your membership card(s) enclosed with your newsletter. A plastic pouch has been provided to keep your card clean and durable throughout the year. Your card should be carried with you when at meetings or when showing as you should be asked to produce your card as proof of current membership when competing for the Society's rosettes. If you have not already paid your subscription, please do so as soon as possible. Subscriptions will be taken at Meetings and shows but it is preferable to send them to the secretary at the beginning of each year. Standing Order mandates are available. from the Secretary and are also printed on the inside cover of the revised Rules and Regulations, reprinted in 1991.
The Society has the complete Stud Book volumes for sale, dating from 1898 to 1990. The 1991 Stud Book will be printed shortly but may not be available in time for the Stallion Show in the beginning of May. The hard-backed N.P.S. volumes from 1898-1980 are available @ £15.00 plus P&P. The F.P.S. volumes from 1981 - 1990 are available at the following prices plus P&P: Vols. I, II and II @ £1.00 each. Vols. IV/V (combined) £3.50. Vols. VI, VII, VIII, IX, X @ £1.50 each. These are available by mail order from Mrs Laing (address at front of newsletter). The purchase prices of these Stud Books are subsidised for your benefit, so please buy them. They make for very interesting reading, especially when tracing your pony's pedigrees back for many years.
Are now available from the Secretary. A completed form should be sent with the registration certificate and fee to the Secretary when a pony is sold.
Stallion services books are available to all Registered and Licenced Fell colts and stallions, aged 2 years and over. These books MUST be obtained by stallion owners and are available from the Secretary. They are sent out in the spring, if they have not been collected previously at the A.G.M. or Stallion Show and MUST be returned by the 1st September annually, regardless of whether or not the books have been used. A service slip MUST be produced for each Registered Fell mare served in the current year. Slips may not be backdated and stallion owners should take care to complete slips for any Fell mare they suspect has run with a stallion. The new Regulation will be strictly adhered to. For further information, see the 1991 revised Rules & Regulations - or contact the Secretary.

At the time of service, one service slip per mare MUST be given to the mare owner for their safe-keeping. Remember to pass the slip on when an in-foal mare is sold. Service slips MUST be submitted with the resulting foal's registration application and appropriate fee to the Secretary.

Most forms, information, stud books and other sales items are available at meetings and shows on the Sales Stand, under the charge of Mrs Molly Laing.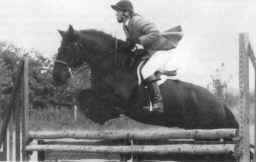 LOWMOAT BLOSSOM, 5 year old mare.
Ridden by Susan Ravenshear.
Winners of the 1991 Senior Points Scheme.
Pictured above at the Scottish Horse Show, Working Hunter Class.

The results of the 1991 senior and junior points schemes are as follows:
There are 6 possible placings but only 4 forms were returned, so come on kids, have a go! It is surprising how the points add up and you have nothing to lose. So, write to Miss Christine Dodd, North Fell Dyke, Lamplugh, Workington, Cumbria for your points scheme rules and sheets. You could win a rosette, or even better a perpetual trophy:


Well done to you all and I hope you and others will be encouraged to compete in the 1992 points scheme. Applicants for the Senior Points should write to the Secretary, Rachel Bell, for rules and score sheets.
Please keep sending these in to the Secretary, as they are of much assistance. With regard to the postcodes, they will hopefully ensure that your newsletters and registrations do not become lost in the post.
Please keep sending these in also. Many owners enquire as to whether or not they should have their animals security marked. The main concern being that it is not looked upon favourably in the show ring. However, these worries should be dismissed, as the N.P.S. is full of approval and believe owners should be encouraged. Therefore, any judge marking down freeze-branded animals would not be looked upon favourably and do so to their own detriment.
A number of members are still paying their annual subscription to the old bank at Barclays, Keswick. Please could you cancel these mandates and transfer to the new bank account at The Bank of Scotland, Newcastleton. Sorting Code No. 80-17-77, account number 00109151.
Please send an s.a.e. if you would like a list of registered Fell stallions at stud. Available from the secretary, address at front of newsletter.
Current membership lists are available, again from the Secretary, however, in order to cover the cost of printing, please send £1.
This trophy was won in 1991 by LINNEL FULMAR, bred by the late Mr Roy B Charlton, owned by Mrs Norris of Aberystwyth. Presented annually to the pony who does most to advertise the Fell Pony breed.
We had a record number of qualifiers for the 1991 Ridden M&M Championships at Olympia, a total of 5 ponies. Unfortunately, none were placed within the first 6 placings. Nevertheless, it is indeed a great achievement to qualify and compete at Olympia. Mrs J A Jackson's gelding TARNBECK MAJOR, ridden by her daughter Mandy, won the best of breed award and the other competitors were Mrs M Pollock with Townend Sasha II, Mrs 0 Briant with Lunesdale Lucky Lady, Mrs P Sutcliffe with Whitburn Major Tom and Mr E M Wilson's Townend Ruth IV.
Following the success of last years Ride, the 1992 Pleasure Ride will again be held on the day after the Breed Show and will be on Sunday, 2nd August 1992. The details of the Ride have yet to be finalised but those wishing to take part should apply to Mrs G Cockbain, Rakefoot Farm, Keswick, Cumbria, details and an application form will then be sent out.
To be held at Dalemain, Penrith, by kind invitation of the McCosh family, on Saturday, 9th May 1992. Our grateful thanks are extended to the McCosh family, for inviting us to hold our Stallion Show here again, which has been such an ideal and charming setting in recent years. The Judge for this years show is Mr P Lawson, Cleveland. Schedules will be sent to everyone who exhibited in 1990 and 1991. Will others please apply for schedules to Mrs M·Laing, Twislehope, Hermitage, Hawick, Roxburghshire, TD9 OLS, or collect them at the A.G.M. Entries should also be sent to Mrs Laing. The Stallion Show will again commence at the earlier time of 11.30 am. Ponies of 3 years and over will be measured in the morning by the attending vet. This is also the point where competitors collect their show numbers. Please come to the measuring stand a.s.a.p. in order to avoid the vet. unnecessary waiting.
To be held on Saturday, 1st August 1992, at Brougham Hall Farm, Penrith, by kind invitation of Mr & Mrs A Helme. Showing starts at 9.30 am prompt. Ponies to be measured before showing starts. Many thanks to all of the exhibitors who kindly sent an s.a.e. for receipt of entries, please keep it up for 1992! Show Schedules will be available at the A.G.M. and Stallion Show. Will you please sign the sheet when you have collected a schedule. Schedules will NOT be sent out automatically to last years exhibitors - please contact Mrs Laing to send one.
When you return breed show trophies to the show, please make certain they are clean and are in a box.
Any of our members whose old Fell Pony is no longer with us, would you please write and tell Molly Laing. The information required is the pony's name and Reg. no., the Sire and Dam, when the pony was foaled and when deceased.
This is a voluntary organisation run single handed by Miss J E Vardon, who assists those looking for a foster mare or orphaned foal, as required and who also gives freely of her knowledge and advice. The F.P.S. has recently given a donation to help towards Miss Vardon's tireless work and it was thought it would be beneficial for members to have her address and telephone number, should it be required. The National Foaling Bank, Meretown Stud, Newport, Shropshire, TF10 8BX, telephone: 0952 811234.
The Spring Performance Trial will be held on Sunday 21 June 1992 at Linnel Wood, Hexham, by kind permission of Mr & Mrs R B Charlton. For those new to the event, this is one of the very few opportunities to ride competitively against other Fells. It is run on the lines of a one-day event and consists of dressage, cross-country and show jumping phases. Scoring is on the basis of points scored rather than faults, so no-one is eliminated for failing to clear a jump. There is usually a choice of jump on the cross country section - the larger attracting a higher score - and this year we hope to introduce a choice of heights in the show jumping phase. The event caters for the novice pony and rider and the more experienced. Our first aim is to provide a relaxed, friendly and helpful atmosphere. Anyone interested in entering should send a s.a.e. to Barry Allen, Tarn Bank, Arnaby, The Green, Millom, Cumbria, LA18 5HZ for rules and entry form. There is a £10 allowance for anyone traveling over 100 miles. Details of stabling and accommodation can also be obtained from Barry.
This qualifier for the Final at Malvern precedes the Performance Trial. There have been significant changes regarding the height of competing ponies. They may have some relevance for certain other breeds but make little sense for Fells. Our ponies have previously fallen within N.P.S. Class 3 - the 13-14 hh class. This year the classes change at 13.2 hh so we have the ridiculous situation of Fells probably falling into 2 classes. The fence height drops by 6 inches for class 2, which at least might increase the number of entries!
(Our upper height limit is 14.0 hh for Fells!) Competitors will have to declare the height of their pony. It is not envisaged that we will be measuring ponies at Linnel Wood, but they will be at Malvern unless a current J.M.B. height cert. is produced. It is quite likely therefore that 2 classes will run at the Qualifier with the overall champion going forward to the Final.
The Autumn Trial will be held on Sunday, 13 Septembr 1992 at Pict Hall, Blawith, Nr Ulverston, Cumbria, by kind invitation of Mr & Mrs R Baxter. This is always an enjoyable day, starting with a test of obedience for the pony and control of their rider through a series of natural obstacles, and ending with a hack across country after the rosettes have been won. Details and entry form can be obtained by sending a s.a.e. to Barry Allen at the address shown above.
This will be held at Brockhole National Park Visitor Centre, Windermere, Cumbria, on sunday 5 July 1992. Schedules will be sent to all who entered in 1991 and will be available at the A.G.M. Enquiries please contact Barry Allen (tel: 0229 774528).
To be held on Saturday, 11 July 1992. Schedules will be available from Mrs Margaret Wilson, Townend, Haltcliff, Hesket New Market, Wigton, Cumbria. Tel: Caldbeck 638.
To be held on Saturday, 8 August 1992 by kind invitation of Lowther Horse Driving Trials. The usual 3 classes will be held; 2 in-hand and 1 ridden. Schedules will be sent to last year's exhibitors, anyone else who wishes to enter should send a s.a.e. to the Secretary, Mrs Rachel Bell, address at front of newsletter. This year's Judge is Mrs G Williamson, Broughton-in-Furness.
To be held on Saturday 4 April 1992, commencing with Dressage Instruction at 10.30 am. The event is being organised by Mr Peter Forsman, Barn End, Sockbridge, Penrith, Cumbria, CA10 2JT. Tel: 0768 890372. The proposed charge is £5/person for the day with all profits to the F.P.S. Should there be enough interest, it is hoped to follow this day up with a competition "warm up" / practice for the Spring Performance Trial. The Instruction Day is an informal day for novice and not so novice. If you are interested, please apply a.s.a.p.
The Show committee are delighted to have been kindly invited by Lt. Col. Sir John Miller to hold our Fourth Annual Show at Shotover House, near Oxford on Saturday, 5 September 1992. Schedules and maps will be sent to previous exhibitors, will other members please apply to me.
There will be two new classes for Brood mares and foals, also a new system for the timetable. As a new show, we have been generous towards late entries, but be warned! It will be by the-postmark deadline and late entries will NOT be accepted.
This show is our Society's shop window in the South. We are looking for a sponsor for each class (£10) and yes, there are still a few classes without. Also we would appreciate offers of help at the show and gifts for the raffle. There seem to be no end of opportunities for your generosity! Most of all we hope you will come to make it a really enjoyable and successful show.
M G Longsdon.
Please take your litter home when at one of our shows, or anywhere for that matter. Others have to pick up your mess when you have gone home. Our hosts are very generous inviting us to use their grounds and litter left lying does not throw a very good light on the Society. YOU wouldn't want somebody picnicking in your field, leaving plastic, glass or paper which could cause injury, would you!

Mr Derek Harris of Birmingham, brings us news of an event in his area, which seems a very interesting day out: "It is not generally known that Birmingham has a 'HEAVY HORSE PARADE' in the spring! It had been held formerly and was reintroduced only in recent years. Although quoted as 'HEAVY', in fact entrants include, among others - Shetland, Fells, Dales, Donkeys, Hackneys, Friesians, Shires etc. Transport includes horse drawn buses, stagecoaches, traders vehicles, landaus, governess carts etc, etc. Entries come from all over Britain. Several Fells were forward."
We were lucky enough to have a holiday in Florida last November and, before we left, I remembered that some Fell ponies had been exported to the Nygaards fairly recently. When we arrived in Florida, I got in touch with Mary and Lyall, and Ronnie and I were invited to their home for Thanksgiving dinner. It was wonderful to have such a traditional American meal in a real home. The hospitality was marvelous - turkey with more trimmings than our Christmas one!
The temperature was in the 80's, in spite of which, Lownthwaite Orange Blossom and Evelyn, and Tarnbeck Lightning looked very fit and healthy. They are kept outside in paddocks in the early part of every day, coming in to loose boxes during the hottest part of the day. The loose boxes have wooden floors and slatted walls all round which makes the most of any breeze and there are electric fans at head height if it gets really hot - like over 100 man!
All the ponies have been shown in hand with great success, sometimes against American Quarter horses and Welsh ponies amongst others. Mary now has the two fillies going as a pair in harness and Lightning is to be broken to harness this year. Lyall has a marvelous collection of vehicles, many of which he has restored himself. The Fell Pony could not have better Ambassadors for the breed in the States, as Mary and Lyall are real perfectionists in all that they do. We look forward to seeing them at the Stallion show this year.
Mrs E Ball.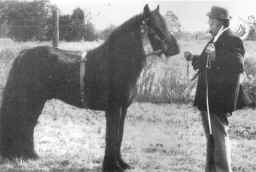 TARNBECK LIGHTNING FP460C,
owned by Mr & Mrs L Nygaard, Florida, U.S.A.,
who also own two Lownthwaite fillies.
Mrs Jo Walch of Warwick owns Barncrosh Lady, foaled in 1978 - "Except to me, Lady is an ordinary Fell mare. In March 1990 Lady did her third sponsored ride, more recently in a 26 mile ride in aid of Cancer Research. Altogether, Lady has earned well over £300 for charity. Now when the lunge rein appears she guesses what is in store but to Lady it is worth the extra work each evening as she knows it also means extra food! Lady is well behaved most of the time and is very helpful when opening gates. She used to be an enthusiastic jumper until she hurt her back jumping out of her field. Since her back was put right, she is no longer jumped. Lady has willingly spent a lot of time escorting young horses. She likes to be boss and enjoys showing the youngsters what to do - an occasional nip on the neck has the desired effect! I hope we can eventually let her have a foal. She is by Heltondale Rambler out of Linnel Lucky."
Two Fell Ponies, ABBEY CARLOS and LADY HELEN played polo at Ayton Castle with the Pony Club! The event was held to fill the break between matches and they played two short chukkas. When the commentator saw the 'Two fat hairy ponies' he was almost speechless! It did seem odd bandaging and tying up tails and legs - I suppose it saved tangling sticks in feathers! Lady Helen is much more nimble, I have to admit, having played more polo but when Abbey Carlos got an experienced hand on in the shape of Nicholas Mathieson (he was most confused at working so hard!) he was improving!
Anne Nisbet.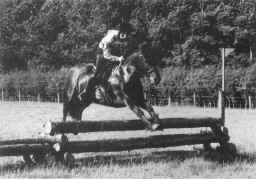 Abbey Carlos ridden by Anne's husband Grayhm,
at the Hunt Cross Country at Charterhall 1991.
Photo by Anne Grossick.
Jess is now 21 but showing no signs of slowing down! She has always been an active pony and when we got her as a 9 year old she proved to be quite a handful for a 6 year old Suzanne. I can remember running along with Jess on a lead rein teaching Suzanne and Jess how to jump logs and fallen trees. Jess showed then that she was an enthusiastic natural jumper and as Suzanne's riding improved, Jess showed that she was also a bold jumper. As the partnership grew, Jess was taken to all Riding Club and Pony Club events and proved to be extremely versatile. Jess has moved house with us round England and Scotland and converted many doubters to Fells! At Buxton Suzanne joined High Peak Hunt Pony Club. One day 'Treacle Toffee' her regular Pony Club pony threw a shoe with a points show due the next day. We suggested she took Jess but Suzanne was a little afraid the others would laugh at her hairy pony. Not wanting to miss a points show, Jess was prepared and off we went. When we unloaded Jess all Suzanne's friends came to see this hairy pony that they did not even know she had. None of them laughed and all fell in love with her on sight. Jess had a wonderful day winning the Showing Class and the Ridden Class. She came second in the Show Jumping and won the Working Hunter Class. The D.C. came to see "this Fell" and suggested Suzanne sold her hunter pony and Pony Clubbed Jess!
We have enjoyed Jess for years and hope to do so for many years to come. Jess is part of our family and never fails to please. She may be 21 now but thinks she is still 9. Long may she continue to give us and all her friends such enjoyment.
Peter Forsman.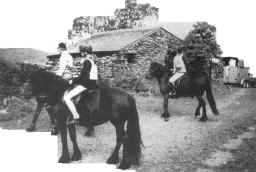 In the foreground, Bowderdale Jess ridden by Suzanne Forsman
along with other competitors about to start the
Autumn Performance Trial, Blawith in 1990.
In 1990 my husband and I decided to enter the new sport with our Fell mare Barncrosh Rue 17062. She had done very well shown in hand and under saddle and had taken to driving without any fuss. Tragically Rue died in that summer and we were devastated. A very kind friend lent us her Welsh Section B mare. We were awarded the Bronze and that really got us going for the L/D driving. We set about looking for a broken Fell mare, black, abouth 7-9 years old - not an easy task! Eventually we found Fly-by-Night FP1432 (Jenny) broken to ride but not drive. In the early spring of '91 Jenny went to a friend in Wales to be broken. He did an excellent job with Jenny. She returned to us at the end of April and so her training and fitness programme began. She was kept stabled and gradually over a twelve week period her exercise and hard food was increased. Her initial 450 kg of fat was turned into a lean muscular body of 390 kg. Her daily work included increasing distances driven at varying speeds - interval training twice weekly, one day lungeing and flat work in the paddock and of course a rest day. To vary the routes driven, we boxed up once or twice a week and drove in various areas, covering 15-20 miles per drive. We also drove all the rallies organised by Clubs and B.D.S. within reach plus a few shows.
At last on the 1st September the Worcestershire L/D drive day arrived. Jenny was fit and ready to go and at 10.35 am we set off on Section A. It was a lovely drive down country lanes, through woods, into four water crossings and across fields. It turned into one of the hottest days of the summer with mid-day temperatures over 80! However, Jenny finished well and won her first Bronze award. Pulse rates of start 34, 41 and 47 after the 25 miles. A few eyebrows were raised that one of the hairies had done so well, we were so proud of her.
The second event was in Surrey and is already considered a very testing course. This meant going on the Saturday and staying overnight. Jenny arrived for the inspections calm and relaxed. I think she had had a good nights' sleep, we hadn't as the tent threatened to blow away during the night! It was a very demanding course with deep sand in places and long uphills in the forestry section. Jenny finished well within her time, pulse rates of 35, 42 and 49 and no penalties. She now had two Bronzes to her credit. Now on October 6th came the last L/D drive of the season. Would an increasingly hairy Fell be capable of the very hilly terrain in Wales? After the Worcestershire Event, she had been blanket clipped and was still going well. Again the event in Radnorshire meant an overnight stay. I had groomed for a friend the previous year and had some idea of what awaited us as we set off through the frosty Welsh countryside the next morning. In Section A between 7 km and 9 km the ground rose 160 metres, very very steeply over heather and moorland onto the Radnor Beacon hills. We walked up the steep bits which is allowed to ease the pony. At the end of Section A, Jenny's pulse was 42 and no penalties. Section B was again very demanding with long hill tracks into the Radnor Forest. By the time we reached 17 km we knew we would be short of time. As we topped the last hill, I asked Jenny for a good trot, she responded and e flew down the track and across the fields to the finish with a minute to spare! I wondered if her pulse and respiration rates would be right by the time we went for our final inspection - it was only 51 after all that effort! Of the eighteen horses / ponies entered only seven gained a Bronze award. Everyone came and congratulated us, the 13.2hh hairy black Fell had won her third Bronze, in three consecuive events, in her first season of driving. We were so thrilled with her.
On returning home, she was gradually let down and hardened off and since November has been living out resting. At the end of February, she comes in again and starts her twelve week fitness programme. We shall do more Bronze drives and hope to do the two Silver drives already scheduled. We can recommend L/D driving for those wanting to do something different. We made lots of friends and seen other parts of 0. the country, had a lot of hard work, worn out seven sets of shoes - all thanks to a great hearted pony. I think Jenny is the only registered Fell doing the drives and certainly the only one to gain three awards in one season. It just goes to show what the Fells can do when asked.
D.M. Billings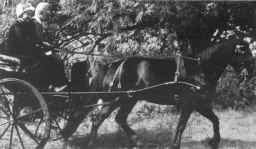 Another show season is almost upon us and for some of you, this will be a new and exciting experience. Do start the preparation of your pony at home, in plenty of time. A healthy, shining coat and alert carriage mean sensible feeding, exercise and schooling for several weeks ahead. Please do not have your pony too fat in April, he will be an overweight sluggish lump by August!
Your pony must go forward when being led in hand, with good head carriage and long-striding active walk. It must trot immediately if it is asked and stop as quickly. Standing still and square without fuss is essential. Your aim is to catch the judge's eye with an alert, active and obedient pony.
Fell Ponies should be shown completely un-trimmed by clippers or scissors. All the hair and feather are a large part of their overall attractiveness, when well brushed out with a lovely shine on it. Faces and legs should be well polished with a cloth and overall when the pony is in its full summer coat. Manes look better all brushed over to one side, to show off the shape of the neck and shoulder. Feet should be clean and well picked out, finishing off with oil before entering the ring. Traditionally, Fell pony young stock and brood mares with foal at foot were always shown in a white cotton or webbing halter. They look very nice shown thus, but the halter must fit, with the noseband adjusted to the right distance above the nostrils and well below the eye. When fixed like this, you have just as much control as in a leather head-collar. If the latter is used, it must be a good fit and of clean well polished leather, preferably with brass buckles and either a clean rope lead rein or a leather one.
Yearlings should never be shown with a bit. If your pony is obedient and you have it properly under control, 3 year olds and under nearly all show themselves much better without a bit. Foals should be well handled and trained to lead out at walk and trot without fuss. A well fitted rope halter or leather foal slip are both correct.
It is also traditional to show adult Fell Ponies that have been broken to ride, in a double bridle or pelham with 2 eeins, the reins brought over the pony's head and held near the pony with the right hand, the left hand holding the end of the reins and your showing stick, which should be short and either cane or leather covered cane. In mixed Mountain and Moorland classes you may feel you would be better with a leather brass-buckled show bridle with leather leading rein. This is equally correct. Stallions can be shown just in a show bridle as above or with the addition of stallion tack, consisting of leather surcingle, crupper and side reins, if more control is needed. Some stallions show themselves better in tack. Tack, or a bit, should never be used on a yearling colt.
In ridden classes, it is better to have your pony schooled and going well in a double bridle or double reined pelham bit but if your pony is young and goes better in a snaffle, this is quite permissible - and preferable to upsetting it. The saddle should be a good fit for both pony and rider. A straight cut show saddle will show off your pony's front better than a general purpose one.
Whatever tack you choose, either in-hand or under saddle, the most important thing is to have it fitting correctly. If your pony is uncomfortable, it will not show itself to the best advantage. Finally, turn yourself out clean and tidy. Don't forget your number, be punctual, listen to the steward and keep your eye on the judge. Remember, he or she has their eye on your pony all the time! Happy Showing!
Mrs E Ball.
HORSES/PONIES PROFESSIONALLY BROKEN AND SCHOOLED either to Ride and/or Drive. All types taken but with ,s special rate for Fell Ponies. Please contact: Miss Christine Dodd, North Fell Dyke, Lamplugh, Workington, Tel: 0946 861302.

COBBYDALE FELL STUD - Fell Stallion standing at Stud: CLOSEHEAD LAD FP518C, 4 year old Dark Bay, good bone and feather. Also, Horses and Ponies Professionally Broken to Ride and Drive - min. of three weeks £105 (plus feed). Tel: 0535 657203.

FOR SALE: DENE HOPEFUL FP386G. Black Fell Gelding, 13.3 hh, rising 6 years. Fully vaccinated. Please contact: Miss Wilson, Lanarkshire, Tel: 0555 70674.

FOR SALE: Black mare, 5 years, 13.1 hh. Recently broken having had a foal last year. Sensible hack, 100 in traffic, potential Ridden/W.H.P. classes. Contact: Sara Hartley, Tel: 0609 776782.
HOME REQUIRED FOR LOAN: ABBEY BUTTERCUP 15778, 14.0 hh Black Fell mare, who requires a caring, working home on loan. She is 18 years but is still full of spirit and needs firm handling. If you can offer her a home anywhere but preferably in or around the Midlands, please contact me, Kate White at 9 Potter Close, New Oscott, Birmingham, B23 5-XU, Tel: 021-377 7065.
WANTED: 2 ponies in the Penrith area for riding during the week following the Breed Show - from Sun. 2 Aug.-Fri. 7 Aug., including the Pleasure Ride. Required for 2 experienced riders on holiday in Appleby. If anyone is able to help, please contact Mrs Whiteside, Tel: 0424 220803, or write to 6 Norfolk Close, Bexhill-on-Sea, Sussex, TN39 5BT.
FOR PART OWNERSHIP or LOAN: PACKWAY FALCON FP740C: foaled June 1990 out of Packway Kestrel, Sp. Ch., Southern Fell Show 1990 and by Waverhead Black Magic, twice Ch., at the Royal Show '87, '89. Lovely dark brown colt, good conformation, bone and action. Placed 1st at Royal Show, 2nd at Southern Show '91. Great potential as a stallion. Can be seen at the Stallion Show '92. Enquire to: Mrs C Rear, Tel: 049 1 681293.
THANK YOU from Mrs Carole Anderson, Gateshead, to the two young ladies who helped to push a blue van and trailer - one of whom got covered head to toe in mud - when assisting the Andersons escape from the mud at Lowther. Carole sends her heartfelt thanks to them!
MIDLANDS IN-HAND SHOW: To be held on Saturday 27 June, at the Three Counties Showground, Malvern, Worcs. The Judge is Miss P Pacey. Mixed classes for registered Fells, Dales and Highlands. Contact Mrs Pamela Williams for schedules, at Treleaven, Byton, Presteigne, Powys, LD8 2HS.
LODDON LIVESTOCK EQUIPMENT LTD. If you need stables . you need Loddon to give you and your horse the comfort. and protection that result from our many years as the market leader in stabling equipment. Contact: Loddon, Norwich, Norfolk, NR14 6JJ. Tel: 0508 20744, Fax: 0508 28055. Loddon support the F.P.S. Please support them.
Newsletter Articles
If you would like to include articles or photographs in the autumn issue, please send them to the Secretary, Mrs Rachel Bell. Photographs may be in black and white or colour, although if in colour, they must not be too dark. A clear background so that a pony's outline can be seen, is also important. Unfortunately, the lack of space may postpone the appearance of some articles. Photographs will be returned or retained by the Society, as preferred. It is hoped to include a Fell Pony 'diet' in the autumn. If you have any useful tips, send them in!
The Annual General Meeting will be held at Lowther Parish Hall, Hackthorpe, Nr Penrith, on Saturday, 21 March at 1.00 pm. Subscriptions will be collected between 11.00 am - 12.30 pm. Teas will be available after the meeting.

AGENDA
Apologies for absence.

Minutes of the previous meeting.

Matters arising from the minutes..

Election of five council members. The following retire and are eligible for immediate re-election: Mrs E Ball, Miss M G Longsdon, Mr J S Dargue, Mr G Wood. Due to the sad loss of Mrs S McCosh, a fifth council member is to be elected and will hold office until 1993 and be eligible for re-election thereon.
There are three new nominations:
Election of Officers:

Chairman
Vice Chairman

Adoption of the Accounts.
Secretary's Report.
Reports of delegates and sub-committees.
Pleasure Ride and future events..
Memorial Trophy, in memory of Mrs S McCosh.
Member's suggestions.
Date of Autumn Meeting.
Any other business.
---
This page last updated: 22 January 2008
©1992, 2000 by The Fell Pony Society and Naked Essence Web Designs