Fell Pony Society
Autumn 1992 Newsletter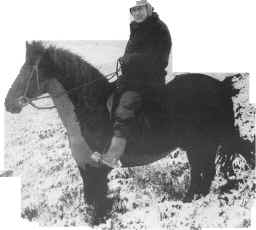 1992 Winner of the Lownthwaite Rob Trophy, Bannerdale Midnight. 6731, foaled 1976, sire Heltondale Sonny Boy, dam Heltondale Lady IV, owned and bred by Mr. Tom H. Mounsey, Buchtrig Cottage, Jedburgh (above). A pony who earns his keep, working hard for his owner, herding every day. He is regularly hunted with 2 Border packs. Mr. Mounsey bred the Shap Lodge ponies and later the Bannerdale ponies. H.R.H. The Duke of Edinburgh drives Bannerdale Dawn in his team.
---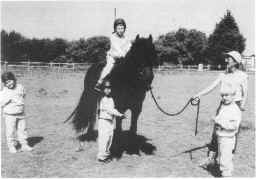 Townend Seamus, (Mouse) S year old
gelding, turning his hoof to RDA
After years of owning show and hunter ponies, our 14 year old daughter decided it was time to have a sensible pony and revealed a long-time yearning to own a Fell. A visit to Peter and Sally Boustead resulted in us becoming the owners of 5 year old Townend Seamus, who promptly became our most prized pony ever. He was destined to be, first and foremost, our family pony who would quite enjoy going to the odd show but he soon proved his versatility by turning his hoof to Riding for Disabled (RDA) duties. Within a week of his arrival, the disabled children who visit our yard were desperate to ride 'Mouse' whose long mane and tail were irresistible to sticky fingers! His temperament for RDA work was second to none and the height of a Fell makes it possible for the average person to support the waist or hips of a handicapped rider from the ground whilst the pony's width provides a sold base of support. Mouse has now been joined by Foggygill Richard (Foggy) who is just 3 years old and has the same laid-back attitude to life, so it seems natural that he too will progress to be an RDA pony at the age of 5 years.
Jill and Rupert Blake.
Footnote: Wolds Donald Duck, 7 year old gelding, has recently been purchased from funds raised by the NPS Scottish branch for RDA work in Glasgow. A Fell was chosen for it's temperament and versatility.
Patron - H. M. The Queen
---
President: Mr J Bell
Chairman: Mr J S Dargue
Vice-Chairman: Mrs E A Ball
Honorary Secretary and Treasurer:
Mrs R H P Bell, Riccarton Mill, Newcastleton,
Roxburghshire, TD9 OSN, Scotland. Tel: 03873 76251
Sales Officer and Assistant to Secretary:
Mrs M C M Laing, Twislehope, Hermitage, Hawick,
Roxburghshire, TD9 OLS, Scotland. Tel: 03873 76272
Publicity & Exhibition Officers:
Mrs M Laing, Mrs P Forsman, Miss B W Walker, Miss V Laing.
Trainee Judge Chairman & Show Affiliation Secretary:
Mrs A A D Newall Trainee Judge Secretary & Press Officer: Mrs P Robson
Representative to the N.P.S.:
Miss M G Longsdon
Representative to the B.H.S.:
Miss B W Walker Hon. Editor Fell Pony Newsletter: Mrs R H P Bell
Honorable Editor Fell Pony Newsletter:
Mrs R H P Bell
---
Council
Once again, it has been a very busy summer and here we are with winter on our doorstep once more. Not a very nice thought and with the amount of berries on the trees and shrubs, we may be in for a long winter! I often think about the ponies braving the weather outside my window and thank goodness that it is not me!
The Society's membership is continuing to grow and currently stands at 1120. Of which we have 68 Juniors, 64 Family and 982 Full members. This information is available to me with the gracious help of our new computer. I am able to inform you that we have had a total of £561.50 in donations to the computer fund and I am extremely grateful to all of you who have contributed to the cost of the new system. If anyone else would wish to make a contribution, it would be much appreciated. As you will see, this newsletter has been produced from the computer, on a software program called Lotus Ami Pro, which is a word processing program. I was fortunate to able to purchase the computer and printer at very competitive prices and the Lotus software came with the deal, which in itself is worth over £1000 to buy. Altogether, the computer and printer cost slightly over £1400. We still have the membership and registration programs to buy. The cost of these will be approximately £1500. These are being produced by a company called Computer Workshop, who are based in Dumfriesshire and it is hoped to be able to give a demonstration of the programs to those members present at the forthcoming Autumn General Meeting, on the 31st October.
For a few years now, you have received type written labels on the envelopes used to send out the biannual newsletters. This assistance was made available to us by the use of a computer owned by Mr Tony Watters, near Keswick, whose wife is a member of the Society. It is with great sadness that I learned of his death a few weeks ago. Tony Watters was a charming gentleman. He was very accommodating and willingly handed over the membership data files he had built up with his computer, in order to facilitate the changeover to our own computer system. Indeed, I know he was very much looking forward to the demonstration to be held at the A.G.M.
Coming back to the newsletter, I'm sure you will agree that it looks much nicer than that my old typewriter could produce and once I am able to master the other Lotus program I received, called Freelance Graphics, I may be able to create some pretty pictures - but there are no promises!
One of the snags of any sort of typing/filing/administrative system, is that the information has to be there for you to deal with it and be efficient in the work you are producing. Therefore, the computer cannot do the things I want until I have all the information in it's memory, for it to retrieve and produce to my requirements. This means lots and lots of typing! I am, however, hoping that the input of the Stud Books will be assisted by the use of an 'optical scanner', which literally reads the print and/or pictures on a page via a hand held or table top scanner and feeds an exact copy into the computer's memory. This would obviously save hours, indeed weeks and months of typing and would probably be the most accurate method. Computer Workshop are looking into this for me. It may be possible that a government aided group, who have this equipment, may be prepared to assist.
Anyway, enough of computers and machines. Down to the important things - Fells!
A Council meeting was recently held and some new and important requirements have arisen from the meeting. As these will affect nearly all of you who have ponies, I would urge you to read on. You will find more details of the new requirements and Regulations further on in the newsletter under the heading of Council Information. As I have already said, these are very important changes and additions, so DO read them,
There are many new Fell Pony owners and the Stud Books bear witness to this, with many new first time breeders and more foals being registered each year. There has also been a dramatic increase in the number of stallions being licenced. For those new members, details of all the registrations and transfers are produced annually in our Stud Books, available from either myself or Mrs Laing (addresses at the front of the newsletter) and the 1991 Stud Book is now available at the cost of £2.00 plus 30p P&P. Incidentally, you may or may not have noticed from the inside page of the newsletter, that my address has changed. As it is really a case of having moved next door, the re-direction of mail will not be a problem, as the local postie is fully clued up! Anyway, just for the record my new address is: RICCARTON MILL, NEWCASTLETON, ROXBURGHSHIRE, TD9 OSN - thankfully it's shorter! The telephone number remains the same, 03873 76251.
Our newsletters are the ideal medium for getting information to YOU, the members and should you wish to contribute an article or have suggestions for changes or inclusions, please write to me.
It is also an opportunity for me to convey thanks to all those who assist the Society in its running and generously give of their time. From those who set up the rings for our shows and tidy away at the end of the day, to the ladies who deal with the catering, to those who regularly stay in the marquees on the sales stand and store the items in between events. To our organisers and hosts and to the many others who do much unseen work, my sincere thanks and gratitude to you all.
Merry Christmas and a Happy New Year and of course many happy pony days.
Rachel Bell
Honorary Secretary/Treasurer
As from the 1st January 1993, the following will apply
Re the Regulation for the application of the licencing of a colt or stallion, all stallions/colts will be blood-typed prior to being licenced. As usual, the name and address of a veterinary surgeon other than the owner's usual vet is to be supplied to the Secretary. Upon receipt of the latter, the Secretary will dispatch a blood-typing kit directly to the said vet, together with the inspection form.

Stallion Licence fees will be raised to £25.00. This is an increase of £15.00. The cost of a blood typing kit per pony is £33.00 + VAT, however, the Society will subsidise the cost of the kit by paying the balance and the owner will only be required to pay the Licence fee of £25.00, plus the veterinary fee as before.

All stallions currently overseas to be blood typed. In future any colts or stallions to be exported must be blood typed before they leave the U.K.

All ponies must be registered in their year of birth. Year of birth ends on the 31st December of the current year and is not extended to the date of the pony's birth the following year. The only exceptions will be a) at the discretion of the Council, those ponies bred on their native heath, which in any event must be registered by the lot March the following year and b) colts out of Section Mares, which must be gelded before registration and which may not have been sufficiently mature to geld in their year of birth. However, the latter must be registered in the year following their birth.
With immediate effect, the following will apply:
Any pony whose registration is under dispute may be required to be inspected and/or blood typed at the discretion of the Council. The Council may request that any pony be inspected and/or blood typed. At the discretion of the Council, the owner of any pony whose registration is in dispute will be required to pay for the inspection and/or blood typing.

Following dispute, or from the measuring out at a Show, any pony believed over the breed height limit of 142.2 cms must be measured under JMB Rules within 21 days and a certificate obtained. A copy of which must be forwarded to the Secretary for verification of measurement. Over height ponies may be bred from and their progeny registered, provided the over height pony is not continued to be shown as a registered Fell Pony. Failure to comply will result in the pony's registration being invalidated.

JMB height certificates will be accepted at Society events and shows. At shows where the ponies are required to be measured, both the pony and it's current JMB height certificate must be produced to the official measuring veterinary surgeon for verification, prior to being shown.

The breeding and registration of ponies from Artificial Insemination and Embryo Transfer will only be accepted prior to the approval of the Council. Applications to be made to the Secretary.

New policy for Fell Pony Society Shows, whereby all 1st and 2nd prize winners of show classes go forward for the Championship.

At the Stallion & Colt Show. for the purpose of showing, all stallions 3 years and over must be licenced according to The Fell Pony Society Regulations. Licence number to be shown on entry form.

At the F.P.S. Breed Show, at the judging of the Supreme Champion where the qualifying ponies are the 2 in-hand champions and 1 ridden champion, the ridden entry should be brought into the ring under saddle. The pony may then be stripped of it's saddle, according to the wishes of the Judges.

All cups and trophies that are won at Fell Pony Society events will remain in the U.K. and may not leave the country to overseas winners.

Advertising in the newsletter: a small charge will be made for future adverts.

Until further notice, the Society will continue to donate £25.00 to The National Foaling Bank, further information of the charity may be found later in the newsletter.

Regardless of breeding loan arrangements between individuals, it is the registered owner of the mare that is deemed the breeder and no other person's prefix may be used.
A number of 1992 subscriptions are still due. Please help to keep administration costs and time at a minimum. If you have not yet received your 1992 membership card, then your subscription is still due. There are still a number of 1991 subscriptions overdue. Standing Order is an efficient method of payment for both you and the Secretary. Please consider this method. Standing Order Mandate forms are available from the Secretary and from our Sales Stands. The Subscriptions Rates have been kept at a minimum for the benefit of the membership and the continued support of our members is much appreciated.
From 1st January 1993, the following fees will apply:
Wigton Horse Sales
Show & Sale of Registered Fell Ponies
To be held on Wednesday, 28th October 1992, commencing with the showing classes at 9.30 am. This year's Judge is Mrs. G. Williamson, Broughton-in-Furness. The sale of Fells (classes 5-7) will be in ring 2, following the sale of the preceding classes (1-4).
The Fell Pony Society awards up to six premiums of £50 each for the stallions serving the highest number of registered Fell mares. To qualify for an At Home Premium, the stallions must parade in the At Home Premium class at the Stallion & Colt Show and by the end of the season (1st September) have served a minimum of seven mares. This year's Premiums were awarded as follows:-
The Society is extremely grateful to the McCosh family for permitting the Stallion & Colt Show to continue to be held at Dalemain. We were blessed with a bright, fair day, which is always a relief for the Judge and competitors alike. T his year's show was judged by Mr Peter Lawson, who has himself had past successes at the Show with his well known grey stallion Mountain Dew of Cleveland. The classes were well represented, especially in the Yearling Colt class, which had a total of 21 entries. The results of the 1992 Show are appended:
Catalogue omission: Townend Septimus, owned by Mrs G Williamson, who was entered but not forward at the Show.
The twenty-third annual Breed Show was again held at Brougham Hall Farm, Penrith, by kind invitation of Mr & Mrs A Helme. The Judges were Mrs G Cockbain - mares/fillies, Mrs G Williamson - colts/geldings, Mr J Milligan - novice ridden and Olympia qualifier, Miss S Lawson - open and junior ridden, Mr A Todd - driving, Miss M G Longsdon - handy pony, Mr B Allen - W.H.P., Mr I Tweddle - shod/unshod, Mrs P Henderson - costume. The results are appended:
There was an excellent level of entry at this year's Breed Show - 168 all tolled - coming from as far away as Wales, Surrey and Scotland. A new class for the Novice Working Hunter Pony was included, for which Mrs E Marshall kindly donated The Windybank Trophy and another new trophy was awarded, namely the Sylvia Mary McCosh Memorial Rose Bowl, to the breeder of the Supreme Champion.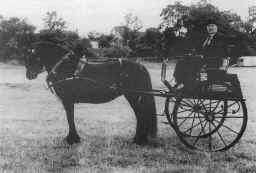 SOUTHWICK BEAUTY FP1152, foaled 1981, Sire: Townend Bracken, Dam: Swarthbank Joana,
owned by Mr D Eltringham. Shown and driven at the 1992 Breed Show.
Held for the second year at Linnel Wood, Hexham, by kind permission of Mr & Mrs R B Charlton, on Sunday 21st June 1992. Linnel Wood has proved to be an excellent venue for our Spring Trials. The Charlton's provided us once again with an excellent course of jumps and I believe I am correct in saying that everyone had a super day. This year's entries were up and we hope this trend will continue.
Best Junior: Angela Thompson
Best Newcomer: Beverley Hodgson
The N.P.S. Mountain & Moorland W.H.P. Championship Qualifier precedes the Trials and the results are as follows:
Very well done to all the competitors! We look forward to seeing you and others next year.
The Show was held on 5th July 1992, at the Lake District National Park Centre, Brockhole, Windermere. The Judges were Miss B Bell and Mrs N Lightfoot.
Brood Mare, 4 yrs and over
Lownthwaite Melody
Mr D Wilkinson
Foal
Brackenbank Mayblossom
Mr D Wilkinson
Yearling Colt, Filly or Gelding
Townend Silas
Mrs E M Whittam
Two year old Filly or Gelding
Lownthwaite Slip Stream
Mr D Wilkinson
Three year old Filly or Gelding
Lunesdale Rosie Lea
Mr J Hunter
Geld mare, 4 yrs and over
Tarnbeck Sheba
Mrs G Williamson
Gelding, 4 yrs and over
Marlingdyke Millstream
Mrs Rachel Bell
Ridden mares, 4 yrs and over
Townend Lucy IV
Mrs G Williamson
Ridden geldings, 4 yrs and over
Sleddale David
Mrs G M Underwood
Working Hunter Pony
Bowderdale Jess
Miss S Forsman
Handy Pony
Barncrosh Royal
Miss Jennie Hayton
Showjumping
Jossgreen
Miss Ruth Ward
Trotting Race
Bowderdale Jess
Miss S Forsman
Champion
Tarnbeck Sheba
Reserve Champion
Lunesdale Rosie Lea
Junior Points Winner
Miss Jennie Hayton
Senior Points Winner
Miss Suzanne Forsman
Held at Barningham Park, Richmond, on Saturday, 11 July 1992, by kind permission of Sir Anthony Milbank. The Judges were: Mr Mike Allen and Mrs Pat Ward. The results are appended:
| | | |
| --- | --- | --- |
| Mares, 4-6 years | Waverhead Pearl | Mr J Bell |
| Mares, 7 yrs and over | Brackenfield Curlew | Mrs N Earnshaw |
| Overall Mare | Brackenfield Curlew | Mrs N Earnshaw |
| Geldings, 4 yrs and over | Lowmoat Rodney | S Hartley |
| Brood mare, foal at foot | Barbondale Petal | Mr J Bell |
| Colt or Filly foal | | Mrs P English |
| Yearling Filly, Colt/Geld. | Carrock Amanda | Mrs G Cockbain |
| Two yr old Filly or Geld. | Waverhead Petal | Mr J Bell |
| Three yr old Filly or Geld. | Lunesdale Rosie Lea | Mr J Hunter |
| Traditional Riding Class | Redhouse Dusty | Mr J Bell/Miss B Bell |
| Best Turned out Pony & Rider | Esther Maree of Inglegarth | Mrs B Hodgson |
| Ridden Mare or Gelding | Waverhead Pearl | Mr J Bell/Miss B Bell |
| Ridden Pony | not won | |
| Reserve Champion | Brackenfield Curlew | |
Barningham Show Buffet Supper Dance will be held on Friday, 30th October 1992, at the Morritt Arms Hotel, Greta Bridge, (just off the A66 at the Barningham turn off), starting at 7.30pm for 8.00pm. Tickets are available from Mrs N Earnshaw, Tel: 0833 21261 or Mrs M Wilson, Tel: 06998 638.
Held at Lowther Horse Driving Trials and Country Fair, on Saturday, 8th August 1992. The number of entries exceeded last year's and provided with only an extra 10 minutes for the tight time schedule, our Judge Mrs G Williamson coped amiably with the three classes. The results are appended:
| | | |
| --- | --- | --- |
| Mare or Gelding 4 yrs + | Carrock Polyanna | Mrs G Cockbain |
| Special for Best Brood Mare | Barbondale Petal | Mr J Bell |
| Special for Best Foal Yearling, Two or Three yr old | Drumburgh Emma | Mrs J E Folder |
| Special for Best Yearling | Heltondale Bonny | Mr W S Noble |
| Special for Best Two year old | Townend Cameron | Mr P Glover |
| Special for Best Three year old | Heltondale Bonny | Mr W S Noble |
| | entries not forward | |
| Ridden Mare or Gelding 4 yrs + | Caroles Monarch | Mr P Glover |
| Champion | Carrock Polyanna | Mrs G Cockbain |
| Reserve | Heltondale Bonny | Mr W S Noble |
Held on Sunday, 13th September 1992, at Blawith, near Ulverston, by kind invitation of Mr & Mrs R Baxter. The number of entries increased this year to 17, with 15 competitors actually taking part. It is evident by the final scores accrued, that it was a very 'tight' competition, with the first three separated by only 1 point!
| | | | |
| --- | --- | --- | --- |
| 1st | Bowderdale Jess | Mr P Forsman / Suzanne Forsman | 143 pts |
| 2nd | Lownthwaite Rosetta | Mrs Helen Wearing | 142 pts |
| 3rd | Barncrosh Royal | Miss Jennie Hayton | 141 pts |
| 4th | Tarnbeck Maydew | Mrs Helen Wearing | 136 pts |
| 5th | Tarnbeck Maydawn | Mrs Judith Dickinson | 134.5 pts |
| 6th | Hillhead Lucky Arnold | Mr & Mrs Waugh / Sarah Waugh | 134 pts |
| | Best Junior | Jennie Hayton | |
| | Best Senior | Mr Newman | |
| | Most Paintable Pony | Greenfield Topper | Mrs B Slater |
Our thanks again to Barry & Cath Allen and family, for organising three excellent events for our summer schedule: Spring Performance Trials, Windermere and Autumn Performance Trials
The Fourth Annual Fell Pony Society Southern Show was held at Shotover House, Wheatley, Oxon, on Saturday, 5th September 1992, by kind invitation of Sir John Miller. The beautiful parkland certainly made for an excellent new venue and I'm delighted that Sir John has invited us to return next year.
We were grateful to Miss Jane Brindley and Mr Eddie Wilson, who travelled down from Cumbria and worked hard all day, judging the 80 ponies from 50 exhibitors. The final championship was taken by Mr Morland's home bred yearling filly Lunesdale Rebecca, and the reserve Mrs Minson's Wolds Oriole. I would like to thank Angela and Paul Einon, the Flitney family, all our sponsors, the Show Committee and all those who so generously gave their time to make the day the success it was.
Mary Longsdon
The Southern Show results are appended:
(webmasters note: the following table did not scan well and entries may be inappropriately aligned)
| | | |
| --- | --- | --- |
| Stallions 2 years and over | Darrenvale Jason | Mr R Sutcliffe |
| Mares, 4-8 years | Brambleleigh Suzanne | Helen Oram |
| Mares, 9 years and over | Cherryhall Heather | Mrs C Y Ross-Thomson |
| Brood Mares, with foal | Greenfield Faith | Mrs Sue Rees |
| Colt or Filly Foal | Packway Curlew II | Mrs C Rear |
| Geldings, 4-6 years | Guards Jonathan | Mrs S McKinlay |
| Geldings, 7 years + | Tebay Silver | Mesdames Hancock & Johnson |
| Yearling, colt, filly, gelding | Lunesdale Rebecca | Mr A W Morland |
| Two yr old filly, gelding | Blakewell Robert | Mrs S J Awde |
| Three yr old filly, gelding | Pikenaze Blue Grouse | Mesdames Hancock & Johnson |
| Veteran, 15 yrs and over | Wolds Oriole | Mrs A Minson |
| Pair Class (Ridden) | Wolds Oriole / Heltondale Doll | Mrs A Minson / Miss R Minson |
| Ridden (4 years and over) | | Miss Lizzie Briant |
| Ridden Stallions | | Mrs L Chapman / V Robertson |
| Ridden Mares | Wolds Oriole | Paul Boustead / Mrs S Boustead |
| Junior 6-12 years | Wolds Twite | Miss L D Hodson / K Tynan |
| Junior 13-16 years | Wolds Oriole | Mrs J Birch / Jennifer Birch |
| Veteran | Wolds Oriole | Miss J Glass / Emma Norris |
| Pairs | Tebay Silver/Guards Robert | Mrs A Minson / R Minson |
| Working Hunter Pony | Tebay Silver | |
| Driving | Skelgill May | Mrs L Robinson |
| Fancy Dress | Wolds Oriole | |
| Best Turned Out | Mayday | |
| Youngstock Champion | Lunesdale Rebecca | |
| Ridden Champion | Wolds Oriole | |
| Supreme Champion | Lunesdale Rebecca | |
| Reserve Champion | Wolds Oriole | |
| Points Champion | Wolds Oriole | |
In keeping with last year, the Ride was held the day after the Breed Show. The venue was in the southern lakes, below Windermere at Biglands Hall, near Backbarrow. What wonderful countryside it is - every few miles changing from wooded valley to rolling heather moors with large stone outcrops and then high grassy slopes looking over the sand dunes and sea. It was a great pity that more ponies and riders did not take part. We had only 10 ponies this year, with 16 riders, so some of us took it in turns to ride between road stops. May I say a big 'thank you' to Mrs Pat Fell, our local host and guide and to the Biglands Hall Estate, who permitted us to ride there, for providing parking facilities and the refreshment caravan. I will make a list of riders and ponies names in the Pleasure Ride Book but may I say how nice it was to ride with new friends, including Mr Mueller and his daughter Sarah, from Germany, and Josie Errand who is 86 years old - all of us enjoying the Fell Pony. Thanks also to Mrs Glenis Cockbain for dealing with the enquiries and explaining about this year's Pleasure Ride.
Libby Robinson.
To obtain a copy of our stud book and gifts sales list, please send a s.a.e. Please note we have V-necked green and navy acrylic jumpers, with the F.P.S. logo (good washers) @ £14.50 + 80p P&P. Black and white Christmas cards, style i) "Two ponies looking at baby in crib", style ii) "Child feeding ponies over field gate with apple", both styles 4,20p each (including envelope).
For over thirty years, I have been helping people to find the right pony for their needs. This year, a great many ponies have changed homes. With so many new members and with more of the old ponies passing on, the demand has become great. Therefore, will members please let me know when they have ponies for sale. Also, inform me when you have sold a pony, in order to keep the records right and save new buyers contacting those who have sold their ponies on. It will save time and telephone calls.
If members own ponies that need ridden on, please contact me.
If I am not at home, please leave your name and message with Jenny or my husband, as I always leave a pen and paper beside the telephone.
Molly Lain
The committee spend a great deal of time at Shows, telling people about the breed and ponies of times past. We have a great number of photographs and many of our members new and old are very interested to see them. As it is of great interest for future members of the Society, I am bringing out a new book of 'ponies of the past'. So, if any of our members would like to contribute to it. would they please send their photographs and an account of who there pony was and what it did during it's life. I know a book of this nature would be of great interest to so many people.
Molly Lain
Deceased ponies. Please inform the Secretary of any ponies that have died, especially of stallions.
Showing. The conduct of exhibitors at shows is very important and it was brought to the Council's attention that some exhibitors have not conducted themselves in a manner customary to what is generally acceptable. The Council feel that a Judge's decision should be accepted and that unless a complaint is made in the customary way, being an objection lodged with a deposit to the Show Secretary, then exhibitors should hold their counsel. It was also agreed that most Judges would be prepared to discuss the placings on the day. if asked at the appropriate time, outside the ring and when the classes have finished. It is hoped that exhibitors will consider their conduct before they act.
Ridden Classes. F.P.S. ridden classes are judged and marked on the basis of 50% for manners, ride and presentation in the ring, 50% for conformation and breed characteristics. The Judge's decision is final and the way in which the marks are awarded would depend entirely upon the ponies exhibited on the day, as to whether a pony's conformation would take precedent over its manners and ride, or vice versa.
In general terms, a pony's Scale of Points are awarded as follows:
Height and Colour 5
Carcase 20
Head, Nostrils, Eyes, Throat and Feet, Legs and joints and hind legs 25
Jaws, Neck 10
Action 25
Shoulders 15
General Characteristics 100
Freeze branded ponies. Please keep sending details of ponies that have been branded etc. Details should be sent to the Secretary.
Stud List. Please send a s.a.e. to the Secretary if you would like a copy list of the registered and licenced Fell stallions at stud. This is being continuously revised as new colts are licenced.
Membership List. Current membership lists are available, again from the Secretary, However, in order to cover the cost of printing, please send £1.
Subscriptions via Standing Order. Please apply to the Secretary, or obtain a mandate from our sales stand. Subscription payment by this method is of great assistance - please consider this option!
National Foaling Bank. For further information of this valuable charity, please contact: Miss J E Vardon, The National Foaling Bank, Meretown Stud, Newport, Shropshire, TF10 8BX, Tel: 0952 811234. The Foaling Bank offer assistance and advice to anyone who may have lost either a mare or foal and are well worth contacting should you find yourself if this unfortunate predicament.
Olympia 1992. This year's qualifiers are Mrs O Briant's LUNESDALE LUCKY LADY and Mr J Bell's REDHOUSE DUST. We wish them luck and hope they have a very enjoyable visit to Olympia. (Keeping our fingers crossed!!)
Computer Fund. A big thank you to all of you who have already contributed to our fund. However, should anyone still wish, to contribute, further donations will be gratefully received.
Transfer of Ownership forms. Available from the Secretary and are required if you have recently sold or bought a pony. A form should be signed by the vendor for each pony sold.
Stallion Service Books. If you have not already done so, your books should have been returned to the Secretary in September. Please advise the Secretary of any problems, otherwise, please return them as soon as possible, to avoid reminders being sent out.
Membership Badges. A new badge design has been proposed and takes the form of a silhouette of one of the mares from our logo. It is hoped that these will be available in the near future. We have run out of the old badges, hence the requirement. Whilst the price is not yet fixed, it is presumed that the new badges will cost £2 each.
Following several enquiries for suitable diets and the appropriate work ratio for Fell Ponies - most commonly from Fell Pony owners who do not have characteristic rough fell land but have a lush high protein paddock instead - it was evident that some professional advice should be sought. Help came from Barr & Partners, MsRCVS, of Penrith, who kindly agreed to spare the time from their busy schedule to write the following article, for which I am very grateful. The F.P.S. has a long standing relationship with Barr & Partners who are the Society's official measurers at our Stallion and Breed Shows and as their practice is in the heart of Fell Pony country, who better to advise.
Feeding the Fell Pony
Horses require a wide range of nutrients for maintaining their health and for growth. In its natural habitat, a herd of Fell Ponies will graze extensively, eating many different types of shrubs, grasses and even bushes. The different soils found on the fells will provide herbage of greatly differing quality and in selectively feeding, the ponies will eventually meet all their requirements. In this way, deficiencies or excesses rarely occur and the pony can develop a strong bone without getting too fat and seldom too thin. With the onset of autumn and winter, the ponies are commonly moved to lower ground and fed supplementary hay. Lessons can be learnt from observing the Fell Pony in its natural environment to help in the way we keep them in closer confinement. These lowland grasses tend to be rich and short of fibre. Being a constant nibbler the pony will soon over-eat and become excessively fat. Eating this richer feed greatly increases the risk of laminitis and digestive disorders such as diarrhoea and colic and without the area to wander over, the pony becomes unfit. Ideally the pony should be allowed access to well grazed, unfertilized land and be regularly exercised. Overweight animals that are asked to work will run into the problems of lameness and lack of stamina.
If the pony is to be housed, hay is provided as the basis of the ration but a period of grazing should be allowed each day. Ponies in HARD work may be given concentrate feed but no more than four pounds per day would be required. It is possible that in this artificial environment, deficiencies may occur which will vary according to the region and Veterinary advice should be sought if this is suspected.
When selecting hay, it is important to consider not only the food value and for the Fell Pony medium is sufficient, but also the dust content. As with all horses, hay contaminated with fungal spores in likely to induce breathing problems. Chronic Obstructive Pulmonary Disease (C.O.P.D.) is an allergic response of the lungs to the fungal spores which are numerous in bales that have heated when made. These spores can also be found in deep litter beds of paper or wood shavings. Money spent on low dust hay is money well spent.
Clean water should be available at all times and care should be taken to avoid large drinks or large feeds immediately after exercise. In general, feeding should be regular and constant. Changes in timing, content and quantity of feeds and the quantity of exercise should be made only gradually. Attention to detail and awareness of your pony's requirements will ensure many years of satisfactory companionship and few visits from the Veterinary Surgeon. P. D. F. MAY BUMS MRCVS.
T. J. BARR BVMS MRCVS
When a completely new team took charge at the RASE in 1991, we began to wonder what would happen to the small exhibitors such as ourselves. Many changes took place including moving all the Breed Societies from Saddlers Row, where we had been located for many years. It was very difficult to envisage a better site and with escalating costs, we wondered if we would indeed be able to continue. Things did not look brilliant in 1991, but we were among the fortunate few in our position in the Equine Area. _After lengthy discussions amongst those involved with the Royal Show Stand team, it was decided to stick with it in the hope that we would do better in 1992. Our trust was repaid ten-fold when we were notified of our position for this year - a prime spot on the main street, opposite the Press Offices and directly on a main road junction, a very busy through road. We could not have been better placed, everybody had to pass our stand. It was most unfortunate that we only had one good day weather-wise, and many people stayed away because of this. They were the losers - we had four lovely ponies during the week, all coming along to the stand for the first time, with their very generous owners, again all newcomers to our stand at the Royal. Thank you all for the time and trouble you went to, to help us make this year a very successful one. Many people are being badly hit by the recession, many of our members included but it was very encouraging to see so many people interested in the ponies and also to note a record attendance in our visitors book as well as the many enquiries that were genuinely made regarding the ponies with a view to buying one. We had a very high profile this year and we can only hope that this will continue in the years to come and that with the help of Loddon Livestock Equipment, who provide a superb stable on the stand, free of charge, we will be able to achieve even more for The Fell Pony Society and the promotion of this super native pony who will turn it's hoof to anything asked of it.
Sheila Hardy.
Held on Saturday, 4th April 1992, at Sockbridge, Penrith, by kind invitation of Mr & Mrs P Forsman.
The ten riders and ponies had a good day despite the weather's attempts to cancel the day. The morning session was dressage and the afternoon show jumping.
Mrs Jean McCauley (Ian Stark's mother-in-law) took the dressage training, splitting the riders into two groups. All the riders enjoyed the instruction and for the novices, the frightening aspects of dressage were dispelled. The more experienced were also appreciative of instruction from such a distinguished instructor and all teamed a bit more to help them with their dressage.
Douglas Weymouth took the show jumping lessons int he afternoon and again divided the riders into two groups. The first group enjoyed some very good show jumping instruction and then as a reward for their efforts, they were taken round the cross country jumps. The second ride were one short, as Rachel had to get back for the lambing. The remaining four were rewarded with some good instruction and all agreed the day had been worthwhile.
First group:
Ruth Ward - Jossgreen
Lyndsey Jordan - Bamcrosh Royal
Alison Knight - Lownthwaite Romany
Derek Pollock - Townend Sasha II
Suzanne Forsman- Bowderdale Jess
Second group:
Rachel Bell - Marlingdyke Millstream
Georgina Underwood - Sleddale David
Beverley Hodgson - Esther Maroe of Inglegarth
Christine Dodd - Kerbeck Fire Fox
Anne Armstrong - Summit Harrier
Peter Forsman
Many thanks to the Forsman's for instigating and arranging the day. It was very enjoyable and one we would like to repeat. It was very educational but also good fun. The profits raised amounted to £31.60, which went into the Society's funds and the Forsmans generously donated a further 03.40, giving a total of £45.00.
Rachel Bell.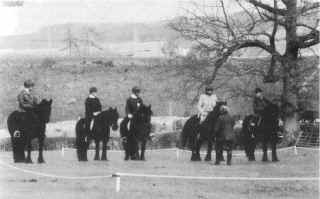 Group 2, under Instruction from Mrs Jean McCauley
I wrote in September of 1987 of buying. Tebay Just William and the fund we had during that first season of competition, getting to know each other. Five years on and my goodness, haven't we had some good times together! From appearing on The Fell Pony Society stand at the Royal Show in 1988, the Tercentenary Parade in London and the prizes too numerous to mention for showing, jumping and one day eventing - but it was in the discipline of dressage that William came into a completely different phase of his career.
We started off in Prelims and did reasonably well but it was as we progressed into Novice and Elementary Tests that he really started to enjoy himself and show his paces to their best. If a test is too easy, I might as well forget it, as he just gets bored and becomes 'Just William'!! Approximately 18 months ago my instructor suggested we have a go at dressage to music and in this Wills really excels (although depending where I halt in the arena, he know's its going to be a test to music and I have to hope the steward switches the tape on as he gets really excited! I know horses that do dressage are supposed to be disciplined but Wills is Wills and I wouldn't want him any other way).
Once the music is playing he transforms - he grows in stature, his personality really shines through and for four and a half minutes, he dances - that is the only way I can describe it. It is an incredible feeling and one I would highly recommend to any of you already competing in dressage.
For any of you interested in having a go at putting a test together, here are a few tips to help you. `
The test is Freestyle, you incorporate compulsory movements and arty other link moves up to Novice level. Any moves more advanced may add to the choreography but you will lose 2 points for each advanced movement. The compulsory movements are:
Halts, beginning and end of test, 15 metre trot, circling left and right, lengthened strides in trot, 20 metre circle in canter on each rein, 20 metres free walk, 20 metres medium walk. KEEP IT SIMPLE! I have beaten many an affiliated medium grade horse by being able to ride the basic compulsory movements easily and keep to the music.
Remember to ride to your music. If it is still in your trot music, do not change pace until your music does - only you know if you are out of synch with your original plan . Because it is Freestyle, the Judge does not know what you area bout to do - they are looking for compulsory moves, ridden with ease!
No culture shocks for the Judge with the music you choose! Instrumental is best, classical or old time dancing records - even the musicals have catchy tunes. I ride William to the following:
Trot - The Lonely Goatherd (Sound of Music, instrumental) Canter - The Radensky March (Strauss)
Walk - Soft Shoe Shuffle (Old time dancing record)
Prepare your test - time each movement, try to keep your paces together as far as possible, it will help when it comes to making your tape. Aim to have your test between 4 mins - 4 mins 20 secs, as you will lose 2 points below 4 mins, or above 4 nuns 30 sees and each point counts. Wills and I have lost a class by 0.5 on a couple of
occasions. All you need to do now is record your music and make an additional copy in case your original becomes damaged.
TIP: I had someone record William's rhythm onto a portable tape recorder after spending hours taping music and finding it didn't match his paces. To record your pony's pace, tap onto the tape each time the inside hind leg is put down - this is how the Judge checks to see if you are keeping to the music.
All I will do now is wish you luck and hope you have as much enjoyment as I have had with William.
Rose Barlow.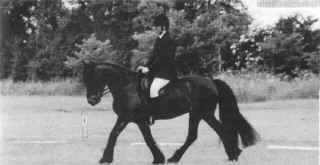 Tebay Just William, at 17 years, competing at Huntingdon this year.
Townend Princess III, Townend Patrick, Rushycarr Rodney and Townend Sasha II have all been out and about doing a wide variety of activities and rarely out of the colours:
Rushycarr Rodney, 5 yr old son of Robbswater Rhoda, has been busy competing against the horses in Riding Club and Pony Club Events. Twice been second and numerous placings at Novice - he also looks after a 10 yr old girl, doing all Pony Club Activities, including Dressage. Also qualified for the National Riding Clubs Equitation Jumping and had a clear round at the Malvern final.
Townend Sasha, belonging to my daughter Maxine, also has had a good season. Several 1 st's both ridden and in hand, two reserve championships and she qualified for both Ponies UK Baileys and Glynn Greenwood championships. Also the last two years, she has been Best Fell In-hand at the NPS Area 4 Northern in hand championship. Sasha also does Riding Club and Pleasure Ride events and has firsts for jumping and Combined Training.
Townend Princess III was not shown early this year, as she was in foal. Unfortunately, she lost a beautiful colt foal and to 'take her mind off it' we went showing. Six shows = 5 1st's; 1 2nd; 3 Championships and 2 Reserve Championships plus 3 qualifications for the Ponies UK, Glenn Greenwood -where she came 3rd in the Dales, Fell, Highland section. Lunesdale Lucky Lady was 2nd and the Highland
winner went on to get the Glynn Greenwood Final. Townend Princess III is now sixteen years old, has given me ten years of top level showing and is still full of it. Townend Patrick decided to retire from showing and took up Dressage. He went from Novice to Elementary the first year and Elementary to Medium this year. . This is competing in BHS affiliated competitions against 'proper' Dressage horses, which often cost thousands of pounds and usually have had expensive tuition from 'trainers'. He use to be greeted by grins and a rather patronising air but having performed his Test (and often beaten all comers) there would be a steady stream of enquiries about What and Who he was! To the best of our knowledge, he is the only Fell Pony competing at this level, in Affiliated Competition. This year has seen him qualify for the Badminton Horse Feeds (North East) Elementary Dressage Championship, The Shell Gas National Dressage (Regional Final) Championship and the National Riding Club Championship, where he was 6th overall. Well done to Patrick and Vicki! I often hear remarks that Fell Ponies cannot do this or that - our ponies do everything any other Horse or Pony does and they do it well and enjoy themselves and give us much pleasure as well. While on the subject of versatility, Whitburn Major Tom won the Large Breeds Section at the NPS Working Hunter Pony Championship at Malvern and will be going to Wembley for the Final, at the Horse of the Year Show. This is the first time that a Fell has qualified for this and is also the first time the championships has been held at Wembley. It is a great advertisement, yet again, for the Fell Breed. Well done Russell and Major.
Margaret Raines.
On 28th June, we had a 21st Birthday Party for our Fell gelding Townend Royal II, (sire; Guards Hero III, dam; Birkett Bank Darkie). Joinedby his friends, including breeder Eddie and Margaret Wilson, Royal enjoyed his day, eating his special birthday cake of carrots and horse mix and giving rides to Gemma (aged 4 yrs), Emily (aged 7 yrs) and Daisy (aged 1 yr) - the daughter of Helen Dreuck (nee Sutcliffe) who piloted him so well in ridden and WHP M&M classes in the past. His show career now over, he lives in retirement at Waltroyd Farm, his home for the past twenty years.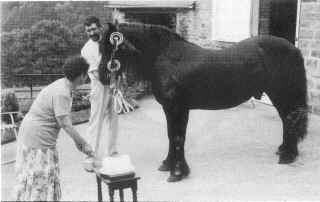 Townend Royal, with David and Sybil Lee at the Birthday Party - with Guests cake!
Esther was bred in Dumfriesshire by Mr R Houston and is by Townend Flash 11 out of Sleddale Rosette XI. We bough her in 1989 as a two year old. The following spring I broke her to ride and then took her to Mr Hutchinson's stallion Tarnmoor Prince. In 1991 she produced Inglegarth Lady Winifred, a black filly and the first Fell Pony we have bred.
This year has been Esther's first season under saddle and a very memorable one it is proving to be. It started at the Spring Performance Trials, in June. After learning to jump in March, we went on to finish second overall, with both Esther and myself jumping a cross country course for the first time. At the Breed Show, we won the Gem Challenge Cup for the best novice mare, came third in the Olympia qualifier and were reserve ridden champion. Another unforgettable day.
Esther has won numerous rosettes this year, including two championships and a supreme championship, having recently returned to Scotland to the Annandale Horse Show Society's annual show. Esther won the large ridden native class, the native pony championship and then went on to be the supreme champion of the show.
Esther is an extremely honest, bold and alert pony and is proving to be a willing jumper in both 14 hh and Native pony working hunter classes, winning numerous first prizes including a native working hunter pony trophy at my local club show.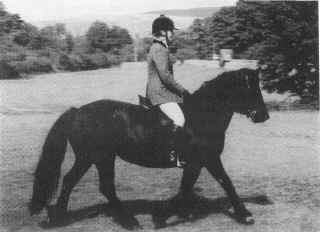 Esther Maree of Inglegarth, foaled 1987.
Winnie, Esther's daughter has also had some show success this year. At the NCPA Spillers Cumbria show she won the mixed mountain and moorland yearling class. She accompanied Esther to Scotland to be second in the mixed M&M youngstock class and fourth in the open Fell Pony class, all ages. This year we have bred another filly Inglegarth Reflection and hope to have more foals next year. We have several Fell Ponies and hope to show them both in hand and under saddle in the future. I am looking forward to riding Winnie as I feel she has some of the excellent characteristics of her mother and is already very bold and forward going. We are hoping to breed ponies for both type and performance, as I believe Fells can excel in any sphere and can hold their own against all other mountain and moorland breeds, as I am sure all our members will agree.
Beverley Hodgson.

28.10.92 - Show & Sale of Registered Fell Ponies, Hopes Auction, Wigton, Enquiries to Hopes Tel: 06973 42202.
30.10.92 - Barningham Show Buffet Supper Dance, Morritt Arms Hotel, Greta Bridge, at 7.30 pm. Tickets: Mrs Earnshaw 0833 21261.
31.10.92 - Autumn General Meeting, Lowther Parish Hall, Hackthorpe, Penrith at 1.00 pm.
27. 3.92 - Provisional Date Spring Annual General Meeting, Lowther Parish Hall, Hackthorpe, Penrith, at 1.00 pm.
8. 5.92 - Stallion & Colt Show, Dalemain, Penrith. Enquiries to Mrs R H P Bell, Tel: 03873 76251.
14. 8.92 - Breed Show, Brougham Hall Farm, Penrith. Enquiries to Mrs Molly Laing, Tel: 03873 76272.
Other claiming dates are yet to be confirmed and will appear in the Spring newsletter.
FOR SALE: Pikenaze Blue Grouse FP660G, 3 yr old grey Fell gelding. Fully vaccinated. Hacking out quietly and been long-reined. Make ride/drive pony. Quiet to handle, always placed in hand 1992: 1st in 3 yr old class FPS Southern Show. Contact: Charlotte Johnson Tel: 0276 857477 (Surrey).
FOR LONG TERM LOAN/SALE: 'Packway' Fell gelding, 5 yrs old. Broken to ride. Suitable for experienced adult. Tel: 0491 681293 (Oxon).
FOR SALE: Drybarrows Rambler, brown, 5 yr old gelding, up to height. A kind and genuine pony, well schooled with nice paces. Good catch, box, shoe etc. Fully vaccinated. Suitable family/performance/dressage pony. Long reining quietly and currently being broken to drive. Contact Judy Fairburn, Tel: 0434 603634 (Hexham). FOR SALE: Coldcotes Jim FP719G, 2 yr old gelding, sire Townend Briar FP141C, dam Shawfell Gemini FP1142. Shown and placed. Well handled, ready to bring on. Contact: Mrs M Brocklehurst Tel: 0663 733144.
FOR SALE: Ralli Car, genuine antique, £1000 or near offer; Tel: 0706 812480. B&B: If you are thinking of coming North to the Lake District for a holiday or to attend a show and wish to bring your ponies with you, we can offer you B&B in a private country house set amongst beautiful mountains close to the shores of the lake. Full livery or DIY. Discount available for FPS members; Tel: 05394 32765.
The Autumn General Meeting will be held on Saturday, 31st October 1992, at Lowther Parish Hall, Hackthorpe, Penrith, at 1.00 pm. Refreshments will be available, following the meeting.
Agenda
Apologies for absence.
Minutes of the Previous Meeting.
Matters Arising.
Secretary's Report.
Reports of Delegates and sub-committees.
Future events.
Member's suggestions.
Dates of Spring Meetings.
Any other business.
Rachel Bell
Hon. Secretary/Treasurer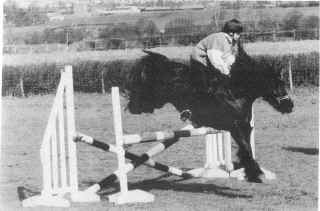 Jossgreen, foaled 1979, sire Lunesdale Lucky Jim, dam Waverhead Princess, owned by Mrs J Ward and ridden by Miss Ruth Ward. Ruth regularly competes in all spheres - picture above at the Combined Training Day, Group 1 show jumping tuition.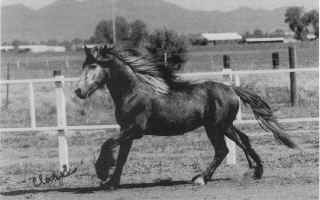 Orton Hall Danny, grey 2 year old colt pictured
in his new home of Mrs. Carolyn Sharp, Fort Collins, Colorado, USA.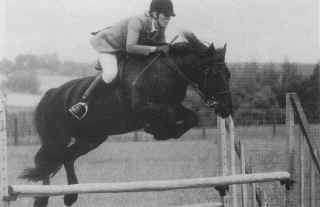 Twislehope Roger, foaled 1978, sire Twislephope Druid, dam Heltondale Rusty
Overall Winner of the 1992 Spring Performance Trials, Linnel Wood, Hexham.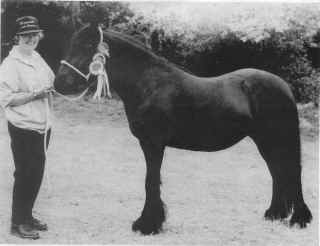 Heltondale Bonny FP1966, Winner of the 2 year old class and Reserve Youngstock, 1992 Breed Show
Pictured above with owner Mrs G M Noble.
---
This page last updated: 22 January 2008
© 1992, 2007 by The Fell Pony Society and Naked Essence Web Designs
---