Fell Pony Society
Autumn 1989 Newsletter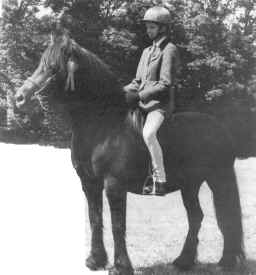 Mr. P. Forsman's Bowderdale Jess
Ridden Veteran Class Winner at the 1989 Breed Show
---
As most of you will know by now, I tendered my resignation as secretary/treasurer to the chairman and council of the Society just before the Annual General Meeting in the Spring. Nominations for a new secretary were invited at the A.G.M., and a special council meeting was held at the Stallion show at Dalemain to consider the three applications for the job. After careful consideration, members voted in favour of Mrs. Rachel Bell, Greylads Cottage, Larriston Farm, Newcastleton, Roxburghshire, Scotland. Rachel will commence her duty on January 1st 1990, and all correspondence after that date should be addressed to her.
I would like to thank all those who have helped and supported me in so many ways during my nine years in office. It would be impossible within the scope of this newsletter to mention everyone by name but I would like to pay special tribute to two. Firstly, Mr. J. S. Dargue who has been chairman of the Society for most of the time I have been secretary. His involvement with the Fell pony and the Society go back many years, his family having bred Fells for several generations, and the tradition will continue for both Mr. Dargue's grandchildren were entered as members of the Society on the respective days they were born! As well as being a great supporter of our Society and a tireless worker as his efforts at this year's breed show testified, Mr. Dargue's impartiality, sound judgments and diplomacy have greatly benefited the Society on innumerable occasions and earned him great respect from the members. Secondly, I would like to thank Molly Laing for the immense amount of work she has done for the Society in the past. Whether in her capacity as chairman of the breed show committee or as sales officer, or exhibition officer, she has put a tremendous amount of time and effort, much of it unseen by any of us, in on behalf of the Society. Her memory for ponies and people is quite amazing, and she has worked closely with me as indeed she did with Miss Crossland when she was secretary. To Joseph Dargue and Molly Laing and all the others who have helped me so much, I would like to express my sincere gratitude.
At the A.G.M. in March, the newly elected president, Mr. R. B. Charlton, took the chair. Mr. J. S. Dargue was reelected chairman with Mrs. E. Ball vice-chairman. The four retiring council members, Mr. H. F. Wales, Mr. J. P. Gibson, Mr. P. Boustead and Mr. R. Rayson were re-elected.
This years official sale of registered Fell ponies will be held as part of the main Wigton sale on Wednesday October 25th. The judge for the show of Fells prior to the sale will be Mrs. G. Williamson, Broughton in Furness.
I have been asked to mention in the newsletter that the Leicestershire County Show is restructuring its mountain and moorland classes for next years show being held on May 6th and 7th so as to include classes for all breeds as well as some qualifying classes. Schedules may be obtained from the show secretary, Leicestershire Agricultural Society, Venture House, 7 Leicester Road, Loughborough, Leics. Please enclose a large S.A.E. if writing for a schedule.
The provisional date for the stallion and colt show next year is Saturday, May 12th and the venue will again be Dalemain, Penrith. Due to Lowther Horse Driving Trials changing its date for 1990, the provisional date for the breed show is Saturday August 4th.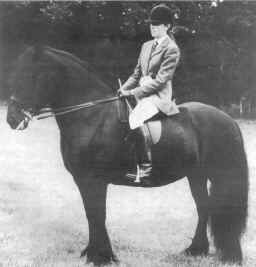 Mrs. O. Briant's Lunesdale Lucky Lady
Supreme Champion at the Breed Show 1989
The twentieth annual breed show was again held at Brougham Hall Farm, Penrith, by kind invitation of Mr. & Mrs. A. Helme. Judges were Mr. J. P. Gibson, Mr. R. Bellas, Mr. C. Richardson, Mrs. A. Campbell, Mr. J. Bell, Mrs. J. Perry, Mr. R. S. Sutcliffe and Mr. w. Farrell. Results are appended: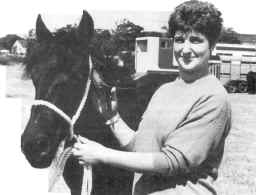 Miss Penny Baldwin with Townend Dusk II
Charlotte Johnson writes to tell us how she first became addicted to Fell ponies - 'We have had a lot of fun and enjoyment with our Fell ponies over the last few years. Details below may give you some idea on how I have become hooked on Fells.
'Initially, our first Fell, Wolds Goldfinch, was purchased as "a pony for Charlotte to play with" and also for the family to ride as our much loved Exmoor gelding was a little outgrown by my ever growing brothers. Goldfinch arrived in September 1982 as a three year old. I was a little horrified to see this short hairy pony as I had been riding larger horses whilst taking my B.H.S.A.I. and competing in jumping classes on a friend's Anglo-Arab.
'To cut a long story short, I backed Finch, produced him in a few local shows as a four year old thinking 'that will please mother' and I would be able to forget about him now. However, we were told he was too good to waste at home so over the next few seasons Finch competed successfully in many events (including Mother having to ride him in the early part of 1984 when I "foaled" my daughter, Rebecca.) In 1986 when Finch was seven it was decided that it was time he went on to fresh pastures so after advertising him at the East Anglian Native Pony Show he went on to Tesni Sexton after the summer championships at Peterborough.
'In April of that year, we had been back to Jane Glass to buy another youngster for Charlotte to play with. We came back with Hardknott Beauty (5 years) and Baronshill Honeypot (2 .years) - a pony I had not really seen but mother fell in love with. During the summer Beauty was schooled at home and then had to step into Finch's shoes and complete a successful season - which she did - and was subsequently sold to a local home in November for a mother and daughter to ride.
'Yes, again we went back to Jane Glass - now a good up-country friend as recently three geldings had arrived with her - two 3 year olds and one 2 year old.
'We came home with Barncrosh Brandy who was a three year old brown gelding, a black three year old mare called Mercury Patience, and Wolds Redshank who was to be delivered to a new home next day. Both three year olds were subsequently backed, the black mare finding a home for life in Sussex during February 1987. Three weeks prior to her going Redshank arrived back with us as he was not too suited to the family he was intended for. As the weather was bad in Surrey (we had snow) it was decided he should stay. Quickly he was clipped, leaving his legs on, so I could work him hard, then as a six year old he was produced for the 1967 season.
'Brandy went in June to a delightful Pony Club home in Hants where he is much loved and I believe goes hunting. That, same month Baronshill Honeypot went to visit Waverhead Rob at Jane's and I carne back with two more ponies. Barncrosh Minstrel was four and Barncrosh Mandarin was three and both were to be broken. Mandarin being the quieter pony soon adjusted to us and was hacking out a month later whereas Minstrel had decided he was a 'wild' Fell pony. Due to a busy season and lots of ponies, Minstrel.was turned out for the summer. At hat time we had thirteen ponies in all - Fells, Exmoors and two Shetlands, all kept on our 4 1/2 acre paddock and 5 rented acres. When we came back from the Breed Show that year, we stopped off at Jane's to collect Honeypot (in foal) and Wolds Jack Snipe, a two year old gelding.
'In September Manderia went back to Leicestershire, and we came back with Drybarrows Lady Jane to produce for Jane Glass for the 1988 season. The same month Pedshank found a horse in Epsom (Surrey) as a hacking pony. I then got cracking with Minstrel and Jane during the winter.
'Lady Jane and I had a good season during 1988, our vocation being working hunter courses. Her idea on jumping was to approach all jumps at breakneck speed be they 2;, or 3' 6"! This also amused some of the judges and one was heard to remark "They ought to have Fell Grand Nationals." I must admit that before Lady Jane went back home she had learnt to steady up a bit.
'At the present time, Minstrel is now a quiet hacking pony rising six. Honeypot, rising five, has had her foal, Tarra on, weaned and he is now gelded. Snipe is back in Leicestershire and to complete the 'hairy crowd' we have three Exmoors and my daughter's Shetland. Should Minstrel have found a home before the 1989 season, Honeypot will come out under saddle for Breed classes.
'All our ponies have to be versatile, showing in summer, Pony Clubbing all year, occasional One Day Events, and taking myself, my mother acid daughter (rising five) hacking daily. I don't think that would keep up showing if we just had pretty ponies to look at, but could not have fun on for worrying about blemishes etc.
'I am one of those people who enjoy a challenge and I am looking forward to the next new thing I can achieve with our natives. I have successfully converted our southern 'mixed' duges to realise --- -uccussfull,; converted our southern 'mixed' judges to realise that not all Fells are black, they come in bay too.'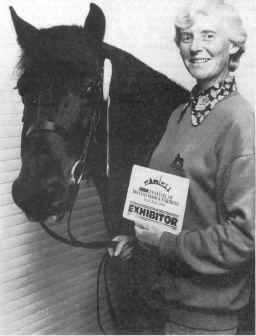 Mrs. Wendy White with Martindale Cushat
The breed was represented in the Food and Farming Exhibition in Hyde Park, London, earlier this year by Mrs. Wendy White's Martindale Cushat. Cushat, who was bred by Mr. R. Rayson, ran out on the fell until she was seven when she was brought in and broken. Since then she has won or been placed in numerous competitions including winning the championship at the Ponies of Britain show. In representing the breed, Cushat was seen by a large number of Exhibition attendees including our patron, H. M. The Queen.
Another very successful show was held at Barningham Park, near Richmond, North Yorkshire in July. The classes were judged by Mr. J. S. Dargue of Dufton, with the Malvern driving qualifier judged by Mrs. C. Kempt of Darlington. Results are appended: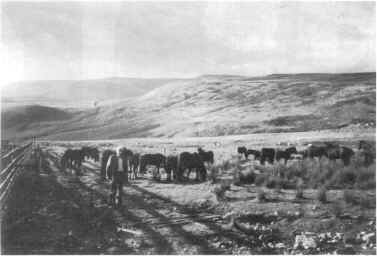 Mr. H. F. Wales with some of his Lownthwaite Ponies
The Isle of White Mountain and Moorland Pony Society, which was founded in 1980, organises shows, rallies, instruction days and long distance rides on the island as well as an annual points scheme for both in hand and ridden native ponies. Last year, a Fell mare, Townend Sandra II, owned by Mrs. M. Williams was 2nd in the ridden section and 5th in the four years and over in hand section.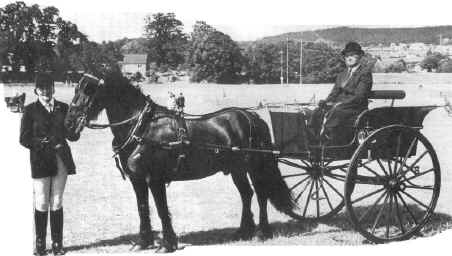 Mr.Jack Marsden's Dene Claudius
Winner of the N.P.S. Driving Championship at Malvern
Mrs. Sylvia McCosh writes 'Passing the former auction mart field close to Penrith station frequently causes my mind to wander to those less hurried and more peaceful days when the Fell Pony Society stallion show took place in this very field - no longer part of England's green and pleasant land but within the boundaries of this north country market town.
Further back and up until the thirties, the show took place in the centre of Penrith on market day when stallions of all breeds were paraded in Dockray and Market Square so that they could be viewed by likely customers from afar - Clydesdales, hunters, useful cobs and Fell ponies which could breed foals eventually to be used for many purposes. Some would take the family to market in a gig or dog-cart, others would be used for shepherding or on the land. Owners handed out folded cards with the name and pedigree of their entire ... sometimes including a drawing, and the route to be taken during the breeding season when stallion men traveled the county, walking many miles each day with their pack strapped to their horse's surcingle. They traveled quiet roads and lane, sheltered by stone walls or hedgerows, from farm to farm. By previous arrangement both man and horse lodged overnight, returning home at weekends. Mares were likewise walked to meet the stallion at the nearest farm on the route stated on the card. Sometimes the journey there and back entailed many miles.
Among many Fell pony enthusiasts who walked their entires was Joseph Baxter of Guards, Threlkeld. One of his more recent and well known stallions was Storm Boy. Joe was one of the last of the traveling men, almost eighty years old when he finally gave these journeys up.
When hostilities ceased in 1945, traffic became considerably busier and market towns like Penrith and Kirkby Stephen could no longer entertain stallions being paraded in their streets. By courtesy of Penrith Farmers and Kidd's Auction Mart, our Society was invited to hold its annual show in their field close to the station. Their chairman, Arthur Kidd, a charming and most able man, was also chairman of the Fell Pony Society.
Classes were staged for yearling colts, two and three year olds, mature stallions and a ridden class. Our new president, Lady Gladys Yule, was extremely generous since she had been interested in the Fell pony for many years. She presented a magnificent championship trophy, followed by other challenge cups for our breed show. On her death, my father, Major Hassell, became president and presented the Dalemain cup for the best two year old colt.
After a number of years in this useful field, the show was moved to a more spacious setting in Lowther Park, and in due time it moved to its present setting in the park at Dalmain. A class for driven stallions was later included in the schedule and this included a short marathon up the estate road to Dacre village, a steep pull up the vicarage hill, returning along the road, and thence over the old coach road bridge to the showring, allowing owners to show off the process of their ever useful ponies.
The stallion and colt show was again held at Dalemain by kind invitation of Mrs. S. McCosh, and the judge was Mr. P. Boustead. Results were as follows:

£30 gelding premiums were awarded to:
Miss A. Brown's Bill of Hardendale
Miss L. Reed's Kerbeck Firefox
Miss J. Glass' Yankee Doodle
£20 gelding premiums were awarded to:
Mrs. R. Bell's Marlingdyke Millstream
Mrs. M. Thornett's Dalemain Juniper
Mrs. Stafford's Maguires May Boy
Every year the Fell Pony Society awards up to six premiums of £30 each for the stallions serving the highest number of registered Fell mares, and this year's winners were -
Mr. W. S. Noble's Heltondale Black Prince III (28 mares)
Miss J. Glass' Baronshill Indiana Jones (7 mares)
Mr. E. M. Wilson's Heltondale Duke (23 mares)
Mrs. J. H. Hutchinson's Tarnmoor Prince (12 mares)
The first Fell Pony Breed Show to be held in the south took place at Horsepath in Oxford in September. The show was organised by a small show committee under the chairmanship of Mary Longsden, and the fourteen classes were judged by Clive Richardson. It is hoped to make this an annual show for southern members, and our thanks to everyone who contributed to its success. Molly Laing took the sales tent down and did a roaring trade all day. Class winners were:
Recently a Canadian lady has been over here looking for Fell filly foals to establish a small stud producing both purebreds and Thoroughbred crosses. She eventually bought foals from Mr. E. M. Wilson, Mr. J. P. Gibson, Mrs. G. Cockbain and Mr. J. Bell. The four foals will be flown out to Canada in April of next year. S ome years ago, Mr. E. P. Taylor, breeder of the famous racehorse Nijinsky, imported a number of Fells into Canada including the stallion, Johnnie Walker, but we have had no news of the ponies for some time.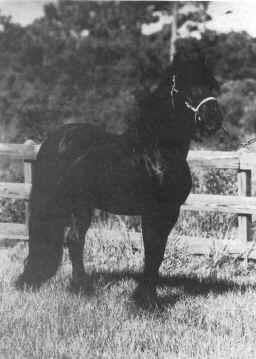 Mr. and Mrs. L. Nygaard's Lowmoat Samson
Barry Allen writes - 'The 1989 show on July 9th had record entries - ninety-eight for eleven classes - and was again held in the National Park Centre at Brockhole. Mr. Peter Lawson not only judged the large classes but also performed his own version of "Jim'll Fix It" for a lady of mature years among the spectators who had long harboured the desire - to ride a pony.
Results were as follows:
The Windermere Festival Show schedule also included a qualifier for the Norwich Union Safety First Native Pony Championship. This was judged in two sections and the winners were: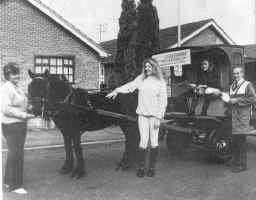 Mrs. A. Cornwell's Bluecastle Bunter
Harnessed to the Leicester Co-op's milkfloat

Fell pony classes were once again held at the Lowther Driving Trials and Country Fair. There was a record catalogue entry but some ponies were not forward on account of the equine flu. The judge, Mrs. A. Newall, gave the championship to Miss J. Fairburn's Gibside Dolly with Mr. J. Bell's Waverhead Pearl reserve.
Barry Allen, organisor of the event, writes - "Rydal Park affords excellent facilities for our event and I must, first of all, record my thanks to Mr. John Hodgson for his continued support. The cross country jumps at Rydal are now used only by ourselves and each year we dread the effects of the previous winter's weather and the constant attention of the sheep. Baler twine was not the answer this year. Major surgery was necessary at several jumps arid in some cases the patient had died! On the day we managed to provide fourteen jumps and four natural obstacles.
Since my first involvement with Rydal in 1984, one factor has remained constant - the weather. On 18th June, it was a scorcher with 33 degrees Celsius being recorded. Several humans were seen to be wilting but fortunately for the event the ponies kept going all day.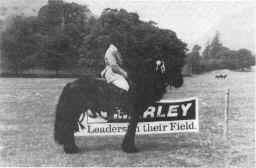 Miss A. Fiddler's Sleddale Ben
The Marley N.P.S. working hunter pony qualifier was judged by Mrs. G. Williamson and first place was awarded to Sleddale Ben, owned and ridden by Miss Alison Fiddler.
The trial became a personal triumph for Lucy Whitburn riding Mrs. Margaret Murray's Waverhead Gypsy. She won the dressage section, was second across country, and jumped clear in the showjumping section to become overall winner despite fierce competition in an event of higher quality than I can recall in previous years. Lucy took home new trophies - the May Fly trophy presented by Mr. Peter Forsman from Penrith for the best junior, and the Burns trophy for the overall winner presented by Mrs. Jean Ward from Lamplugh. Preventing a clean sweep by Lucy was Mr. Russell Sutcliffe on the stallion, Whitburn Major Tom, who on the cross country course dropped points at only the timed gate.
Of the 21 entries who competed on the day, 5 were juniors - and the future of the event can be guaranteed if the continue to attract the youngsters - and 4 adults were tackling the course for the first time. In a high class field all performed well - some exceptionally so.
I must pay tribute to all the fence judges who gave their time, and nearly dehydrated in the process; to Mrs. Murray who again supplied her dressage arena, and to those others too numerous to mention who worked to snake this a highly successful and enjoyable day.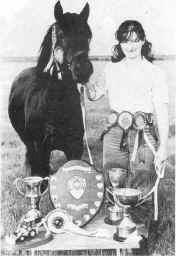 Mrs. G. Cockbain's Carrock Polyanna
Mrs. G. Cockbain's homebred filly, Carrock Polyanna, has enjoyed a very successful show season. At the Northern Counties Pony Association Cumbria Show in July, she won the two and three year old Fell class and the Peggy Crossland trophy for the champion Bell. She then went on to win the Dykes trophy for the mountain and moorland champion, the Halliwell trophy for the native pony youngstock champion, and the Beecham Animal Health trophy for the overall champion native pony. She finished the day with a fifth trophy presented by J.C.B. for the in-hand reserve pony champion.
Miss E. Firmin from Essex writes to tell us about her eighteen year old gelding, Wolds Heron, who was diagnosed as having chronic laminitis in September 1980. He was so bad no-one expected him to ever be sound again but thanks to a very good vet and farrier working together he gradually recovered. So much so that recently he has been very active again teaching children to ride and even coming second in a 14.2 hh jumping class. He also helped represent the breed in Horse and Pony magazine's Best of British Native Pony Awards.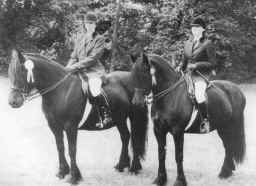 Lownthwaite Rosette (left) ridden by Helen Williamson,
winner of the Autumn Performance Trial, and
Tarnbeck Maydew
ridden by Judith Williamson,
Novice Ridden Mare winneer at the 1989 Breed Show
The Autumn Performance Trial was again held at Pict Hall, Blaw9ith, near Ulverston, by kind invitation of Mr. and Mrs. Baxter who built a challenging course of 23 obstacles\. There was a good entry and everyone seemed to have a very enjoyable day. Our thanks to Mr. &. Mrs. Baxter for all their work in planning the event and to all the helpers and stewards who assisted on the day. +
Results are appended;
1st - Miss Helen Williamson - Lownthwaite Rosetta 220 points
2nd - Mrs. Eve Pattinson - Townend Lucy III 218 poi
3rd - Miss Susan Forsman - Bowderdale Jess 217 points
4th - Mrs. E. Nattrass - Friarbiggin Hector 214 points
5th - Miss Carolyn AIJen - Tarnbeck Princess 209 points
6th - Miss Judith Williamson - Tarnbeck Maydew 206 points
Specials for the best junior and senior rider were awarded to Miss Susan Forsrdan and Mr. T. C. Newman respectively, and a special rosette was awarded to Bowderdale Jess who, at eighteen years of ag was the oldest pony competing.
The Autumn General Meeting will be held on Saturday October 28th,1989 at Clifton Parish Hall, Clifton, near Penrith, at 1.00 pm.
FOR SALE
Heltondale Hero, black stallion, 13.2 hh. Twelve years old. Licensed. By Heltondale Heatner Lad. Proven stockgetter. Renowned for his bone and feather. Broken to ride. 100% in traffic. Good to catch and box. Apply: Mr. T. B. Capstick, Hollin Hill, Soolbank, Cautley, Sedbergh, Cumbria. Tel. Sedbergh 20539
FOR SALE
Townend Duke III. Black stallion. Nine years old. Sire: Lunesdale Lucky Jim. Dam: Townend Princess. Broken to ride. Good to catch, box and shoe. Quiet with mares. Apply: Mrs. G. Williamson, Tongue House, Seathwaite, Broughton in Furness, Cumbria. Tel. Broughton in Furness 716477
WANTED:
Preferably on loan, pony for winter months. Must be careful jumper and easy to box. Super home assured. Other ponies kept. Apply: Mrs. D. E. Crosland, 35 Hawthorn Road, Finningley, Doncaster. Tel. 0302 771445
FOR SALE
"Jackdaw" driving harness. Suitable for exercising, rallies, marathons local shows, etc. Full details from: Mrs. S. Millard, Daw Bank, Greenholme, Orton, Penrith, Cumbria.
FOR SALE
1988 Fell pony stud books, price £1.50 plus 20p postage. Also a wide range of Fell pony sweatshirts, mugs, place mats, Fell pony ties, keyrings, notelets, postcards, folders for newsletters, etc. For details of these and other sales items please contact; Mrs. M. Laing, Twisleehop, Hermitage, Hawick, Roxburghshire. Tel. 038 73 76272
---
Many thanks to Barbara Müller for providing her archive copy of this out-of-print Newsletter so that it might be placed on this web site.
---
This page last updated: 22 January 2008
© 1989, 2001 by The Fell Pony Society and Naked Essence Web Designs