Fell Pony Society
Spring 1988 Newsletter
---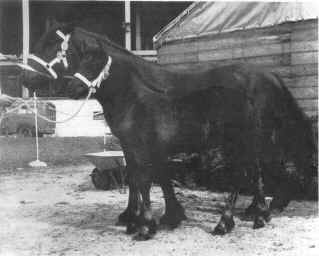 Bess o' the Hill and her filly foal, Mayflower o' the Hill bred by Mr. J. Bell of Wigton, and photographed at the White City in 1948. Mayflower was sold as a two year old to Mr. Tunstall of Keswick, father in law of the late Mr. Jack Williams, who showed her with great success and later used her as a brood mare.
Olympia 1987: The breed was represented at the final of the Moiuntain and Moorland ridden chamionship by Mrs. M. Raines' Townend Patrickwho, despite being called upon to go to the final at rather short notice, was placed sixth thereby helping to maintain the excellent record our breed has in this prestigious championship. Mrs. Raines writes "We bought Townend Patrick from Eddie Wilson in March 1987. His public outing with us was the beginning of May after a few weeks of intensive schooling to which he initially objected but soon buckled down to serious work. My daughter had taken on the task of making him into a suitable well mannered hack for an ancient parent (me!) to ride.
"His first appearance was at the local riding club's dressage show. We ignored the patronising remarks about 'hairies' and he finished fourth in his preliminary test beating some proper dressage horses into the bargain. As he was the only hairy on the showground - and had caused much comment - this result was a very satisfying beginning.
"His schooling continued at home with fairly short sessions and not always every day. His first show with us was early June where, much to our amazement, he qualified for the Bailey's championship at Peterborough. All this in less than four months, we were beginning to be impressed with our Patrick.
To cut a long story short, he continued to bring home the rosettes for the rest of the season, getting better all the while. He had a good show at Peterborough, doing very well in his section against much more experienced ponies and finally finished the season with three impressive local wins. We had shown him from grass with just a little extra feed and three, or sometimes four, short schooling sessions per week. He had deserved his winter holiday and was turned out at the end of September.
"When we learnt that he was to go to Olympia our first thoughts were how to make a dirty, by this time definitely hairy, pony into a shiny fit representative of his breed by December. Also, would he object to coming indoors again so soon and lastly had too much happened too quickly?
"My daughter was very keen to have a go and Patrick became an indoor pony and had to put up with an overdose of attention. On went the rugs, out came the brushes, careful and lengthy deliberations went on endlessly about feed, exercise, mental well-being, etc. We had generous encouragement from last year's finalist, Sandra Burton and her husband, who had been third at Olympia with Townend Dainty.
"For the first few weeks Patrick was hacked out daily for at least an hour and later for two hours with a fit hunter as pacemaker. Lots of walking mainly. he was turned out for short periods each day. During November he had five days off completely and was turned out for most of the day to unwind. For the last weeks of November and the first week of December he not only had his daily hack but also short schooling sessions to remind him of what he had learnt. For the last week before we left for Olympia he was just lightly hacked. Much grooming had gone on, plus all the other preparations - blacksmith, flu jabs, height certificates, transport arrangements - a never ending list. Would we ever be ready?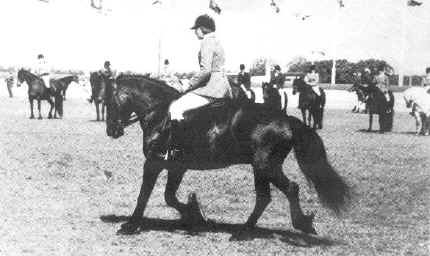 Mrs. M. Raines' Townend Patrick
"We broke our journey overnight at St. Neots and set off early next morning so that we could settle Patrick in and accustom him to the bright lights of London. Negotiating the streets of Central London with a horsebox and precious cargo is not a task to be recommended to the faint hearted and we were all relieved to arrive at the allotted gate at Olympia. With fear and trepidation we presented ourselves for inspection and felt decidedly light headed when we got our piece of paper to say we had passed. My daughter took charge of Patrick, my long suffering husband was dispatched to some outer reach of Kensington to park the horsebox, and I was left to haul in vital equipment and food. Patrick took it all in his stride as if he was always being unloaded onto a London street pavement and stabled next to international equine superstars.
"Patrick had his first glimpse of the arena and his rivals at 7.30 on Thursday morning. The cleaners were still cleaning, builders still building, and a host of other things still happening and, after initially losing his cool, Patrick settled however and was soon relaxed and obedient. He looked magnificent and drew many compliments. Every bit of him shone. After the morning judging we could only wait and see what the afternoon would bring. An even bigger crowd, the band, the spotlights were all accepted as if everyday occurrences and when eventually he was called out of line he stood like a rock. A fitting finale to an action packed year for Patrick with not a little help from my daughter who had put a lot of thought and hard work into the schooling and preparation.
"Townend Princess III, my brood mare, has also given us another year of firsts and championships including champion mountain and moorland at North Yorks County, reserve supreme champion at the Northern Counties, and champion at both Cleveland County and Peterborough. What a tribute to the Fell pony and, especially for us, the Townend Fells. We have had so much fun and enjoyment and have met so many wonderful people because of them - not least the Wilsons themselves, two very special people. My thanks also to Vicki, my daughter; and to my husband and everybody who has helped along the way.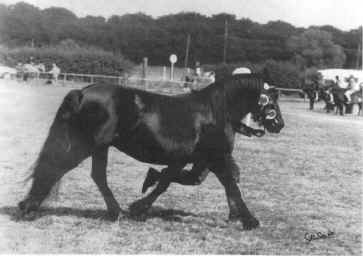 Miss Mary Longsden's Bewcastle Bonny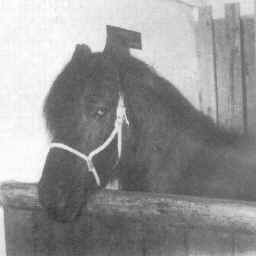 Miss Ruth Ward's Jossgreen
Ruth Ward, aged ten, from Lamplugh, near Workington, has contributed the following short article on her pony, Jossgreen - "For my eighth birthday present I received a surprise. My present was not wrapped up with paper and bows, it was black, fat and hairy. It was a Fell pony. His hobbies were, and still are, eating and standing on people's feet. He will eat anything except toffee apples. When I ride him polythene bags in hedges are dragons which he thinks will jump out and attack him and anything new is greeted with a dance and a puff of the nostrils. At first, shows were things where he got back to the box in a matter of seconds - he bolted! Now however he enjoys them and shows off his good manners. (Though sometimes I wonder if there is cement in his head instead of a brain). At shows he has experienced many things - a life sized ladybird at the breed show; he was hovered over and shot at by a helicopter at Lowther; and at Ennerdale we thought we would need flippers instead of horseshoes. Now the summer days are over, he looks forward to the relaxing winter and is equipped with a thick furry coat and a huge appetite for anything from hay to potatoes!"

POINTS SCHEME WINNERS: Both the junior and senior points schemes were well supported in 1987 with entrants from as far afield as Devon. Any members wishing to take part this year can obtain details and blank performance sheets from Miss Christine Dodd, North Fell Dyke, Lamplugh, Workington, Cumbria (junior points scheme) or Clive Richardson, 19 Dragley Beck, Ulverston, Cumbria (senior points scheme). 1987 results are appended
Seniors
1st - Miss Tense Sexton's Wolds Goldfinch
2nd - Miss Jane Brindley's Edenview Moonstroller
3rd - Miss Christine Dodd's Frizington Duke
4th - Mrs. Anne Garcia's Flash Belle
5th - Mrs. P. Norris' Wolds Siskin
6th - Miss Judy Fairburn's Gibside Dolly
Juniors
1st - Miss Carolyn Allen's Tarnbeck Princess
2nd - Miss Wendy Birch's Martindale Cushat
3rd - Miss Janette Tinkler's Leithenwater Caraway
4th - Miss Ruth Ward's Jossgreen
5th - Miss Gemma Uden's Barncrosh Brandy
6th - Master Robert Allen's Tarnbeck Princess
FELL PONY SPECIAL ROSETTES: Every year the Fell Pony Society awards special rosettes at affiliated shows all over the country for the best Fell in mixed mountain and moorland classes including in hand, ridden, driven and working hunter pony. In the past special rosettes have also been awarded for the best performance by a Fell in long distance rides and combined driving events. The sending out of these rosettes is very kindly done by Mrs. Ailie Newall, Todridge, Great Whittington, Northumberland who will be pleased to send affiliation forms to any show secretary or organisor interested in presenting these specials at their show.
Last year Mrs. Newall sent out one hundred and twelve rosettes to forty-four shows.
ROYAL SHOW 1987: For the past few years the Fell Pony Society has had a stand at the Royal Show, thanks largely to the Wykes family from Rugby who go to a lot of trouble to ensure that the breed is well publicised at this most prestigious of shows. Sheila Hardy, Jim Wykes' daughter and a member of the Society, has sent in the following report -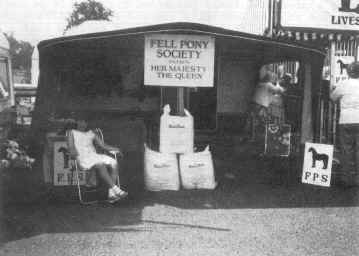 The Fell Pony Society stand at the Royal
"It seems to be traditional that the Monday of the Royal Show dawns bright, sunny and hot and it certainly carried on that way in 1987. The preceding weeks had seen much activity in getting 'our act' together and aiming to make life as easy as possible for all concerned so that everybody would have plenty of free time to enjoy the show as well as do their stint on the stand. After all, for most of us it was part of our annual holiday, and so meant to be enjoyed!
"From our experience in 1985 we discovered it was best to have our own premises so, courtesy of John and Anne Wykes, 1986 and 1987 have seen first class facilities for all in their caravan which has an excellent awning to cover all eventualities of weather. This comes onto the ground on Friday and sits nicely alongside the Loddon looseboxes made specially for us and very kindly loaned by Loddon Engineering Ltd. All very professional looking. By Sunday the 'goodies' have arrived with Mr. & Mrs. Ronnie Ball. All that remains before we start is to set everything together. The home base team of Madge and Jim Wykes and Sheila and Alison Hardy set to work with Liz Ball and soon it is all arranged. With much ceremony and ado the flag is hoisted by Jim Wykes and Ronnie Ball and everything looks ready to roll for Monday.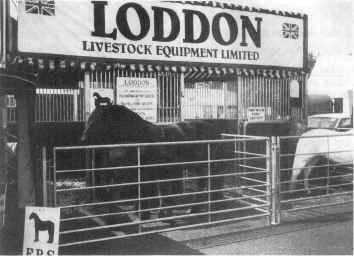 Mary Longsden's mare and foal on the stand
"Monday as tradition dictated dawned bright and sunny, our stand team arrived and opened up shop, having been joined overnight by Jimmy and Frances Bell, two more stalwarts in the 'R' team. We were very pleased to have Mary Longsden and her sister join us on Monday with their beautiful Bewcastle Bonny and her foal Banner who was delightful. Many people came to the stand purposely to look at the lively little foal who behaved so beautifully. The Longsden entourage had all had a very long journey but everyone really appreciated their presence.
"Tuesday was another hot sulty day and Jane Patterson brought Wolds Cormorant to join us. She tells us it is what he does best - standing still to be admired - he certainly was not disappointed, he loved it taking all the attention for granted as his right.
"Weatherwise, Wednesday was not such a brilliant day but it made it much better for the animals. Dalemain Good King Henry came from Jim Wykes' nearby home at Monks Kirby. Henry has many friends amongst regular helpers at the Royal, largely as a result of his participation last year in the N.P.S, display. He did not disappoint anybody - on a previous visit he took a liking to the Dartmoor Pony Society caravan curtains but unfortunately after he had pulled them off the door they would not fit his stable. This year he took a liking to our photo display and we had to quickly move them out of his reach or suffer the wrath of Molly Laing.
"Thursday is traditionally mountain and moorland day so lots of interest is usually shown in our native pony breeds and stands when members and enthusiasts collect together to chat about their passions. Christine Errington very kindly brought her five year old gelding, Waverhead William, to join us. Beautifully turned out and shining, this young pony took all in his stride from ice-creams to screaming children and pushchairs to balloons including hot air balloons that drifted over the ground during the day. Another fine example of the Fell pony's fine temperament and kindness.
"Thursday was also a special day for us because we were highly delighted when, having won the youngstock class, our three year old colt, Waverhead Black Magic, went on to win the Fell championship and so was the first recipient of the Waverhead shield and replica. This was presented to him by judge, Clive Richardson, in the presence of Jimmy and Frances Bell who had kindly donated the trophy in memory of their great stallion, Waverhead Rambler. This shield is to be presented annually to the champion Fell pony along with a replica for the winner to keep. Needless to say, they were delighted to see that a Waverhead pony was the first to get its name on the shield.
"At the end of the day, a very tired but happy team packed up the stand after a successful week and headed home leaving the caravan to be collected on Friday. We have already started the ball rolling for 1988 so don't forget to come and visit us if you are at the Royal Show. We will be please to welcome you."
SPRING PERFORMANCE TRIAL: The annual spring performance trial will be held at Rydal Park Farm, Rydal, near Ambleside, Cumbria, on June 19th 1988 by kind permission of Mr. G. Hodgson. The trial will be preceded by a National Pony Society Mountain and Moorland Working Hunter Championship qualifier, the judge for which is yet to he nominated at the time of writing. As Rydal is classed as a breed show, competitors need not be members of the N.P.S. to compete in the qualifying class but should a pony and rider qualify, the competitor must become a member and the pony must be entered in the competitions record within seven days of qualifying.
All competitors will be required to assemble for briefing at 11.30 am prompt, although it is advisable to arrive well before this time for the opportunity to walk the cross country course. It is hoped that this year's course will include one or two natural obstacles which one is likely to meet on a ride cross country, such as a gate. Competitors may also wish to know that the showjumping section is over rustic jumps. Rosettes will be awarded up to sixth place in the qualifier and also the dressage and cross country sections and overall in the trial. Clear round rosettes will be awarded in the showjumping phase and specials for the best performances by a junior rider (16 years and under) and a senior rider (60 years and over). Commemorative rosettes will be presented to all participants and there will be section trophies. Prize money for the qualifier will be £10 first; £8 second; £5 third and £3 fourth.
An entry form is at the back of this newsletter, entry feed being £4 for the trial and £2 for the qualifier. Dressage sheets will be sent to all competitors together with a list of rules and regulations on receipt of entry forms. Overheight ponies may not compete in either of these events. A caterer will again be available and St. John's Ambulance will again be in attendance. Anyone having to travel over a hundred miles to Rydal will be entitled to a £10 travel allowance, and details of the allowance and overnight accommodation can be obtained from Barry Allen who will be extremely pleased to hear from volunteer judges for fences on the cross country course.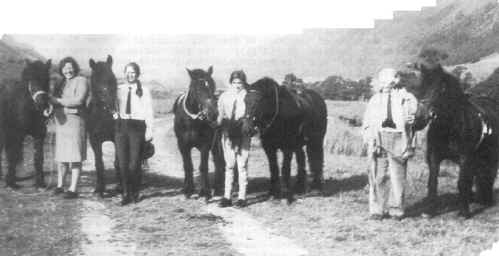 Five geldings all by Packway Royal photographed on the 1971 pleasure ride.
(Left to right ) Packway Duke held by Molly Laing; Whitegate Thor with Helen Woodhouse ;
Heltondale William Rufus and Packway Bellman with Mairi Laing; and Borwick Marksman with Ailsa Pickerstet
Barry Allen, one of the organisers of the Rydal performance trial writes -
"With so many Fell pony owners mentioning the lack of suitable competitive events, it is strange that entries for the Rydal performance trial seem to be in decline. There will always be the nucleus of twenty or so who have enjoyed the event so much over the years but I wonder why more do not take advantage of a marvellous day out each June in beautiful surroundings. Rydal Park is about a mile from Ambleside on the right hand side of the road to Keswick. Competitors from the south leave the M6 at junction 36 and follow the A591 through Windermere and Ambleside. Northerners pick up. the A66 from Penrith to Keswick and travel south on the A591.
"The day starts at noon with the National Pony Society Working Hunter Qualifier for those with ambitions. The course consists of seven or eight rustic fences well within the capability of a competent Fell pony and rider, and follows the usual working hunter class pattern. The performance trial follows immediately after with the first phase - dressage. This is a straightforward test of obedience and paces, details of which are sent to each competitor in advance. You don't have to be a budding Jennie Loriston-Clarke! The test is very basic and everyone manages it. The cross country starts ten minutes after the dressage test. Competitors have usually walked the course (about 11 miles) during the morning. Thereis a choice of jumps. If you jump your pony at home, it should be capable of most of the smaller jumps. If you are not sure, you can miss out a jump. You will score no points but no-one is eliminated and there is always the next jump. There are half a dozen really testing jumps to challenge the better ponies. The day is completed by a show-jumping phase. These jumps are small - more on the lines of a clear round jumping course. Scoring is heavily biased towards the cross country phase - usually a minimum of 270 points available, with 120 maximum (for any Jennie Loriston-Clarkes) in the dressage and 40 in the show jumping. The weather is usually glorious - although that cannot be guaranteed - and everyone wins a rosette."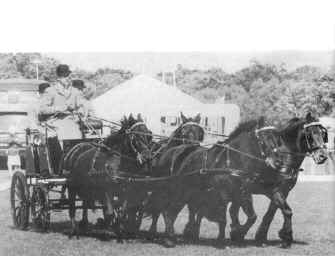 H.R.H. The Duke of Edinburgh in action during the
dressage phase of the combined driving event with
H.M. The Queen's team of registered Fell ponies.
COMPETING AT RYDAL: Carolyn Allen has contributed the following competitor's view of Rydal.
"I started competing in 1984 on our much loved Lownthwaite Ghostly Gossip, an ex brood mare, blind in one eye, who can jump anything but usually stops dead on the other side. She is hardly the most forward going of ponies. I'd just recently started riding and, as neither of us had tackled anything like Rydal before, this made for an interesting round.
"I managed to keep her inside the dressage arena (just) and during our cross country phase Gossip attempted to drink herself through the water obstacle. There is proof of our round usually on display in the Fell Pony Society tent at shows - a fantastic picture of Gossip in flight over a jump. This was by no means a typical clearance but I'm sure if Gossip and I could manage the course others have nothing to fear. In 1981, the third phase was a handy pony course where Gossip was in her element as she always was, and still is, completely handy. We finished 20th out of 30 and that day will live long in our family memories. What a sense of achievement.
"I have since competed every year, once more on Gossip and later with Tarnbeck Princess, the pony who has given us such pleasure in the showring. Every year has been thoroughly enjoyable and although we have yet to get amongst the placings we always return home with a very impressive looking rosette as a souvenir of the day's event.
"Everyone connected with the Rydal performance trials is friendly and helpful and, for our family particularly, it is a pleasant opportunity to meet competitors and ponies who we do not often see at the local shows. I'm sure the ponies enjoy it too. This year I look forward to taking one of our younger ponies, either Lazybank Bolero or Townend Sorrel II, for first time and who knows ...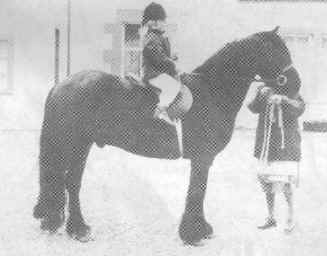 Dalemain Lad's Love, a three year old gelding by Dalemain Nettle,
newly broken but quiet enough for Mrs.McCosh's
seven year old grand-daughter to ride on a leading rein.
STALLION SHOW: This will be held at Dalemain Penrith, by kind invitation of Mrs. McCosh on Saturday May 7th. Schedules will be sent to everyone who competed in 1986 or 1987. Will others please apply for schedules or collect them at the Annual General Meeting. Once again, stallions must parade at the show to be eligible for an At Home premium and premium books must be back in the secretary's hands by September 1st. Judge for the stallion show this year is Mr. Bill Potter, Shap. Immediately after the stallion show, a qualifying class for the National Pony Society Mountain and Moorland Driving Championship will be held, the final of which will be held at the N.P.S. show, Malvern in August. This class is open to stallions, mares or geldings and full details will be included in the stallion show schedule.
BREED .SHOW: This will be held at Brougham Hall Farm, Penrith, on Saturday August 13th by kind permission of Mr. & Mrs. Helme. Schedules will be available at the Annual General Meeting and stallion show but please sign if collecting one in person to avoid having one posted to you. Anyone who showed in 1986 and 1987 who has not collected a schedule will have one posted to them after the stallion show. Anyone else requiring a schedule should contact Mrs. Laing, chairman of the show committee, Tel 054 122 272.
LOWTHER DRIVING TRIALS: The Society has again been invited to organise Fell pony classes at the 1988 Lowther Driving Trials. The classes will be held on Saturday August 6th starting at 11.00 am prompt. The judge will be Mr. H. F. Wales, Milburn. Please be in the collecting ring fifteen minutes before your class is due to start. Entry and car passes will be sent out after the receipt of entries. There will be a championship trophy plus rosettes and prize money in all classes. Please see entry form at end of newsletter for class details.
WINDERMERE FESTIVAL: As part of this year's Windermere Festival, a Fell pony show will again be held at Brockhole on Sunday July l0th commencing at 10.30 am. The judge will be Mrs. R. H. Ball. There will be the usual Fell pony classes with handy pony, working hunter and driving classes being open to all registered mountain and moorland breeds. To satisfy the demand for more competitive events, there will also be a show jumping competition (coloured jumps) for Fells, and the bareback trotting race will again be a feature of the show. It is hoped that competitors in the trotting race will wear traditional costume and there will be a prize for the most appropriate outfit. This will be judged by a local celebrity who will also start the race. We have been fortunate in obtaining sponsorship for several of the classes. Details will be included in the schedule which will be sent to all who exhibited last year. Others requiring a schedule please contact Barry Allen, Tarn Bank, Arnaby, The Green, Millom, Cumbria. Tel. Millom 4528.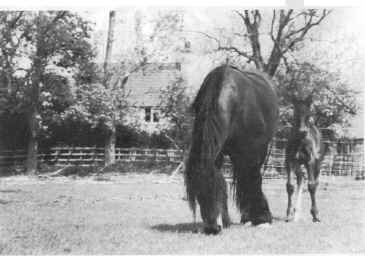 Mrs. P. Hardcastle's Limeguards Fescue with her two day old foal,
Roxatrix Mister Mole, who is by Dunnerdale Richard
GILSLAND SHOW 1987: Anne Armstrong writes " May I say from the beginning I thoroughly enjoy attending as many of the Fell Pony Society events during the season as I possibly can but distance is often a problem so having Fell pony classes at your local show can be very convenient to say the least!
"Having previously attended the Gilsland Show (Gap Shield, Gilsland, near Brampton, Carlisle) on a few occasions and watched the horse and pony classes, gymkhana games, side saddle and mountain and moorland events, the very thought of leaving separate classes for our breed appealed to me very much.
"To get it off the ground, I first approached the horse and pony section secretary, Mrs. K. Whitfield in 1986. We discussed the possibilities and then armed with information from our own secretary, Clive, and a commitment from Mr. David Lee of Halifax to judge, a series of meetings took place with the Gilsland Agricultural Society committee. They accepted on 12th September 1987 my dreams came true - the Fell pony in hand and ridden classes were born.
"Coupled with these classes, my friends and I provided fun activities allowing adults on ponies to compete in a 'fun' capacity e.g clear round jumping and handy pony competitions.
"Although the weather was appallingly wet and the ground muddy, slippery and downright soaking (making it as difficult to get on the field as it was to get off in the evening) we all enjoyed an eventful day without any major problems. Spirits remained high - perhaps due to the beer tent!
"I am pleased to have experienced the thrill of creating classes to promote our breed and our Society, even though it was a lot of hard work, and I hope the future sees our further involvement. Many thanks to all who supported the event - Gilsland Agricultural Society for having us; Mr. D. Lee for judging; my family from Newcastle for helping to keep my head above water on the day and, of course, the lead up; Andrew and Angela Lund from Thorneymoor Riding Centre, near Brampton, for their participation and involvement; my boyfriend - blessed with perseverance or madness; Mrs. Eileen Chadwick, the instigator of getting me involved in the Fell Pony Society and selling me Summit Harrier; Mr. & Mrs. Bainbridge from Gilsland for their handy pony course and who provided accommodation for Mr, and Mrs. Lee; and finally thank you to all those people who supported us from the Fell Pony Society.
"We look forward to the next show which will be held on Saturday 10th September 1988. If you are interested in taking part please forward your name, address and telephone number and a S.A.E. to Ms. Anne Armstrong, Bush Nook Cottage, Upper Denton, Gilsland, Cumbria CA6 7AF.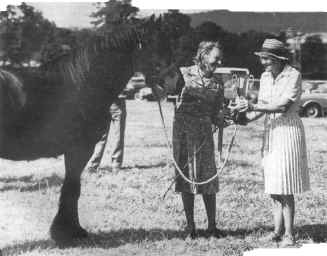 The late Miss Peggy Crossland presenting the cup to Mrs. Sylvia McCosh
with here homebred three year old gelding at the Breed Show some years back
LOWNTHWAITE ROB TROPHY: The Lownthwaite Rob trophy presented annually by the Laing family was won in 1987 by Mrs. Back's Twislehope Sandy who some members will remember being ridden at the Rydal performance trials some years ago sidesaddle.
RIDING FOR THE DISABLED WITH A FELL
Dalemain Dandelion was foaled in 1971, by Dalemain Nettle out of Townend Gypsy. In June 1978 he was purchased to be used at The Drum Riding Centre for the Disabled, Drum Estate, Gilmerton, Edinburgh. Although Dandelion is privately owned, he is on long; term loan to the riding centre where he works five days each week with disabled riders.
Initially Dandelion was headstrong and proved to be difficult for his disabled riders and helpers to control. He was very frightened of the unexpected especially tractors, lorries and flapping plastic bags. Despite this he was quiet, extremely affectionate and very willing to learn. During the summer holidays with constant training in both the riding school and out around the estate, he calmed dowm and became utterly reliable. At the Scottish Horse Show that year, he was placed in the ridden class of mountain and moorland breeds.
In 1979 after only one year with the R.D.A. he won the cup at the Melville Hunter trials in a class specifically for handicapped riders. The cup was presented to him and his rider by the famous Red Rum. At another open R.D.A. event he and his rider gained second place in dressage.

During the summer he obtained a third and two fourths in ridden mountain and moorland classes at various shoes and was fourth in an open handy pony event.
The following year Dandelion's activities were curtailed by lameness from a hoof abcess. However, he was placed third in a ridden class at the only show he attended. At Gosford, he took a very active part in a R.D.A. event attended by H.R.H. The Princess Anne who was most impressed by his quiet nature.
In 1981 Dandelion was placed in every event in which he took part, be it with his disabled riders or his young owner. He picked up a large number of rosettes in all types of classes and in November of that year he and his stablemates performed before a large audience of friends and parents of R.D.A, riders when Princess Anne opened the new stableblock and clubroom for the disabled riders at The Drum.
In July 1982 having successfully competed at the East of Scotland regional competition Dandelion went forward with two other ponies from The Drum to the Scottish final for the best pony for use by the R.D.A. This competition is open to any pony in Scotland and is similar to the Wembley competition where ponies are put through a variety of tests for safety and reliability. All of the Drum ponies did extremely well with Dandelion coming out on top having been awarded the judge's twenty discretionary points as he was, in her opinion, the worthy winner of the Bank of Scotland cup. The following month he made the first of three appearances at Stoneleigh in the R.D.A. dressage competition at which three of his disabled riders acquitted themselves extremely well. An official remarked that Dandelion was the type of pony needed by R.D.A, groups.
Dandelion really proved himself to be a worthy winner of the Scottish cup when during the following year he helped one of the Drum riders to obtain the R.D.A, gold award. This is the highest honour disabled riders can achieve-and Alison was the first Scottish rider to attain these heights.
Having taken part in all the pageantry at the Silver Jubilee Celebrations at The Drum in the presence of H.R.H. The Princess Anne, Dandelion was ready for his second trip to Stoneleigh to compete in the dressage competition where he and his disabled rider gave an excellent display. That summer he was placed in an open dressage event where he floated around the arena!
At the R.D.A, dressage competition at Stoneleigh in 1987 Dandelion and Eddie - a Highland stablemate - came second in the pairs competition which is freestyle to music. The two ponies looked magnificent together as their strides were well matched.
Dandelion is a much loved pony and is in great demand by his disabled riders because of his quiet and gentle manner. He responds to the slightest aid and is easily controlled by even severely disabled riders, there being a special bond between him and certain of his riders. He is very competitive but knows when to be on his best behaviour. However he shows another side of his nature when ridden by his able bodied owner who has some very exciting outings at the gallop.
A FELL IN A SULKY: Margaret Dawson from Edinburgh writes to tell us about her experiences putting her Fell gelding, Bushby Buccaneer, between shafts.
"To those of you who like myself are no longer young but still hanker after the thrills and spills of youth, I cannot say better than go out and buy yourself a sulky!
"When I saw in a dealer's yard a second hand one exactly the right size for my Fell pony, I decided that this had great potential for fun. In spite of dire warnings from pessimists about danger and foolhardiness I hitched up and we were off at great speed.
"Inelegant I may look with legs wide apart (my husband did suggest a chastity belt as a suitable barrier between myself and the hind hoofs) but the sitting position is both stable and comfortable. From the pony's point of view, the vehicle is feather weight so with mane and tail flying we are to be seen fleeing along the local roads early on a Sunday when traffic is light and most of the residents barely out of bed.
"Bushby Buccaneer (Waverhead Rambler - Heltondale Bluebell) may not be as fast or streamlined as the professional trotters but how much more clever and obliging. He needs no whip to urge him on, or leg straps to keep him at a trot - a cracking pace comes naturally to my friend.
"It says so much for the breed that the self same pony who, ridden by my daughter, could take the breed show ridden championship and Olympia qualifier is just as capable at being a safe fun pony for me. He now awaits his next role as a cross country mount for the rising generation.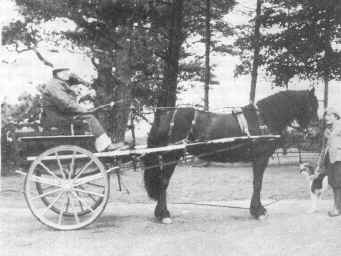 Mrs. Sue Millard's Swindale Rose
Sue Millard writes "The Azores are not for me. Not only can I not afford the fare, the price of the holiday or time off from the farm, I probably would not enjoy the warmth. I'm not used to it!
"To begin at the beginning: I have no means of transporting my brown Fell, Swindale Rose, and her Norfolk trap, so to make a virtue of necessity, I have holidays that coincide with shows or other events, and we go by four hoof drive.
"August brings two shows close in time and place, Brough on a Thursday, Ravenstonedale on the following Saturday. We set off on Wednesday, heading for the Taylors at Soulby eleven miles from here. I won't bother to recall the indifferent weather but rather the 'race' that developed over Sunbiggin Tarn moor. Hardly had I closed the cattle grid gate than a pair of ears came over the nearest brow, followed by their owner and a dozen other equines from Trotters to Dartmoors, all highly curious about the strangely equipped newcomer. Knowing that if we got involved I might end up with a splintered trap at the very least, I pushed Rosie on at a fast trot for the next couple of miles, and by dint of some very nifty footwork at the next cattle grid managed to close the gate in the faces of the determined trotter and her friends with a score of yards to spare. Their disappointment was palpable! It says much for Rosie's sensible nature that I was able to cope with gate, trap and pursuing herd on my own.
"On Thursday, Rosie and I followed Colin Taylor's speedy Dales, Smokey, from Soulby to Brough Show. Smokey dislikes tractors and I can't remember how many we met that morning bringing in big bales of second cut silage. Rosie was affronted by the need to dash down farm lonnings out of their way, and even more so by Smokey's efforts to back his trap into her when there wasn't a track to escape down.
"On arrival at the showground I tethered Rosie to a holly tree to spruce up for our classes, while elderly gentlemen kept coming over to look at the 'good Gallowa' and tell me farming anecdotes. Rosie enjoys a
good crack so perhaps she resented being told to walk on and do her stuff in the impersonal showring - at any rate to my embarrassment she more or less went to sleep on me, and we were third out of three. As if to prove to me that the judge was right to call her bombproof, she then accompanied me on a trip around the stalls (in hand) where roundabouts, lotteries, swings and loudspeakers never deflected her from her attention to grannies and small children. Trundling back with Smokey to Soulby afterwards, even the speed loving Colin was moved to comment that for all her quietness she was a good little worker.
"Brough had decent weather; Friday continued it. We drove from Soulby in gloriously warm sun, real shirtsleeve weather, across Ravenstonedale moor and down to Newbiggin. Tourists parked on a moorland layby were inevitably moved by the sight of two ponies and traps and so Rosie, with an eye to the camera, duly pricked her ears and looked pretty as she trotted by. She truly loves the lens, and I don't know why because photographers mindful of their equipment, seldom feed her anything.
"The weather of course was deceiving us. At 1.00 am on the Saturday of Ravenstonedale Show the heavens opened. The day dawned misty and unpromising. I had a long and irrelevantly difficult journey to the show field. After a brisk effort during the in hand class the storm broke in earnest. We had just the shelter of a small stable (which Rosie most oddly disliked), we were two hundred yards from the showfield, and the rain was spouting out of the trap corners. The brass dulled as quickly as I polished it and the shine so lovingly produced on the leather rapidly vanished under the downpour; so with two and a half hours to wait before the private driving class and the thunder as vigorous as ever, I harnessed up, put to, gave my apologies, settled my hat, and made for home. Chicken!
"But Rosie adored it. The thunder was magnificent, the rain utterly astonishing. It was a storm of truly Wagnorian proportions . it no longer mattered if everything got soaked; Rosie knew we were homeward bound and I have seldom sat behind her for ten miles at such speed! Lightning, thunder, flooded roads and traffic spray; she was undaunted. The wetter, the better! We undoubtedly went home in style.
"Our last two outings of the season both involved going to Shap. Rosie has learnt that when we pass the Shap Wells road end, interesting things await us and we do the next four miles very fast. This year Shap held a Market Charter Tercentenary Celebration to which we were invited. The crowded street set Rosie whinnying with anticipation, and perhaps mindful of her now status as 'a pony in a book' she behaved impeccably while I sold copies, taking very little notice of the costumed Shappites, the chatting, photographing visitors, the stalls with flapping awnings, even the inflatable bouncing castle. At lunch time she disgraced us by eating Tag-ends out of the gutter when we would not share our salad rolls and iced buns freely with her!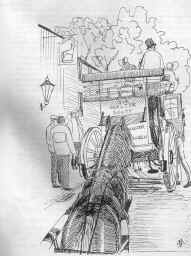 The View from Rosie's trap as
the coach prepares to leave Shap
"Three weeks later in a burst of fine Autumn weather, we went to meet the Sir Walter Scott stage coach. This had stayed overnight at the Greyhound Hotel, Shap, roughly halfway through its nine-day charity run from Edinburgh to Manchester. Once again Shap was in costume - I hadn't thought of that or I'd 'nave put on my massive driving cloak. Perhaps that was why the B.B.C. carefully left us off the footage shown on North West Tonight; I spotted an ear, four feet and a wheel in the whole sequence. Not that it mattered. The atmosphere was wonderful. It was one of those golden September days that begins with light mist and comes out crisply sunny by ten o'clock. The coach was already horsed by a team of greys and the costumed passengers were mostly aboard; a stirrup cup was handed around and I was generously included. Perhaps it was the whisky that induced the sense of suspended reality as the guard blew his horn - a lovely soft coppery noise in the morning air - and John Cowdery put his horses into motion. Rosie waited for the word and we followed. Four iron tyres, blue-grey in the sun, and sixteen trotting hoofs make a noise-to exclude all else; it was some time before the passengers realised Rosie was behind them. The coachman was being distracted by the B.B.C, men interviewing him and the team kept slacking which surprised both me and Rosie who was sure if she worked hard enough she could keep up with her new friends all the way up Shap Fell and down to Kendal. I had to check her several times in order to prevent her pressing her nose against the gold letters on the scarlet boot of the coach. We trotted along for several miles with the red running gear and the neat white fetlocks of the wheelers in front of us but eventually I decided Rosie had gone far enough, we still had eight miles to go home and no change of horses available, unlike the coach. Regretfully we turned back before the team began the real climb over Shap, and gradually shed our historical sympathies. It was some time before the petrol driven traffic ceased to appear strange.
"A holiday in the Azores? Unless they have Fells too, you can keep it,"
BARNINGHAM FELL PONY SHOW: Following the success of last year's show at Barningham, another registered Fell pony show is being held at Barningham, near Richmond, North Yorkshire on Saturday 16th July at 11.00 am. There will be ten classes, five in hand, two priding classes, turnout, non prize winners, and a driving class. Schedules will be available at the stallion show or from Mrs. N. Earnshaw, Hawstead Farm House, Barningham, Richmond, or from Mrs. M. Wilson, Townend, Haltcliff, Hesket New Market, Wigton, Cumbria.
WINDMILL FELL PONY SHOW: Another new show for Fell ponies has been organised by one of our members, Mrs. Gwen VJordley, at Burscough, near Ormskirk (next to Martin Mere Wildfowl trust) on Sunday 18th 6epternber. Classes include in hand, ridden, working hunter pony, driving and obstacle driving, and schedules are available from Mrs. VJordley, Moss Farm, Crabtree Lane, Burscough, Lancs. Tel. (0704) 892391
AUTUMN PERFORMANCE TRIAL: This will be held at Pict Hall, Blavrith, near Ulverston, Cumbria by kind invitation of Mr. & Mrs. R. Baxter on Sunday 11th September at 12 noon. A perpetual trophy, the Tarnbeck Tankard, will be presented to, the winner and all entrants will receive a commemorative rosette. Rosettes will be awarded to sixth place overall and special rosettes given for the best performances by junior and senior rider. An entry form is attached which should be returned not later than August 29th. A short pleasure ride may be arranged after the trial.
WIGTON SALE: This year the Fell pony sale will be amalgamated in with the main horse sale on October 26th in the hope of increasing both entered ponies and potential buyers. Full details will be given in the Autumn newsletter.
MIDLANDS HAIRY PONY CLUB: Last April a Midlands Hairy Pony Show was run in the midlands for Fell, Dales, Highland, Dartmoor, Exmoor and Shetland ponies. There was a good turnout of ponies with the Fell points trophy being won by Mr. & Mrs. Cherry's Heltondale Dusky Bess from Cheshire. A similar show held just after Christmas produced a turnout of forty-two ponies in all, ten of which were Fells. This time the Fell winner was Miss Jane Glass' and Mrs. A. Minson's Wolds Oriole. A club is now being formed and there are plans for another show on April 24th. Full details from Miss Jane Glass, Wolds Stud, Wymeswold, Loughborough, Leics. Tel. Wymesvrold 880261.
BREAKING AND SCHOOLING: Following discussion at the recent council meeting, some members have been making enquiries as to where they may get ponies broken in or schooled. A list of members prepared to take ponies for breaking will be published in the Autumn newsletter and anyone wishing to have their name included should get in touch well in advance.
FELL PONY SWEATSHIRTS: Mrs. Laing asked me to remind members that she has stocks of Fell pony sweatshirts in small, medium, large and extra large, in a variety of colours. All sizes now cost £10 exclusive of postage and may be obtained along with other sale items from Mrs. Laing, Twislehope, Hermita1ge, Hawick, Roxburghshire.
OVERDUE SUBSCRIPTIONS: A number of members have still not paid their subscriptions which fall due on the 1st January each year. The subscription rate is still £5 per annum, and bankers order forms are available.
CASTLE HOWARD DRIVING EVENT: The Society has been invited to stage a Fell pony display as part of the Castle Howard Driving Trials to be held on 27 - 29 August. Anyone, particularly from the east coast area, who would like to take a pony along to be involved in the display should get in touch with Mrs. Laing as soon as possible. The Society's exhibition stand will also be there for all three days of the event.
Clive Richardson,
Hon. Secretary/treasurer,
Fell Pony Society,
19 Dragley Beck,
Ulverston, Cumbria.
FOR SALE: Black yearling filly by Dunnerdale Richard. Details from Mrs. Compton, Tel. Quorn 414003
WANTED: Black Fell ponies, any size. Must be totally reliable for trekking centre opening Easter 1988. Also person with horse management skills required, a competent rider, able to take responsibility, and knowledgeable in First Aid for seasonal work from April to October. Contact Mrs. Anne Hutchinson, The Haining, Wark, Hexham, Northumberland. Tel. (0660) 30680.
FOR SALE: Black gelding, seven years old. Quiet to ride. Details from Clive Richardsol Tel. Ulverston 52742
FOR SALE: Registered black mare, 13.2 hh, rising 9 years. By Waverhead Rob. Active ride, good to catch, shoe, etc. To arrange visit near Ross on Wye, Tel. London 01 743 8234.
FOR SALE: Black filly foal. Details from Mr. T. H. Harrison, Thorney Bank, Wet Sleddale, Shap, Cumbria.
FOR SALE: Varnished Norfolk trap to fit 13.2 hh to 14.2 hh. Good condition. £750 ono. Details from Mrs. Millard, Daw Bank, Greenholme, Tebay, Cumbria. Tel. Orton 636
HOLIDAYS: The safe adventure. High Pennine Rides. Bring your horse or pony to explore the bridleways of the north. Comfortable night halts, tested routes, back-up service. Brochure from High Pennine Rides, Brook Villa, Lanchester, Co. Durham. Tel. (.0207) 521911.
FOR SALE: Carrock-Dandy. Two year old black geldings newly broken to ride and drive. £425 ono. Tel. (6282) 861976
WANTED: Eden Riding for the Disabled Group are looking for a quiet free going pony, about 13.2 hh, safe and reliable, able to stand at mounting block, do handy pony, games, jump, drive if possible though not essential. Not over 15 years. Loan if possible. Contact Mrs. Eve Pattinson, Tel. (876885) 262
The Annual General Meeting will be held at Clifton Parish Hall, Clifton, near Penrith on Saturday March 26th at 1.00 pm. Tea will be available after the meeting and there will be a film show time allowing. Subscriptions will be collected 12.30 pm - 1.00 pm.
AGENDA
Apologies for absence
Minutes of the previous meeting
Matters arising from the minutes
Election of five council members.
The following retire and are eligible for re-election - Mrs. S. McCosh, Mr. J. Bell, Mrs. J. Duberry and Mr. T. H. Harrison. There is one further vacancy due to the death of Mr. Jack Williams and there are three new nominations - Mr. P. Boustead, proposed by Mr. J. Dargue and seconded by Mr. E. M. Wilson; Mrs. M. Murray proposed by Mrs. M. Laing and seconded by Mr. C. Richardson; and Mr. A. Heighton proposed by Mr. J. Gibson and seconded by Mr. J. Bell.
Election of officers

President elect
Chairman
Vice chairman

Adoption of the accounts
Secretary's report
Reports of delegates and subcommittees
Pleasure ride
Dates of Autumn meetings
Any other business
---
Many thanks to Barbara Müller for providing her archive copy of this out-of-print Newsletter so that it might be placed on this web site.
---
This page last updated: 22 January 2008
© 1988, 2001 by The Fell Pony Society and Naked Essence Web Designs