Fell Pony Society
Autumn 1988 Newsletter
---
H.R.H. The Princess of Wales talking to Jim Wykes and Sheila Hardy when she visited the Fell Pony Society stand at the Royal Show
Following the Royal visit at the exhibition stand, Sheila Hardy writes "Last year when I was asked to write a piece about the Fell Pony Society at the Royal Show, I thought that would be it. However, something very special happened this year and I have been asked to tell you about it.
Apart from the necessary paperwork that starts coming in just after Christmas from the R.A.S.E., our biggest problem is sorting out the ponies for the stand. We like to have a different pony each day and try to get as many of the prefixes represented as possible. This gives a wide variety of breeding and shows no favouritism to any particular name. It is not always as easy as it sounds as it is always done voluntarily with no expenses involved. We had already fixed up Mrs. Angela Einon with Townend Dally for Monday - she was to be eventual champion Fell at the show; Jimmy Bell said he would bring his yearling Waverhead Pearl for Tuesday - she won the youngstock title and was reserve champion later in the week; and Rose Barlow a very local owner had said that she would bring Tebay Just William on Thursday. That left Wednesday and it was whilst we were pondering on a newcomer for then that a very exciting letter arrived that altered our original plans and really upset the calm equilibrium in the organisation department.
I arrived home from work four weeks before the show to find a personal letter waiting for me from the R.A.S.E. It was as well I was near a chair when I read it. The letter said that we had been chosen for a visit by H.R.H. The Princess of Wales on Wednesday 6th July 1988. Amongst other things I was to receive her and present the stand helpers to her. It was all to be top secret until the day. In my eight years on a breed stand at the Royal, it had never been known for anyone on Saddlers Row to get a Royal visit, never mind a breed society - Shetland, Welsh, Dartmoor, Cleveland Bays and Appaloosas have all got stands and all Native breeds are represented on the N.P.S. stand in the Blue stable area. We were definitely being given a great honour and could not have asked for a nicer Royal visitor. On reflection it did seem a little strange that a Princess who by press coverage reputation did not care overmuch for horses should visit a pony stand. We were later to have that myth crushed.
My father, Jim Wykes, and I talked at great length of our arrangements, they had to be as perfect as we could make them, but there were two problems - whose pony should appear on Wednesday when we would be surrounded by press and public and how to keep the secret with so much security involved. I am the last person to tell a secret to; here was my big test. We decided in view of the secrecy involved that Dalemain Good King Henry should go on the stand that day as he was a good representative of the breed and we knew he would behave himself - he had been before and also by using him no-one need be told what was happening.
On Monday 4th, security was starting. By Tuesday 5th activity increased. After lunch the BBC arrived - could they do an interview and film the stand and pony in case there was no time on Wednesday. The secret was out. Jimmy Bell fetched his yearling to parade for them. With the arrival of the TV camera crew we were able to let the rest of the group know what was happening. We had one official after another visiting. Protocol was explained regarding presentation of the sweatshirt to HRH and the signing of the visitors book - no-one must ever sign on the same page as Royalty nor on the facing page, a matter of utmost importance.
At 8.00 am the plain clothes policemen arrived, about ten of them to search very carefully through the caravans, stables and everything near by. All was fine. As the time grew nearer, barriers were erected to keep the crowds back. It started raining again and got worse, some of us changed clothes. It continued to rain, plans had to be altered, we had not thought about it raining. Henry was put in the loosebox until the last minute. Cameramen arrived, TV, press and radio. A large contingent of police arrived next then miraculously the rain stopped. Macs were hurriedly removed and umbrellas put down and out of sight. The cry goes up and she is here.
The Princess walked toward us looking all around as she came. The cameras popped, a fellow stallholder has created a pontoon across an enormous puddle and then presented HRH with a pair of wellingtons. She laughingly accepts them but does not put them on. Then to our stand where I am introduced and do my well practised curtsey. You must be cold without a coat, she says. 'No the goosepimples are nerves' say I. The Princess laughs and says there is no need to be nervous of her. The ice is broken and we are away. Would she like to see our stand? Daft question, that is what she has come for! We walk towards it, everyone is listening to her and cameras pop non-stop. 'I understand, Ma'am that you are not very horsey.' She tells me that this is just not true, and she gets very cross when people are left with this impression as she rides every day when she is able. In that case I am sure the Princess would like to see our picture gallery. HRH admires the photographs and then studies the stallion register remarking on the careful breeding involved to get such good animals. She asks about prices of good ponies and we move outside to Henry and Dad. I present Dad and, just as I did, he gets a nice warm firm handshake and introduces Henry. 'What an aptly named pony to greet her. Do we call him Henry or Harry like her boy?' How relaxing talking to her, she makes us feel so at ease. How is Henry bred? She fusses him, standing close the whole time - please don't let him nip, it would be a choice morsel of Royal personage. Then across to receive the gift of a Fell pony sweatshirt. The Princess is delighted that it is for her own use. It is the only time that eleven year old Alison Hardy has been lost for words, the Princess chatted on aware of the youngster's nerves. 'And this is our team' I say, as all the standworkers stand beaming in the background watching. The Princess immediately steps forward and shakes hands warmly with each as they are introduced. Everyone is presented, a well deserved honour for a very hardworking voluntary team who give up holidays to be there working, this year in terrible weather. Would the Princess kindly sign the visitor's book? Yes, and promptly does so. We chat about the dreadful weather then Henry nips Dad who reacts with a loud shout. 'I hope you don't speak to your daughter like that' says our visitor and laughs at the replies from Dad and I. Then it is all over then the Princess of Wales is saying goodbye and moving back to her car. The press rush forward and the police evaporate into the crowd. Frances Bell puts the kettle on for tea for the umpteenth time. Everyone is on a tremendous high. We were truly honoured by the visit and it was nice to be told later in the day that we were one of the best visits of the day."
Sheila Hardy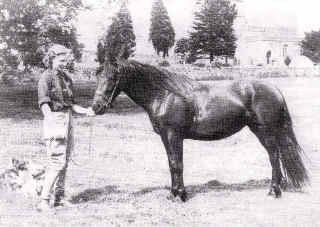 Mrs. Margaret Washington holding her sisters Mrs. Sylvia McCosh's
Dalemain Bluebell (exported to America 1952)
At the Stallion and Colt Show earlier this year, we were pleased to welcome our sole American member, Mrs. Nygaard from Florida who hopes to establish the first Fell pony stud in the United States. Mrs. Nygaard has since bought three young ponies of excellent blood lines and we wish her every success with her new venture.
These are not the first Fells to go to America and back in 1934 Roy Charlton sold Linnel Frivolity, Linnel Tinker and Monks Bess to Mrs. Mackay-Smith in Virginia, and a stallion was sold to some people in South Carolina at the same time. In 1952 Mr. And Mrs. Mackay-Smith visited Cumbria and stayed at Dalemain where they saw and subsequently bought Dalemain Bluebell, a black three year old filly and recently broken. Later they also bought Dalemain Foxglove.
Earlier this year while in the States, Clive Richardson was at Farnley, the Mack-Smith's beautiful plantation mansion in Virginia where he was shown photographs of the Fell ponies in their new home. With no Fell stallion at Farnley, the mares were put to stallions of other breeds and the descendents of these original mares are still on the plantation. Bluebell and Foxglove ended their days as shooting ponies in the bayous of Louisiana.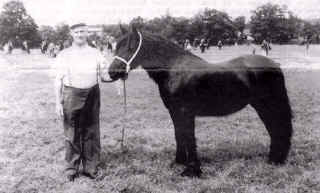 Mr. S.W. Noble's Heltondale Maydew VII
The summer Breed Show was once again held at Brougham Hall Farm, Penrith, by kind permission of Mr;. &. Mrs. A. Helme. Judges were Mrs. E. Ball, Mr. T. Wales, Mrs. S. Clark, Mrs. A. Newall, Mr. P. Lawson, Miss S. Lawson and Mr. D. Thompson. Results are appended: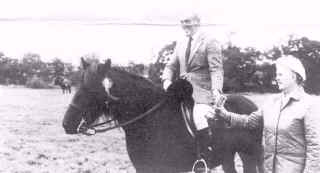 Mr. J. McCaw's Heltondale Ponie Jean
AT HOME PREMIUMS
Every year the Fell Pony Society awards up to six premiums of £30 for the stallions serving the highest number of registered Fell mares and this year's winners were:
MILKFLOAT PONY:
Mrs. A. Cornwell's Bluecaster Bunter turned back the clocks recently and drew Leicester Co-op's milkfloat and delivered milk to an old lady on her 100th birthday.
The Annual General Meeting was held at Clifton, near Penrith, on March 26th 1988 and members traveled from many parts of the country to enjoy the lively meeting. Mr. Roy B. Charlton was voted in as president elect to take office next year when the present president, Miss Bickersteth retires. Mr. J. S. Dargue was re-elected chairman with Mrs. E. Ball vice-chairman. There were three new nominations for the council plus four members retiring but prepared to stand for re-election. After voting the council members are now:
Mr. H. F. Wales
Mr. P. Boustead
Mr. R. Rayson
Mr. J. P. Gibson
Mrs. M. Laing
Mrs. A. A. Newall
Mr. J. Wykes
Mr. T. B. Capstick
Mr. R. Bellas
Miss B. W. Walker
Mr. E. M. Wilson
Mrs. G. Williamson
Mrs. E. Ball
Mrs. M. Murray
Miss M. Longsden
Mr. J. S. Dargue
Mr. G. E. Wood
Mrs. S. McCosh
Mr. J. Bell
Mr. T. H. Harrison
Many members, whether on the council or not, also kindly undertake specific jobs on behalf of the Society. These include Mrs. Laing who is sales and exhibition officer, Mrs. Newall who is responsible for affiliating shows and sending out rosettes, Miss Dodd who runs the junior points scheme, Mrs. Cockbain who does all the paper work connected with the pleasure ride, Mrs. Robson who is our press officer, and many more too numerous to mention. These are in addition to those members who serve on subcommittees, organise specific events like Rydal Performance Trials, or represent us at National Pony Society, British Horse Society and other important meetings. Our thanks to all of these people.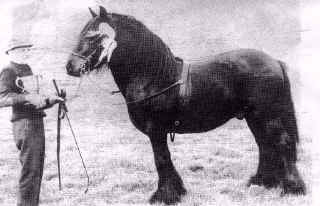 Mr. C. Howarth's Greenfield Gay Lad
Supreme Champion at the Stallion Show
The Stallion and Colt Show was again held at Dalemain, Penrith by kind invitation of Mrs. S. McCosh, and exhibitors traveled from as far afield as Essex to compete. Judge was Mr. W. S. Potter, with Mr. P. Lawson judging the two driving classes. Results are appended: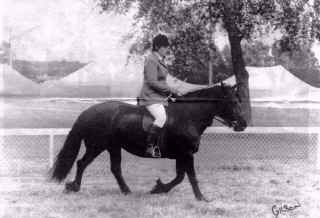 Miss Judy Fairburn's Gibside Dolly
Sarah Charlton, daughter in law of our president elect writes "As a new member of the Fell Pony Society, I probably have an advantage over many other new members as I am married to an R. B. Charlton. As most old members will know, the name R. B. Charlton is synonymous with Linnel Fell ponies.
"My grandfather in law, Roy Bertram Charlton, first introduced Fell ponies to the Linnels in the 1920's when he bought Linnel Fancy, Linnel Flirt and Linnel Nellie from Henry Holme of Thrimby. In many people's opinion he first put Fell ponies on the international map. He sold ponies all over the world: U.S.A., Spain, Pakistan, Australia, Canada and India.
King George V bought many ponies from him, and in the Linnels house there is a photograph of King George V riding in Rotten Row on Linnel Wanda. A Linnel Fell pony is still to be found in the Royal Stables to this day. Roy Bertram Charlton publicised the Fell pony as no other person had done, and improved the conformation of the ponies by clever breeding. He had the advantage of being able to breed many foals - at one time the total count of ponies being 101 - only the best were selected for stud, the rest were sold; in this way over many generations he produced the best of the breed.
In 1944 he published his book 'A Lifetime with Ponies' which he certainly had. His son, Roy Blackett Charlton, my father in law, has carried on the tradition and is the new president elect of the Society. Roy celebrated his 80th birthday this year on the same day that he was nominated for president. What a marvelous present for him.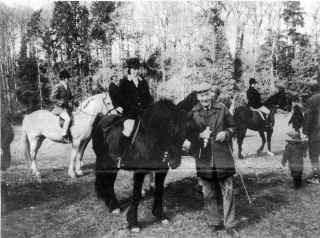 Roy B. Charlton surrounded by members of his family on his 80th birthday
When the Haydon Hounds met at The Linnels to celebrate
"I first met Roy ten years ago when I came to work for him for one hunting season. I ended up working for him for four years. Within four days of my arriving at the Linnels everything came down with flu. The ponies being out at grass recovered quicker than the hunters and Roy, impatient to go hunting, he asked me to fetch Linnel Flossy; hounds were meeting at Linnel Road End in two days time. So I dutifully trotted off, caught Flossie, cleaned her up, and rode her. That evening Roy came into the stables, took one look and said 'That's not Flossy, that's Connie'. Roy at that time had nearly thirty ponies and I had made a grave error. I still could not distinguish one pony from another. Flossy was duly caught and off Roy went hunting. By 2 o'clock I was beginning to get worried, they had not returned. Roy was 70, and I had never seen him on a horse before that day; Flossy was unfit and had a reputation for being hot as many Linnel ponies have. At exactly 5 o'clock they returned home, trotting into the yard as fresh as they had left it that morning at 10.30. I learnt a great deal that day and later from Roy and Flossy. I discovered Roy's uncanny ability to handle and master a horse, drawing on his vast experience and his fearless confidence. Flossy and her friends taught me there was a great deal more than meets the eye under all that hair; endless stamina and courage plus a tremendous joie de vie.
Roy has contributed a great deal to the equestrian world over the years. In 1931 he founded the South Northumberland Pony Club, was its secretary, District Commissioner and now its president. (You can guarantee that he will make a bee-line for any child on a Fell pony at a rally). This year he has received a Cubitt Award for long service to the Pony Club. He was involved with the National Pony Society for many years and in 1958 became its president. Between 1945 and 1958 he was huntsman and Master of the Haydon Foxhounds. Roy still hunts on a 24 year old home bred hunter mare, whose dam he hunted hounds on, and whose daughter my husband now hunts. Only two years ago he called in on us for a late impromptu lunch on his way home from a day's hunting. His steed for the day, a green 4 year old Fell pony, that he had just sold, and was introducing to hounds for the first time for the new owner.
Roy has shown his ponies over the years with great success, and judged not only Fell ponies but all other native breeds, riding ponies and hunters. In latter years he has given up showing and reduced the number of ponies at the Linnels. I remember a number of years ago he was puzzled when he received a rosette in the post. It was a Ponies of Britain progeny award for all native breeds won by his Fell stallion, Linnel Romany Boy, he was reserve champion. He then won the championship three years on the trot. Now 21, Linnel Romany Boy still stands at the Linnels with two Fell mares for company and still welcomes visiting mares.
If you see Roy at a Fell Pony show - introduce yourself. He may forget your name but he rarely forgets a face, and you may be lucky enough to hear one of his many, many Fell pony anecdotes. How he and his groom, Billy Stephenson, led two Fell stallions through the streets of London from a railway siding to Roehampton for the National Pony Society Show, or how another year at the same show Linnel Flighty won the championship having spent the whole time on two legs except when the judge was looking!
"For over seventy years there have been Fell ponies at the Linnels. My husband, Robert Blackett Charlton, I know will continue to keep Fell ponies in future years. We hope that his son, Ralph Blackett Charlton will keep on the tradition. I know Roy will enjoy his years as president of our Society, and may I thank you on his behalf for this honour."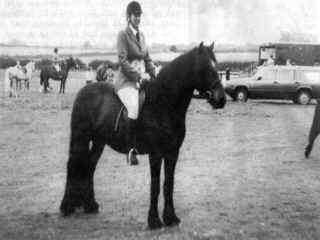 Mrs. Rose Barlow's Tebay Just William
Rose Barlow from Leicester writes - "After reading the Spring '87 Fell Pony newsletter regarding the story of the man who had a Fell pony on loan for the hunting season, I waited with baited breath for the October issue to find out how other people had been won over to Fell ponies. None were forthcoming so in the hope of not being too boring, I thought I would write and tell you my experience.
I rode Tebay Just William weekly for about twelve months whilst he was in a local riding school, hearing stories from other people how naughty he had been but being assured by the owner he had won the ridden Fell pony class at the Breed Show with an eleven year old girl, making me think from time to time is this girl of mammoth strength! (I met Emma at Rydal and she's tiny!) I took a chance and bought him in March 1987.
It's eighteen years since I last owned a horse or pony and thought I would buy William to do a little hacking and nothing more. The children at the stables where I keep him had other ideas.
One wet May morning William and I ventured forth to a local show for novice riders and horses, the children spurring me on 'You'll be alright.' After paying the entrance fee we went on to do a disastrous round but the children being supportive saying 'Never mind you'll do better next time'. Next time? Never again I thought, I'm getting too old for this. We tried dressage (nearer the ground), preliminary tests again organised for beginners and he behaved so badly I thought that's it, we are going to have to do something about your manners. To cut a long story short, we have progressed slowly with the help of an excellent instructor, and have achieved so far a 3rd place in dressage (there were more than three in the class!), 6 clear rounds (it feels as if we have done hundreds), and 8 rosettes for mountain arid moorland showing. I have just joined the Midland Hairy Pony Club and hope to continue showing my 13 year old Hairy locally and hopefully we will continue to have a lot of fun."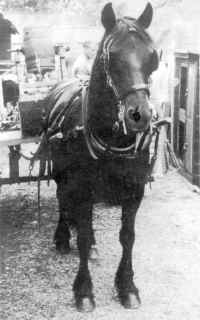 Libby Robinson from Staffordshire writes: "In the summer of 1979 I was looking for a Fell pony having had a long romance with them from the age of six when we lived in Kentmere in Westmorland and I started riding a friend's Fell pony, wishing one day to have my own. Twenty-one years later I was looking ... out of a rag and bone cart in Birmingham came Admergill Ursula, blacker than black with coal dust as she had lived in a coal shed! Five years old and wanting a good home.

I was running a smallholding in the West Country and needed a driving pony so we bought Ursula and called her Peggy. She learnt to love pigs, sometimes standing in the yard with piglets running between her legs, looking down at them with a real maternal expression. She would pull the muck cart when mucking out the sties, she did the chain harrowing of the paddocks. When the sows running out had 'ploughed' for me, Peggy would take the cultivator over the soil. In the winter Peggy was the shepherdess' pony as we looked after 600 sheep grazing nearby dairy farms. Once or twice a week she would take the flat cart around the fields moving the electric netting fences then everyday I would ride her to count the sheep. Once we found a sick ewe - I stood on the end of a water trough, Peggy wondering what was going to happen next, but she stood still as I put the sheep onto the saddle.

Times changed and I went to work a 50 acre farm with handicapped teenagers to help. Peggy and I began to work very hard. We had another mare on loan called Mary, she was a Highland cross cart horse, and I worked them together. They were a good match, Mary only just 2 inches bigger. We mowed hay and were filmed by the B.B.C. With the help of the handicapped girls and young men, we turned it by hand, about 7 acres, and I used Peggy in a hay rake to bring the hay together to make haycocks then we carted it loose into a barn. We all had a wonderful time doing it, there was such a peace working with the horses.

We went on to a school for handicapped children to take them for riding therapy. This was in the New Forest, and at weekends we would drive Peggy out in a four wheeled Governess Car along the forest rides. During the week the children rode. I had bought a Dales mare called Beauty and she, with Peggy, learnt about these very loveable but difficult children. Every afternoon in the week, Peggy and I did the bread round, and once a week the fruit and vegetables had to be delivered, the school being in 40 acres with twelve houses and a small farm. We took visitors around the school grounds in the four wheeler on Open Day, and we were even in a school play.

I am now married to a gardener, Torn, and Peggy is the garden pony, hauling muck and compost and snigging out the first thinnings in the woodland walk. She also does harness demonstrations for the Staffordshire Agricultural College, and teaching my young daughter how to ride, and I am doing drawings of her for my watercolour paintings and the Fell Pony Society.

Barry Allen writes - "We were fortunate to once more hold the Spring Performance Trial at Rydal Park, Ambleside on June 19th, by kind permission of Mr. John Hodgson. Considerable interest in the ponies was again generated among the many walkers who share our enjoyment of this beautiful area. The weather was good even if slightly cooler than recent years. Although ultimately only fourteen ponies took part, it would be wrong to describe the trial as disappointing. We were pleased to welcome several new faces and it was interesting to see five junior competitors. The cross country course was extended this year to include 14 fences and natural obstacles. For the first time printed details including the height of jumps were handed to each competitor and these seem to have been appreciated. Performance-wise the steadily improving standard of recent years was maintained - the lower jumps gave encouragement to the less experienced while there were several really taxing obstacles for the more ambitious. Results were:

Barry and Cath Allen would like to thank the many people who gave up their time to help with the organising, course building, fence judging, etc. Without you there would have been no trial. And thanks also to the competitors.

The Autumn Performance Trial was again held at Pict Hall, Blawith, by kind invitation of Mr. &. Mrs. R. Baxter who also built the interesting and testing cross country course. Kind weather and a catalogue entry of 21 made for a very enjoyable day out in beautiful countryside. Results were:

One of our junior members, Miss Fiona Hopper, has been enjoying considerable success with her Fell mare, Bonnie Berry, in dressage events. Fiona from Stockton on Tees has had her pony for three years, having bought her as a five year old in 1985. In her second competition during the winter of 1985, Bonnie came 1st and 2nd in her classes and Fiona was told that she and her pony had the potential to go a lot further. The following summer, they enjoyed some moderate success in the show ring but the next winter they were placed in several dressage classes and qualified for the Durham Dressage Championships, finishing fourth in the preliminary class and fifth in the novice. In summer 1987, they picked up a 2nd and 3rd at the Scarborough Dressage Event and Fiona was thrilled to see her name in the results in both Horse and Hound and the Dressage Review. Back on the home circuit, they won three trophies and Fiona was picked for the South Durham Pony Club dressage team. Last winter, they progressed further, coming 4th in their first elementary test, and eventually entering a competition held at the home of dressage experts Christopher and Jane Bartle. There were 1-2 people in the class and some of the horses had qualified and been placed at Goodwood but Fiona and her Fell pony won one of the classes - a tremendous achievement. We wish Fiona and Bonnie every success for the future.

Can I please remind members that our sales officer, Mrs. Laing, Twislehope, Hermitage, Hawick, Roxburghshire, Scotland, Tel. (054 122) 272, has for sale - sweatshirts, small, medium, large and extra large in navy, red, sax blue and emerald green, £10 each; dinner mats £4 each; members badges £1; tin Fell pony badges 20p; car stickers 70p; Fell pony pens 20p; Fell pony combs in case 20p; plain inside notelets or greeting cards, different pictures, 10p; Fell pony postcards 10p; illustrated breed book £

1.50; NPS reprint studbooks £15; Fell Pony studbooks - volumes I, II, III, VI and VII, £1.50 each, volume IV & V printed under one cover £3.50. Please send payment with order to Mrs. Laing and add postage.

Following the suggestion in the last newsletter that we would print a list of those members prepared to take ponies for breaking and schooling, the following people are prepared to offer their services

Ian and Vicki Brown, The Old Vicarage, Thornton Steward, Ripon, N. Yorks.
Miss Jane Foster, 22 Wightman Close, Shepshed, Leics.
Mr. P. McGarry, 1 Close Lane, Mow Cop, Stoke on Trent.
Mrs. J. Robinson, c/o Prizet Lodge, Helsington, Kendal, Cumbria.
Miss Sheila Dallaway, Trewint Farm, Gills Green, Hawkhurst, Kent.

Miss Aurelie Noel,

8 Rue de la Fontaine, 77115, Blandy Les Tours, France, a 17 year old who has two Merens ponies (a breed from the Pyrenees very similar too the Fell) would like a penfriend from the Fell Pony Society of a similar age with the possibility of an exchange visit.

This year the Fell pony sale will be held in conjunction with the main sale on Wednesday October 26th when the judge for the pre-sale show will be Mrs. Newall from Great Whittington.

Tuesday 27th December. Details: Jane Glass, Tel. (0509) 880261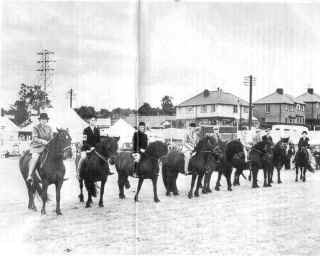 Fell Riding Class, Penrith Show some years ago
The ten riders from left to right include
1. Miss Amy Edge;
2. Unknown.;
3. Mrs. Margaret Washington;
4. Mrs. Sylvia McCosh;
5. Mr. Jim Bell;
6 and 7 Unknown;
8. The late Mr. J. G. Little;
9. Mr. E. M. Wilson; and
10. Miss Jill Wood.
The year of the photograph is not known.
Nita Redfearn from Hawick in Roxburghshire writes to tell us of the traumas of moving their farm stock, including Fell ponies, from Sheffield up into Scotland
"During the early hours of a November morning the cattle wagon rumbled off the Carlisle junction of the M6 to cross the border into Scotland. Forte, Spring and Feather (the Fell ponies) plus their traveling companions, an assortment of baby geese and little ducklings plus the pet lamb (aptly named Lamby) and the old goat and her kid. The whole circus was guarded by the two collie dogs who are privileged to be classed as house dogs. The ponies remained peaceful throughout the many stages of their journey from the outskirts of Sheffield to collect the rest of the passengers from various friends who had 'animal sat' during the eight weeks which had elapsed between moving from one farm to another. We even had kind friends who 'plant sat'. Amazingly enough everyone has still remained good friends after all these tiresome duties!
"The brilliant lighting of the motorway stop alarmed the ponies' fellow travelers into a chorus of quacks, hisses and bleating which caused much amusement amongst the lorry drivers transporting normal loads.
"The whole gang eventually bumped over the cattle grid at East Buccleugh into the pitch dark and were unceremoniously unloaded into their designated fields without any ill effects. The tiny feathered brigade flapped and stretched into their new quarters. The goats and Lamby nestled into the straw bedding and serenely munched hay. The sheep shed was the only new home which had the sophistication of electricity. The rest of the operation was carried out with the aid of the lorry lights and hand held torches. The 'Black Leg Brigade' took the whole thing in their extended stride.
"Ember, who was the absent member of the family, arrived the following month direct from Sheena Lawson at Guisborough where she had been to be broken. she was greeted by the usual flared nostrils, snorting and sniffing which announced her arrival back into the clan. With a final fling around the field the old pecking order was quickly established.
"Several more eccentric journeys were made bringing the rest of our flock over the border which included the 16 year old budgie who was travelling incognito heavily disguised under a very large ancient tablecloth to protect him from draught. His little wing was tied up with the ever handy baler twine to prevent him being knocked unconscious on the journey.
"The re-importation of six whisky barrels which had been converted into kennels for our working collies was on the same load but their inhabitants traveled in a separate compartment in case they started to roll around.
"The sheep were delivered to their new home in a Scottish contractor's smart three tiered lorry. unfortunately, the climate restricted the delivery to the top of the lane - again in the dark! In excess of 350 woolly jumpers leaped off their various decks with great enthusiasm into the darkness of Scotland. As anyone who has sheep will know there is always the odd few renegades who fling off merrily in the opposite direction but the collies were not to be beaten - thank goodness, and quickly familiarised themselves with Erie area as they tracked down their quarries and drove them obediently through the gate guided by high powered lamps. The adjacent hotel was totally unprepared for our first weeks of occupation and we provided the guests with a continuous eccentric floor show.
"The neighbouring farmers were, like all farming folk, desperate to see the people who had brought Swaledales together with a few Herdwicks, Derbyshire Gritstones and Woodland sheep to join the indigenous hefted Cheviots at east Buccleugh. We were desperately hoping for masses of Scotch Mists to camouflage our newly arrived dirty woollies. The fleeces of the newcomers were many shades greyer than the local sheep caused by the industrial grimy fallout from Sheffield and Manchester.
"Although the coats of the ponies received more attention they too quickly reflected the effects of the cleaner air plus the different terrain which improved the growth of their feathers. The hills quickly became familiar to the ponies as they participated in shepherding and they gleefully became involved in gathering which they have always treated as a special deviation of cowboys and Indians, swinging from side to side with a great natural instinct and flexibility in response to the sheeps' movements. Calmly offering a lift on the front of the saddle to the occasional weakly lamb who was grateful to hitch a lift and whose little weak woolly legs dangle and wobble on the ponies' necks.
"Suzette together with the young stallion Forte devised a system of lifted couped cheviot sheep which, because of their flat backs and wool, roll over to rub their backs and are unable to regain their feet and if ignored for a period of time either have their eyes heartlessly removed by corbies (crows) or die due to the residue of gases.
"Forte has patented the art of positioning himself in front of the stricken sheep and utilising the action for pawing the ground neatly hooks the woolly body and rolls it over towards him. With a bit of a wobble and a stagger, the sheep regains its equilibrium. He treats this newly found ability with great importance and looks very pleased with himself when he carries out this important task alone on any stricken ewes sharing his fields.
"During the 1987 showing season we shared the anxieties of last minute panics to find the secretary's tent, the scramble for numbers and rings plus the lost gloves and sticks, etc. with new Scottish colleagues on the unfamiliar show circuit. The Border Union Show at Kelso saw Spring and Forte winning the Mountain and Moorland in hand championship and reserve respectively. At Peebles centenary show old Spring excelled, winning the in band and ridden championships. It was definitely her ability in the ridden class and not mine. We thought it would be good experience for Amber to attend the Yarrow and Ettrick show minus the gang but she was accompanied in the lorry by a neighbour's Fell and Amber managed to come home with the in hand championship. We have also judged four local hill pony classes which was great fun and all these various events have enabled us and the ponies to meet and enjoy numerous new friends during our short stay in the border. We have met many Fell enthusiasts who use their ponies for traditional jobs reminiscent of the term Fell Galloway."
f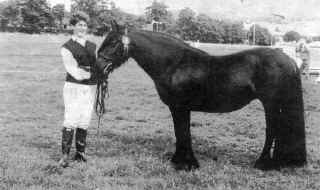 Mr. E.M. Wilson's Townend Candy
The Autumn General Meeting will be held on Saturday, October 29th 1988 at Clifton Parish Hall, Clifton, near Penrith at 1.00 pm.
AGENDA
1. Apologies for absence
2. Minutes of the previous meeting
3. Matters arising from the minutes
4. Secretary's report
5. Reports of delegates and sub-committees
6. Future events
7. Dates of spring meeting
8. Any other business
For Sale:
Black 13.2 hh Fell mare. Six years old. Quiet to handle. Good to ride. Used to light traffic. Also black 13.2 hh Fell gelding. Three years old. Good to ride. Quiet. Would make matching pair.
Apply: Mrs. Howard, Tel. Glossop 61577
For Sale:
Strines Amber, brown Fell mare, five years old, by Gibside Danny Boy, out of Greenfield Spring. Well broken and shown around the country including Breed Show and NPS Harrogate since a foal. Won championship 1987 Ettrick and Yarrow Show, and 3rd Peebles 1967. Good to box and shoe, etc. Used to gather sheep on the hill. Works with dogs at foot and is wintered out with farm stock. Pilot a novice ride. For sale as daughter is working away.
Apply: Mr & Mrs. J. R. Redfearn, East Buccleugh, Hawick, Roxburghshire. Tel. (0750) 62215
Wanted:
A copy of A Lifetime with Ponies by R. B. Charlton.
Apply: Mr. Ruth Eastwood, Beck Farm, Bishop Norton, Lincoln. LN2 3BG
For sale:
The Cumbria Bridleways Greeting Card this year features three Fell ponies and an Arab/Fell cross. The cards are general purpose with no printing inside so can be used as Christmas cards or notelets. The design is printed in black and white. £1 for a pack of four plus postage from:
Mrs. J. Buxton, Windy Ash, Ulverston, Cumbria. LA12 7PB.
For sale:
Governess Car by Wendover in excellent original condition to suit 12.2 hh - 13.2 hh. £585.
Please phone 092 684 2892 and ask for Mr. J. S. Walch.
Members for sale or wanted advertisements are free in the newsletters and need to be sent in by the beginning of February for inclusion in the next newsletter.
Clive Richardson,
Hon. Secretary/Treasurer,
Fell Pony Society,
19 Dragley Beck,
Ulverston,
Cumbria. LA12 OHD
Tel. (4229) 52742
---
Many thanks to Mrs. Beth Slater for providing the archive copy of this "out of print" Newsletter and to Mr. John Slater for scanning it and OCR'ing it.
---
This page last updated: 22 January 2008
© 1988, 2000 by The Fell Pony Society and Naked Essence Web Designs