Fell Pony Society
Spring 1987 Newsletter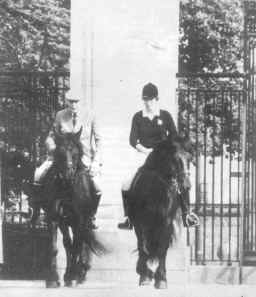 Her Royal Highness Princess Anne riding Scotgate Romany Lad,
and the Crown Equerry, Lt. Col. Sir John Miller riding Balmoral Martin in Holyrood Park, Edinburgh.
---
At the Autumn General Meeting last October it was proposed and subsequently agreed that the Fell Pony News magazines which we produced periodically would be discontinued because of the very high cost of printing them and the fact that they went out of date so quickly. In their place, the March and October newsletters would be substantially expanded to cover all aspects of the Society's activities as well as providing a medium for members articles and contributions, opinions, news and photographs. The success of these bi-annual newsletters will be largely governed by the response from members, and I hope you will all send in any items of interest as well as news from your areas to help keep these newsletters informative and topical.
The Fell Pony Society pleasure ride last September was organised in the Hexham area by Mr. Chris Newman and Mrs. S. Newman. The twenty-five riders who took part were all issued with a written guide pointing out places of interest on the way, and everyone had a most enjoyable ride. Mr. Newman writes " Everyone arrived on time and in perfect weather we set off from the Linnels farm. I led the riders down to the site of the battle of Hexham, fought in 1464, and from there to the Holly bush, which was used by the Jacobites to leave messages in the 1715 rebellions and is now a scheduled monument. We then proceeded through Dipton Woods, down to the banks of the Devil s Water and along the riverside to Dukesfield where we stopped for a picnic lunch.
"On the return ride we rode to Viewly, which is 900 feet above sea level, with magnificent views of Hexhamshire. We then went on through the Slaley Forest, through the villages of Steel, Juniper and Ordley, past Newbiggin mill and across the Linnels Bridge back to Linnels Farm.
"Tea was provided for all at the Linnels by Mr. Roy Charlton with the assistance of my wife, daughter and Mrs. S. Newman. The ride took approximately four hours covering a distance of 12 miles."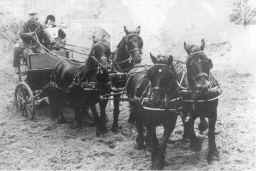 H.R.H. The Duke of Edinburghdriving H.M. The Queen's team of Fell ponies
at the National Carriage Driving championships, Windsor.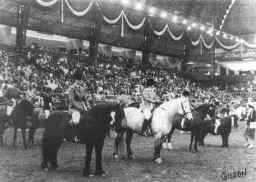 Our congratulations to Mrs. Sandra Burton (nee Gleave) from Wigan on her success in the Ridden Mountain and Moorland Pony of the Year final at Olympia last December riding Townend Dainty. Her third place in the final constitutes the best performance by a Fell pony at Olympia, previous Fell finalists having achieved two fourths and two sixths. Mrs. Burton writes "1986 must surely rank as one of my most memorable showing seasons, and also the happy event of getting married to Mr. Bob Burton who I first met at the Royal Show in 1984.
"The pony I qualified was Townend Dainty bought from Mr. E. M. Wilson of Hesket New Market as a two year old in 1978 to show in hand. After breaking her, I took her to local shows with a lot of success then progressed on to county shows and Olympia qualifiers having stood champion many times but never champion at a qualifying show until the Fell Pony Breed Show. I entered two ponies with my stallion, Tarnbeck Topper, as first choice but after riding him out on the showfield he would not concentrate on his job so after seeking advice from my father we decided I should ride Dainty. She went on to win the ridden mare class, the Olympia qualifier and the ridden championship.
"The build up to Olympia was very hectic. Dainty was ridden out daily, sometimes with the help of my mother. She was rugged nightly, groomed and kept in first rate condition. At last the weekend of Olympia arrived. On the Saturday before the show my husband and I with a friend set out for the capital city staying with some friends at High Wycombe on Saturday night and going on to Olympia on Sunday afternoon. After getting Dainty stabled, fed and bedded down we decided to get some rest ourselves and prepare for the big day.
"Morning soon arrived, Dainty was fed and exercised and before long we were being called to assemble for the class, then at 10.30 in to the ring we went to go through the ridden and in hand sections. At 12.30 after a final check we were allowed to leave the ring. At 2.30 we were called for the final judging and placings. First the breed champions were announced and then the final placing starting in reverse order 6th to 1st. Dainty was pulled in to third place out of thirty-three ponies. This was a wonderful achievement and will make many people look up to the Fell pony. I left the ring that afternoon with tears of joy running down my cheeks with the sound of 8,000 people clapping as we left the arena.
"After receiving congratulations from many people we set off for home about 5.00 pm and after a little wagon trouble at Warrington we arrived home about midnight after a most wonderful weekend.
"I would like to thank everyone for their help and good luck cards."
At the recent Spring council meeting, a suggestion put forward by one of our members regarding the annual points schemes was discussed with the result that the rules for the schemes will be altered slightly for the future. Marks will be awarded for any type of ridden or driven performance event, but excluding showing in hand, on a scale of 10 points for each event or show attended plus 30 points for a first placing, 25 for a second, 20 for a third, down to 5 points for a sixth. Full details are available from the scheme organisers - Miss C. Dodd, North Fell Dyke, Lamplugh, Workington, Cumbria (junior points scheme) and Clive Richardson, 19 Dragley Beck, Ulverston, Cumbria (senior points scheme). Our thanks to Mrs. Rosemary Heelis who has run the senior points scheme in the past but has had to resign this year due to other commitments. The results of the 1986 schemes are appended;
SENIOR POINTS SCHEME
1st - Mrs. C. Johnson Hardknott Beauty 750
2nd - Miss J. Brindley Edenview Moonstroller 640
3rd - Miss C. Dodd Frizington Duke 510
4th - Miss T. Sexton Wolds Goldfinch 420
5th - Mrs. C. Johnson Wolds Goldfinch 330
6th - Miss R. Brundrett Hesket Meg 300
JUNIOR POINTS SCHEME
1st - Miss C. Allen Tarnbeck Princess 580
2nd - Miss L. Bigge Helmwind Action Man 100
The Native Ponies of the World, Gorselands, Chagford, Newton Abbot, Devon, have introduced a performance award scheme open to ponies of any native breed, British or Foreign, and points can be gained from a wide variety of classes and events. Full details about the scheme and the club which is open to anyone interested in native ponies can be obtained from the secretary at the above address.
Mrs. D. Marsh from Weymouth writes "I came across my Fell pony, Fairlawn Heidi, after having a three-quarter bred that nearly killed me on several occasions. I realised I would have to get a pony that was reliable or I'd never ride again, so after putting an advertisement in the local paper - Wanted, quiet pony 13.2 to 14.2 hh, must be 100% in every way - I received a call from a village about fifteen miles away and, after some encouragement from a horsey friend, we went to see.
"What I saw when we arrived at the appointed place which was at the end of a deserted country lane I shall never forget. Stood there chained on a tether was the most pitiful animal I think I have ever seen. She was absolutely riddled with sweet itch and she was too weary to flick the flies off any more. Big sores gaped open and she stood foot deep in muck. Where the tether hadn't been moved for so long, the chain had completely rubbed all the hair off her leg. There was also no sign of water anywhere. But still she raised her head and whinnied as we approached. Although this was not the picture of my new pony that I had had in my head, I could not leave her there to her undoubted fate.
"One year later we won the reserve championship at the local show plus first in mountain and moorland and fifth in riding ponies. That was all three years ago. Since then I have been to a lot of shows and never walked out of a class without a rosette as I now have the sweet itch very much under control.
"You may be saying how lucky she was that I came along when I did but I must say that I was the lucky one to find her as she has given me more than my confidence again. She has given me more fun and enjoyment than I could ever mention here."
The official sale of registered Fell ponies held at Wigton last October produced an entry of over 75 ponies including a complete dispersal of Mrs. Margaret Ibbetson's Limeguards stud. Filly foals sold to a top price of £100, colt foals up to £69. Yearling fillies made up to £165 but a yearling colt sold for £200. Two year old fillies sold for up to £350 + VAT; a two year old gelding made £180 + VAT; and a three year old filly was vendored at £375. Older unbroken ponies made up to £380. Broken ponies were thin on the ground - a newly broken three year old filly made £305 + VAT; Mrs. Ibbetson's stallion, Dunnerdale Richard, quiet to ride made £300; a four year old mare £315; and two older mares broken but not ridden recently made £300 and £325 respectively.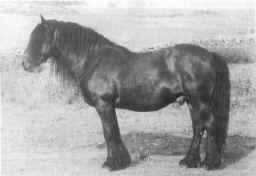 Mrs. R. H. Ball's late stallion Heltondale Rambler II
who was originally bought at the Wigton Sales.
Following last year's Wigton Fell pony sale, Mrs, Ball, our representative to the National Pony Society, wrote - "It cannot often be said that any official event of the Fell Pony Society is badly patronised by the many people that are interested in the Fell pony, but this seems to be true of the official Fell Pony Society show and sale held in Wigton Auction Mart in October annually.
"For many years, Fell ponies were sold as part of the general horse sale, all on the same day. They were mixed up with an enormous quantity of all shapes and sizes of other horses and ponies, and it was a daunting if not frightening prospect to anyone not accustomed to sales and markets. For a number of years however, the auctioneers, Hopes Auction Co. Ltd., have conducted a sale on a separate day of Fell ponies under the auspices of the Fell Pony Society.
"The only other animals sold on the same day are a very small number of Shetland ponies and Clydesdales. The sale is very well conducted and nowadays, apart from a few foals weaned straight from the fells, all the ponies are halter broken.
"It must be remembered that the native bred Fell pony still comes from herds that graze on the high fell grazing where conditions do not permit farmers to keep any extra ponies to their breeding herd except for the odd foal or two for their own herd replacements. In the old days the big Autumn Horse Fairs would enable the foals and surplus ponies to be sold to people with grazing and future work to grow the ponies on.
"Wigton sale is now the only opportunity that most of the hill breeders have to sell their ponies to the future buyers. Many breeders now try to keep a pony or two until it is three or four years old and old enough to be broken in, or they may have kept a filly which does not quite match up to their exacting standards for a brood mare but will make someone an ideal riding or diving pony.
"There have not been enough genuine buyers for the Fell ponies at Wigton sales in the last few years which has depressed the prices and resulted in good ponies being bought by people who only pass them on very soon, sometimes without papers, and they become lost to the breed and probably spoilt instead of finding a good home in which to be well handled and broken.
"Some people think that they are 'going to be taken for a ride' buying at an auction sale but the majority of ponies at Wigton come straight from their breeders and are sound and healthy. They will be cheaper than they will be having changed hands a few times and not likely to have been spoilt by bad handling. The buyer has the chance to choose the pony he wants from quite a selection and can talk to different people about their merits.
"The auctioneers are very helpful and there are always several officials and members of the Fell Pony Society present at Wigton Sale dealing with the registration papers and ready and willing to give advice to anyone needing some help to buy a pony.
"Let us hope that in future years Wigton Sale will be better supported by those people seeking a good Fell pony and that many deserving ponies will find some deserving new owners."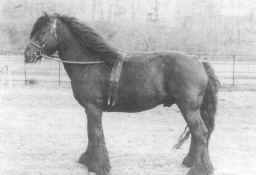 Mr. T. B. Capstick's Heltondale Hero
Starting this year and with the aim of encouraging members to geld their colts and keep them to breaking age when there is a demand for them, the Society is re-introducing gelding premiums. At the breed show, three premiums of £20 will be awarded to the first three ponies in the two year old gelding class, and three premiums of £30 will be similarly awarded in the three year old gelding class. A pony winning a two year old premium will be eligible to compete for a three year old premium the following year.
A new show devoted entirely to Fell ponies is being held on Saturday July 18th at Barningham Park, which is near the village of Barningham, and 11 miles from the A66 at Greta Bridge. It is hoped to have nine classes, five in hand, novice and open ridden, turnout and non-prize winners. There will be rosettes and prize money to fourth place, a perpetual cup and replica for the champion pony, and medallions for the winner of the riding classes. Schedules will be available at the stallion show or from Mrs. Earnshaw, Hawsteads Farmhouse, Barningham, Richmond, Yorks., Tel. Teesdale 21261, or from Mrs. Wilson, Townend, Haltcliffe, Hesket New Market, Cumbia. Tel. Caldbeck 638.
The winner of the Lownthwaite Rob trophy for 1986 is Edenview Moonstroller owned by Miss J. V. Brindley of Penrith. The trophy is presented annually by the Laing family to the pony which in their opinion does the most to publicise the breed in a wide range of activities.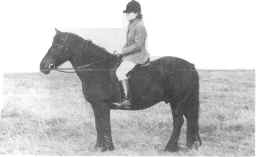 Mrs. Sally Breeze riding Lownthwaite Rob, aged 18
Sybil Lee from Halifax has contributed the following article on their gelding, Townend Royal II, with whom they have had considerable success in the showring - "£39, value for money! We bought Royal in 1972 as a yearling colt to run with our Dales colt, Waltroyd Black Storm. We ran the two of them together until Storm's untimely death at 8 years old. It took years for Royal (by then a gelding) to run out successfully with any other pony. He was very aggressive towards other colts or geldings and pestered the mares who hated him.
"We started to break Royal to ride as a three year old - it took two years before he was anything like rideable. The slightest movement on David's part and he bolted, and David spent months riding him in a small pen a friend used for exercising his blood hounds. He certainly taught David stillness, a sneeze was suicidal and he bit the dust more times off Royal than off any other horse or pony we have broken and schooled.
"After two years we attempted to show him under saddle. The first season was a disaster, he bolted around the ring at 90 mph (well it looked like it) and on one occasion went so fast he fell on a corner and dragged David the full length of the ring in front of the judge. We abandoned the idea of the ridden Royal in the ring as he was a danger to other competitors.
"The year after, Helen Sutcliffe (then fourteen years old) joined our yard as a rider. Helen really loved Royal and as she wanted to ride him in the ring we worked on the pair of them for nearly a year. This time it was successful. Helen showed him locally for one season then the year after David took over the ride again. Royal has since won for us fifty breed specials and many championships both in hand, under saddle and in working native pony classes.
"Although always a strong ride, comments from ride judges, dismounted from him red in the face or white and trembling, include 'not a ride for a lady' or 'he looks alright when you're on him' or 'not quite out of control - just nearly' or 'he didn't look to pull like that.' Occasionally more complimentary 'a lovely free moving pony' - he was that alright!
"Now sixteen years old, Royal has calmed down a lot, even I dare ride him, although sometimes in company he still enjoys a good pull. Value for money - yes, despite all he was a really sound pony every showing season and always tried to give it his all, no half measures for Royal."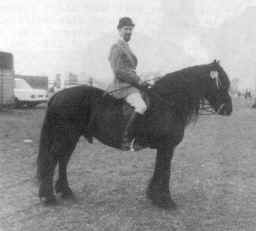 David Lee riding Townend Royal II,
bred by Mr. E. M. Wilson from Hesket New Market, near Wigton.
STALLION SHOW: This will be held at Dalemain, Penrith by kind invitation of Mrs. S. McCosh on Saturday May 9th 1987. Schedules will be sent to everyone who exhibited in either 1985 or 1986. Will others please apply for schedules or collect thaw at the Annual General Meeting. Once again stallions must parade at the show to be eligible for an At Home premium, and premium books must be back in the secretary's hands by September 1st to be assessed. Immediately after the stallion show a qualifying class for the National Pony society mountain and Moorland Driving Championship will be held, the final of which will be held at the N.P.S, show, Malvern, in August. This class is open to stallions, mares or geldings and full details will be included in the stallion show schedule
.BREED SHOW: This will be held at Brougham Hall Farm, Penrith, by kind permission of Mr. & Mrs. A. Helme on Saturday August 1st 1987. Schedules will be sent to those members who exhibited in 1985 or 1986. Will others please apply for schedules. Exhibitors living outside a radius of 100 miles of Penrith can apply for a travel grant for the Stallion and Breed Shows.
LOWTHER DRIVING TRIALS: The Society has again been invited to stage Fell pony classes at the 1987 Lowther Driving Trials. The classes will be held on Saturday August 8th starting at 11.00 am PROMPT, and the judge will be Mr. J. P. Gibson from Burnopfield. Please be in the collecting ring 15 minutes before your classes is due to start. Entry and car passes will be sent out after the receipt of entries. There will be a championship trophy plus rosettes and prize money in all classes. Please see entry form at end of newsletter for class details.
WINDERMERE FESTIVAL: There will be Fell pony classes as part of the Windermere Festival on Saturday July 11th commencing at 10.30 am. The schedule will include in hand classes for all ages, ridden, handy pony, driving and working hunter pony, the last three classes being open to all mountain and moorland breeds. There will also be a traditional bareback trotting race for Fell ponies. Full details will be included in the schedule which will be sent to everyone who exhibited last year. Would others requiring a schedule please apply.
SPRING PERFORMANCE TRIAL: The annual Spring performance trial will be held at Rydal Park Farm, Rydal, near Ambleside, Cumbria on Sunday June 21st 1987 by kind permission of Mr. G. Hodgson. The trial will be preceded by a National Pony Society Mountain and Moorland Working Hunter Championship qualifier which will be judged by Mrs. R. H. Ball. There will be no best turnout section this year, but protective headgear must be worn at all times when mounted. All competitors will be required to assemble for briefing at 11.30 am PROMPT, followed by the qualifier, dressage, cross country and show jumping in that order. Rosettes will be awarded in each section and overall, and in addition there will be special rosettes for the best performance by a junior rider sixteen years and under and the best performance by a senior rider sixty years and over. Commemorative rosettes will be presented to all participants, and there will be section trophies. As Rydal is classed as a breed show, competitors need not be members of the N.P.S. to compete in the qualifying class but, should a pony and rider qualify, the competitor must become a member of the N.P.S. and the pony must be entered in the competitions record within seven days of qualifying. Prize money for the qualifier will be £10 first; £8 second; £5 third; and £3 fourth. Entry fees will be £3 for the trial and £2 for the qualifier. Dressage test sheets and the list of rules and regulations for the event will be sent to all competitors on receipt of their entry form. Overheight ponies are debarred from this event. A caterer and the St. John's Ambulance will be in attendance.
The National Pony Society have introduced a new ruling this year that ponies qualifying for the Mountain and Moorland Ridden Championship at Olympia must forward a current Joint Measurement Scheme height certificate to the secretary within one month of qualifying. Ponies qualifying for the Working Hunter Pony Championship at Malvern will be measured at the final unless the exhibitor can produce a current J.M.S. height certificate. A standard fee of £34 including VAT has been agreed by the Joint Measurement Scheme for having a pony officially measured.
The venue and date of the Fell Pony Society pleasure ride will be arranged at the Annual General Meeting after which anyone requiring details should contact Mrs. Glenis Cockbain, Rakefoot Farm, Keswick, Cumbria. Tel. Keswick 72133
This year at the Royal Show a new trophy, the Waverhead Rambler Perpetual Shield donated by the Bell family, will be awarded to the champion pony. A replica will be given to the winner each year by the Bell family. The trophy is being given in memory of Waverhead Rambler, Jim Bell's well known stallion, who appears in so many ponies' pedigrees. Rambler was by Black Grouse out of Jenny o' the Hill, a mare bred by Jim's father. Rambler's show career started as a foal when he won on a number of occasions and he also won at the Fell Pony Stallion Show as a yearling, again as a two year old, and then as a three year old when he took the championship and the enclosure premium. He went on to be awarded an enclosure premium four years in succession, and was champion at the stallion show six times and reserve champion four times. In 1970 he went to Wembley and stood for a week on the Fell Pony Society exhibition stand which won a silver medal. Rambler bred many champion ponies and was awarded the Ponies of Britain progeny award posthumously.
Another new trophy this year has been given by Mrs. Gwen Williamson for the winning mare with colt foal at the Breed Show.
Some of our Fell Pony Society panel judges are nothing if not versatile and the following contribution was kindly sent in by Mr. Peter Lawson from Cleveland:
A WISH
How I wish that I could see,
Fell ponies as they used to be.
With nice crisp action so straight and true,
Feather, flat bone and good feet so blue.
Stepping smartly around the ring,
Or helping the tradesman to do his 'thing,'
They had such pride and joy of living,
Such energy, grace and ever willing.

Now they trundle round the ring,
On legs and joints that have lost their spring,
Trailing along at the end of a rope,
Their owners talking or having a smoke.
Round bone is now fashion,
With feet like a moke,
Cutting the daisies with each ambling stroke.

For all I know there still may be,
Many good ponies that we never see.
Roaming the fells and lonely places,
Smart little types that can show off their paces.
13.2 is the height they should be,
Not 14 hands the dear 'ladies' decree.
If my wish be granted, I may still live to see,
The real true Fell pony as they used to be.

Mrs. Stella Hore's May Queen, photographed last summer at the age of twenty-seven
Mrs. Hore sent in the following piece about her well known mare ''May Queen 12045 (Heltondale Prince - Roundthwaite Bell Heather) was foaled in 1959 and bred by James H. Thompson of Roundthwaite, Tebay. I first made her acquaintance during the 1960's when she was owned by Ronald Bray in whose ownership she won many championships and produced several good foals.
"When Mr. Bray sold his ponies in 1979, he was anxious for May Queen to find a kind home in her retirement. And so, at twenty years old, when most ponies are thinking of hanging up their shoes, May Queen began a remarkable second career in Devon, almost five hundred miles from where she was born.
"She was so fit and well that we decided it would be fun to take her to one or two shows, and we enjoyed many successes, both in hand and under saddle. Our most remarkable day out was at the Native Pony Association of Cornwall Show in 1980 when, on her twenty-first birthday, she won the Fell championship, the large breeds championship and was reserve supreme champion of the show.
"In 1981, we bred an Arab cross pony from her - a pretty bay filly who was never unplaced in riding pony youngstock classes. Many people were amazed at her breeding!
"By 1982 the Fell stallion Athol (Waverhead Rambler - Bowderdale Black Beauty) was standing locally and, to our delight, in 1983 May Queen produced her 18th foal, a dark brown colt - Kimber Queen's Prince William . We thought it unlikely that we would breed from her again and, though at first a little disappointed at not having a filly, William soon stole our hearts. A gelding, he is destined for ridden and WHP classes. It gave us enormous pleasure last summer when he won the Fell championship at the NPA Cornwall show, and we were able to add his name to his dam's 1980 and 1981 victories.
"May Queen was a marvelous mother to the two youngsters; always firm yet kind and wise, and a safe sensible companion for a succession of horses and ponies. Our younger son, slightly un-nerved after having a very uncooperative little pony, took to joining in lessons on her and she helped him regain his confidence, teaching him to canter and jump in her lovely steady way. I vividly remember Tintagel Show when in torrential rain and thick mist she took him in the family pony class and, in complete control of both the situation and the rider, was pulled in 2nd giving a small boy a rosette he treasures to this day.
"May Queen has, she insists, definitely retired from the show ring now. However,. she intends to keep busy in her retirement and has therefore recently recommenced her 'Riding Lessons for The Very Young.' The fact that she has not carried a saddle for two years deterred her not, and last week saw her happily marching along with a diminutive seven year old sitting enrapt on her comfortable back.
"She is an old lady now - rising twenty-eight - but on fresh gusty days when the wind is whipping across from Dartmoor, she'll give a squeal, a buck and a kick, toss her bonnet over the windmill, and tear off across the field with William.
"As I write this, I can look across the garden and see her old gentle head, almost grey now, looking out over her stable door, alert as always, and I am strongly aware of what a pleasure and privilege it is to be able to share these years with her."
Miss Jane Glass' Wolds stud had a very successful season in 1986 with their own ponies, those bred at the stud but now owned by other people, and those bought by the stud and sold on. The stud won the Norwich Union Insurance Breeder's Cup at the last Anglian Native Pony Show, winning the progeny class with a group by Charlie Drake, and with Wolds ponies winning and being well placed in other classes. They were also. second in the progeny class at the P. of B. summer show with a group out of Heltondale Rose V. Wolds Goldfinch, then owned by Mesdales Handcock and Johnson, browned a very successful season by winning the Bellman Trophy at the Fell Breed Show and the Northlight championship at P. of B.
Jane Glass, Averil Minson and Pat Gray together with a group of enthusiastic friends ran a very successful 'Hairy Pony Show' on December 30th 1986 for Fells, Dales, Highlands, Dartmoors, Exmoors and Shetlands. All breeds were very well represented apart from Dales with ponies coming from as far away as Surrey, Cambridge, Manchester, Sheffield and Crick. Hesket Meg owned by Miss Rose Brundrett won the Fell points trophy. It is hoped to hold another show in the Spring and anyone interested is asked to send a S.A.E. to Jane Glass or telephone Jane (0509 880261) or Pat (0509 217829). It is hoped to form a Midlands Hairy Pony Club and anyone interested should contact Jane.
A new organisation, the Native Pony Association of Devon, has been formed by a group of the county's mountain and moorland enthusiasts. The aim of the association is to promote interest in and demonstrate the versatility of Britain's nine native breeds. The NPAD plan to hold shows, competitions and fun days throughout the county. The inaugural event is a Woolly Pony Show to be held indoors at Spreyton Equestrian Centre, Bow, (between Okehampton and Crediton) on Saturday 28th March. Plans are also in hand for a summer show, probably in July. Details and further information can be obtained from Mrs. Stella Hore. Tel. Beaworthy 444.
Mr. & Mrs. Groenevelder from Holland have written with news of their two ponies, Robbs Water Ruby's Ellen and Baronshill Sweet William, which they imported last year. Ellen has now been broken to harness and drives very well.
Members will be sorry to learn of the death of Mr. N. Manning from Scotland, a Fell Pony Society panel judge for many years. As well as being a noted judge of all types of livestock, he was well known in the racing and hunting fields. He had a number of Fell ponies over the years including one mare he made all his hay with and used for shepherding which lived to the age of forty-one. Mr. Manning judged the first Fell Breed Show in 1970 and has judged for us on innumerable other occasions since.
The Autumn Performance Trial will be held at Pict Hall, Blawith, Lowick Bridge, Ulverston, Cumbria by kind invitation of Mr. & Mrs. R. Baxter on Saturday September 12th at 12 noon. A perpetual trophy, the Tarnbeck Tankard, will be presented to the winner and all entrants will receive a commemorative rosette. Rosettes will be awarded to sixth place overall and special rosettes given for the best performances by a junior and senior rider. An entry form is attached which should be returned by not later than August 29th. The success of both the Spring and Autumn performance trials has been largely due to the kind assistance of volunteer judges. At Rydal, apart from the main judges for the qualifier, dressage and show jumping, approximately fifteen judges are required for fences on the cross country course. Would competitors able to bring someone prepared to help, please indicate this on the application form. Anyone else who can assist in this way should write to Barry Allen, 2 Combe View, Haverigg, Millom, Cumbria (Telephone Millom 4528) giving a telephone number where they can be contacted nearer the date of the event. For anyone coming to the Blawith event who has not been there before, travel directions are available from Mrs. Baxter at the above address.
At the recent Fell Pony Society council meeting it was decided that, in order to fall in line with other breed Societies, a new regulation would be introduced with regard to overheight ponies. Our breed standard states that ponies must not exceed fourteen hands; half an inch being allowed for shoes. If a pony believed to be overheight is reported to the Society as having been SHOWN in a class where Fell Pony Society registration is an eligibility criteria, the Society will write to the owner of the pony asking them to have the pony officially measured by a vet. other than their own vet. If the pony measures in, the Fell Pony Society will pay the vet's measuring fee. However, if the pony measures out then the owner assumes responsibility for paying; the measuring fee and the registration certificate will be deemed invalid and should be returned to the Society. The pony will then be classed as unregistered. Failure to have a pony measured within twenty-one days of receipt of the Society's initial letter will result in the registration being invalidated. In introducing this regulation, the Society hopes to strongly discourage anyone from exhibiting a pony which does not conform to the breed standard's height regulation. Further details of this new regulation may be obtained from the secretary.
Mrs. Molly Laing, chairman of the Breed Show committee, writes "When I took this job on eighteen years ago, I did not think the show would grow to include so many classes. Looking back through the old
catalogues, it is amazing to see so many different ponies coming to the show from all over the country and how the generations carry on. Many of our members make it a day out and just come to have a look and I do appreciate the ones who sign the visitors book as it is nice to look through afterwards. I only wish I could talk to more people.
"I would like to ask exhibitors to send their entries in well before the closing date as this makes it easier for the typists who prepare the catalogue. The awards steward has quite a job when the cups are returned not clean, so please make certain your trophy is polished. As this show is run on a shoe-string and I don't like begging for money, please buy raffle tickets or a catalogue as this helps the funds. If any members would like to buy old catalogues to look at they are fascinating and we still have some in stock and can arrange for them to be marked with the winners at a small fee."
As well as being show chairman, Mrs. Laing is also our exhibitions officer and is always pleased to receive photographs of member's ponies to use on the stand. Photographs should be black and white or colour but with a clear contrasting background, and old photographs can be re-photographed by the Society and the original returned to the owner. Wearing yet another hat, Mrs. Laing is our sales officer too, a job she started with Peggy Crossland twenty-five years ago. At first the job was restricted to just ponies but now includes postcards, dinner mats and other items as well as cotton sweatshirts with a Fell pony motif in navy, red or grey. Prices are £8 for small; £8.50 for medium or large; and £9 for extra large. Hardback N.P.S. studbook reprints 1898-1980 £16 inclusive of postage; volumes I, II and III of the F.P.S. studbooks for 1980, 1981 and 1982 are £1.20 each; and volumes IV and V in one volume are £3.70 each inclusive of postage. Illustrated breed history books are £1.70 each, and Fell Pony Society badges are £1. Mrs. Laing will have a sales stall at the Annual General Meeting.
The prize draw organised by Mr. Bell last year and drawn at the dinner dance was a great success and I would like to thank all those who bought tickets. We are not having a draw this year as no dinner dance is being held this year because of the escalating cost of tickets coupled with the fact that, having members scattered all over the country, makes it difficult to attract enough people to the dance to justify holding it. However, it is hoped that we may be able to reinstate the dinner dance again in 1988.
Clive Richardson
Hon. Secretary/treasurer
Fell Pony Society
19 Dragley Beck,
Ulverston, Cumbria.
FOR SALE: Quality black yearling colt. Sire: Lunesdale Jerry. Dam: Bleaberry Candy. Won ten first prizes last season. Apply Mrs. G. Cockbain. Tel. Keswick 72133
FOR SALE: Hartrigg Tom Thumb. Black gelding. 13.3 hh 13 years old. For further details ring Stephen Adams, Hawkshead 529 after 8.30 pm.
FOR LOAN: Leithenwater Cariad. 13.2 hh black mare, rising 12 years old, by Dalemain Nettle. Available on long term loan as brood mare. Tel. 031 556 4107
FOR SALE: 'Jackdaw' harness. Standard in black nylon with brass fittings. Single from £115. ' Super' in black or brown nylon based on leather, brass fittings, single from £170. Lots of optional extras, several types of reins and blinkers. Made to measure with two years free maintenance back-up. Highly successful under F.E.I. rules (Pony tandem National and league championships 1986). Rosettes at local shows. Ideal for exercising, rallies, marathons and even presentation. Apply: Jackday Harness, Daw Bank, Greenholme, Tebay, Cumbria. Tel. 058 74 636.
FOR SALE: Capenoch Carlotta, black mare, 13.2. hh, five years old. Broken to ride and drive. Good to show, box and in traffic. Potential breeding mare. Apply: Mrs. Gladstone, Penfillan, Keir Mill, Thornhill, Dumfries
Dumfries.
FOR SALE: Limeguards Fescue, brown mare. Sire: Dunnerdale Richard. Dam: Limeguards Dainty. Foaled 1981. Unbroken but well handled, quiet and sensible. In foal. Apply Mrs, Hopkinson. Tel. (075 673) 241
DRAWINGS: Pen and ink or pencil drawings of ponies done from photographs. For details contact Mrs. J. Ettridge, 2 Bigland Scar Cottages, Holker, Grange over Sands, Cumbria.
The Annual General Meeting will be held at Clifton Parish Hall, Clifton, near Penrith on Saturday March 28th at 1.00 pm. Tea will be available after the meeting. Subscriptions are now due and will be collected between 12.30 pm - 1.00 pm.
AGENDA
Apologies for absence
Minutes of the previous meeting
Matters arising from the minutes
Election of officers:
a/. President
b/. Chairman
c/. Vice chairman
Election of five council members. The following retire and are eligible for re-election - Mrs. R. H. Ball, Mr. J. S. Dargue, Mr. G, E. Wood and Miss M, Longsden. There is one further vacancy due to the resignation of Mr. A. W. Morland, and there is one new nomination: Mr. T. B. Cap stick - Proposed by Mr. C. Richardson Seconded by Mr. W. Potter
Adoption of the accounts
Secretary's report
Reports of delegates and sub committees
Pleasure ride.
Dates of Autumn meetings
Any other business
A non-member contributed the following article which should be of interest to any members who have ever contemplated, but never tried, hunting on a Fell pony ...
"What do Fell ponies mean to you? Small, hairy creatures snatching a meagre living on a sparse Cumbrian fell-side? Lines of black mares, long flowing manes and tails, with tiny foals at foot, all beautifully turned out for the judges at the local show? With the present boom in driving, a sturdy little fellow stepping out smartly between the shafts? Or, for the historically minded, a line of well laden animals crossing a picturesque ridge on the well-used pack trails of yesteryear? Until recently, that is exactly what they meant to me.
"I acknowledged their hardiness, I recognised their strength and surefootedness, but one attribute I had not credited them with was their versatility. Let me tell you how my eyes were opened.
"I enjoy my hunting, and the more I do it, the more I enjoy it, just by being in the good fresh air of our beautiful countryside and watching nature at work - for that is the essence of hunting.
"At the beginning of last season, I was short of a horse to hunt and was feeling very fed up about it. A good friend of mine to whom I mentioned the problem said 'I have an idea, leave it to me.' A short while later, she rang up and said 'You'll be alright this season. I've arranged a mount for you if you want it. It's a Fell pony.'
"At 5'10" and over 13 stones, I had. never given a thought to riding a Fell pony, let alone hunting one, but the season was fast approaching and it was at least a mount. I therefore gratefully accepted and arrangements were duly made.
"And so it came to pass that I rolled up for my first day's hunting of the new season, a meet to which incidentally I always look forward on account of the warm (and warming) hospitality dispensed. It was marvelous to be at the start of a new season, always such an exciting time, full of promise of good times to come, pleasure at seeing old friends again. (Query: do hunting folk do a summer time equivalent of hibernation? One seldom sees them, except during the season).
"Members of the field began to arrive, some hacking on, some in boxes, big sleek hunters, many still with a summer like bloom on them. Then the box carrying my mount arrived and presently down the ramp came the Fell pony.
"I had been expecting something smaller than I was used to, but up against the big hunters he looked tiny. Could he possibly carry me hunting? Weren't we going to look a ridiculous combination? I personally cannot answer for the second but, to the first, the answer was to be an emphatic 'yes.'
"Once aboard he did not seem quite so small, but how would he last out a day's hunting?
"The first thing I noticed was his stride. After the larger animals I had been used to with their long swinging ground covering strides, I seemed to be bobbing up and down at a very rapid rate of knots. Being less fit than I should have been, I can tell you that the aches I suffered next day were tremendous.
"But Man is very adaptable and, in due course as time went on, I got used to that short stride.
"The other thing I noticed was that he appeared to have St. Vitus, dance! He just would not stand still, which can be quite a problem in a limited space, crowded with horses, hounds and people. I put this down to the fact that it was his very first day's hunting, and made allowances for his 'first night nerves.'
"In due course, a short touch on the horn heralded the start, and we moved off. By now I was getting used to waggish remarks about rocking horses, horses that had shrunk in the wash, etc., but I was still far from convinced that this would re a suitable conveyance for hunting.
"My doubts were not reduced when, shortly afterwards, my young mount tried (and fortunately failed) to use a hound as a football. The potentially limiting nature of my hunting future flashed before my eyes. Oh, the ignominy of being sent home, and before drawing the first covert too! However, a swift dose of correction duly administered showed him the error of his ways, and such is his intelligence he has never kicked with me again.
"This willingness to learn has impressed me as much as anything else. Obviously, his owner's basic training has been first rate, but whatever the talent of the trainer, it still requires intelligence and ability on the part of the animal to benefit from that training.
"And so to the hunting. Not even it's most devoted fan would put our country on a par with the 'high Leicestershire'. High it may be in parts so that a mountain goat might seem the ideal conveyance, but it is not noted for it's endless galloping and jumping. Certainly my Fell pony mount and his kind would be out of place in some of the areas in which I have had the pleasure of following hounds because, although their hearts are ever willing, their short fat hairy legs are simply not long enough to keep up. But on the edge of the north Cumbrian fells, where peace and the curlew rule supreme, and where commonsense and surefootedness endear any stead to its rider, the Fell pony is truly at home, and many's the time my mount has shown the way to a tricky slope to his more patrician companions.
"That is not to say that my mount cannot jump and gallop. The relatively short bursts of galloping suit him down to the ground (at least the ground always looks very close to me!) and, if asked he would no doubt proudly mention that he has won prizes in cross country competitions.
"And so, as I look forward with eager anticipation to another new season. I also take pleasure in looking back over the time when I learned to appreciate the true worth of our local native pony. The doubts I had about a Fell pony's ability to carry me through a day's hunting have been dispelled - such is his stamina that I tire long before he does. We have, I think, come to understand each other, and I have enjoyed learning about him and watching him learn about hunting.
"I'm told that in his summer job, it is almost impossible to get him to exert himself. But come a hunting morn, he is a different animal. He arches his neck, prances about and, if he could speak, I'm sure he'd say 'I'm not a Fell pony, I'm a hunter."'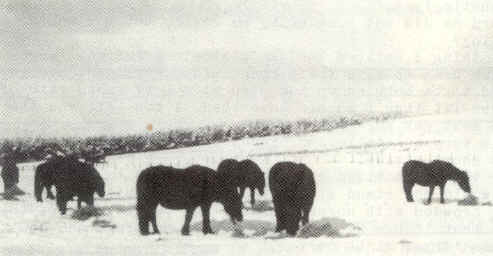 Brood mares belonging to Mrs. A. Newall at her Dene stud in Northumberland wintering out.
---
Many thanks to Barbara Müller for providing her archive copy of this out-of-print Newsletter so that it might be placed on this web site.
---
This page last updated: 22 January 2008
© 1987, 2001 by The Fell Pony Society and Naked Essence Web Designs