Fell Pony Society
1980 Newsletter
Volume V - Fell Pony News
---
---
The F.P.S. thank all photographers
for allowing us to use their photographs.
---
Town End Stud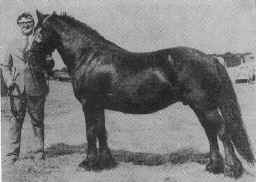 TOWN END HEATHER
Winner of the Horse and Hound Cup at the Breed Show, 1973 and
winner of many other championships, including the Royal Show.
Ponies of all ages usually for sale.

AT STUD TOWN END FLASH 2ND. 13.32 h.h. Black. 11 years.
Sire Lunesdale Richard. Dam Town End Polly IV.
7 times Champion at the Fell Stallion Show.
Lady Yule Progeny Cup at Summer Breed Show.
E.M. WILSON,
Town End, Haltcliff, Hesket-Newmarket, Wigton,
Cumbria.
Telephone: Caldbeck 638.
---
Linnel Ponies Ponies of all ages usually for sale from a stud that has been breeding prize winners for over half a century.
Linnet Romany Boy STANDING AT STUD
Sire: Linnet Romany II.
Dam: Linnet Flighty.
This stallion is the winner of the Ponies of Britain Stallion progeny award. of all nine native breeds.

R. B. CHARLTON, LINNELS, HEXHAM

---
Dene Stud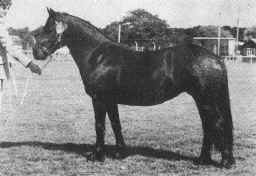 DENE RENOWN. Champion two year old filly.
Winner of numerous 1 st prizes and champion M. Ft M, at Harewood Show.
Black ponies of all ages bred from Champion Stock usually for sale, to suit pony lovers of all ages. Visitors we/come to the stud.
Mrs. NEWALL,
Todridge, Great Whittington, Northumberland.
Telephone: Great Whittington 21
---
GIBSIDE PONIES These well handled ponies are used for shepherding as soon as they are broken to ride, and in the shooting season are used to carry the guns up to the grouse butts, where they stand amid the noise and clamour unperturbed. Ponies are also usually broken for harness.

STALLIONS STANDING AT STUD
Gibside Stroller.
Santa.

Some of these ponies, with exceptionally good temperaments, are usually for sale. Mares taken by arrangement, broken to ride or drive.

Mr. JOHN GIBSON. Cut Thorn, Gibside, Burnopfield, Newcastle-on-Tyne.
Telephone: Burnopfield 70230,
---
Dunnerdale Ponies These ponies are reared on high ground in the North Wales country. Home-bred ponies of all ages usually for sale, only sired by the best Stallions available in the Society.
Mr. and Mrs. NEEDHAM,
Waen Farm, Bwlchgwyn, Wrexham, Norwth Wales.
Telephone: Wrexham (STD 0978) 757449.
---
HELTONDALE PONIES


These hardy ponies run .on the High Street fells between Haweswater and Ullswater, where they have been running on their native heaf since time immemorial. The ponies are usually rounded up in October and a batch sold at Wigton, but ponies of all ages are generally for sale.

Stallions running with the mares are:

Heltondale Heather Lad, Black, 9 years. Sire: Glenwelt.
Heltondale Rover, Black, 5 years. Sire: Heltondale Heather Lad.
Town End Bracken, Black. Sire: Town End Flash II.

MARES ARE NOT TAKEN AT STUD

Mr. W. S. ft T. NOBLE,
High Butterwick, Keld Head, Barnpton, Penrith, Cumbria,

---
Bewcastle Stud
Well handled young stock sometimes for sale.
Miss MARY LONGSDON,
Orchard Cottage, Cucklington, Wincanton, Somerset.
Telephone: Wincanton 33343.
---
Lownthwaite Ponies
H. F. WALES,
Lownthwaite, Milburn, Penrith.
Telephone: Kirkby Thore 388
Broken and unbroken ponies for sale.

Mares taken at Stud by arrangement

Lownthwaite Jewel
Ridden by her owner
---
Sleddale Ponies
This herd of sturdy ponies has roamed the Wet Sleddale valley and the adjoining Shap Fells long before the turn of the century. Ponies of all ages are usually for sale, and some are occasionally broken to ride and drive. The Stallion Sleddale King of the Mountain runs with his mares. Visiting Mares are occasionally taken to stud.

T. H. HARRISON,
Thorney Bank, Wet Sleddale, Shap, Penrith.
---
The Stallion, NETTLE on the right, running out with mares and foals
on the high ground above Dalemain.
Registered mares taken by arrangement. Nettle's prize winning stock are
renowned for their exceptionally good temperaments.
Well mannered ponies of all ages sometimes for sale

Mrs. McCOSH,
Dalemain, Penrith. Telephone: Pooley Bridge 085 36 223
or
Huntfield, Biggar, Lanarkshire. Telephone: 0899 20208
---
Aston Firs Riding School
Mrs. DIANE NEAL
Firs Farm, Sapcote, Leicester
Telephone: Hinckley 37763
The Riding School consists mainly of Fell ponies, most of which hunt and jump. Some prize winners. Fell ponies for sale.
Princess II, driven by her happy owner,
Christine Dodd, on a quiet road above Keswick.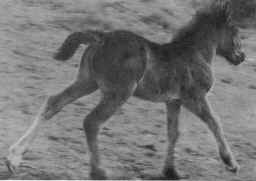 Seafarm Beauty:
sire: Greenfield Truth; dam: Lownthwaite Fire
Owned and bred by Mrs. Phillipa Tuck of
Piel Castle Inn, Ulverston: her delighted
owner thinks that this, her first foal, is a nice
sturdy filly, who will give her much pleasure.
The Fell Pony Society
President: Mrs. R. H. Ball
Vice-Presidents: Mrs. B. K. McCosh and Mr. W. Winder
Chairman: Mr. J. Bell
Vice-Chairman: Mr. J. S. Dargue
Hon. Secretary and Treasurer:
Miss P. Crossland, Packway, Windermere, Cumbria
Telephone: 3152
Sales Officer and Assistant Secretary:
Mrs. G. Laing, Twislehope, Hermitage, Hawick, Roxburghshire
Telephone: Steele Road 272
Publicity and Exhibition Officers: Mrs. Laing and Miss B. Walker
Hon. Press Correspondent: Mrs. P. Robson
Hon. Show Secretary: Miss E. Booty
Representative to the N.P.S.: Mrs. Ball
Representative to the B.H.S.: Mrs. Laing
Chairman, Trainee Judges Scheme: Miss A. P. Bickersteth
Chairman, ,Stallion Inspection Scheme: Mrs. Ball
Hon. Editor, "Fell Pony News": Mrs. McCosh
Hon. Assistant Editor: Mr. C. Richardson
---
Council

| | |
| --- | --- |
| To retire 1984 | Mr. R. Bellas, Miss B. Walker, Mr. E. M. Wilson and vacant. |
| To retire 1982 | Mr. J. Bell, Mr. T. H. Harrison, Mrs. B. K. McCosh and Mr. W. S. Noble. |
| To retire 1983 | Mr. J. Gibson, Mrs. M. Ibbetson, Mr. R. Rayson and Mr. J. Williams. |
| To retire 1984 | Mrs. G. Laing, Mr. A. W. Morland, Mrs. G. F. S. Newall and Mr. W. Winder. |
We are constantly being asked when the next edition of the News will be published and here it is, our fifth volume, which it is hoped will give pleasure and interest to members and friends, particularly to those who live far from the Fell country and are not often able to take part in activities of the Society. We are much indebted to Clive Richardson who has recently begun to send out half yearly news letters which arrive with the agendas for the spring and autumn meetings. These letters bring up to the minute reports of our breed shows and activities, so that it has become less necessary to include lengthy results in the "News". Clive, who has played a successful part with his ponies who are really "all-rounders" in the true sense of the word, has become my assistant editor which is a tremendous help. There is so much behind-the-scenes work in producing even a small magazine - members promise to write articles on this or that, which sometimes fail to arrive, and upsets the layout - so I would ask anyone whose sword is the pen, to start this summer by writing articles, small pieces of information, or amusing little anecdotes and send them to me for possible inclusion in the next News. We are all busy people and if everyone tries to help in any way they can, the load is partially shared.
I wonder if members realize the amount of work which Mrs. Laing does on behalf of the Society. When Miss Crossland was ill; Molly became assistant secretary and carried the Society on her shoulders most ably; and year after year since the first Breed Show was held at Dolman, she has been its chairman and has seen to all the little details which enable the lengthy show day to run smoothly. As a Society we owe her a very big thank you, and to the rest of the committee who willingly give of their best.
Miss Crossland has been the secretary of our Society for close on twenty-five years. 1981 will be her Silver Jubilee and to mark this occasion it would be fitting to give her a presentation.
Would any member who would like to contribute please send donations, not more than £l, to Clive Richardson, Esq., 42 Penfield, Swarthier, Ulverston, Lancs., and we will find something really nice to give to Peggy when the auspicious day comes round. Twenty-five years as secretary to an active society is a long time since she took over the reins from myself, who in turn was preceeded by Joseph Relph of Birkett Bank. With the opening up of the Common Market more "red tape" is involved with regard to exporting, and the breeding of registered ponies on both sides of the Channel, which naturally means more work.
It would be much appreciated if any members would try and sell copies of the News as they have done in the past. Printing costs have risen like everything else and it is imperative that we keep our editorial "nest egg" in the bank for the next edition. Copies will be available where ever the Society holds a gathering, and perhaps a member could collect a bundle for other willing helpers in his or her area to further distribute and thus save postage. Of course, donations are always welcome.
With the high costs of feeding stuffs and the poor summer in 1979 when many northern farmers were able to make less hay than usual, coupled with the poor return on agriculture in these days, it is sad to report that some breeders have had to cull the numbers of their ponies. There are many good colt foals available in the autumn, and sometimes fillies as well, which is a splendid chance for members with space and fodder to rear ponies of quality for future occasions, besides promoting one of the required causes for which the Society came into being in 1893 "to look after the welfare of the breed".
Please keep the Society's flag flying in every corner of Britain.
Sylvia McCosh. Editor.
Our New President
Mrs. R. Ball has been appointed to hold office for a term of two years. A member of the Council she has been an able representative to the N.P.S. meetings. Meetings are held with all member countries of the Common Market to ensure that Breed Societies in Britain have the authority to make and keep standards so essential to maintain the type and quality of British native breeds.
Elizabeth Ball who is a very knowledgeable horse woman, is on the Society's panel of judges and on the panel set up to inspect colts prior to obtaining stallion licences.
Secretary's Report
First of all, I am sure we are all very grateful to Mrs. McCosh and Mr. Clive Richardson for bringing out another "News". From what I gather, it is to be full of interesting items.
In 1979 eighty-seven new members joined the society. This is a record. It is interesting that this is exactly the same amount as the total membership in 1956.
Registration Fees and Subscriptions
Please see the news sheets which are sent out from time to time.

We have received another welcome donation from H.M. The Queen. The

letter says "Her Majesty is always most interested in the activities of the Society. There is no objection to an announcement being made that the Queen has sent this donation, but the amount should not be mentioned." I am sure we are all very grateful for Her Majesty's continued support and interest.
Prefixes
I think that at last we have got the procedure for these sorted out. A prefix is the stud or herd name registered by a breeder, and used in front of the individual name given to any pony bred by himself. The breeder is whoever owned the dam of the foal at the time of foaling. Once a prefix is registered, it remains the property of the breeder for always. Formerly, in our case, all prefixes were registered by the National Pony Society, along with most of the other native breeds. However, this did lead to some duplication, i.e. the same prefix might be registered by someone else with another breed society such as the Shire or Shetland societies which kept their own stud books. So two years ago the Central

Prefix Register was formed to deal with ALL prefixes. (Some societies still keep their own). The procedure now for those wishing to register a prefix is as follows. Apply to the F.P.S. for a form. Write three choices in order of preference. Return to the F.P.S. with the fee, which will be on the form. Prefixes must consist of only one word, though two words could be combined if they were not too long and sounded all right. The form is then sent to the N.P.S. who send it on to the Central Prefix Register, who send a certificate to the breeder, and a copy to the N.P.S. I have asked for a copy to be sent to me also, as up to now I have been in the dark as to what prefixes have been allotted. This, as may be seen, takes quite a lot of time, and if a registration of a pony is sent at the same time, the registration is also held up. So if you are thinking of breeding Fell Ponies, and have not already registered a prefix, I suggest you do so right away, and then there is not so much delay when you come to register your first foal.
I am afraid I was very disgusted at the amount of litter which was left on the field after the Breed Show. As I have said before, pony people don't leave litter, or shouldn't. We who live in a tourist area are inclined to blame the "townies" for the dangerous rubbish which gets thrown into our fields. Perhaps we are being unjust, because surely all the people at the show were either pony owners or pony lovers. Mrs. Laing and her helpers work hard from early to late to make the show a success, and it just isn't fair that they should have to start picking up litter at the end of a long day. Mr. and Mrs. Helme are so kind in lending us the field, so it must be left decent. So, please, TAKE YOUR LITTER HOME. It is easy enough to take a feed bag or bin liner to put it in. Even if litter bins are provided, these have to be taken and emptied at the end of the day. So again, PLEASE, never leave litter anywhere, ever! It is dangerous and disgusting.
I would like to thank all those members, who, when sending their subs., etc., write chatty little bits about their ponies. If the letter does not need an answer, I am afraid I have not time to write to all of them, much as I would like to, but I would like to take this opportunity to say that they help to make my job seem worthwhile.
I wish you all many happy pony days.
Peggy Crossland
Trainee Judges Scheme
Our "TRAINEE JUDGES' SCHEME" - maintains close regard for the National Pony Society's Training Scheme.
With the rapid increase in the popularity of showing and easy travel for Horses/Ponies throughout the country many Judges need to become very mobile and widely experienced. Gone are the days when experts in a breed seldom if ever had to leave their own geographical area and the particular breed they knew so well.
Our own Scheme therefore is as follows:
Procedure - Application to be a Candidate requires (a) the signed recommendation of two persons whom the Trainee Judges' Committee could recognise as adequate to recommend. (b) the Candidate signs an application form stating he/she understands the amount of training required and that he/she pays his/her own expenses. The forms are supplied by the Committee Secretary. If accepted the Candidate would train under the Fell Pony Society's own Judges at local shows that include suitable Fell Pony classes for 2 Show Seasons, each of 6 Shows - 12 in all. If satisfactory Judges' Reports have been received at the completion of this stage, the Committee will arrange for a further 2 seasons of 4 shows each as a Trainee Assistant Judge, i.e. 8 in all. The first two seasons are, as it were, within the geographical boundary of the Fell Pony "homeland" under knowledgeable Fell Pony Judges to give the Trainee a sound basis. The second two seasons are varied and can include mixed Mountain and Moorland classes, the Ponies of Britain Show at Kelso or the National Pony Society's Show at Malvern. Always, from a would-be Judge's standpoint, an inner view of the Show's organisation should be experienced and studied to good measure.
Other points - ours is a small Society and Shows in Cumbria and nearby are limited. Suitability varies and the Fell Pony Judge selected by the Show may not be on our Society's Judges List. With a small Society, such as ours and the relatively small number of true Fell Pony Shows - each with a Judge from the Fell Pony Society's Judges' Panel - it can be appreciated that our Trainee Judges' Secretary has a major headache to get everyone fitted in and therefore alterations of arrangements made can make things critical. When our maximum of 4 Candidates (2 Trainee and 2 Trainee Assistants) are in action in any one season there is little room to manoeuvre. All concerned can help everyone else enormously by responding without delay to the Committee Secretary's queries and requests.
We have 3 men Training this coming Season (1980) but if you think you would like to train sometime as a Fell Pony Judge get in touch and your enquiries will get a welcome and bring helpful information.
A. P. Bickersteth, Chairman Trainee Judges' Committee.
Obituary
The Society is the poorer for the deaths of several able and useful members which we, who knew them as real friends, mourn.
Mr. John Barr, M.R.C.V.S., died suddenly and tragically at London airport, minutes before he was to have boarded a plane bound for the United States to take part in a leading driving event in Massachusetts.
He was born sixty-five years ago at Carluke, Lanarkshire where his parents had a small farm. His father died when John was young and from an early age he helped to look after the animals, rising at 6 a.m. He trained at the Glasgow Veterinary College, and in order for each his destination he travelled by bicycle, train and tram after feeding the farm animals and his pet goat.
Qualifying at the early age of twenty-one, he arrived in Penrith with five shillings in his pocket to assist the late William Scott, M.R.C.V.S. on a temporary basis. The early days in his first practice were no doubt hard work, but very enjoyable hard work. John had always demonstrated his tremendous physical and mental energy. On occasions when the days work was almost done a farmer would ask him to go with him in his pony trap to see to a sick animal, and away he would go with him, having a well earned forty winks on the way.
There were many tales to be told in those early days: there were numerous heavy horses working the land, and it cost but half a crown to castrate a colt: but all these deeds were accomplished with little fuss for the young vet really loved animals. How patient and sympathetic he was when any of our much loved four footed friends were ill or had hurt themselves; or when some of them had to be sent to another world.
In recent years John took part in many driving trials with much success. He drove a brown Fell cross pony to begin with and later an extremely smart pair of well matched ponies; his hobby was to fill his days when he eventually retired from the practice.
He was recognised as an outstanding veterinary surgeon in all fields, but he was always particularly interested in horses and was renowned for his treatment of them.
For many years he was veterinary surgeon to the Fell Pony Society, freely giving up his valuable .time to attend first the stallion shows and, later, the summer breed shows too.
Never impatient despite the many ponies which came under his measuring stick, he was a true friend to the Society.
Stallion Show
In 1977 and 1978 the show was held at Lowther, in front of the facade of the castle. An ideal setting where spectators could watch with comfort.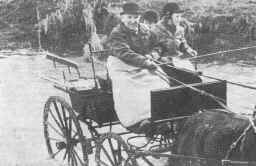 Mr. John Barr, M.R.S.V.S, driving his pair of ponies through the water
while taking part in the Driving trials at Lowther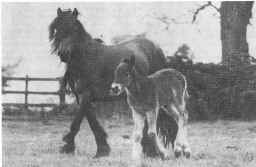 Fell mare and foal - note length of mane, tail and feather

The winners were as follows:
1977
Champion and Lady Yule Cup - Waverhead Jock, owner, Mrs. Williamson Seathwaite; bred by J. Bell.
Dalemain Cup for Best Yearling or Two Year Old - The Black Prince, owner and breeder, Greenfield Stud, Buckden.
Acreknow Cup for the best ridden Stallion - Dalemain Nettle, owner and breeder Mrs. McCosh.

Entries: 13 Yearlings, 1 Two Year Old, 8 Three and Four Year Olds, 8 Five Year Olds and upwards.
1978
Lady Yule Cup - Town End Flash, owner and breeder, E. M. Wilson.
Dalemain Cup - Athol, owner, E. M. Wilson, breeder, A. Clark.
Acreknow Cup - Dalemain Nettle.

Entries, 8 Yearlings, 5 Two Year Olds, 6 Three and Four Year Olds, 8 Five Year Olds and upwards.
1979
Lady Yule Cup - Town End Flash.
Dalemain Cup - Greenholme Geoff, owner, Messrs. Johnstone, Longtown, breeder, W. Potter.
Acreknowe Cup - Gibside Danny Boy, owner, R. Cooper, Rowlands Gill, Tyne and Wear, breeder, J. Gibson.

Entries, 9 Yearlings, 5 Two Year Olds, 3 Three and Four Year Olds, 14 Five Year Olds and upwards.

The 1979 Show was held beside the Wartime tank park again in Lowther Park, which made for easy parking for vehicles, while the beautiful woodland setting gave shelter on a usually cold day in early May. The Society is grateful to the Earl of Lonsdale for allowing the Show to be held in his parkland.
Despite the torrential rain which never abated all day, the show was a great success and attracted a record number of exhibitors. Competition was very strong in all classes and emphasised the increasingly high standard of ponies being shown.
Top three year old filly was Gibside Polly, bred by Mr. J. Gibson and owned by Mr. J. Bell, who went on to be supreme champion. The two year old filly class with a catalogue entry of twenty-seven fell to Mrs. S. McCosh's Dalemain Harebell who, with her two sisters Dalemain Celandine and Dalemain Tormentil, also won the mare progeny class, while the stallion progeny class was won by Mr. J. Bell's entry by his well-known stallion Waverhead Rambler.
The handy pony class, which is designed to test the versatility of ponies over a course of obstacles and small jumps, was justly won by Mairi Laing on Twislehope Rex who also took the Packway Bellman points trophy having earlier won the class for geldings under saddle. Mr. Bell's Waverhead Magic emerged as winner of the mares under saddle class and eventual ridden champion. Mrs. Dobie's Abbey Pimpernel, an impressive brown gelding, was reserve ridden champion.
Supreme champion - Mr. J. Bell's Gibside Polly.
Youngstock champion - Mr. J. Bell's Waverhead Queenie.
Ridden champion - Mr. J. Bell's Waverhead Magic.
By kind permission of Mr. and Mrs. Helme, the show was again held at Brougham Park Farm, and the fine weather helped ensure another enjoyable and successful show. Entries were again high and thirty two in-hand mares paraded before the judge, Mr. Denham, in the first class. He eventually selected Mr. D. Crow's Castle Hill Princess as winner from Mr. T. H. Harrison's Sleddale Rose X, but in the supreme championship the panel of judges altered the form and came down in Mr. Harrison's favour and his brown mare took the tri-colour. Other ponies of his old established Sleddale strain enjoyed success in the in-hand classes winning both the mare and stallion progeny groups.
An innovation in the riding section was the qualifying class for the Ridden Native Pony of the Year Final to be held at Olympia. This was won by Clive Richardson's Border Black Empress who also won the Novice mares under saddle class and the overall ridden championship. Reserve champion was Miss Carol Birkett's Owlsgate Willow who had earlier won the class for geldings under saddle. The riding class for veteran ponies brought a win for Mrs. A. Newall's sprightly twenty-two year old mare, Dene Honour.
The driving class is always popular with spectators and Mr. J. Bell's Redhouse Mac put to a dogcart was a worthy winner. He also won the obstacle driving section. The only trade turnout was Mr. F. Cowing's Flimby Hall Julie driven to a fine Bradford cart.
Supreme champion - Mr. T. H. Harrison's Sleddale Rose X.
Youngstock champion - Mr. J. Bell's Waverhead Magic.
Ridden champion - Mr. C. Richardson's Border Black Empress.
For many years H.R.H. The Queen has kept and bred Fell ponies at Balmoral, a tradition tracing back to the early years of the Society when King George V was an enthusiastic patron of the breed. Mr. Joseph Relph, one time secretary of the Fell Pony Society, used to say that the King's generous donations saved the breed during the 1930s when the Fell pony faced possible extinction, and the 1932 stallion show produced a total of only three ponies. Fortunately, the breed did survive and Princess Margaret drove a Fell mare, Linnel Gipsy, to win the driving class at the 1944 Royal Windsor Show. Twelve months later her sister, then The Princess Elizabeth, drove the same pony to victory again at Windsor much to the delight of spectators.
At present there are a number of registered Fell ponies at Balmoral and all are working ponies in the true sense of the word. The young ponies are generally sent to Windsor to be broken to both ride and drive; then they return home to Balmoral to earn their keep in the deer forests carrying the stags home after the shoots which are; essential in order to cull inferior or superfluous stock. A few are also used on the grouse moors for carrying the grouse panniers. Experience has proved that Fell ponies are ideal for this type of work being strong, sure-footed and docile.
In recent years the Fells have also been driven regularly by the Duke of Edinburgh while he is staying at Balmoral. At the end of the British Driving Society's Silver Jubilee Drive in 1977, those people who had taken their turnouts to Balmoral for the final stage were delighted to see the Queen and Duke of Edinburgh arrive in the appropriately named Edinburgh Dogcart, drawn by a pair of Fells.
C.R.
Musical Ride at Wembley
One of the highlights of the 1978 Royal International Horse Show at Wembley was the Native Pony Musical Ride organised by the National Pony Society with the generous sponsorship of Lloyd's Bank. Each breed society was invited to nominate up to two ponies and, after careful consideration of those ponies available, the Fell Pony Society selection panel picked Twislehope Rex owned and ridden by Miss Mairi Laing.
Mairi took two weeks off work in order to take Rex on the four hundred mile trip to Mrs. Jennie Loriston-Clarke's Catherston Stud in Hampshire where she trained with the other riders and ponies for a week before going on to Wembley for another week. Although Rex, whose mother is a HeItondale mare and full sister to Heltondale Sonny Boy, had only stayed away at a show once before he seemed to enjoy every minute of Wembley.
Sixteen ponies in all took part in the musical ride which was staged in the main arena twice a day. It comprised a pattern of movements and figures ridden to music and, apart from its entertainment value, the ride was also a useful marketing exercise for the nine British Native Breeds. Television coverage also meant that the ponies and their riders were seen by a far larger public than just those in the stadium and the favourable response of both the viewers and the live audience testified to their appreciation of this unique event.
C.R.
Eden View Moonstroller taking part in the Lowther Driving trials: seen driven to a dog cart by his owners, Miss Angela Sixsmith and Miss Jane Brindley on the Marathon
Course, 1976 Moonstroller was foaled 1969 and was bred by Mr. John Wilson, Great Musgrave, who also drove his mother, Eden View Beauty in various show
Behind the Mists of Time

There were so many everyday happenings which took place in the country calendar of which those of us who have lived a half century or more took for granted. In these latter years of the twentieth century which are governed by machinery and nuclear energy, our memories frequently dream back into those leisurely days when horses and ponies played extremely important roles in everyday life.

These thoughts struck me forcibly when a young couple who are farming on the Pennines and who are members of the Fell Pony Society looked at me quite blankly when I mentioned "Travelling Stallions" in the course of conversation. It suddenly dawned upon me that "happenings" which country children before the 1939 war understood and took for granted, are like something out of history to the younger generation.

As a child I would eagerly lean out of the nursery window to watch the local farmers driving their ponies in gigs and dogcarts to market in Penrith every Tuesday morning, come rain or shine. The farmers from Dacre and Sparket drove their ponies down the estate road, their traps wobbling from side to side on the uneven ground, and disappeared through the archway which led into the courtyard and out onto the main road; they were allowed to come this way to save the poor animals a steep climb up the Vicarage hill. In the late afternoon I watched with fascination for their return journey.

By mid May, the travelling stallions were on the road again; Clydesdales, Fell ponies and thoroughbreds, they had each been paraded at their local stallion shows and had been granted a premium "to travel" or to "stand at home." These shows took place in the local market town where everyone could sea them. Penrith held it's show in the Cornmarket when all breeds of horses likely to be of use to the local community were paraded. Stud cards were handed out to interested parties. In the years prior to and after the Great War premiums were issued by the Board of Agriculture and later by the Light Horse Department of the War Office as horses and ponies were still in great demand in national emergencies.

The Fell Pony Society was first formed as an organised body in 1893; snfi in 1899 the first Fell Pony Committee of the National Pony Society was set u,) to ;ce to the welfare and registrations of the breed. It was from this date that Fell ponies were first registered in the Polo Pony Stud Books which later become the National Pony Society. In 1919, the Committee was changed to the Fell Pony Society. The original date of 1893 is shown in the records of the National Pony Society.

One of the early members of this Committee was Joseph W. Bent of Stanhope Gate Farm, Middleton in Teesdale who produced a wonderful stamp of Fell pony. The secretary was the late F. W. Gannett, M.R.C.V.S., of Windermere, who examined the stallions for soundness and suitability for breeding and recommended that they be awarded the Board of Agriculture's premiums. Another member of the committee who was also secretary for some years, was the late Roy B. Charlton of Linnels, Hexham, who did so much to put the breed before the public eye at the big shows like Islington and Olympia. It was he who frequently arranged for groups of Fell ponies to be taken to the big shows. It was quite an undertaking in those days to transport ponies from the fell country to Penrith or to Newcastle, and thence by rail to London.

Premiums to travel stallions were very valuable at a time when it was frequently more worthwhile to trap and sell rabbits on a fell farm than to sell small Swaledale lambs at "the backend". Stallion owners had their regular routes; they and their ponies were put up at farms on certain nights and the stallion "stood at home" over the weekends.

One of the best known of these men was Joseph Baxter of Guardhouse, Threlkeld. He certainly was a character. Small and active, he could show a pony off to perfection even when he was approaching eighty years old. Sometimes he would walk his stallion, his pack and mackintosh strapped to its back; sometimes he would drive it in a gig. The miles and routes he covered are legion. Storm Boy was probably his best loved stallion. This strong and active pony comes into the pedigrees of most of our present day ponies. Joe's other stallions Mountain Ranger and Glenwelt are well remembered too. Fell ponies must- be active and cover the ground otherwise they would be useless to the sheep farmers of the North who depended upon them so much. No wonder the stable was always built close to the house and was invariably the best building in the steading.

The Fell country was divided into five districts Keswick, Shap, Appleby, Middleton in Teesdale and Kirkby Stephen and premiums were offered for stallions to travel in each of these.

Looking through some of the earliest stud cards, prize tickets and newscuttings, one can reminisce of legendary Fell names. Amongst the adverts in The Field of 1865, two Fell ponies are for sale, the property of Mr. J. Dargue of Bow Hall, Dufton. The first, a dark grey pony, five years old, 13.1 h.h., "can trot a mile in three minutes and two seconds carrying twelve stone, goes well in harness." Secondly, Spanker, dark grey pony - and as above. The charge for five lines of ten words was five shillings.

Blooming Heather, no. 325, who was foaled around 1880 was not a beautiful pony but his good sound feet and legs made him one of the most famous trotting sires; he was unbeaten in his day. He belonged to an old man called Gibson who lived at Widdy Bank, five miles upstream from High Force, right out on the fell. Sixty years ago, Teesdale was famous for three things, "a bit of shipbuilding, High Force and Blooming Heather."

Blooming Heather was by Little John, one of the fastest trotting ponies ever bred in England. He trotted in races at Kendal, Liverpool and Manchester and was never beaten and was sold for £180 to go abroad. Little John's sire, Merry John, was bred by Mr. W. Atkinson, Old Spittles, Bowes Moor, out of his swift trotting pony, Dolly, who trotted two miles, one hundred and twenty yards within seven minutes. Dolly, who was dark brown, was also the dam of Heather Bell, the fastest trotting pony of her day. Dolly's sire, Merry Driver, trotted ten miles against the famous Mousetrap for £50 a side and won easily in thirty two minutes carrying twelve stone.

For a colt and a filly by Blooming Heather, £200 was refused by Mr. Mann in London, which was a great deal of money in those days.

In June, 1900, Lingcropper Again, no. 614, was foaled at Threlkeld. He was dark brown, standing fourteen hands, and was bred by Mr. Sawyer but by 1913 he had become the property of Mr. W. Relph, also of Threlkeld, who travelled him as required. His dam was considered to be such a great pony that when Mr. Sawyer died, she was sold for twenty-six and a half guineas, which was a large sum at that time. Her grand-dam, another dark brown pony, won numerous prizes and was by Jack's Delight. Lingcropper Again's pedigree traces back on his sire's side to the famous Old Merry Driver who was got by Old Grey Shades, a pony said to be descended from the fastest trotting blood in England.

Jack's Delight was bred by Mr. Bennett, Walthwaite, He was jet black and stood fourteen hands. He became the property of Mr. Joseph Relph who for three years publicly advertised him to "trot any Fell pony in the World." Jack's Delight's sire was Mountain Hero, by Highland Rope, by Lingcropper.

A later Joseph Relph became legendary with his film star sheepdogs and with his ponies which were descended from these great ponies of past years. The kindest of men, he became secretary of the Society in 1934 and held office through the difficult war years and it's aftermath. The breed was in jeopardy; so many mares being crossed with bigger breeds to produce a useful "third" horse on Lake District farms where tractors were still seldom seen.

The "third" horse undertook all the odd jobs on the farm and was probably smart enough to pull a gig or dogcart when required: the first and second horses were the pair who ploughed and worked the land.

One of Blooming Heather's famous grandsons was Mountain Ranger, no. 598, a black pony, 13.3 h.h., foaled in 1906. His sire was Park End King, and his dam Scoredale Queen was by Blooming Heather. In 1923 he was travelled by his owner Joe Baxter for Shap District. Each district had its own committee or representatives and at that time the committee for the Shap District was as follows: Mr. E. de Vere Irving, Shap; Mr. Henry Holme, Thrimby; Mr. H. Brown, High Winder; Dr. Metcalfe-Gibson, Orton; and the Hon. Secretary, Mr. A. W. Wingate, Lowther.

The route for their District commenced on May 7th and was this as follows: Monday - Leave home by Gill Head to Dacre and Askham. Tuesday - Helton, Brampton to Mr. Holme, Thrimby. Wednesday - Shap, Orton, Tebay. Thursday - Bretherdale and district. Friday - Howtown and Martindale. Saturday - Pooley Bridge, Watermillock and home over Sunday.

Mountain Ranger had been awarded the Board of Agriculture premium of £60. Fell mares were served at fifteen shillings each, with half a crown for the groom due at the time of service.

John Bellas of Moor Farm, Keswick, travelled Moor Bradley in 1928 when he was awarded the War Office premium of £80 at the Fell Pony Society's stallion show at Penrith in April to travel the Keswick District. The Society selected Moor Bradley as the best stallion to go to the London Pony Show at Islington the same year at the head of the Fell group. After winning the group class, Moor Bradley became the supreme Mountain and Moorland champion of all breeds. His famous dam Moor Daisy was by Mountain King.

In 1912 and 1913, John and Robert Bellas travelled Highland Fashion, "that superior high stepping Fell pony," having been awarded the £20 premium.

There are many more well-known names among breeders of the early years of this century - the Swinburns of Gowbarrow Hall, the Nobles of Heltondale, the Winders of Caldbeck, the Browns of High Winder, the Relphs of Turnbank; their ponies have left their stamp on the breed so many years later. It was a serious loss to pony breeding when the War Office premiums ceased, but the Betting Control Board stepped into the breach giving wonderful help without which many of our breed Societies would have been unable to exist.

Sylvia McCosh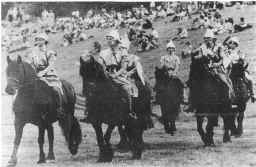 Roman Soldiers Taking part in the historical pageant at Lowther as an interlude in the Driving Trials, are two veteran ponies, Dene Honour, 20 years old and Packway W William Rufus, ridden by their owners, Ailie Newall and Peggy Crossland with other members of the Society.
Riding with the Autistic Children West Devon
Three registered Fell ponies form our little sub-group, part of the "South Dartmoor". They are:
Packway Curlew, by Packway Royal, dam Birkett Bank Flower. She belongs to the Head of the physiotherapy department for the West and lives with me.
Shap Lodge Duke, by Heltondale Sonny Boy and out of Heltondale Lady IV.
Wolds Bunting, by Waverhead Rob and out of Heltondale Polly Perkins.
All these are used every week in the term time. We are a very happy little band and are sure that the children improve in riding and benefit from contact with a pony. Children such as these progress extremely slowly and the helpers need immense patience. I look forward to these very rewarding afternoons. It takes me the whole morning to prepare and clean the ponies in the winter.
Tommy Brock of Heltondale, (Heltondale Heather Lad out of Heltondale Topsy III), who I bought as a foal at Wigton, has been used 2 or 3 times but he is away on loan at present. Both he and Duke were ridden by an autistic girl off the leading rein, this is unusual as the majority of the children are boys. She couldn't get Duke into canter but Tommy was most obliging. She, her younger sister, and I went for a ride in the summer all on Fell ponies.
Bunting went in for a special R.D.A. competition. The competitors .cent through exhaustive tests and spent 1 J hours in the ring all together under a blazing sun. Her foal was locked up in the horse-box within earshot. She was ridden by a tiny child (not disabled) at a walk, trot and canter and didn't gallop back to her foal. She was judged the Best Registered Mountain and Moorland pony in the large section and Highly Commended as being suitable for R.D.A. work. "A little fidgety" the judge said "but marvellous considering she is nursing a foal."
I took Bunting and her filly foal Eddygreen Miss Mouse by Hallandale Sonny Boy to take part in the parade of native ponies at the 3rd International Conference for R.D.A. at Stoneleigh in September. Charlie Drake by Heltondale Sonny Boy out of Sleddale Rose IV was also there.
Ann Greenlees

Olympia 1979
On a cold December morning two weeks before Olympia, I stood on a wet, windswept hillside and watched as Border Black Empress, my four year old mare, plodded towards me through the mud. Although she had been stabled all summer it had been necessary to turn her out at the end of September as I was not going to be around to look after her and the intervening two months had resulted in a startling transformation. Instead of the fit and glossy pony I had turned out in September, I saw she was now overweight, encrusted with mud and as shaggy as a bear. I realised, with a pang of apprehension, I had exactly a fortnight to prepare her for the floodlights and sawdust of Olympia where she was to be the Fell entry in the Ridden Native Pony of the Year final.
When I originally qualified at the Breed Show, I had carefully considered and discounted every possibility for getting her ready for the final from clipping her to turning her out with a New Zealand rug on. None seemed feasible so I opted for leaving her out and letting her grow her coat. During the time that she was out, she got a corn feed every night which helped to keep her fit.
I brought her inside immediately and got her shod as the first step in the rehabilitation campaign. Judicious feeding solved the weight problem and many hours of hard grooming, assisted by the regular addition of boiled linseed to her feeds, began to make an impression on her coat. Exercising her daily did pose problems however as by the time I got home from work in the evenings it was quite dark and more than once she was lunged by the car headlights. At weekends or on those weekdays I was able to exercise her in daylight I took her for long slow rides on the roads, just walking or trotting, as slow roadwork is undoubtedly the most effective way of getting a pony fit quickly.
The long journey to London seemed to take all day but the last part from the end of the motorway through Shepherds Bush to Kensington seemed the worst as, with tattered map in hand, I endeavoured to manoeuvre the Auto-camper with Empress in the trailer behind through interminable traffic jams. Of the three Londonders I asked for directions, two did not speak English and the third was intent on directing me to Wembley although I insisted it was Olympia I wanted t0 g0 t0.
Eventually, after a maze of one-way streets, I arrived at Olympia to be refused entry by the security guards who said there was no admittance until eight next morning, and Empress would have to be vetted first. The stable manager, dressed in a tuxedo and carrying a glass, suggested I parked for the night at a railway terminus quarter of a mile away. Having no choice I complied but on arrival at the terminus I was refused entry by the gateman as I had no car pass, and when I returned to the stadium to collect a car pass I was not allowed in there as my exhibitor's pass was not valid until next day. To save further trouble I offered the gate attendant, a benign Irishman, a generous bribe and was let in immediately. I spent the evening exercising Empress as best I could by leading her along the railway sidings and she had to spend the night in the trailer. She did not sleep at all due to the unaccustomed city noises.
Leading Empress from the terminus, where I had to leave the trailer, to the stadium was a perilous undertaking as by then it was rush-hour and the streets were packed. She gazed with astonishment at the first double decker bus she had ever encountered then retreated to the safety of a garage forecourt where she caused a traffic jam by entertaining the customers with her high spirits. Back on the road we progressed in fits and starts as she shied at the traffic and her own reflection in shop windows. She scattered pedestrians in all directions including a queue of bowler-hatted commuters and it was with relief that we appeared, dishevelled and irrate, at the Olympia entrance. Although it was eight o'clock by then I was told the vet had not arrived and I could not get in until the pony had been passed sound and healthy. After a lengthy wait the vet arrived, glanced with disinterest at Empress' vaccination papers and pronounced her fit and well. In view of the fact that he had never checked her over and her thick winter coat could have concealed a multitude of ailments the vetting process seemed an unnecessary formality. We were directed to a small loosebox jammed between the Household Cavalry and the show jumpers. Empress sniffed the disinfected wood shavings on the floor and began to devour them like a hungry bear. For the rest of the time she had to be tied up short as I set to work to get her ready for the final.
Apart from a small catastrophe when we met Mary Chipperfield's racing camels on our way into the arena, judging went well and the floodlights and noise seemed to cause her little concern. There were twenty-eight ponies to be judged and it was lunchtime before we got back to our boxes to reorganise ourselves before the final fudging during the afternoon performance. Empress had sweated up under the heat of the floodlights and it was difficult getting her cooled off in time. Only four of the finalists were in their true natural state, most being clipped and rugged up, and I felt this would automatically put the unclipped ponies at a great disadvantage.
The final was very exciting and I was delighted to be pulled in fourth and duly presented with a fistfull of enormous rosettes which fluttered in Empress' face and heralded an alarming finale. The lights dimmed, the audience applauded loudly and our lap of honour finished as Empress hurtled out through the exit tunnel evidently glad to see the back of the arena.
In retrospect I am glad I made the pilgrimage to Olympia although the involvement in terms of time and money is quite considerable. The problems of getting a pony fit and travelling it to London in mid-winter must be taken into account, and bearing in mind that the show is geared almost exclusively to showjumping the native ponies must be reconciled to the fact that they are at best supporting attractions and will receive no preferential treatment. This applies to the Olympia show organisers and not to the National Pony Society who were extremely helpful at all times.
On the other hand the fun of exhibiting at Olympia was indisputably and a great experience for Empress who incidentally was the youngest pony there. Moreover, I hope my trip to London helped to publicise the breed in some small way to an audience many of whom know comparatively little about the Fell Pony
Clive Richardson

Grass Sickness
We live in an area where every year one hears of cases in the locality, and this year we ourselves had two cases. Our daughter's horse and my three Fell ponies were grazing the same ground and two of the Fell ponies got it. A five year old mare died after ten days and my nine year old gelding is now convalescent.
The mare didn't show any acute symptoms and simply gave up. She would eat nothing in the way of branmash, only occasionally nibbling at some grass, and drank nothing eventually becoming so weak she was put down.
It was about a month later that the symptoms appeared in the gelding. He is inordinately greedy and I noticed he was eating very slowly, he had a spasmodic tremor and occasionally coughed as he ate. The vet could find nothing wrong save a raised pulse - twice the normal rate. He gave him an injection of Quadromax - a liver stimulant. Then followed three weeks during which everything was tried, and it was all very much trial and error. He had a persistent tremor; off and on he came out in a muck sweat; his mouth and eyes became very jaundiced; he was very tucked up; he had trouble urinating; he coughed and for a day or two his nose discharged a yellow mucous, but there was never stoppage of the bowel. Nuts and flaked barley in a feed choked him so he then went on to bran, a sprinkling of flaked maize and sugar beet pulp fed very wet, and added to this glucose, Complan, stout, raw sugar and Equivite. Equivite was given at the standard dose but the other four were guesswork! He was fed three hourly round the clock, and was also led out to eat what he chose along the verge and his choice varied from cow parsley, to vetch, to thistles - even birch and rowan.
He did stop eating several times and was given Quadromax when this happened and each time his appetite returned. He was loath to drink initially. There were days when the animal looked better and then the next he would look very much worse. Twice I gave up and said to our vet the pony must be put down. He wouldn't consider it! Thanks to him. I feel now that we are over it. The pony is much more like his normal self but has undoubtedly aged several years in two or three months.
Opinions vary as to how useful an animal is ever again but next spring he will be vetted to see what the outcome is in his case. There are any number of theories as to the cause. Why should horses be on the same pasture last year and not get grass sickness? And then this year two out of four get it? What I found most difficult was what to do to treat the cases I had, and I would have appreciated some source of information.
On holiday in the south this year I met one or two people who were talking about cases down there. Is it spreading south? And do we perhaps have to wait for it to take hold in England before the essential funds are put forward for continued research? What a pity that something more can't be done to firstly find the cause and then hopefully to find the cure.
Fiona Chalmers, Logie, Moray

Open Day at Sapcote 1979
Again we were blessed with lovely weather for the fourth and most successful Open Day at Aston Firs Riding School, Sapcote, Leics. The grand sum of £100 was raised for the Fell Pony Society.
All but four of the riding school ponies are Fells, and this event has come to be the highlight of the year for the children.
The informal show had classes for everyone (including parents) and where possible classes were divided to include led ponies so giving ponies of all ages a chance to show their paces. As some people found out it is not easy trying to lead a foal or yearling in one hand and balance an egg and spoon in the other! Lots of special prizes were awarded for such things as prettiest face (ponies of course!), best mane, longest tail, etc., so most people went home with a rosette.
People and ponies came from far afield. There were a large number of Heltondale ponies present, the oldest being Heltondale Spider now twenty years young.
Each year two or three colt foals or yearlings are bought from Mr. Noble and they are eventually broken and perhaps sold on after being used in the school, so it was good to see so many ponies at the Open Day which had originally started life on the fells and been bought at Wigton.
In the jumping the jumps went up to about 3 ft. 6 in. One of the prize winners was Adamthwaite Robin who was bought at Wigton and another was Bramble of Flamville, a Heltondale pony who cost £15 at Wigton as a foal.
We look forward to the 1980 Open Day, the date of which has yet to be fixed.
Diane Neal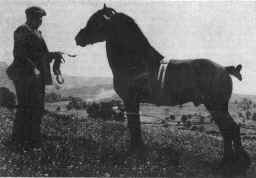 Mr. Joseph Relph with one of his well-known stallions Brown Lingcropper
How I started keeping Fell Ponies
It was, as my old Nanny would say, "As though it was meant".
Although I had been crazy over horses all my life - I would jump up and down in my pram whenever a horse went by (again quoting Nanny) - and although I had always lived at Windermere, I had never heard of our local breed, the Fell Pony, until I was in my 'teens.
In 1935 the Royal Show was to be held at Newcastle, and my mother suggested we had a day out there. We were driving through Bowness when my mother saw a "horsey" friend, Mrs. Brunskill, of Crosthwaite. This was to prove a turning point in my life, though I did not know it till years later. My mother stopped the car, and told her where we were going, and asked if she would like to come? She said she would love to, but was not wearing suitable shoes. "However" she said, "If I could call in at Marjorie Gannett's, I could borrow a pair, as we both take the same size". (Miss Gannett was the daughter of the first secretary of the Fell Pony Society, and later President). So off we went to Newcastle. Eventually we came to the boxes where the Fell Ponies were stabled. I thought they were lovely. Mrs. Brunskill told us all about them. The exhibitors were Joseph Dent, who had the "Monks" ponies; Wharton Bros. of Tebay; Thos. Williamson of Hesket New Market; Joseph Baxter, of Threlkeld; J. W. Brunskill of Hardendale; Miss M. Relph, of Birkett Bank (Sister of Joseph) R. B. Charlton, (father of the present Roy Charlton) and John Bellas, (father of Robert Bellas).
Ten years later, my mother gave me the late Roy Charlton's book, "A Lifetime with Ponies" which renewed my interest. Before that, I had been on another matter with my mother to the late Maj. Cameron's stables at Grasmere, where he ran a riding school using Fell Ponies. There I saw some lovely ponies, mostly bred by Mr. Wharton, of Eamont Bridge. Two I particularly liked were "Blackbird" and "Jewel", the latter a rich brown.
My mother had it in mind to buy me a Fell Pony for a 21st birthday present, but before that event Mrs. Brunskill called one day to say that Miss Garnett had a young pony to sell which she thought would do for me - a fifteen month old chestnut gelding by a T.B. Polo Pony out of a T.B. x Fell mare. That is another story. Suffice to say that my mother bought him for me. I was a very inexperienced rider. When the time came Diana While (now Mrs. Roger Barratt) helped me to break him in, and I learnt a LOT! He was a sweet-natured horse but could buck like a bronco.
Then came the war. I worked as a land-girl for seven years on George Taylor's farm at Crook, riding Ptarmigan to work each day. There I learnt to work the big farm horses. I had a little donkey which did our work at home. He died towards the end of the war and I began to dream of getting a Fell Pony to work on the land, and as a second riding horse.
In January 1947 I started to look round. What I wanted was a four-year-old black mare broken to harness. Some hopes! Such a thing was even worse to find then than it is today. I started by writing to the late Mr. Charlton, as I had read his book. Although he had about 40 ponies, he had nothing broken. "I have about three 4-year-old ponies "he wrote" which I intend to show at the N.P.S. Show in April, but they are very valuable ponies and too expensive for-your purpose". He then gave me a list of possible sellers, to whom I proceeded to write.
Mr. Joseph Relph, then secretary of the F.P.S. said that he had no broken ponies but would keep a look out. Mr. Wharton of Eamont Bridge had sold out three years previously. He referred me to Mr. Relph and Mr. Charlton. I wrote to Mrs. Marshall (now Sylvia McCosh). She had no ponies to sell. She referred me to Mr. Relph, also to Mr. Bland, of Truss Gap, Swindale, who was giving up his farm and had two Fell mares broken to farm work for sale. This sounded hopeful. While awaiting his reply, I was working out how I could ride the pony home over Gatesgarth Pass. He replied that the ponies had been sold at the farm sale the previous October. Back to square one.
I wrote to Mr. Wales of Lownthwaite. He had nothing broken but would make enquiries. I wrote to Mr. John Bell, (father of Jim Bell). He had nothing to sell, but had been making enquiries, and there was a Mr. Monkhouse of Wasdale Head who had a broken registered mare to sell. While awaiting his reply I was working out how I could ride the pony back over Sty Head Pass. He replied that he had decided not to sell the pony.
I wrote to Mr. Thomas Noble (father of Sarge Noble) but he replied that he had nothing broken. I had come to the end of the addresses I had been given and it was now March and that ghastly `46/`47 winter was coming to an end. I rang Mr. Relph and asked if I could go to see him, and my mother, sister, and I duly went to Birkett Bank. There were still large drifts of snow about. They had been so deep the ponies had been able to walk over the walls. The losses among the sheep had been terrible. We walked beyond the farm where there were a few ponies of all ages. "That brown mare over there might let you get up to her" Mr. Relph said. "She does most of our work, but she hasn't been handled all winter". I went slowly up to her. She allowed me to touch her. I scratched her neck and made friends. "I just wanted to see what she thought of you" Mr. Relph said. Eventually we discovered he might consider selling her, but wanted to make quite sure she was going to a good home. She was broken to ride and to all farm work. He wanted £45 for her, which was ridiculously cheap even in those days. And that is how I came to buy Birkett Bank Polly-Rosie to her friends. That proved to be one of the best things I ever did in my life. I did not get the fouryear-old black pony that I had wanted, but a twelve-year-old brown mare in foal. She had the most marvellous temperament, and never did a thing wrong that I can remember. She bred me seven foals arid was the ancestor of all my present ponies either through her son, Packway Royal, or her daughter, Packway Polly. I am eternally grateful to the late Mr. Relph for all the help and encouragement he afterwards gave me. He seemed to enjoy getting younger people started keeping Fell Ponies.
How I came to be secretary of the F.P.S. is another story, "and will be continued in our next".
Peggy Crossland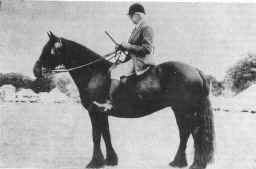 Gala Bryony, ridden by her owner, the late Miss Ruth Brooke. Together they won many championships including the supreme mountain and moorland ridden championship at the Ponies of Britain in two consecutive years
1979 Pleasure Ride
The ride was in the Westmorland Borrowdale-Shap Fells area. It was all on byways and bridleways, except for a short length by kind permission of the farmer, to save going onto the busy A6 road.
22 riders took part, including 2 from Somerset, 1 from Leics. and 2 from Leeds. Although the weather could have been kinder, everyone was prepared for it, and seemed to enjoy the ride.
When I went round beforehand, planning the route, I was very impressed by the interest and co-operation shown by the farmers and the proprietor of the "Wayfarer Restaurant" who gave us permission to park the horse boxes on his forecourt. This is on the A6 about half way up the south side of the Shap Fells road. From here we went down a lane into the valley, and continued going south along winding lanes, till we came to the bridleway which leads to the top of Grayrigg Forest. Unfortunately, when the wireless jump-off station was built up here, the road, though still having the status of a bridleway, had been tarred, and was very slippery even when walking uphill. The top is about 1,600 feet and there is a magnificent view, but although the rain had stopped there was such a cold wind that no one wanted to linger. From here a rough cart track winds down into the Borrowdale Valley. At the bottom we made a short loop to take us to the exit onto the Tebay road, where we could hear the traffic rushing by on the motorway. It is here that the Borrow Beck joins the Lune. We were met here by some of the Borrow Beck Action Group, who were collecting signatures protesting against the possible flooding of the valley. A little higher up, we stopped for lunch under the shelter of some trees near the river. Then on up the road to Low Borrowdale Farm. After this, the way was through fields and moors, and a long canter was possible. This is a lovely unspoilt valley. At the top, by the A6, we cut across onto the old grads track down to Ashsteads farm, and back to the "Wayfarer". After the ponies had been attended to, riders enjoyed a welcome cup of tea ands sandwiches at the restaurant.
P.C.
Notes from Here and There
The Ponies of Britain run a very successful stallion award scheme for the stallion whose progeny win the most of the Ponies of Britain shows held at Ascot, Kelso and Peterborough.
Mr. R. B. Charlton, whose famous Linnet ponies have done so much to publicise the breed, knew nothing of the scheme until his stallion, Linnet Romany Boy, was reserve of all the native stallions in 1975 and a letter notified him of his success. Linnet Romany Boy went on to win the award outright in 1976, 1977 and 1978 - probably a record for any native breed in the country, and a great honour for the Fell breed.
---
Export news is that Mrs. Christine Howe of Leicestershire has recently sold a three year old filly, Abbey Blaeberry, to a new owner in Holland and Blaeberry has reached her destination safe and sound. Blaeberry was bred by Mr. and Mrs. Dobie of Berwickshire and she is the first Fell to be exported to Holland.
---

One of Mrs. Diane Neal's Fell ponies, Sleddale Smasher, has been lent to a friend's thirteen year old daughter to hunt in Leicestershire. He is already wellknown and brilliant, having never refused a fence, and he jumps big hedges, rails and ditches and even a gate, despite the fact that he is only a four year old.

---
The Fell Pony Society dinner dance held annually at Shap has now established itself as a successful and popular social occasion. A raffle is organised to defray expenses with gifts donated by members of the Society, and the whole evening is ably arranged by Mr. J. Bell of Waverhead to whom we are all grateful. The dinner dance provides members with an entertaining evening as well as an opportunity to meet others somewhere different from a showring.
---
Jim Bell of Waverhead tells a tale of years ago:
In the days gone by, Fell ponies were frequently taken to the shows more or less straight off the fell and after a rapid clean up with "half a yard brush" they were in the ring. On one occasion, thirty odd years ago, Jenny o' the Hill was tied up to a thorn dyke at HesketNewmarket Show while her foal was in the ring. It was quite usual to do this and naturally the mares became fretful. Jenny was tied firmly to the dyke with a strong rope halter, but where there's a will there's a way and, after a tussle un-noticed by anyone, she galloped into the ring with the thorn dyke on the other end of the rope, and there was no stopping her until she had found her foal.
---
Mrs. Saville writes from Lincoln about her pony, Linnet Fieldfare, who has won several rosettes including a fourth at the Royal Show. The headmaster of her daughter's school asked if she would parade the pony with her ribbons for all the children to see. Mrs. Saville was somewhat concerned as Fieldfare was only two years old and somewhat excitable but it said much for her temperament when ninety or so children all wanted to pat the pony at the same time.
The Savilles live in the centre of Lincoln. and many of these children had never even been close to a pony. If Fieldfare twitched an ear, they jumped back squealing! Despite previous fears the pony took it all in her stride. She allowed numerous children to touch her legs, ears or tail and she remained patient during the afternoon's parade.
Mrs. Saville feels sure that this must be a good advert for the breed and that her three Fells will promote Fell popularity in Lincolnshire.
---
Priorities

Pat Fell writes to tell us about a heir-raising experience some years ago when she and Muriel Stott joined Clive Richardson for a leisurely afternoon ride in his trap

"Muriel and I drove off together to meet Clive. It was a nice morning and we were both excitedly looking forward to a different drive with Clive in his new trap pulled by his young mare, Lunesdale Lady. Muriel, as a very senior citizen and a very intrepid adventurer, may have travelled many miles behind rather nervous and inexperienced horses but I confess I was secretly a little apprehensive.

"In due course all was ready, the pony harnessed and we three seated in the trap. We set out along the coast road and I relaxed. The countryside looked beautiful, Lady was ignoring the traffic and striding out enthusiastically. None of us, I suppose, would willingly give up our cars but the rhythm of the pony's hooves and the pleasant sway of the trap were a delightful accompaniment to the journey and I felt sure that many of the passing drivers hunched at the wheels of their vehicles must have envied us.

We turned off the main road and Clive steered along steep, narrow lanes climbing up towards Urswick. Then we began a gentle downhill with high hedges growing on the top of steep low banks on either side of the lane when soon we saw ahead a tractor and hedgecutter. The tractor driver reacted instantly and most helpfully. He buried the cutter deep into the hedge and parked close into- the bank and turned off the engine. Clive slowed the mare down and guided her carefully over to pass by and, for several yards, Lady went on bravely, nervously aware of the obstruction, until she was halfway past it. Then she panicked. Trying to get away, she surged up the bank, the trap followed, and heeled over at a fearsome angle. The hard mass of metal, the tractor, seemed only a few inches from us. No-one spoke. Clive struggled to control the mare. We seemed poised to fall for a long time before we were suddenly back on the firm road again careering downhill behind the still terrified pony.

"She did not bolt far. As he gathered the reins and sat down again (probably without a single hair a shade less dark, though I think mine must have been several shades whiter), Clive said, thoughtfully,

'You know, I feared we were going over and we might have broken the shafts.'

'Clive' I said firmly, `I thought we might have broken ME!"

'Did you?' murmured Muriel `I don't know what I thought. I don't think I minded.'


Pat Fell
---
Dalemain Gentian latterly became quite a legendary character in the Society, and at the age of thirty-one she suddenly died. She was extremely well and active to the end though her dark brown head and neck became almost white with age. She won many championships in her time; perhaps her most astounding triumph was winning the supreme Mountain and Moorland Reserve Championship at Ayr Show at the age of nineteen. She was ridden many miles on the fell tops including a four day riding holiday which included the steep Sty Head pass out of Borrowdale head and descending the even rougher pass into Wasdale. Her children and grandchildren have followed in her footsteps in the show ring: her best known son being the Stallion Nettle who stands at stud at her old home.
---
As Guards Dolly grazed peacefully with the herd of Guards ponies on the fells surrounding Caldbeck, little would she dream of her activities in the year to come.
At eighteen she may have been forgiven for thinking that her days of activity were over, especially since she had seldom left her fell since she was a four year old when she travelled to the Royal Show at Newcastle and won! Since then she had led a peaceful life, never even breeding a foal until she was borrowed in the Spring of 1977.
Perhaps the first inkling of what was to follow came when she was shod again, an experience she had not forgotten but did not enjoy! Once she was shod she was ready for work again, taking both inexperienced and experienced trekkers across the fells she knows so well, happy just so long as she was in the lead, whatever the wishes of the rider.
Her first public appearance on coming out of retirement was a `Royal' one, trooping the colour from Hesket-Newmarket to Caldbeck carrying a nine year old `Queen' as part of the Jubilee celebrations. In the subsequent fancy dress judging she came out on top over cowboys and bandits.
Her next outing came with the day of the breed show where she was entered in the veteran class. Her keenness and spirit on the day gave us a glimpse of what she must have been like during her early showing career, and she managed to carry off second prize.
A completely new experience was in store for her at the end of August when she took part in the Carlisle Pageant. For a whole week she made the nightly journey to Carlisle Castle, facing spotlights, crowds and a nightly battle and subsequent capture by the Norman cavalry.
Her next day out was the Pleasure Ride in October at Castle Carrock and although, together with Heltondale William Rufus, she was the oldest there she was not happy unless she was at or near the front all day.
She had a quiet winter, another season's trekking, and a first prize at the 1978 breed show before returning to the fells and her peaceful existence.
We will always think of her with gratitude and affection, although I doubt if she would think the same of us!
---
I came upon Fell Ponies quite by chance having searched many months for a sensible animal to replace a highly strung three-quarterbred mare.
When I first met Abbey Glenda she was in her winter woollies and with such a thick mane and tail that I wondered at which end to introduce myself. I soon saw a bright enquiring eye regarding me. I watched Glenda ridden and then rode her myself and was amazed to find such a lot of pony all round me. She was thoroughly cosy, and although in need of schooling had excellent paces.
Glenda arrived here in March 1973 and settled down happily with our other two horses. Visitors began to arrive to see the latest purchase and reactions varied from mild amusement to downright amazement that I should associate myself with this little hearthrug. We soon took the smiles from our friends faces when, during careful schooling Glenda proved a willing learner and was ready for our first show together. I was terrified but soon forgot my nerves getting ready for the occasion and was thrilled to come home Champion Ridden Fell and Reserve Champion in hand. "Only one way to go now - down" said everyone but in spite of varied placings Glenda has never failed to bring home a rosette in all the years she has been shown.
Very few Fells were seen in the show ring in the Midlands six or seven years ago and those that were, showed all the variations of type to be seen in the breed. The attitude of judges in mixed mountain and moorland classes varied enormously and many winced visibly at the sight of something slightly hairy in the ridden classes where all large breeds seemed automatically to be at the bottom of the line. Persistence gradually won through and the better schooled ponies began to win rosettes. More and more ponies were seen in hand and entries are now so good that Fell classes have been introduced at three shows in the Leicestershire area, but there are still very few ponies being shown under saddle. There has been a trend towards the full height riding Fell and the little round types like Glenda of barely 13.2 would look quite out of place in some classes. Although it is essential to have an attractive well made pony we must surely keep the wonderful variation of type in the Fells so that there is a pony for people of all shapes, sizes and ages.
Glenda has been a most successful all round pony who will carry young and old safely. She is of Thelwellian proportions and rarely fails to draw a smile particularly when she stamps and shakes her head. Everyone who has ridden her or my other Fells has been impressed by how large the ponies feel and even thoroughbred owning friends, who have to be taken to a quiet spot where they won't be seen, have been won over.
For a special treat I took Glenda to a meet of the Quorn Hounds. On arrival faces turned towards us in some astonishment. The children were thrilled - "Oh look mummy is it a Shetland!" Glenda became the centre of attention until we were silenced by the Field Master who addressed all the children on ponies about what farmers did to small people who rode over corn - I was definitely included as I was at the right level. We were off and Glenda effortlessly trotted with the large hunters much to their owners' surprise. When we halted a top hatted gentleman began to smile. He bent down and lifted up Glenda's prolific forelock and said Hello, anyone at home under there?" Glenda had broken the ice again and another person knew about Fells.
---
The record entry of driving turnouts at the 1979 Northern Driving Championship Show included four Fells who acquitted themselves very creditably and collected a total of eight rosettes and a cup. They were Mr. Lloyd Ousby's Bushby Briar driven to a ralli car, Miss Betty Walker's Galliard of Manesty driven to a Rivington gig, Miss Jane Brindley's Edenview Moonstroller driven to a ralli car, and Mr. Clive Richardson's Border Black Empress driven to a well-bottom gig and a governess car.
A notable achievement was that of Miss Betty Walker who drove her pony from Keswick to the showfield at Kendal the day before the show and drove him home again the day after the show. Considering that the pony had only been in harness a few months, the exercise verified the sensible nature of the Fell and proved an extremely enjoyable and unique journey.
---
Mr. and Mrs. John Dobie have now moved to Abbey St. Bathans, Berwickshire, the home of the Abbey Fell ponies, following the sad death of Miss Isabella Gillon, Mrs. Dobie's sister.
One of the many advantages of living at Abbey St. Bathans, Mrs. Dobie writes, is that we now see our ponies all the time. Linnel Flamenco is spending the winter in a field with his favourite `wife' Heltondale Pip who has remained faithful to him throughout their married life, having never been put to any other stallion. Their eldest son, Pimpernel, and second daughter, Primula, have been in the stables all winter being used for herding cattle and an occasional days hunting. Their two youngest boys, Peregrine and Percy, are on the other side of the road, being given too much hay by the shepherd on his way to feed the sheep. Percy is hoping to make his debut at Lowther in the yearling class where we think he should catch the judge's eye. Light more mares and fillies are on the hill, well away from `Father' and they include two granddaughters, Rowanberry and Topsy; two fillies out of Lownthwaite Evelyn and Sleddale Beauty XVII; and Leithenwater Carla, recently acquired from Miss Joan Brooke.
The Dobies plan to let a flat in the house for holidays, and later there may be cottages to let as well. One of the attractions, as well as fishing, shooting and walking, will be hill rides on home-bred Fell ponies for riders with previous experience. The ponies will not be the trekking kind, but anyone who has learnt to ride in the confines of a riding school would surely enjoy the freedom of the Berwickshire hills on a strong and active pony.
---
Sweden
Fell Pony in Dressage Competitions in Sweden.
Lola Johansson writes regularly about her Fell Ponies in Sweden. They are all well despite the bitter long winters, and are ridden regularly. Lola is very interested in dressage work and has trained Dalemain Blaeberry for competitions. In her first competition ridden by a teenage girl she was awarded good points which put her in the middle of along line of competitors in the finals. Blaeberry is by Nettle and she is full sister to Celandine.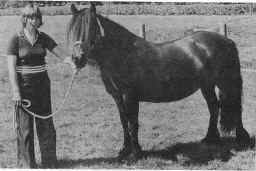 Sleddale Rose X - owned and bred by Mr. Henry Harrison.
This pony won the supreme championship at the 1979 Breed Show and was in the winning
progeny groups. Rose is dark bay with black points
A Tour of Some Cambrian Studs
Having spent several years involved with Fell ponies, we decided to obtain some fillies with the intention of showing, breaking and breeding from them in the future. After many enquiries in the Autumn of 1978 we managed to purchase a yearling bay filly - Bannisdale Birch. The following summer 1979 we set out to try and find a filly foal. Not on this occasion being particular about the colour, we decided it would be great fun to explore their natural terrain, discover more about their history and visit some of the old established breeds.
With the valued help of our Secretary, Peggy Crossland, we planned a long weekend which appropriately fell at the time of the annual Fell Pony Society dinner dance. Here Peggy introduced us to the breeders we were to visit in the next few days.
Our first port of call was 'Packway' where Peggy effortlessly led us to the summit behind the house. Seeing the Packway ponies and the panoramic view of Windermere made the steep climb worthwhile.
Duly refreshed with Cambrian hospitality we started our rounds calling at Dry Howe Farm. Here we climbed to the top of Bannisdale to see Waverhead Rob, Miss Glass's fourteen year old stallion, who has been on an exchange visit with Mr.
Swift's stallion Charlie Drake for the third year. He looked very fit and seemed to have readapted extremely well to the fells after being down south for most of his life. We returned to the farm where Mrs. Swift kindly fed and watered us with home made goodies, after which Mr. Swift took us to see his mares and foals.
Next morning we set out to Wet Sleddale where the Harrison family were ready to welcome us. Mr. Harrison went to much trouble taking us high up the fell to see his ponies in their native surroundings. It was quite a sight to see the majestic animal King of the Fell galloping freely towards us when Mr. Harrison called him. Mrs. Harrison then generously provided us with a midday meal.
Having a free afternoon, we decided to allow the men to choose the destination. After much travelling and sight-seeing we ended up falling asleep at the side of Ullswater.
Sunday morning once more brought us on our travels heading north for Heltondale where Mr. and Mrs. Noble again showed us great hospitality. Mr, Noble took us on to Heltondale to see Parkway Hereward, Peggy Crossland's two year old colt, along with a group of mares and foals he had taken the trouble to fetch down the previous day for us to see.
After more welcome refreshments we journeyed on to the Townend Stud where we saw many delightful ponies of all ages, including Townend Flash II who impressed us with his gentle nature. This was once more followed by a much appreciated spread of home made food.
The fourth day saw us heading in the direction of the home of Mr. Bell and family where the Waverhead mares and young stock roamed freely below the farm, whilst Rambler king of all he surveyed gave us a demonstration of an entire's high spirits, although impeccably behaved. Mrs. Bell rounded off the morning with another beautiful spread of home made goodies.
All our visits concluded we were a little disappointed and surprised at the reluctance of breeders to sell quality foals to a home where the pony would obviously be a shop window for them down south. However, having weighed up ponies offered, we decided that one of Mr. Swift's filly foals - Bannisdale Cedar would be our best purchase. Not only was she of promising type, but it would be interesting to compare her with Bannisdale Birch, to whom the foal's mother is full sister.
Our purpose accomplished we returned home, although we'll never forget our weekend and the hospitality received from everyone wherever we went, nothing seemed to be too much trouble.
We would like to thank everyone concerned for their contribution towards making our weekend a most memorable occasion.
Tina and Mark Bowles
Beryl and Brian Hall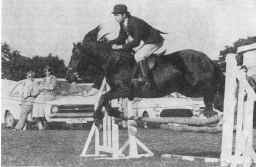 Clive Richardson's four year old mare, Border Black Empress, who collected nine
championships during the 1979 season, including the Ponies of ritain Show, Kelso:
and the unique hat trick of three championships on three consecutive days at Broughton,
Crosthwaite and Keswick
Carlisle Historical Pageant
The Queen's Silver Jubilee 1977
The Fell Pony Society was asked to provide about nine Fell Ponies for the above pageant to take part in the William Rufus episode, as it was felt that they would be more like the horses used by the Saxons at that time. We were also asked if we could provide two ponies to carry a litter in the Edward I episode. This latter was a great challenge, which Mr. Jim Bell accepted. The ponies he used were his wellknown harness mare, Waverhead Magic, and Leithenwater Carraway, newly broken to harness.
Carrying a litter is a completely different "kettle of fish" to drawing a vehicle. All the weight is on the ponies' backs, and the whole thing is rigid. The promoters said a litter would be provided, but when it came it was made to be carried by men, not horses. So with very little time to spare, Mr. Bell had to set to and make his own, and to concoct the special harness. He had tried Magic in the leading position, with helpers carrying the back shafts, but the day before the first rehearsal, a shaft broke, and Jim Bell had to spend half the night making a new one. It was thus that when we arrived for the rehearsal, Carraway had not been tried in it. It was dark, and it was raining. If you put something on the ground you could not find it again. We mustered on the green outside the castle. If the ponies had taken fright and made off, they had all Carlisle open to them! Every now and then we were nearly run down by some rider whose horse had taken fright at all the strange sights. Someone- would keep waving flags in front of Magic and Carraway's noses. Eventually we got yoked up, and after a very long wait we got our orders at last to proceed into the castle where the pageant was to take place. We were dressed in hooded jerkins, two at each ponies head, and two walking alongside the litter, as it was found to tip sideways going round corners, I am sure all our hearts were in our mouths (we couldn't very well cross our fingers) as we set off over the slippery cobbles under the portcullis and into the glare of the floodlights. When we turned round to face the lights I know I could not .see a thing, and I am sure the ponies could not either. However all went well, as it did through all the week's performances.
The litter carried Edward I on his entry into Carlisle. I wonder if the actor who took the part realised what a precarious position he was in?
In the Saxon episode, we nearly re-wrote history. We, the Saxons, were to ride in under the portcullis, pursued by the Normans. A fight took place, we were defeated, and our ponies taken from us. But at our first rehearsal, our ponies trotted on, but the Normans' larger horses would not face the dark archway, and there we were, waiting to fight an enemy who didn't appear. However on the first night, we were duly unhorsed, but no Norman came to take Carraway, the pony I was riding. I was the most abject Saxon ever, going round looking for a Norman to take her! Outside, Jim was meanwhile getting into a panic, as he was anxious to get her yoked into the litter for the next episode. Someone said to him, "Can't you put one of the other Fell Ponies in?" It just showed how little they knew what was involved.
Episode 7 was the escape of Kinmont Willie from Carlisle Castle. In this, the Earl of Dalkeith, riding Parkway Jemina Puddleduck, took the part of his ancestor, the Duke of Buccleuch.
As the week went on, Fell Ponies were asked to take part in more and more episodes, as it was seen that they were so sensible. They carried most of Prince Charlie's army, and Magic and Carraway carried dragoons.
The whole thing was great fun - we much enjoyed going up a winding stair to a turret not usually seen by visitors to have our make up put on. Some of us were given quite realistic scars. One scarcely recognised one's fellow F.P.S. members!
The names of the other Fell Ponies taking part were: Guards Dolly, Town End Minstral, Town End Princess II, and Twislehope Elm (lent by Mr. E. M. Wilson) Town End Flash, (lent by Mr. A. Chapman) Fernleigh Maid of the Mist (lent by Mrs. Byrd) and Baldersdale Hero, (lent by Mr. M. Stewart).
P.C.

To be christened Moonstroller, as a consequence of being born, and to be man's greatest achievement of travel and exploration must have meant something very special - this event took place when a black colt foal was born in the valley of the
River Eden one May morning. It never occurred to his new owner four years ago, that Eden View Moonstroller, formerly that colt foal, would prove to be anything other than a teacher of driving; but not at all!
That he quite unselfishly conveyed his knowledge of combined driving to his new owner is evident. She, who had never before even sat in a cart, let alone driven one, hopes she has not let down her teacher. Together, with a little help from their friends, they have trotted their way through 370 miles of competitive and 200 miles of non-competitive marathon: Trotted and cantered through 522 sets of cones only 22 of which were unsuccessful. So rarely out of the ribbons he has filled the lounge with rosettes won against all breeds and ended his 1979 season 5th in the National Championships at Windsor for which he had qualified on several occasions.
His weekend `caravan', in the summer time, is the horse trailer through the, window of which he has seen 25,000 miles pass: Princes St, Edinburgh Trafalgar Square, Park Lane, Knightsbridge or Buckingham Palace, Glenshee and the Devil's Elbow, the English Channel and the Severn Bridge. He passes them all with the eye of the seasoned tourist. He has so many experiences, but the one which brings the most pleasure is his seasonal start, after the long journey to London on Easter Day to take part in the Easter Monday's London Harness Horse Parade.
Inaugurated in 1966 after the amalgamation of the London Carthorse Parade, a Whitmonday event started in 1885, and the London Vanhorse Parade the Easter event started in 1904, the parade has only recently been opened to Private Driving Turnouts. Still, however, the exhibits are judged by Veterinary Surgeons with reference to condition and suitability as well as being judged for cleanliness of harness and turnout. Those able to reach the highest standard receive a First Class Award, Merit brasses and RSPCA rosettes. Moonstroller has been successful each year he has entered and while he shows his paces to the crowds who line the inner circle of Regent's Park his human companions delight in looking at the other vehicles . . . an 8-horse team brewers dray from Young & Co., Furniture wagons, haywains driven by Shires, flashy Welsh Cob Stallions, the pride of their costers' eyes. The variety is endless with well over 300 entries. The park becomes a London Street scene of Victoria's day as motor vehicles are banned. One looks in vain for Black Beauty and Ginger.
Stroller, the showman, is in his element. He is almost at exploding point . . . . the cheering, the crowds and the tension. Someone shouts `Let 'im go, luv' as Stroller follows the Kings Troop Royal Horse Artillery. I have no option we're flying (I secretly wonder if we are concerning on one wheel, or indeed we cornered at all!)
H.R.H. Prince Philip tries to present the prize - Stroller cannot wait, throws protocol to the wind (pausing just long enough to note a royal compliment) and decides to leave. The crowds are cheering again and the cameras click for the only Fell pony in the Parade. His ancestors may have carried lead in the isolated mountains, but there's a bit of the Hollywood Star in the character of this son of Cumbria!
He is home now completing a season of 26 full days hunting carrying an adult with the Cumberland and Cumberland Farmers' Foxhounds. He has even carried the Fell Pony Flag over the hedges of the South Shropshire country, to the admiration of the Masters. Eden View Moonstroller, the pony born under the travelling star, would give me the moon, if he could.
The Silver Jubilee Drive 1977
Charities were to be the main beneficiaries of Her Majesty's Silver Jubilee Year and it was H.R.H. Prince Philip who originally put forward the idea of driving for the disabled so it was particularly fitting that the British Driving Society should choose to amalgamate these aims in its unique Silver Jubilee Drive. Driving turnouts throughout the British Isles including Northern Ireland and even the U.S.A. did "their bit" linking in relay from the south coast in March to Balmoral in October. All proceeds were to go towards Driving for the Disabled. A flagstaff was to be passed from turnout to turnout collecting pennants representing each county or even country along its journey.
The Cumbrian checkpoint was re reached at Holker Hall on 4th September 1977 and it was soon after this that Eden View Moonstroller was privileged to carry the by-now bedecked pole through the villages between Penrith and Carlisle as his contribution to the relay. The first weekend in October was chosen for the collection, pennants and book of the drive to be presented to H.M. The Queen and we were again privileged to join the accompanying turnouts including some who had made the journey from Northern Ireland. Our departure from Cumbria with landrover and trailer was quite frightening as high winds and rain lashed the vehicles. Unknown to us the horse team which was to have led the parade to Balmoral had already been blown over in their trailers near Penrith causing damage and injury.
However, we arrived safely and Moonstroller spent a calm night despite an overaffectionate hackney who threatened to chew through his Fell pony mane to relieve the night's boredom. The turnouts assembled for the Sunday drive from Ballater to Balmoral in showers, but the rain was soon forgotten as the residents came to their doors and applauded, with an unforgettable moment when a large party of spectators raised their glasses to us as we trotted the ten miles in to the Castle grounds. Here I was amazed to note members of the Royal Household suitably clutching corgis - taking pictures of us - surely it should be the other way round !
With the turnouts assembled on the cricket pitch we all waited. . then the clatter of hooves and over the hill came the Queen driven by Prince Philip in a dogcart; and to and behold, to our delight, drawn by a pair of Fells.
By now, and throughout the presentation, the sun shone on Royal Deeside. How delighted we all were when the Royal Party left the presentation area and mingled with us, with a word for each one. H.M. The Queen immediately recognised Moonstroller's breed and was interested that he lived in the Fell area. She explained to us how their own Fells were not accustomed to so many other horses, being for private local use only, and what a surprise they had had to see us all standing there. She also remarked how pleased they were that their Fells were not the only representatives of the breed present. Stroller nuzzled the Royal palms and received a special pat from both the Queen and Prince Philip before they moved on.
Our visit to Balmoral was concluded by the drive-past of each participant as the Royal party stood at the front entrance to the house. Stroller took full advantage of his final moments in the Castle grounds, putting his best foot forward and thus inspired by the final Royal wave, trotted the ten miles back to Ballater at unrestrainable speed, south of the river Dee this time.
We still talk of our drive now, as we did all the way home, dwarfed by the Grampian mountains, and hope that the disabled children we all tried to help a little may achieve some of the pleasure that we have had from our "travels with a pony".
It is with sadness that we record the death of Miss Isabella Gillon of Duns, Berwickshire. Miss Gillon was a great admirer of the Fell breed and it was the memory of a pony she bought from Mrs. Newall in 1950 called Dene Shepherd's Lass, who had a tremendous jump, that inspired her sister, Mrs. Helen Dobie, with the desire to have Fell ponies. Miss Gillon was a gifted horsewoman and was responsible for breaking the first of the young ponies, including Abbey Pimpernel who won the Tabelin trophy at the 1978 Breed Show. When arthritis and advancing years made breaking ponies too difficult, she still continued to ride regularly and she took part in the Fell Pony Society pleasure ride held at Derwentwater, a few years ago.
Miss Ruth Brooke of The Common, Innerleithen, Peeblesshire was a real horse master. Her father bred and produced hunters in Rutland, and during the war she and her sister came to Innerleithen as Land Girls. They loved this part of the country and bought The Common, a high-lying sheep farm, where they farmed and bred Fell ponies with great success. The hill land was eminently suitable for ponies, and their triumphs in the show ring were innumerable.
Ruth was a former member of the Council and on the panel of judges. Ruth will be sadly missed in the Society, as will their herd of ponies at Leithenwater. One of their ponies was presented to H.M. The Queen as a gift for her Silver Jubilee and went to the Royal Stables at Windsor with the carriage horses who were already at Holyrood Palace for the celebrations.
Mr. John Bell died at his home in Wigton, and was the founder of the famous Waverhead Stud. His three foundation mares were Bank House Polly, Jenny o' the Hill, and her daughter Barbara o' the Hill. Jenny was the mother of the famous Stallion Rambler.
John was a kindly man, and will be sadly missed in the society: he spent much of his time latterly with his family at Waverhead and was able to share in their triumphs brought to fruition through his three original ponies.
Twenty-five ponies assembled in the village of Castle Carrock on a somewhat stormy day. Pam Henderson led the ride up Geltsdale, past her home, Garth Marr; and from thence, descended to cross the river Gelt after which they climbed gradually through open fell country to the foot of Cold Fell which is about 1,700 ft. at its highest point. The heavens opened, and after a cold shower everyone was pleased to reach some shelter lower down for a lunch break.
Geltsdale is a very lovely unspoilt dale with fantastic views over Carlisle and the Solway right into Scotland. The sun came out during the break, and feeling warmer the party rode along a Drover's track up the dale, fording the Gelt which was very full. It was quite an adventure to get everyone safely across. The track wound out of the dale through a pass, which became a long decline into the village of Newbiggin. As we climbed up the pass a grouse drive was in progress and it was quite exciting watching the birds and the beaters. The moor was owned by Mr. Alec Helme who so generously lends us our show ground.
On through the village, returning home through gated roads at the foot of the Fells via Brackenthwaite and Aldbyfield; round the end of Castle Carrock reservoir to the starting point where everyone received a lovely Jubilee rosette. Everyone enjoyed the ride over this marvellous wild country: quite a few members had never been up Geltsdale nor realized the beauty of the unspoilt North Pennines.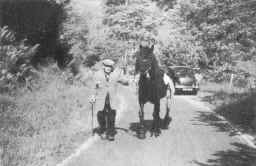 `At the back o' Skidda" - Joe Baxter traveling his stallion, Master John in 1932.
They had walked from Threlkeld through Skiddaw Forest to Caldbeck
Photo by Miss Crossland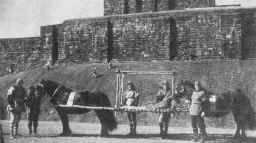 Carlisle Jubilee Pageant
---
Packway Fell Ponies
Well handled stock occasionally for sale
Miss P. CROSSLAND,
Packway, Windermere, Cumbria.
Telephone: Windermere 3152.
---
Abbey Ponies Mares chosen for their riding qualities are run on the Lammermuirs under natural conditions. Foals are carefully handled to produce a family pony of quality, suitable for Pony Club, Hunting and Showing.

Stallions standing at Stud:
Abbey Phantom. Black, 2 years.
Sire Gala Barberry.
Dam Ferneycastle Fortune.
and Linnel Flamenco.

Mr. and Mrs. J. DOBIE, Ferneycastle, Eyemouth, Berwickshire.
Telephone: Reston 255.

---
Waverhead Stud Reared on the Caldbeck Fells
Home-bred ponies of all ages occasionally for Sale
Mares taken at Stud by arrangement
J. BELL,
Waverhead, Brocklebank, Wigton
Telephone: Caldbeck 644
---
Hesket Fell Pony Stud Miss JULIE CHAPMAN,
Pasture Lane Farm, Hesket - Newmarket, Cumbria
Telephone: Caldbeck 389

AT STUD TOWN END FLASH IV.
1974 Winner of the Reg. Fell Pony Ridden Stallion Class.
To approved Mares only.

Visitors most welcome. Only by appointment.

---
Twislehope Ponies
The Ponies are reared in high ground in the Border Country. They are used for
hunting and Pony Club work. Broken and unbroken ponies sometimes for sale.
STALLION STANDING AT STUD
Twislehope Druid, dark brown. Sire: Acreknowe Andrew; Dam: Heltondale Dolly.
This stalliorn is hunted regularly with the Eskdale Foxhounds.

---
Netherhall Fell Pony Stud A small Stud where ponies are carefully broken
Mrs. J. LATIMER
Nether Oldhall,
Dunlop, Ayrshire,
Telephone: Dunlop 320

---
Wolds Stud Well mannered and carefully broken ponies as well as young stock always for sale

AT STUD CHARLIE DRAKE Registered Black Stallion
Sire: Heltondale Sonny Boy Dam: Sleddale Rose IV

Miss JANE GLASS,
Cum Cottage, Wymeswold, Loughborough, Leicestershire
Telephone: Wymeswold 880261
---
Mrs. SOUTHWARD
Ponies taken to break for riding and driving.
Difficult ponies remade, also holiday liveries
and show preparation undertaken.
Laurel Cottage, Dovenby, Cockermouth.
Telephone: Cockermouth 822751

---
Fiona Hislop
Quality driving harness supplied and repaired.
Lonnin Way, Little Broughton,
Cockermouth, Cumbria.

---
Tarn Beck Ponies Broken and unbroken ponies sometimes for sale.

STALLION STANDING AT STUD
Waverhead Jock. Black. Foaled 1973
Sire: Heltondale Black Jock.
Dam: Waverhead Mayflower.

Mrs. G. WILLIAMSON,
Tongue House, Seathwaite.
---
KEN G. ETTRIDGE

Specialist in all aspects of equine photography
will photography your ponies in action, competition,
or posed by arrangement.

Eller Howe Farm, Lindale,
Grange-over-Sands. Cumbria.
Telephone: Grange 2071.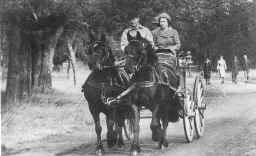 H.M. the Queen being driven by H.R.H. the Duke of Edinburgh, behind a pair of Fell Ponies, Packway Swallow and her son, Balmoral Martin
Photographed at Balmoral at the finish of the British Driving Society's Silver Jubilee marathon, 1977.
---
This page last updated: 22 January 2008
© 1980, 2000 by The Fell Pony Society and Naked Essence Web Designs