Fell Pony Society
1968 Newsletter
Volume 1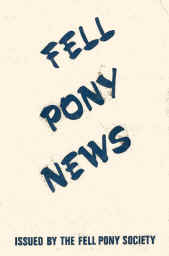 ---
The Fell Pony Society
Patroness: H. R. H. Princess Margaret
Chairman
Mr. Harry Wales
Vice-Chairman
Mrs. McCosh
Hon. Secretary & Treasurer:
Miss Peggy Crossland, Packway, Windermere. Tel. 3152
Sales Officer
Mrs. Laing, Twislehope, Hawick. Tel. Steel Road 202
Representative to the N.P.S.:
Miss Ailsa Bickersteth
Auditor of Accounts
Messrs Farrer, Windermere
Publicity Officer and Editor
Mrs. McCosh, Huntfield, Biggar. Tel. 208
---
Council positions opening in the future:
Here is our Fell Pony Society's "NEWS" ! out at last for members and friends all over the country, and it is hoped that we will bring out a "NEWS" more frequently in the future. This largely depends on the cooperation of everyone connected with the breed to send information or any items of interest to me, which will be collected for the next issue. Please help to make our "NEWS" really interesting.
Good ponies of every breed are in great demand today, and the demand for well mannered Fell ponies far exceeds the supply. We are delighted to say that several newcomers to the breed have started to breed registered ponies in various parts of the country, and we wish them much success. The Fell Pony Society has been in being since 1893. It has had its lean years as well as fat ones and we owe much to the faithful few who kept the Society and the breed together through the difficult years. In the 1930's a good broken filly could be bought for as little as £14; there was little profit for the breeder at that sort of figure.
Nowadays we are a flourishing Society riding on the crest of the waves: we must aim high, and work hard to keep it there.
Sylvia McCosh, Editor.
For some years past Mr Samuel Wood has been our President. He farmed at Crosby Lodge, and retired to Crosby Ravensworth where he died in March 1968. He was a venerable figure on the show field where he frequently judged Fell ponies and will be greatly missed by the Society.
At the Spring meeting 1968 Major E. W. Hasell of Dalemain was elected to be the new president. He is a well-known figure at all country functions and in the auction mart, and has fought for the preservation of Ullswater as the late chairman of that society. Mr Hasell is giving the Society a new cup for the best colt under three years old, to be awarded at the Stallion Show.
Key to Map
List of breeders and owners indicated by a dot on the map, with their prefix in brackets, if different to their address, all of whom bred or owned the Stallions and colts shown at the last three Stallion Shows.
A * in front of a name indicates that their address is "off" the map.
An address without a prefix in brackets is an owner.
Previous to the last war the Stallion Show was held in the Market Square in Penrith, when premiums were awarded by the Board of Agriculture.
Clydesdales dominated the scenes in those days, but there were also many Fell ponies which were awarded premiums to travel the different districts: Kirkby Stephen, Penrith, Shap, Caldbeck, Wigton, Keswick, Middleton-in-Teesdale.
After the war the Fell Pony Society was left to run its own show, which has grown from small beginnings on the football field to what is now a considerable show, and has been held annually in the auction mart field, by kind permission of Penrith Farmers & Kidd's Auction Mart. It is noticeable how much more care and trouble has been put into producing the stallions and young stock in these last years. It is evident that interest in the Show has grown from the large number of spectators present in 1968, coming from a very wide area.
The winners for the last three years are given below, which gives an idea of the distances the ponies come, and also indicates the wide areas in which small or large herds are located, a most encouraging sign for the Society.
---
Stallion Show
May, 17th 1966
Winners and their breeding
YEARLING COLTS.
WAVERHEAD ROB.
Sire: Waverhead Rambler. Dam: Town End Polly.
Owner & Breeder J. Bell, Waverhead, Caldbeck.
MAGIC BOY.
Sire : Merry John. Dam : Black Magic.
Breeder R. Bellas, Moor Farm, Keswick.
Owner S. Bracken, Low Oaks, Sedburgh.
HILLTOP FREDDIE.
Sire : Johnny Walker. Dam : Linnel Floss 2nd.
Owner & Breeder Mrs Sweeney, Low Stanley Farm, Crook, C. Durham.
TWO YEAR OLD COLTS.
TWISLEHOPE SANDY.
Sire : Acreknowe Andrew. Dam : Heltondale Heather.
Owner & Breeder Norman Laing, Twislehope, Hermitage, Hawick.
LOWNTHWAITE BLACK MAGIC.
Sire: Johnny Walker. Dam: Lownthwaite Ann.
Owner & Breeder H. Wales, Lownthwaite, Milburn, Penrith.
STALLIONS Three Years Old and Over.
(First place designated "Champion" & given the Lady Yule Cup)
WAVERHEAD RAMBLER (foaled 1959).
Sire : Black Grouse. Dam :Jenny o' the Hill.
Owner & Breeder J. Bell.
LINNEL FOX (foaled 1961).
Sire: Roundthwaite Lucky Jim. Dam: L. Fawn.
Breeder R. B. Charlton, Linnels, Hexham.
Owner W. Tuer, Low House, Wharton, Kirby Stephen.
JOHNNY WALKER (foaled 1958).
Sire: Master John. Dam: Town End Polly V.
Breeder H. Wales.
Owner E. P. Taylor, Canada.
HELTONDALE SONNY BOY (foaled 1961).
Sire : H. Star Boy. Dam : Fusedale Black Bess.
Breeders W.S., J.T. Noble, High House, Butterwick, Askham, Penrith.
Owner A. Morland and E. Benson.
PACKWAY ROYAL (foaled 1952).
Sire : Parkhouse Victor. Dam : Birkett Bank Polly.
Owner & Breeder Miss Crossland.
16 Stallions paraded.
Judge: Neil Manning, Esq., Tweedshaw, Biggar.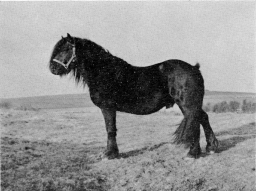 Waverhead Rambler
Champion Stallion, photographed in the winter
at home on the high ground above Wigton.
---
Stallion Show
May, 23rd 1967
Winners and their breeding
YEARLING COLTS.
WAVERHEAD FLASH.
Sire: W. Rambler. Dam: Jewel o' the Hill.
Breeder J. Bell.
Owner E.M. Wilson, Town End, Haltcliffe.
WHARTON MASTER.
Sire: Master. Dam: Low House Madge.
Owner & Breeder W. Tuer.
MOUNTAIN FLASH (ROAN).
Sire: W. Rambler. Dam: Mountain Heather.
Breeder J. Winder, Thornthwaite Close, Wigton.
Owner A.W. Morland, Roundthwaite, Tebay.
TWO YEAR OLD COLTS.
WAVERHEAD ROB.
Sire: Waverhead Rambler. Dam: Town End Polly.
Owner & Breeder J. Bell.
LUNESDALE RICHARD.
Sire : Heltondale Sonny Boy. Dam : Lunesdale Peggie.
Owner & Breeder A.W. Morland.
LOWNTHWAITE SHADOW.
Sire: Johnnie Walker. Dam: Lunesdale Ann.
Owner & Breeder H. Wales.
STALLIONS.
(First place designated "Champion" & given the Lady Yule Cup)
WAVERHEAD RAMBLER (foaled 1959).
Sire : Black Grouse. Dam :Jenny o' the Hill.
Owner & Breeder J. Bell.
DENE BEAU BANNER.
Sire : Roundthwaite Lucky Jim. Dam : Dene Black Beauty.
Breeder Mrs Newall, Todridge, Gt. Whittington.
Owner Mr Lawson.
PACKWAY ROYAL (foaled 1952).
Sire : Parkhouse Victor. Dam : Birkett Bank Polly.
Owner & Breeder Miss Crossland.
ROUNDTHWAITE LUCKY JIM (foaled 1951).
Sire : Storm Bay. Dam : Syble.
Breeder J. Thompson, Tebay.
Owner Mrs Newall.
MERRY JOHN III (foaled 1953).
Sire : Master John. Dam : Gipsy Queen. Breeder J. Baxter, Guards. Owner R. Gray, Greenfield, Buckden, Skipton.
12 Stallions paraded.
Judge: Mrs McCosh.
---
Stallion Show
May, 21st 1968
Winners and their breeding
YEARLINGS COLTS.
WAVERHEAD FURY.
Sire: Waverhead Rambler. Dam: Jewel o' the Hill.
Breeder J. Bell.
Owner Mrs Heighton, Rob's Water Farm, Barrow-in-Furness.
LOWNTHWAITE FIRE.
Sire : Johnnie Walker. Dam : L. Eve.
Breeder H. Wales.
Owner A.W. Morland.
DALEMAIN NETTLE.
Sire: R. Lucky Jim. Dam: Dalemain Gentian.
Owner & Breeder Mrs McCosh.
TWO YEAR OLD COLTS.
WHARTON MASTER.
Sire: Master. Dam: Low House Madge.
Owner & Breeder Mr W. Tuer.
ACREKNOWE BENJAMIN.
Sire: A. Andrew. Dam: Waverhead Andrew.
Owner & Breeder Mrs Ewart, Colislinn, Hawick.
WAVERHEAD RANGER.
Sire : Adamthwaite Lucky Star. Dam : Jenny o' the Hill.
Breeder J. Bell.
Owner A. J. Heighton
STALLIONS.
(First place designated "Champion" & given the Lady Yule Cup)
WAVERHEAD RAMBLER (foaled 1959).
Sire : Black Grouse. Dam :Jenny o' the Hill.
Owner & Breeder J. Bell.
HELTONDALE SONNY BOY.
Sire : H. Star Boy. Dam : Fusedale Black Bess.
Breeder W.S. & T. Noble.
Owners A.W. Morland and E. Benson.
LUNESDALE RICHARD.
Sire : Heltondale Sonny Boy. Dam : Lunesdale Peggie.
Breeder A.W. Morland. Owner E.M. Wilson.
ADAMTHWAITE WARRIOR (foaled 1963).
Sire : Heltondale Prince. Dam : Steddale Stella.
Breeder E. Benson.
Owner R. Bray.
LOWNTHWAITE BLACK MAGIC.
Sire: Johnny Walker. Dam: Lownthwaite Ann.
Owner & Breeder H. Wales.
11 Stallions paraded.
Judge: J. S. Dargue, Esq., Dufton.
RULES FOR VOTING FOR ENCLOSURE STALLIONS.
The Stallions to run in the two Breeding Enclosures will be voted for by those members intending to send mares to the Enclosures. One vote per member, or two votes only in the case of an owner wanting to send one or more mares to both Enclosures. Members who have voted for the winning Stallions are expected to send their mares. Others can send their mares if they so wish. Voting papers may be had from the Secretary. All voting papers must be signed.
CLASS 4.
FOR STALLIONS ENTERED IN CLASS 3. 2 Enclosure Premiums of £35 each. 1 Reserve Premium of £10, with £1 a week if used.
CLASS 5.
Premiums of £10 each for three stallions serving the highest number of registered fell mares. Stallions not winning a premium in previous class may compete in Class 5. No pony may receive more than one premium. No stallion will receive a premium unless paraded in Class 4 or 5. No owner may receive more than one "At Home" premium.
Adamthwaite Warrior.
Adamthwaite Lucky Star.
Roundthwaite Lucky Jim.
The Society reserved the right to award premiums only when exhibits merit the award.
CLASS 6.
Stallions Four Years Old and upwards to be shown under saddle. Marks to be awarded as follows: 50% conformation and breed characteristics, and 50% ride and manners.
Roundthwaite Lucky Jim. Owner Mrs Newall.
Adamthwaite Warrior. Owner Mr R. Bray.
Blackebeck Boy. Owner Mr P. Lawson.
Twislehope Blackie. Owner Mrs Laing.
Adamthwaite Lucky Star. Owner Mrs Mawhood.
Judge: Neil Manning, Esq., Tweedshaw.
The Show used to be held earlier in May but it is difficult to produce the young colts in show condition at an early date. Many of these ponies being truly native, have come straight off the fells where they have had to "rough" it in the winter. Some of the yearlings will have only been haltered a few times.
Breeders are paying more attention to producing real "pony" heads with small prick ears and large prominent eyes, while retaining the depth, action and freedom of movement so beloved by Fell pony men. It is a fine sight to watch a well-trained stallion trot in hand with its owner.
It may be of interest to strangers to the breed to hear of two unusual coloured pony families. The first is Mountain Flash, a blue roan yearling shown in 1967. This pony's grand-dam, Mountain Gipsy, is a red roan, fully pedigree mare by the famous stallion Mountain Jester. Each of Gipsy's foals, usually sired by a black stallion are roans, frequently blue roans and sometimes red roans, as also are the following generation. This dominant colour still persists through this family, which is owned by one of our veteran breeders, William Winder of Caldbeck and his son John.
The true grey colour is nowadays seldom seen, but there is a family lately owned by Mrs Edmondson at Frizington, and a grey stallion of this breed, "White Heather", was shown in 1956 by Mr Peel of Cleator. This pony's grand-dam, Frizington Lady Grey, came to the first enclosure we ran at Berrier in 1946; she was a lovely pony and a real grey. It is a pity we cannot breed a few more. Grey is a useful colour when trying to locate a herd on a dark hillside.
The class for ridden stallions was held in 1968 for the first time. The whole class went well and quietly, and Mr Manning rode each pony, which was quite a feat, but I believe he rides straight across country with the Dumfriesshire Foxhounds! Tremendous enthusiasm and praise followed from the onlookers, for what we hope will be an annual event.
Two enclosures have been run for some years in different parts of the Lake District, and give breeders a choice of stallions.
The Caldbeck Enclosure is on good fell land above the village, and from the top of it, the view, stretching for miles beyond Berrier to the Eden Valley, is wonderful. This enclosure has been ably run by Mr Bell and Mr Winder who shepherd the ponies regularly. Mr Bell's Waverhead Rambler has run in this enclosure for the past three seasons, in which years he also won the Stallion Cup, and has proved to be the most popular stallion of the present years. This handsome black pony's dam, Jewel o' the Hill, was a consistent winner when Jim's father showed her. Rambler's sire, Black Grouse, bred at Tebay by Mr Potter, was bought by Mr Neil Manning to run with his mares on the hill country above the Devil's Beef Tub near the source of the Tweed. Rambler certainly comes from hardy stock.
The Wet Sleddale Enclosure is on land beyond the new reservoir, and not far from Shap Village. It is well looked after by Mr Harrison whose farm is close to the Dam, where wild fowl abound in peace and quiet.
Messrs Morland and Benson's Heltondale Sonny Boy, who ran at Wet Sleddale in 1966 comes of the old Heltondale breed belonging to the Noble family. This herd roams the fell watershed between Ullswater and Haweswater, where High Street, the Roman road, ran from Brougham over the tops to the fort at Ambleside.
The reserve pony Lunesdale Richard is by the previous sire. Permits for mares entering the enclosures are issued by the Hon. Secretary.
In 1966 there were
14 mares at Caldbeck

15 mares at Sleddale

In 1967 there were
17 mares at Caldbeck
25 mares at Sleddale
In 1968 there were
22 mares at Caldbeck
27 mares at Sleddale
Every autumn for the last ten years there has been a class for registered fell ponies alternately at the Cowper Day Sale at the end of September and held at Kirby Stephen, and at the Wigton Horse Sale held at the end of October. This class is now held each year at Wigton, eleven miles west of Carlisle.
I have the marked catalogues of the 1960, 1967 and 1968 and it is satisfactory to note that prices have risen to keep pace, we hope, with rising costs and inflation.
In 1960 at Kirkby Stephen the top price, which was for the first prize pony, was £52 for Frances of Heltondale, a two-year old filly, sired by Packway Royal; second prize pony, Gypsy of Heltondale, an eight-year old brown mare £39, sire Heltondale Romer. Third prize Sleddale Danny Boy two-year old black gelding £31, sire Merry John. Lochholm Dolly, five-year old mare broken to ride and drive £50. Stoup Hill Fancy, black filly one-year old £32; sire Blakebeck Boy. One-year old geldings 21 gns., 22 gns. Yearling fillies 29 and 35 gns.
In 1967 the top price was £130 for Sugar & Spice, a black in foal mare 11 years. £126 for Heltondale Queen, nine-year old black mare, sire Packway Royal. £119 and second prize for Dolly, two-year old by Johnnie Walker out of proceeding mare. £105 Hawkerwell Firecracker, seven-year old gelding - quiet ride. £110 Laithes Heather Bell, black filly two-years by Johnny Walker. £38 Lunesdale Laddie, black yearling colt, sire Heltondale Sonny Boy.
In 1968 the top price was £145 for Winston Charm, black three-year old mare in foal, sire Master John. 100 gns., Ponson by Cinder, black yearling filly, sire J. Walker. 95 gns., Lownthwaite Evely, filly foal, sire Linnet Master. 82 gns., and 1st Prize Waverhead Flash, two-year old gelding, sire Waverhead Rambler. 72 gns., and second prize Guards Bob, two-year old black gelding sire Guards Model. 86 gns., Dunnerdale Romany, two-year old black gelding, sire P. Royal. Other prices for two-year old geldings 72 gns., 66 gns., 64 gns., 72 gns., and for yearling colts 65 gns., 52 gns., and 48 gns., and for colt foals 30 gns.
I have particularly noted the prices of geldings to show that there is a future for a good gelding. The numbers of registered ponies for sale has vastly increased. The prices asked for ponies straight from the breeder is another matter.
The Fell Pony Society, like many other society's, felt that there was very little reserve money for unusual expenses, and the Editor undertook to promote a raffle. This was drawn at the Stallion Show by our President's wife, Mrs Hasell, and the satisfactory sum of £215 : 18 : 9d. was cleared.
Many thanks to everyone who helped in any way to make this venture so successful.
The first prize of £10 was won by Mr E. Telford, The Cottage, Fenwick Stamford.
The N.P.S. (Scottish Committee) held its Annual General Meeting in Edinburgh in November, which various members of the Fell Pony Society attended. Mr Mountain the president, of the N.P.S., came from Sussex to talk to members. Research into the problems of grass sickness were discussed, this disease being very prevalent in Scotland and the North. Dr. Barlow, a Director of Equine Research at the Moredun Institute, is investigating the disease, and should anyone have an animal suffering from grass sickness they or their veterinary surgeons should immediately contact Dr. Barlow, Moredun Institute, Gilmerton, Edinburgh, 9. Tel. Libberton 3262. It is understood that a cure will probably be available in a few years.
The problems of exporting ponies under more humane conditions were also discussed.
In the evening a "get together" party was held at Mrs Morrison's home near Haddington. Our Secretary Miss Crossland showed many slides with a projector which she taken of fell ponies - this was much appreciated.
The grant for breeding schemes is to be increased in 1969. Mr Mountain told us of his visit to Lord Wigg, chairman of the R.C.B.C.B., to give a report with figures from each breed (except the Highland and Shetland Societies who have always obtained their grants separately). Not enough details were available and Mr Mountain was asked to get further information from each breed secretary which he was then able to present to Lord Wigg. As a result the grant was greatly increased. The foregoing shows how important it is that our records are fully kept, and this rests with all our breeders to co-operate fully, if we as a breed society wish to take full advantage of the grants available to us.
Miss Bickersteth, our representative to the Council of the N.P.S. attends the London meetings faithfully and is instrumental in obtaining the larger grants on our behalf.
At the autumn Council meeting the larger grant for breeding schemes was discussed. It was felt that if the stallions running in the Enclosures could be offered better premiums than at present the very best ponies would more often be available. At present the Society benefited to a large extent by the generosity of owners who lent their stallions for almost the entire breeding season for very small premiums.
The secretary accounted that the F.P.S. would be given an additional 25% if we have a grading up scheme for inspected ponies of three generations by registered stallions before being allowed into the main body of the Stud Book. This we already have in operation. Also a further 25% increase if stallions are all licenced by a Ministry veterinary surgeon, or have a veterinary certificate of soundness.
It was agreed that in the near future all stallions should be Iicenced. This is not entirely easy, as some breeders with ponies living in their wild state do not like to handle them all, as they lose their natural ability to fend for themselves and keep out of the way of strangers. In its wild state a stallion will be more able to keep his herd out of danger.
In accordance with a new ruling of the Fell Pony Society, the Stud Book will be sub-divided into the following sections:
Main Section : containing ponies that have two fully registered parents.

IS. : ponies that have only one registered parent, or an unknown pedigree, and have been inspected by the recognised Fell Society Inspector.

A. : filly foals from IS. mare by Registered Fell Stallions.

B. : filly foals from A mares by registered stallion.

(filly foals from B mares by registered stallions to go into Main sections)
On the Registration Certificates the ponies will carry IS., A. or B. after their names to indicate the different sections. There is an inspection fee of £5 as well as the usual registration fee. Ponies must be passed by two of the Society's Inspectors.
At the Spring Council meeting, February 1969, it was decided to close the Stud Book in 1970 to all but registered and grading up ponies.
This has been a knotty problem for some years, as members felt that there were good and pure bred ponies in the fell country which had never been registered, who might produce first class stock in the future, and which, if we closed the Stud Book would be lost to the Society.
It may be of help and interest to breeders who lose young foals and have no idea what is the cause, to learn that foals, like human babies, can be of the rhesus negative blood group. This has only come to light in the last years, and nowadays when T.B. mares go to stud at Newmarket, their blood group is recorded, as a matter of course. The trouble is fortunately not common, but is now well known, and if the foal is of the rhesus group its blood is immediately changed after birth. The foal is usually quite alright and grows normally, but is more liable to chills and disease than a foal that has not had its blood changed. The youngsters grow and breed as usual, but great care has to be taken for some time, as can be expected.
This trouble only came into my horizon last year when one of my fell mares foaled a really beautiful jet black filly. The mare is elderly but very fit and foaled and cleansed with no bother in the early morning; but it was quickly apparent that all was not well with the foal. It could not stand unsupported and I tried desperately to help it to suck. I carried it across the field with the old lady following to a big clean loose box, all ready in case the weather was bad. I rang our Vet. and it was decided we would milk the mare and bottle feed the foal as it was thought that it was probably weak from having been born to a 22 year old mare. This I did regularly and towards evening our hopes rose, and the foal was staggering around and taking interest, but it never had the strength to suck, though it tried hard; the old lady helped all she could. We went to bed, and thought the filly had turned the corner. The next morning it was much worse, and although I bottle fed it with some difficulty it died in my arms that afternoon. We buried the foal; but the next day, too late to save it, our Veterinary Surgeons had come to the conclusion that this foal must have been a rhesus negative blood group, and in that case the more of its mother's milk it was given the worse it would get. If we had only realised earlier I would have put the mare and foal into the trailer and taken them to the Dick Vet. College, less than an hour away, and had its blood changed.
Since then, I have heard of several similar cases. One well known Clydesdale and now T.B. breeder near Penrith lost two foals from the same mare, and when the trouble was established, the next foal was taken straight to the Dick Vet where its blood was changed and it was perfectly alright.
Another fell mare I know of near Kirby Stephen lost two foals to one horse - the trouble was located, the mare was sent to a younger stallion of entirely different breeding, and the next foal was perfectly alright, though a "blood donor" mare was in readiness should there be any trouble.
The answer seems to be that the mare must be sent to stallion of different breeding, and my old mare is to do this in 1969. She has had so many lovely foals, all prize winners, and she herself was a champion many times.
You may have mysteriously lost a foal you value, so perhaps the foregoing will put you on the alert.
Haemolytic Jaundice of the New Born Foal
This condition occurs when mares become sensitized to certain types of red blood cells, either through a "leak" in the placental barrier at previous pregnancies when the mare absorbs some of the foal's blood or tissues, or by an injection of blood or tissue vaccines. This has a reported incidence of 1% of mares in the Newmarket area. The sensitised mare must then be bred to a stallion which transmits to the fetus this particular type of blood. This condition is not apparently due to a rhesus-negative factor as in humans.
The jaundice develops when the apparently normal foals suckles and received from the mare's colostrum substances which destroy the foal's blood cells.
Haemolytic jaundice has seldom been observed until the third or fourth foaling and never at the first foaling.
The symptoms develop in the foal 12-96 hours after birth. The foal appears to be weak and sleepy. In severe cases there is marked anemia whereas in mild cases there will be marked jaundice. In slight or mild cases, the foal may recover without treatment.
It must be remembered, however, that there are other more common conditions of new-born foals which will produce apparently similar conditions. Professional advice must be sought if you feel there is the least cause for anxiety.
In confirmed cases of haemolytic jaundice, the foal must be muzzled or removed from the mare so that it cannot suckle. In severe cases a large blood transfusion will be needed. The mare must be milked out frequently and after 48 hours it will be safe to let her nurse again.
To prevent the disease in mares that have a history of this condition, it is necessary to test the mare's colostrum with the foal, before allowing the foal to suckle.
The age of the stallion will not affect the chances of the condition. Once a mare has been "sensitised", i.e. is known to have had this trouble with her foal, then she must be suspect whatever stallion is used.
Written in conjunction with a Veterinary Surgeon.
A Foal Milk Bank operates in Scotland and should anyone, whether lose a foal or a mare and need help, they should contact :
Mrs J. O. Kenneth, Balgray, Doonfoot, Ayr.
Telephone : Alloway 42395.
or in the Border country
Mrs T. Bates, Nilstone Rigg, Langley-on-Tyne, Hexham.
Telephone : Haydon Bridge 321.
In 1960 it was decided to inaugurate a Long Distance Ride for Fell ponies and others, in the hope of some of these might qualify for the Golden Horse Shoe Ride.
The organisers of the rides were Mrs Chalcroft, Miss Walker, Messrs Bell, Bray and Williams.
The 1966 Ride met in Arncliffe, a village high up in the fells near Skipton, and covered rather similar ground to the 1968 ride of which an account is given.
The second Ride was through Skiddaw Forest and round the great Saddle-backed fell, called Blencathra by the Ancient Britons.
Competitors met at Caldbeck and rode through the pass to Threlkeld, and on to Mungrisedale; thence back to Caldbeck. This covered a distance of 30 miles and those wishing to qualify the 40 miles rode another 10 miles back to Threlkeld. On both these rides there was a good turn-out of Fell ponies who acquitted themselves well.
One of the Fell ponies, Sleddale Angus, belonging to Mr Robinson of Troutbeck, qualified on time and distance, but as the minimum height is 14.2 h.h., Fell ponies are debarred from the G. H. S. Rides.
The Caldbeck ride covers varied and lovely country, with wonderful views - the month of May is a perfect time in the fells with cuckoos abounding in the copses and carpets of blue bells beneath the hawthorn blossom.
The 1968 Fell and Pennine Ride took place from Arncliffe, near Skipton, on 25th May. The route covered open moorland, the Pennine Fells and Dales and returned to Arncliffe for their first check. Those entering for the full ride, which was a qualifying Event for the Golden Horseshoe Ride, and which totaled 45 miles, continued from Arncliffe on a circular route, ultimately returning to their starting place.
The route was grueling and designed to put both horse and rider through their respective paces. In aggregate the competitors rode a distance of 900 miles and it is reported, there was not one empty saddle, excluding two steep gradients where riders wisely decided to dismount and lead their horses. This says a great deal for the standard of horsemanship attained by competitors.
The highest average speed obtained in the Golden Horseshoe Qualifying Class was 6.7 miles per hour. Several entries qualified for the 1968 Golden Horseshoe Ride which will be based on Goodwood and an analysis of the results is given below.
Perhaps the greatest disappointment experienced by the organisers was the lack of support received from members of the Fell Pony Society, for the benefit of whom this Ride was initially promoted. Only one registered Fell Pony was entered and for various reasons it did not report at the start.
In both 1966 and 1967 Fell Ponies were well represented. Of the horses and ponies entering, the arabs and arab-crosses acquitted themselves remarkably well and some could have continued without stress for a further distance.
The Group 1 entries were required to cover 272 miles at a minimum of 6 m.p.h., and the highest average speed in this class was 6.87. The Ride was described by entrants as thoroughly enjoyable and they were impressed by the beauties of the Yorkshire Dales National Park.
It was a disappointment to the Society that no purely bred fell ponies took part in 1968, and that as a result the autumn meeting decided not to hold a ride in 1969. Some of the Committee and members, however, felt that they might meet at Caldbeck to ride through Skiddaw Forrest once more in May or early June, purely for their own pleasure; they will ride as a group on fell ponies, armed with cameras and picnics!
R. W. Bray.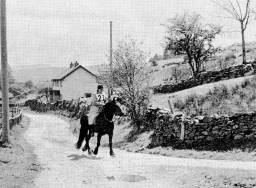 Our Secretary, Miss Peggy Crossland, taking part in the long distance ride
at the High Arnside in 1966, on her gelding Packway Bellman. Bellman is by
Heltondale Prince and his Grand Dam Birkett Bank Polly was one of the
late Mr. Joseph Relph's ponies.
PENRITH. As usual enormous numbers of fell ponies paraded at this Show, which has classes for every age including one for a group of three ponies by the same sire. The winning group is awarded one of the Challenge Cups given by our late president Lady Yule, to the F.P.S. This unusual class is a very attractive one. The Cup has frequently been won by a group by Waverhead Rambler, with Roundthwaite Lucky Jim's group as reserve.
CUMBERLAND COUNTY SHOW, CARLISLE had a good turn out of ponies but needs more individual classes for young stock. Sometimes, Border Television has given the winners a special showing with a commentary by the judge.
THE PONIES OF BRITAIN SHOW AT KELSO. Fell ponies were well represented at this important Show held at the end of July. As a breed they are very eye catching in the mixed mountain and moorland classes. They also usually give the judge a good and comfortable ride.
Mrs Newall's beautiful and well turned out seven-year old Mare, Dene Fireflare by Lucky Jim, won the overall riding championship against all breeds.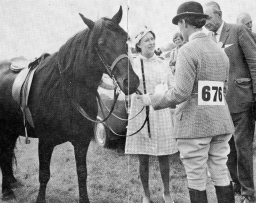 H.H.R. Princess Margaret talking with Mrs. Newall and Captain Stavely, at the N.P.S.
show at Cheltenham, where Dene Fire Flare, seen in the photograph won the championship.
The Misses Brookes won the young stock class and the fell championship with their magnificent black yearling colt Waverhead Fury. It was perhaps somewhat of a surprise for a yearling to carry off such an honour, but Fury is a true fell pony with depth and substance so dear to the heart of fell men - he has good hard blue feet and a nice little head as well.
THE N.P.S. SHOW. At the N.P.S. Show at Malvern, Mrs Newall, whose pony Dene Fireflare had carried off the supreme honours, was introduced to our Patroness H.R.H. Princess Margaret. Mrs Newall had been asked by Captain Stavely (who is on our judges panel, but was judging riding pony youngstock that day) to introduce the other fell exhibitors to the Princess and tell her something of the breeding of their ponies, who had come from many different parts of the country. The Princess talked with many of the breeders and was very interested in all that they told her about their ponies. She spoke with pleasure of the happy times in the past, when she and her sister had won the driving class at Windsor with a very beautiful fell pony, Windsor Gypsy.
The class for 3 and 4 year-old mares was won by Mr Bray's brown filly, Greenfield Mayflower by Linnet Fox.
Our secretary reports the sad loss of her 16 year-old stallion, Packway Royal, who died of kidney trouble. Royal has been a faithful friend, and has been the sire of many foals.
Mrs Mawhood of Mill Farm, Woodborouggh, Nottingham tells me that she has built up quite a stud of fell ponies - these have chiefly come from the Heltondale and Askham Gate herds. They run with Adamthwaite Lucky Star who is a real pony of the old-fashioned brown colour. He was found pulling a coal cart in Nottingham, and therefore is an expert harness pony.
Waverhead Fury, the winner of the yearling colt class in 1968, changed hands the same day, and was taken up to Innerleithen by his new owners the Misses Joan and Ruth Brookes. He is a useful acquisition to the Leithenwater Stud, which consists of a few choice mares and young stock. Eventually he may be of great benefit to breeders in Scotland.
The Misses Brookes' late stallion Twislehope Star was sold to Mr E. Sykes, Bolton-Le-Sands, Carnforth, where he will stand at stud.
Miss Jane Glass of Loughborough has recently purchased the colt Waverhead Rob foaled 1965, bred by Mr Bell of Wigton. This pony will be of value to midland breeders who until lately have been a great distance from registered fell stallions. Mrs Newall has leased Rob for one season and he has left the Dene Stud some nice foals. Miss Glass has recently purchased two in foal Heltondale mares, so we hope her stud will soon increase.
Dalemain Gentian, the veteran 23 year-old mare, has become a wonderful mount for spastic riders, in between producing foals. The teenage spastics from a Home at Lamington come to "ride" Gentian and some of the other ponies at Huntfield. Gentian's two year-old black colt, Dalemain Nettle, looks like being a very handsome stallion with a wonderful temperament. He has a perfect pony head, and moves well. He will run with one or two mares at Huntfield this season.
Mrs Knight of Northamptonshire tells me that her 7 year old Heltondale gelding Black Prince is also being used with great success for the spastics at the East Midlands Centre at Derby.
Mr H.F. Harwood, now 82 years old, still enjoys a quiet ride in the Conway Valley with Linnel Margaret and Pendean Beauty. We wish him many more happy rides on his fell ponies.
Mr and Mrs Reep, who own the Shilstone Rocks Pony Stud at Widecomb-on-the Moor, Devon, tell me that fell ponies are very much the backbone of their trekking centre. They started off with a number of unbroken 3 and 4 year-olds, and nowadays the team is chiefly made up of geldings who stand up to the hard summer work well. Many of the mares, who were breeding with Heltondale Royal, were sold, as they were too valuable to keep for trekking, and space was limited. Some of the foals by Royal have been doing well in South of England Shows.
Mrs Newall has sold two yearling colts both by Waverhead Rob - Dene Danny Boy has gone to Flint where his new owner, Mr O'Neil, has always had a liking for fell ponies and intends to keep him as an entire, and drive him in harness.
The other colt, Dene Mountain Ash, has gone to Mrs Bell at Haddington who had recently sold her highly schooled Dene Grace to Mr Hargreaves at Lyrnington, Hants.
An Open Day organised by the P. of B. took place at Thirlstone Castle, Lauder, in August. The fell ponies were represented by Miss Brook's mare Leithenwater Carlotta, and her colt foal by Twislehope Star, and also by Mrs Cave-Brown-Cave's Dene Beauty Model. Carlotta's colt foal, Leithenwater Starlo, has since been and has gone to Topham Stud near Skipton where Mrs Cave-Brown-Cave is collecting a small stud together.
At the many Pony Club Hunter Trials and One Day Events that took place in the Border Country it was interesting to see an occasional fell pony taking part and jumping freely. Mrs Dobie's "Toby" of Heltondale jumped well, as did Miss Hogg's Linnel Rogerly. This pony is a member of the Ettrick Forest Riders Association and has been in their team when they have won and been placed in Scottish Area Qualifying competitions. Roger was 3rd individual in 1967. He also represented the team in the dressage competitions and has often been in the running in jumping competitions.
Half bred fell ponies sometimes take part in hunter trials and are splendid natural jumpers. Mrs McCosh's Goblin out of Dalemain Love-in-the-Mist and by T.B. Question has been in the first three pairs and trios in every event in which she took part last year and this year. She was ridden by a fifteen year-old girl. We now realise that Goblin is a half sister to the winner of the 1969 Grand National!
Fells and part fells have tremendous potentialities as event ponies.
Various fell ponies hunt regularly in different parts of Britain from Somerset in the South to Central Scotland. They make splendid sure footed mounts and, when fit, can give a good account of themselves, especially over roughish ground.
The N.P.S. has invited all breed societies to take part in two displays. Firstly at the Royal Show at Stoneleigh on Friday July 6th. This will take the form of a half hour's display by each breed in the covered school, with a commentator. Our team is in the process of being assembled in the Scottish Border country where they will be well schooled. The commentator will discuss the herds from where each of the ponies involved originates.
Secondly, a team will be sent to the International Horse Show at Wembley and will parade twice a day from July 22nd - 27th. This team consists of a stallion and a mare with foal at foot also a group of three in fancy dress, one of which will be in harness. Their costume will be applicable to the fell breed.
This team is also being gradually selected. Some of the money collected from the raffle will be used to help to finance these projects, which with our vast distances will be expensive enterprises, but excellent shop windows for the breed. Without the raffle it would have been difficult to finance the schemes.
There are many less known breeders who do not show their ponies at distant shows and it is intended to write about some of these Studs in each "News".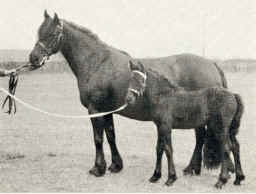 Dene Honour and her foal Patience by Waverhead Rob.
A well known mare in the show ring : she is by Roundthwaite Lucky Jim.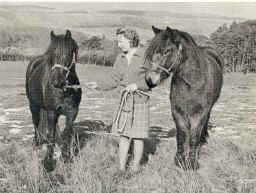 Dalemain Nettle, 2 year old colt by Roundthwaite Lucky Jim and Borwick Marksman, 3 year old gelding by Packway Royal at home on the hill above Huntfield, 1000 feet above sea level in early spring.
In October 1968 when the autumn colouring was at its best Molly Laing, our energetic sales representative, held an "Open Day" at their big Cheviot sheep farm which is tucked away among steep hills and very deep valleys close to Hermitage Castle, that ancient centre of Border warfare.
When we arrived the mares had been collected into the yard, with the stallion Twislehope Blackie, who has the typical sensible fell temperament. He is used regularly for shepherding on the steep hills.
Most of Mrs Laing's ponies are acquired from the Heltondale herd, and from time to time she buys another filly from Mr Noble. The Heltondale ponies are usually living in their wild state and are driven off the fell into the steading at High Butterwick, and the chosen fillies are then herded into the wagon and driven home across the Border.
At least half of the Twislehope ponies were the old dark brown colour which is so nice to see in these days when black is more fashionable. "Dolly", a big roomy mare with a good shoulder was one of these and we were shown her two year-old colt by Acreknowe Andrew, which should make a splendid stallion. He has good feet, moves freely and has a nice intelligent small head.
The foals had just been weaned - three by Blackie (who is a son of Heltondale Royal) and the fourth by Glenvelt who was bred by Mr Tommy Pearson of Faulds, Caldbeck. Glenvelt spent two or three seasons with the Heltondale herd.
Weaning has to take place early at Twislehope as there is very little fenced ground, and it is important that the mares are wormed and then go back to the high hills with Blackie, where they can literally wander for miles. The foals are kept in for about a fortnight, in which time they too are wormed and also learn to eat hay and corn, and are lead about an halters. After this they also go back to the hills and only in very bad weather will they come down for food.
The Laings have a large and happy family who all help with the ponies. Sally, the eldest girl, has had many successes riding Lownthwaite Rob, the famous old Show gelding, in cross country events. He was bred by our chairman, Mr Harry Wales and was born on the East Fells below Hartside. He is a perfect example of what a well-balanced fell pony is capable. He hunts regularly, sometimes carrying Sally's father who is Master of the Liddesdale Fox Hounds and jumps across country with the best. He completed the 40 mile Golden Horse Shoe ride at Bainbridge in 1966, and competes regularly in cross country events in the Ettrick Forest Team.
We ended our very pleasant afternoon with a delicious home made tea. We all hope that the Laing family will have much success in keeping the flag flying for the fell breed in the Border hills. Molly Laing frequently helps the F.P.S. by putting buyers and sellers in touch with ponies, and will always be pleased to help in this way.
Eddie Wilson, and his father before him, have farmed at Town End, Haltcliff for many years. Their Swaledale flock graze the grassy slopes of Carrock Fell, where John Peel hunted his hounds, and where the Phantom Legions were seen in moments of national emergency. It is in this idyllic setting that the Town End ponies live and graze on good hard fell land, which makes for bone and good feet, which are noticeable qualities in this herd.
Eddies father bought two young mares at a farm sale at Inglewood many years ago, and from this beginning has sprung the many famous Town End Pollys, some of whom were sold to Mr Edwin Walker of Derbyshire some years ago. He showed them with great success in other parts of the country, and also drove some of them in harness. Some of these ponies have lately been bought back by Mr Wilson, including Polly 4th now 19 years old. This grand old mare, who has bred many foals, has a handsome three year-old daughter, Polly X whose colt foal is by Lunesdale Richard, the gentle young stallion of which more anon. Eddie has great hopes for this foal's future.
The mares and foals were grazing peacefully, high up Carrock Fell in the mellow autumn weather. They are big roomy ponies and the foals looked bright and well-grown. There were two two-year old fillies in the paddock at the back of the whitewashed farm; one of them, Gipsy, was a daughter of a great moving and powerful pony Polly III, now thirteen years old, who unfortunately could not be shown as she had been hit by motor car in her earlier days. The filly was by Joe Baxters, Albert Moor, a well-known small black stallion. Some of the other Town End ponies are by Joe's famous Storm Boy, who left so many good ponies all over the Lake District, and others are by Master John another of his later stallions.
We went to see Richard grazing with a newly acquired mare and foal from Mr Thompson's Roundthwaite Stud. They were in a steep sheltered field where the River Caldew sallies among hazel and alder copses in the marshy bottom. Eddie's fourteen year-old daughter, Glynis came with us. She rides the ponies and plays with them. It makes all the difference to ponies in their later lives if they have been handled when young.
Lunesdale Richard's pedigree goes back to many famous names - to Hardendale Model, a stallion owned and traveled by Mr William Brunskill many years ago. Model was first at the Royal Show when it was a Newcastle before the last war, and his sire was the famous Mountain Ranger.
In November the foals are weaned and housed in the old stable at Town End and Glynis leads them about and plays with them as I did with my ponies when I was a child. What a happy and rewarding life for a little girl and these friendly foals.
Deaths: In 1968 we lost two members who attended our functions regularly. Mr D. Forster of Blanchland, who was on our panel of judges, and Mr Barrett-Alkin, both of whom we will miss very much.
Any member of a family of a fully paid up member can join for 10/-.
In January 1968 there were 202 members and 33 have joined since that date.
Please send direct to Miss Crossland.
---
Many thanks to Mrs. Beth Slater for providing the archive copy of this "out of print" Newsletter and to Mr. John Slater for scanning it and OCR'ing it.
---
This page last updated: 22 January 2008
© 1968, 2000-2001 by The Fell Pony Society and Naked Essence Web Designs